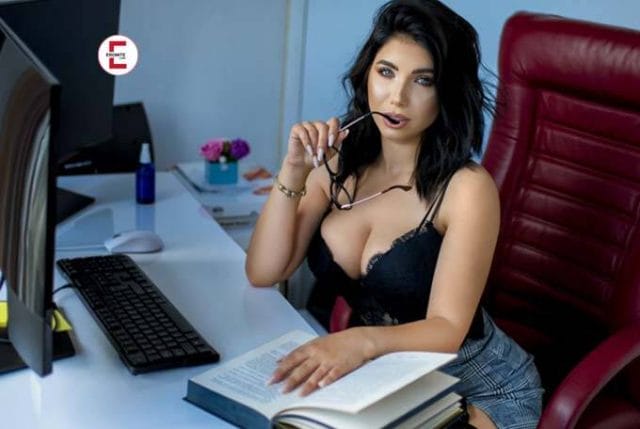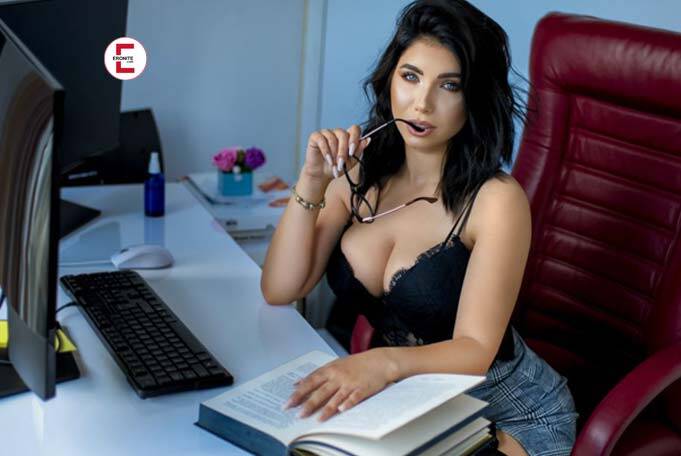 From job offer straight to sex
Never would I have guessed how cunningly calculating and nymphomaniac this young woman could be. She knew that I was totally into big breasts and had put on a blue dress with a huge neckline that allowed more views than it was able to hide. I should have guessed she only wanted one thing. Especially in hindsight.
---
Eronite empfiehlt dir diese XXX Videos, Livecams & privaten Kontakte:
---
Only One Thing on Her Mind: Classy Lady Ryva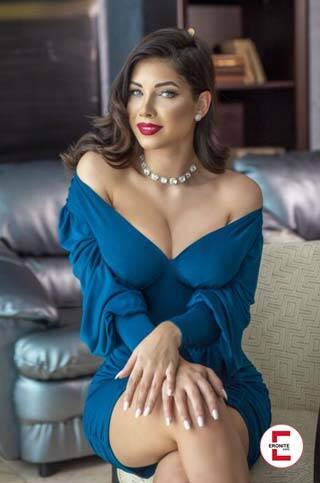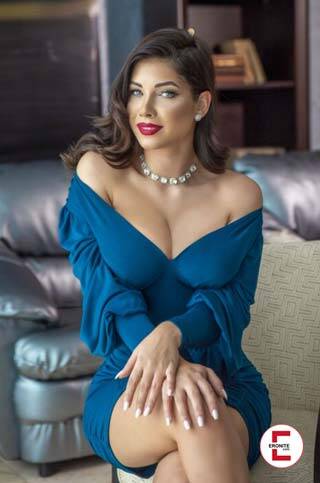 Her name was Ryva, she was 23 years old and I had a job opening as a secretary. It should just fit. Finding a reliable employee was not easy. Most wanted to work as little as possible but earn the maximum. Ryva was different. Even her cover letter was clearly different from the others, she dispensed with the usual verbiage and got straight to the point. A woman who seemed to know what she wanted. I had a thing for women like that. Little grey mice who never dared to open their mouths, I didn't much like.
Ryva and I had known each other for some time. We had an affair together a few years ago. Whereas the word "affair" was perhaps a bit of an exaggeration, because we were both single. It was just something loose. Meet informally, fuck and then go his way again. But at some point we lost track of each other, she traveled a lot, was constantly on the road for work. For a long time I still dreamed of her soft skin, her soft lips – and the big breasts, which often nearly drove me out of my mind.
Your answer took less than ten seconds for the commitment
Lost in thought, I rummaged through her application, looked at her photo with the red made-up, full lips x times. I guess you'd call them blow lips. Made only to give delight and pleasure to a man like me. Finally, I wrote her a WhatsApp and asked her if she would be willing to talk about her future duties and immediately invited her to my office for next Tuesday. Her answer took less than ten seconds and she agreed, still asking for the exact address.
Finally, on Tuesday, Ryva rang the doorbell at the appointed time and I let her into my office. "Stylishly decorated," she murmured in greeting, kissing me on the cheek. We hadn't seen each other in so long and she looked even more stunning than before. She was wearing a short black skirt and a top that let me see the base of her breasts and was quite low cut. I invited her in and pointed to an armchair, but she didn't sit down, instead leaning lasciviously against the door, where she stopped for the moment.
We talked about the tasks in her new job and also about whether she would be willing to accompany me on my business trips, which took me all over the world. I ran a small business, had two full-time sales representatives, and traveled abroad three to four times a month. Spain, France, Italy and Greece were the destinations I flew to the most. It was hard to look her in the eye and not constantly at her big tits during the conversation.
The thing was crystal clear, I took what I desired…
I sat on the desk and could see the lustful look in her eyes. That sparkle, that fuck-me look par excellence. She wanted only one thing, that was so clear that even a blind man would have noticed the erotic crackle in the air. But we chatted first about her salary expectations and she felt she "already made a bit more" than my assistant. When she said she had "special qualities" after all, things were clear to me and I took a step towards her, grabbed the back of her neck and pulled her towards me by her hair, pushing her down on her knees as I did so.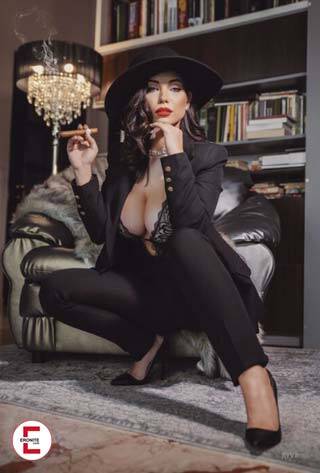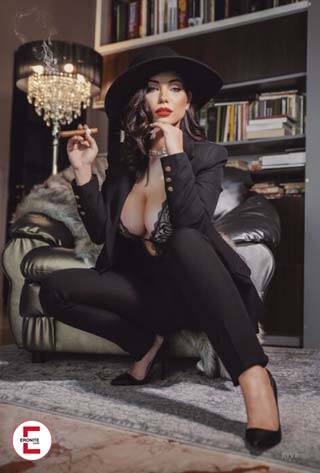 From below, she looked at me with wide eyes, licked her lips and opened her mouth slightly. She was aware of what I wanted from her, she didn't let me ask her for long and stroked with her hand over the already quite big bulge in my pants. At that very moment I could have burst with lust. I looked directly at her hot tits, which she had just pulled out of her top, under which she wore no bra. She massaged my hard cock through my pants, which was bulging to bursting when she finally released it. She licked with pleasure over the glans, on which a drop of pleasure had already formed, and immediately pushed my thick strap between her warm, soft boobs, which she squeezed with her hands.
My throbbing cock felt visibly comfortable in this tight channel and grew bigger and bigger. She moved up and down so that I now wonderfully fucked her tits. She just had it in her to make me really horny. She looked deep into my eyes, smiled seductively and licked her lips with her tongue. In between she took my cock in her mouth again and again and sucked it like there was no tomorrow. I would have loved to cum directly in her mouth, but I could control myself, because after all I wanted to fuck her now.
I rammed deepthroat my spear down her throat a few more times, making her gag and saliva drip down her tits. Again I reached into her full hair and pulled her up and turned her around so that her gorgeous Latina ass was right in front of me. She only wanted one thing and she was going to get it! The butt I kneaded so also first properly through and rubbed my hard boner on it. I had long since pulled down her skin-tight dress, her cheeks were exposed and only her thong in her crack still stood in the way of pleasure.
With hard thrusts I took the busty Latina from behind
Quickly I pulled it down too, slapping her right buttock with the flat of my hand. She winced, but acknowledged it with a comforting but low moan.
From behind, I grabbed her full tits, which were like melons in my hands. Nipples getting even harder, I twirled them between my fingers, kneading her great breasts over and over. I rubbed my hard spanking against her hot ass and got hornier and hornier. With my hands I spread her shapely cheeks, her soaking wet cunt lay gaping open before me. All I had to do was slide my cock into her paradise.
So I fucked her from behind while standing up. She propped her arms against the wall, leaning her upper body over the office chair as she moaned unmistakably loud under my thrusts. I was a little afraid that the neighbors could hear, but the lust and horniness was stronger than my concerns.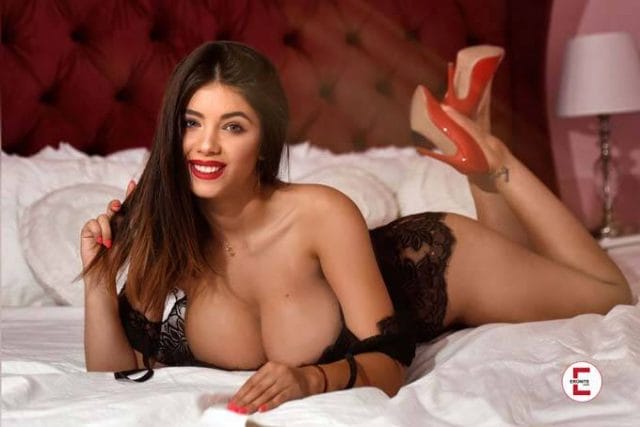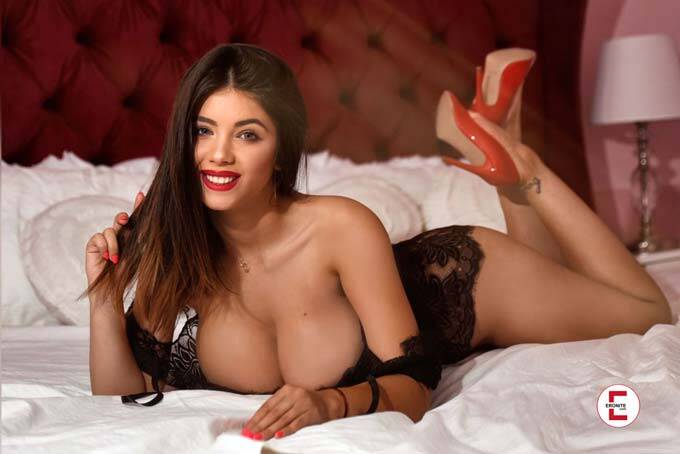 Again and again I rammed my spear into her wet pussy, fucking her as hard as I could. After a few minutes of me almost losing my mind and continuing to fuck her, she suddenly pulled away from me and sat down wide-legged on the chair. How invitingly her wet shimmering cunt lay before me. She pulled her labia apart and I could see right into her greedy hole. I quickly knelt in front of the chair and sent my tongue on a journey to her swollen clit. I let the tip of my tongue dance on her pearl, giving her her first orgasm of the day after only a few moments.
"Fuck me again," the Latina begged me
In her eyes I could see a mixture of lust, horniness and unbridled greed. Sure, I fulfilled her wish, pushed her long legs apart at her feet and penetrated her very slowly. I fucked her with agonizing slowness, pulling out my cock, which was totally smeared with her cunt juice, again and again, only to sink it leisurely into her core once more. At that, we looked deep into each other's eyes, and I bent down to kiss her. Our tongues played with each other while I didn't stop fucking her.
Again she was ready, her body reared up. With a mighty cry, she climaxed a second time. She was literally leaking, the whole floor was wet. Now I was ready and after a few more, but now very hard thrusts, I pulled my pint out of her cunt and squirted my cum directly onto her big tits. She immediately grabbed my cock and jerked it before she sucked in my with her cunt slime smeared glans with her lips and then also sucked with pleasure on my shaft until the last drop was gone in her mouth. She only wanted one thing and now she really had gotten it.
Totally exhausted, but more than happy to have my new secretary, I lowered myself onto her. We French kissed for a long time and laughed. Because we both knew that the first business trip was coming up soon. And what would happen there was already more than clear. Anyway, she definitely had the job in the bag!
A second applicant
It was just a formality to reject them. The decision was made long ago. I wanted to look at the applicant. That another applicant would come to my table who only wants the one thing was not to be suspected.
Unsure if she wanted only the one
She arrived on time for the interview and appeared inexperienced. We had the usual small talk. She took a seat on the armchair by the coffee table. I sat down opposite her. According to her records, she was in her mid-thirties and several years out of the workforce. She wore a conservative pantsuit. She noticed that my tie was crooked. Then she stood up and came toward me. "May I?" she asked.
With these words, she straightened the tie knot. Suddenly she stumbled and sat on my thigh. I grabbed her breasts. She moaned slightly. I gripped harder. Suddenly I wanted to test whether you possibly wanted only the one. I opened her blouse and pulled it off her shoulders. The bra was quickly opened. I would have expected her to notice my stiff hard pen.
She will become something
She did, but she was waiting for me to become more active. The rest went quickly. I took off her pants and put them next to the chair. Then I took out my pen, pushed her panties aside and guided them onto my stiff boner.
She skillfully let him slide inside her. When I came, she moaned briefly and looked at me with happy eyes. I praised them for their dedication. She put her clothes back on. At that moment I thought that she could become something. I said goodbye to them. I could see disappointment in her eyes.
A welcome replacement
But I saw something else. She had discovered a fire within herself. That fire that burns when you recognize a hidden truth. She knew that deep inside she wanted only one thing. She will practice that she will be the best. If I need a replacement, I will call them. And then it will be the best.