I've always had a soft spot for Polish women
Who is the ruthless and unscrupulous human trafficker?
Already at a young age I wished for a sex slave. Now Klara is my girlfriend since a short time. A 20 year old, man seductive vamp, intoxicated with sensuality and sweet eroticism. When it crackles between her and a man, when the air is impregnated with lust and devotion, clara is close to giving in to physical desire. The girl from Eastern Europe was really under my spell. She had only been in Germany for a few weeks and did not know anybody here except me.
---
Eronite empfiehlt dir diese XXX Videos, Livecams & privaten Kontakte:
---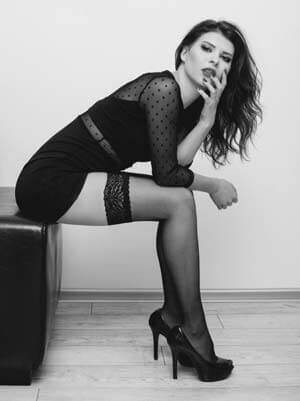 Klara was writhing in the sheets, the blanket had slipped and exposed her bottom. She was still asleep, but she was breathing calmly and deeply. The warm wind came through the open window with a light breeze. The white curtain with the lace waved slightly back and forth. She snuggled up against me, I felt her shapely ass against my loins. It happened what had to happen: my cock became hard and pressed demandingly against her abdomen. I was overcome with desire. A desire for this dream body that I wanted to possess. And fuck. I wanted to fuck that woman. Sleep with her. Fuck her soul out of her body. She was to be my sex slave in the clutches of a trafficker.
On the chair next to the bed lay her black mini dress. When we came home from the restaurant late the night before, she had simply taken it off and thrown it over the backrest. She had drunk a little too much and had fallen asleep immediately. The taxi driver who drove us to her home still helped to carry her upstairs. The fat man obviously enjoyed touching such a beautiful woman like Klara "by mistake". He brushed her breasts as if by chance and smelled her hair. Of course, this did not remain hidden from me. It looked like he didn't care. Clearly I could see the big bump in his pants. The guy had to be pretty awesome. Apparently, he had a huge cock. But she was my sex slave, not his. My device was not to be sneezed at either, but this guy in the taxi had to have a real hammer in his pants.
She liked to dress provocatively and enjoyed the lustful looks
She seemed cold. She pulled the blanket closer to her and snuggled in. I put my arm around her and enjoyed her now light but clearly circling movements of her hips. My cock became harder and I pressed myself even closer to her. With a smile she opened her eyes and looked at me with her beautiful eyes. Her hair was wispy and that's exactly how I liked her. She often looked like that after sex. All disheveled, but happy. "Good morning", she breathed to me. I loved her tender voice and felt like the luckiest man on earth to be in bed with this woman. I stroked her bottom, kneaded her cheeks and kissed her neck. She purred like a baby cat, she enjoyed it very much.
I pulled back the sheet and my hand arched over her breasts to a shovel with which I kneaded her glorious tits. That she was now breathing much harder had not escaped my notice, of course. She wanted sex and they could have it. With a jerk I pulled her even closer to me, I could now stroke with my fingers over her flat stomach and firm thighs. Slowly I approached her pleasure centre and when I arrived there she moaned softly. I massaged her labia with two fingers, stroking her clitoris.
The juice of her now already slippery pussy ran down my hand warm. Their warm wetness was clearly noticeable. But she did not want to be fingered now. "Fuck my horny cunt, please! I can't stand it any longer! Please, fuck me," she begged. I didn't have to ask twice. I set my tail tip from behind at her cleft, penetrated her powerfully. Then I impaled her and this elicited a pleasant but still loud grunt from the willing sex slave, while my spear penetrated her further and further, filling her completely. I fucked her and her pelvis surrendered in the rhythm of love to my thrusts, which now became faster and faster. Her bottom was now squeezing more and more violently against my loins and she was panting wildly and was already close to orgasm. Again and again and again I hammered my cock hard to burst into her soaking wet cunt. She screamed and cheered me on to fuck her harder and faster. With a tremendous scream she came to her climax, her body trembled and shook. She moaned as loud as she could and I still drove my cock further into her pussy.
My balls contracted, I almost hosed down when she suddenly pulled away from me and turned around as fast as lightning. The horniness was in her eyes and before I knew it, her head had slipped down and she put her lips over my plump glans. She sucked and sucked my cock, massaging my testicles with one hand. She looked me straight in the eyes and at that moment I discharged myself into her mouth. I injected all my semen into her throat. She couldn't swallow everything, the white testicular milk ran from the corners of her mouth, ran over her lips, her chin and finally dripped onto her breasts. My dick kept pumping and pumping. She had sucked me dry.
My diabolical plan with the black-haired sex slave
Klara ordered a gin and tonic, her favourite drink. We laughed a lot, talked about times gone by and she told me that she wanted to start a second study. Two years ago, she enrolled for medicine at university, but she never really seemed to be happy with this choice. Her big dream was to be a well-known psychologist one day. She wanted to help children. Children who have suffered trauma or lost their parents in accidents.
While she told us about her plans, time flew by and we hadn't noticed how late it had already become. We had already left the subject of psychology far behind us and were now talking about our erotic fantasies. She chatted very exuberantly and at one time or another I was very surprised about her sexual desires. I did not know that my sex slave dreamed of being fucked blindfolded by a strange man. At first I was very shocked about it, but when she told me in detail what exactly she wanted, I could sense a certain amount of excitement even in myself.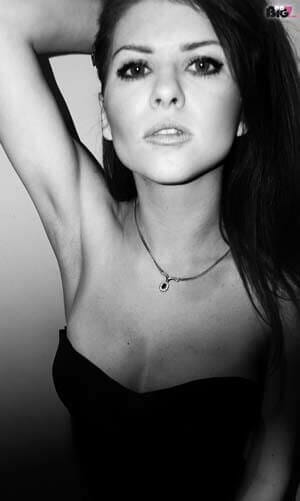 It was already well after midnight when we left the restaurant. Since we both were already well drunk, we decided to leave the car. We walked down the street, my sex slave pulled me to her and kissed me passionately. But before I could put my hands under her coat, a taxi was already turning the corner, heading straight for us. I waved briefly and it stopped. We got in, I told the driver our destination and then he stepped on the gas. We started a wild snog in the back seat. like teenagers, who couldn't hold on to themselves.
Again and again the chauffeur looked in the rear view mirror and watched our goings-on. Meanwhile I fingered Klara's bra and tried to twist her already stiff nipples hard. Only now did I recognize the taxi driver. It was the guy with the fat cock who had driven us two nights before. He had noticed that I recognized him and winked at me. I pretended I didn't see that. I was hatching a plan. A diabolical plan. I didn't know if she would ever forgive me, but I was willing to take the risk. After all, I had been dreaming of such an idea for a long time and had often imagined in my imagination what it would be like. Now seemed to be the right time. With the taxi driver everything was discussed in advance by Whatsapp.
I paid in the taxi with my credit card, gave the driver a five-euro bill as a tip and a short time later we strolled to my house. We had to cross a small wooden bridge and since there was no one around, I took the opportunity to attack the sex slave with a deep kiss and pressed my knee between her legs. I held her wrists firmly in my arms and turned her arms onto her back, which she acknowledged with a reluctant "Hey, what are you doing?", but let it happen.
I played the card of my physical superiority and squeezed it against the bridge railing. With my left hand I untied my tie knot and used my tie as a handcuff and tied her hands to the railing. She was at my mercy and I loved that feeling of power. My hands slipped into her dress and I noticed that she was not wearing a bra and her nipples were already erect. Do you think she should like this game?
The pale light of the lantern opposite fell on her tender face, the dark eyes of my playmate flashed at me. Her long black hair stuck to her temple from the onset of drizzle. It was warm and therefore by no means unpleasant that it rained lightly. With all my strength I pressed my sex slave down on her shoulders and forced her on her knees. With an innocent look she looked at me while I was opening my pants. My bulging piston jumped out and before she could say anything, I rammed it into her mouth cunt. Greedily she began to suck. I loved to get a blowjob from her.
But today I wanted to fuck her sweet Blasmund properly and I pushed hard and up to the stop. She had to choke, but had no choice. My balls slapped her face and my hard stake hammered into her bitch mouth. She had a lot of saliva pouring out of her mouth while I kept fucking her. She was ranting and I knew it made her incredibly horny. When I pulled my cock out of her mouth and held it in front of her face, her wet pussy dripped when she saw the fat bolt. She bent over and he disappeared again into her warm throat. Her lips enclosed my glans, her blowing movements became faster. She literally milked me off, my juice rose up and just before I squirted, I directed my now even harder pint out of her mouth, because I wanted to jerk my full load in her face.
The strange taxi driver was already wanking his fat cock
He stood a little bit aside with his pants down and had taken out his thick cock and started with slight jerking off movements. Again and again he looked over to us. I knew who he was and he was to play a major role in my game that was about to begin.
Further I penetrated Klara's mouth cunt, then stopped again and let my cock suck by my little whore. She licked along my shaft, played with her tongue on my balls and then sucked my little friend completely back into her mouth. The sex slave created a vacuum and it almost came to me. Klara should still get her charge of testicular milk. But not now. I looked around and I was looking for her purse. When I found her, I started to rummage through her. Because I knew that she always had a scarf with her. When I had searched through the shallows of her bag, I found it, took it out and went back to my sex slave, who was still tied half-naked to the railing of the old bridge.
I tore her panties off, but then I couldn't resist sticking two fingers into her pussy. She acknowledged my brisk attack with a soft groan and I jerked her off until she was on the verge of orgasm. Their panting got louder and louder, but it was me who determined when they were allowed to come and when not. I let her fidget, stroked again and again over her clit and the wet labia, fingered her pussy with three fingers now. She was squirming and begging me to fuck her.
I took out the cloth I was holding in my other hand and blindfolded her with it. A few times I hit her in the face with my fist, but I didn't want to hit her. I wanted to see if she could see anything. Since she did not flinch, I had done a good job and she actually could not see anything through the cloth. Now I pressed my three fingers into her cunt again and rubbed her clitoris with my thumb. I fucked her with my fingers faster and faster, she was breathing heavily and gasping for air. Her lust increased when I whispered in her ear that I would fuck her in the ass today. She especially liked that, but since I was not a fan of anal sex, she was often not able to do it. I fired at her while I kept fingering her. She gasped and gasped, the pussy juice ran out of her pussy and sullied my hand.
With a jerk I pulled my arm up and hit her with full force on the cunt. She cried out, but I immediately shut her up with my fist covered in pussy slime. When she tasted her own juice, she squirted. She could squirt well and her beam hit my leg directly. For this mess I gave the sex slave a loud slap in the face. Quietly she started to cry, but that made me even more excited. I jerked my cock now right in front of her face and stuck it into her throat until the stop, so that I could fuck her deepthroat. A horny throat fuck!
She was ranting and the saliva was running out of her mouth en masse, past my hard stand and dripping on her breasts. A sight that made me even hornier. I couldn't take it much longer. I grabbed her hair and could direct her head even better and fucked mercilessly into her mouth cunt. She had beautiful lips and the perfect blowing mouth. And exactly these lips now enclosed my pulsating cock so wonderfully tight while she tried to lick my glans with her tongue again and again.
The taxi driver had already hosed down twenty-five minutes ago, but he was already jerking his cock off again. When I looked over at him and waved him over to us, he was frightened at first, but he took heart and stomped towards us with his stocky body. He could barely walk, his legs were so thick and the lowered trousers slobbered on his ankles. Without further ado I indicated to him that he could now satisfy himself on my sex slave. He didn't let me tell him twice and stuffed his mighty cock into the whore mouth of my girlfriend. Klara noticed that she had a strange cock in her mouth, which was also much thicker than mine.
I pulled her head back by her braided braid and punched her in the face. "Make sure you blow properly, little cunt – and swallow the cum when the time comes," I shouted at her. She cried, thick tears streaming down her cheeks. The sex slave begged and begged me. But I didn't feel like giving up my bonus. She didn't stand a chance and she knew it. With a sob she tried to swallow the thick cock and blew as good as she could. Only a short time later the taxi driver could not hold on any longer and sprayed in her mouth. He pumped seven fat charges directly into Klara's stomach which had trouble swallowing everything.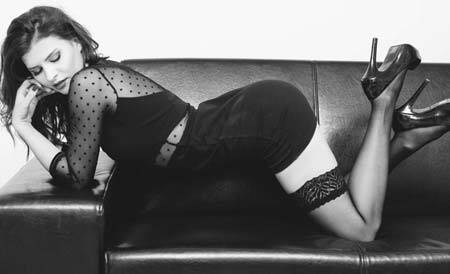 It had made me so horny that I wanted to come now and gave her a back pipe, which had washed. Klare howled like a castle dog. With the tip of my tail I stroked the trickle that ran out of her eyes and directed my spear between her lips. She almost threw up, so hard and unexpectedly I pushed. I fucked her as fast as I could and after a few pushes I was ready. With a gigantic orgasm I sprayed my sack cream right into her face, a beam hit her right eye, the others I could direct directly into her half-open mouth. When I had finished hosing down, I stuck my plunger in her mouth again and ordered her to suck it clean. She whimpered, but did as she was told. The fat cab driver was jerking off again. "You'll have lots of fun with the old lady," I whispered to him. "If you want, you can fuck her ass. Fill the little bitch up".
He grabbed the sex slave by the hair, pulled her around and pressed her against the railing with his stomach. He rubbed his huge strap against her rosette, spat on it and rubbed the saliva. Klara liked to be fucked anal. But surely she would have her problems with a beating of this caliber. After the taxi driver had stretched her chocolate hole a little bit with his finger, he penetrated into her powerfully and with a primal scream and started to fuck like a devil the ass of my sex slave. Klara screamed and cried in pain, but he obviously did not care. This was about two things: his pleasure and my bonus.
He fucked her sometimes quickly, sometimes slowly, but always he pushed his cock in as far as it would go, which caused her to scream loudly every time. He pounded it into her ass cunt until the rosette was swollen red. Klara suddenly had an enormous orgasm. It was the first time that she had reached the climax despite such enormous pain. The taxi driver couldn't go on, he was sweating and moaning. Finally he snorted his cum on her back, forced Klara to her knees and let her suck her still remarkably big cock hard again. She had to suck the fat man off again. He enjoyed this blowjob and after what felt like an eternity he squirted in her mouth again.
I gave the cabbie a high-five and gave him a high five. Klara looked at me helplessly with big eyes. During our brief relationship, I had worked every moment towards that one moment. As agreed, the taxi driver pressed the twenty 500-euro bills into my hand and then stunned the sex slave with a soaked handkerchief. I was still helping him get the tender body into his car. The taxi driver let his eyes wander over Klara's naked breasts once more, smiled smugly, got in and disappeared with the car in the darkness.
I put the money in Klara's handbag, which the taxi driver had left behind. With the bag in my hand I went into the house and laughed. Klara was my fourth prank. A little excited I pulled my smartphone out of its coat, looking for the contact "Zuzanna". She was a friend of Klara, I had met her a week ago at a birthday party. She too had only been in Germany for a short time and, like my ex-girlfriend here, had hardly known anyone here before.
While I let the banknotes slip through my hands once more, I dialled Zuzana's number. She took off.