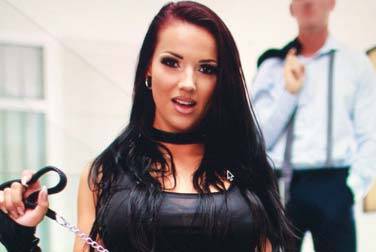 From livecam girl to porn actress
The success story of Jolee Love porn
Hotter than a volcano: Sharp curves and long, black hair are unmistakable trademarks of porn actress Jolee Love. Whether lesbian erotica or hardcore movies with several men: the pretty actress is versatile. Although Jolee Love has become particularly famous through porn, she started her career with webcam videos. Here you can read everything you need to know about the shooting star.
---
Eronite empfiehlt dir diese XXX Videos, Livecams & privaten Kontakte:
---
She is the dream of many men
Jolee Love was born on January 4, 1989 in Berlin. With her dark hair, brown eyes and her height of 1.74 meters she is a real eye-catcher. Of course, the curves are also right: Plump breasts(cup size 75E) and a crisp butt she has to offer. A true man's dream! With these assets, it's no wonder that she decided to show off her dream body in front of the camera.
Out of curiosity, the Berlin native first began shooting webcam videos and live shows. She quickly found that she had a lot of fun doing it and enjoyed showing off. The audience was equally happy to see the sexy Berlin woman naked. So it wasn't long before the first Jolee Love porn followed. This she shot together with a woman and showed in it hot lesbian sex. She liked that so much that films with men and real hardcore soon followed.
Jolee Love: amateur & professional porn
Not only amateur Jolee Love has already successfully shot porn. The sex bomb also works a lot and with pleasure for big erotic producers. Among the well-known companies she shoots for are Magmafilm or FakeTaxi. The sex bomb has also worked with the producers of Massage Rooms.
Besides, porn actress Jolee Love also shoots strips for PublicAgent, LegalPorn and Private. She was also a guest in productions of Beate Uhse TV. There, for example, she can be seen in "Die nackte Wahrheit," "Lust pur" and "Freche Früchtchen 2.0."
Versatile erotic star: porn actress Jolee Love
In the most diverse niches there is a Jolee Love porn to be found, and this is exactly what she delights her fans with. From outdoor to interracial to anal sex, everything is there. Hardcore gangbang scenes with several men are also one of the specialties of the sex star. Even with the famous GGG John Thompson (German Goo Girls) porn actress Jolee Love has been there. It should be known that things are particularly tough there. No problem for the versatile porn actress Jolee Love!
Hot lesbian sex can also be seen again and again with her. In this way, the hot lady remains true to her roots, so to speak. She regularly collaborates with well-known and popular sex actresses for lesbian scenes. With Micaela Schäfer, for example, Jolee Love has recorded a porn for Reality Lovers. MFF threesome also likes to film the pretty actress, especially with a man and another woman. Furthermore, Jolee Love tries out something new in porn every now and then. Role-playing games like playing a sexy secretary are there as well as erotic solo sex. With this Jolee Love heats up in the porn then not only herself, but also the viewers so right.
Erotic live shows and webcam with Jolee Love
Of course, Jolee Love has many other hobbyhorses besides porn. Often the erotic star can be found at large erotic events with live shows. Occasionally, Jolee Love also performs at pool parties and plunges into the cool water. Guaranteed to be an exciting experience! Fans love to see the stunning sex starlet with big boobs live and in the flesh. And Jolee Love loves being close to her viewers. Of course, she also does not miss the opportunity to present her latest Jolee Love porn at the Berlin erotic fair Venus every year.
In 2018, Jolee Love earned a nomination there for Best Virtual Reality Performer. Even though it wasn't enough for the win in the end, just being nominated for a Jolee Love porn is a great honor. Even at the SexySoccer in Berlin she was already at the side of many other sex starlets. At this event you can watch several erotic stars playing football. Clearly, the girls are all lightly dressed!
Jolee Love: porn, shows & webcam
If you think that Jolee Love only has porn and events to offer, you are wrong. Still porn actress Jolee Love also loves to show herself in all her glory erotically in front of her livecam. There, hot solo sex and hot strips are among their very specialties. Fans are excited about her erotic oil show, in which she oils herself completely. As if her shiny body wasn't sight enough, she then masturbates to it.
Jolee Love: Also active on social media channels
Undoubtedly, Jolee Love has a tough job as a porn actress, so it's not surprising that she treats herself to a vacation and trips every now and then in her free time. When she's not shooting Jolee Love porn, she's relaxing by taking her Audi A3 out for a spin. Jolee Love also likes to use a vacation on the beach and under the southern sun to relax. Of course, she still thinks about her fans: Via social media she shares a sexy bikini picture with her viewers every now and then. Of course, this is always met with great enthusiasm!
---
---