Site operator
Eronite Media Group
671 Avenue Orly
H9P 1G1 Montreal (Québec)
CA-Dorval, QC
Phone: +1.438.8003566
Email: service [at] eronite [dot] click
Representative: Emmanuel Franck Lafayette
---
Responsible for editorial content
Mario Meyer
℅ Eronite Media Group
671 Avenue Orly
H9P 1G1 Montreal (Québec)
CA-Dorval, QC
Phone: +1.438.8003566
Email: service [at] eronite [dot] click
---
Further contact possibilities
Our entire team consists of several departments with corresponding tasks. Please note, however, that performers and especially actresses cannot be contacted through us. For all other inquiries, you can write directly to the appropriate contact person for your request.
All departments not listed here can be reached via our contact form. Depending on the department, an answer can take up to 72 hours – in individual cases even longer. We ask for your understanding due to the number of requests.
Editorial office    office [at] eronite [dot] com
Production team   production [at] eronite [dot] com
Press office   press [at] eronite [dot] com
Ad booking   ads [at] eronite [dot] com
Accounting   accounting [at] eronite [dot] com
Webdesign   webmaster [at] eronite [dot] com
Jobs for performers   www.pornocasting.xxx
Jobs for editors   jobs [at] eronite [dot] com
---
SSL or TLS encryption
This site uses SSL or TLS encryption for security reasons and to protect the transmission of confidential content, such as orders or requests that you send to us as the site operator. You can recognize an encrypted connection by the fact that the address line of the browser changes from "http://" to "https://" and by the (green) lock symbol in your browser line:

If SSL or TLS encryption is activated, the data you transmit to us cannot be read by third parties.
---
Contact form
If you send us enquiries via the contact form, your details from the enquiry form including the contact data you provided there will be stored by us for the purpose of processing the enquiry and in the event of follow-up questions. We do not pass on this data without your consent.
The processing of the data entered in the contact form is therefore carried out exclusively on the basis of your consent (Art. 6 para. 1 lit. a DSGVO). You can revoke this consent at any time. For this purpose, an informal notification by e-mail to us is sufficient. The legality of the data processing operations carried out until the revocation remains unaffected by the revocation.
The data entered by you in the contact form will remain with us until you request us to delete it, revoke your consent to storage or the purpose for data storage no longer applies (e.g. after your request has been processed). Mandatory statutory provisions – in particular retention periods – remain unaffected.
---
Picture credits
You will find the picture credits under this link for the stock photos we use.
---
Link to EU Dispute Settlement
The European Commission provides a platform for online dispute resolution (OS). The platform can be found at https://webgate.ec.europa.eu/odr/ Our email address is: service [at] eronite [dot] click
---
Liability for contents
As a service provider, we are responsible for our own content on these pages in accordance with the general laws. However, as a service provider, we are not obliged to monitor transmitted or stored third-party information or to investigate circumstances that indicate illegal activity.
Obligations to remove or block the use of information in accordance with general laws remain unaffected by this. However, liability in this respect is only possible from the time of knowledge of a concrete violation of the law. As soon as we become aware of such infringements, we will remove these contents immediately.
---
Notes on linked websites and affiliate links
Our offer contains links to external websites of third parties on whose contents we have no influence. Therefore, we cannot assume any liability for these external contents. The respective provider or operator of the pages is always responsible for the contents of the linked pages. The linked pages were checked for possible legal infringements at the time of linking. Illegal contents were not recognizable at the time of linking.
However, a permanent control of the contents of the linked pages is not reasonable without concrete evidence of a violation of law. We will remove such links immediately upon becoming aware of any violations of the law.
We use affiliate links (= partner links) on our website. For this we do not receive any direct payment, but only a commission, if a contract between a mediated customer and the appropriate offerer of the linked web page comes off. Such an affiliate link does not incur any additional costs for the customer, but rather links to special offers or promotion pages, which can save consumers additional money.
The affiliate links have no influence on our content, as we work independently and without instructions.
With our web page we do not appear as offerers of the services or products of the presented web pages. We try to keep the information provided as up to date as possible, but cannot accept any liability for its accuracy or topicality. Only the current data of the corresponding linked websites apply.
---
Youth protection officer
Our pages are provided with the FSK-18 label of JusProg (www.jugendschutzprogramm.de). Responsible parents install the free youth protection filter on the computer(s), tablet(s), smartphone(s), etc. accessible to their child(s) in order to make it more difficult for them to visit websites that are harmful to minors or impair their development.
In addition, we have appointed a youth protection officer who advises on all questions of youth protection: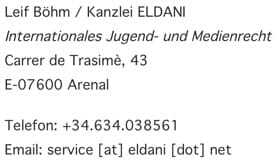 ---
Copyright
The contents and works on these pages created by the site operators are subject to copyright. Duplication, processing, distribution and any form of commercialization of such material beyond the scope of the copyright law shall require the prior written consent of its respective author or creator. Downloads and copies of these pages are only permitted for private, non-commercial use.
Insofar as the content on this site was not created by the operator, the copyrights of third parties are respected. In particular, contents of third parties are marked as such. Should you nevertheless become aware of a copyright infringement, please inform us accordingly. As soon as we become aware of any infringements of the law, we will remove such content immediately.
---
Please also read our Privacy Policy, Terms of Use and Terms of Participation for Sweepstakes/Surveys.