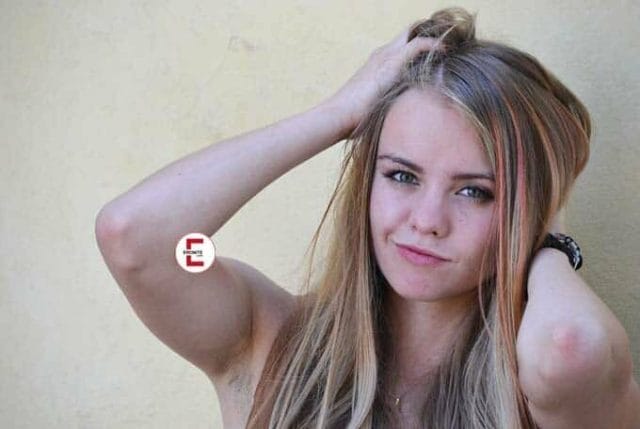 Since the beginning I was keen on Anja
Hello, my name is Frank, I am 31 years old and I work at a large online mail order company in the warehouse, I am responsible for the high rack. Seven floors packed with merchandise. As a sideline, I'm a womanizer. If you know what I mean. I just know what the girls want. And that's what they get from me. Mostly in kind. ;-)
---
Eronite empfiehlt dir diese XXX Videos, Livecams & privaten Kontakte:
---
The total sex bomb
I started here as a trainee forwarding merchant, then worked my way up and now manage the large section in warehouse IV, 7th high rack with the goods for export. I have 32 warehouse staff working in three shifts, including at night. In addition, there are five apprentices, two of whom are women. One is only 16 years old and quite fat, the other is almost done with her education and 19 years old. The older of the two caught my eye right from the start, she's a pretty awesome piece if I do say so myself. All eyes were on her when she entered the camp. One or the other would surely have liked to lay a pipe at her place.
Anja, that's her name, has long medium blonde hair and when she smiles, the cutest dimples I've ever seen. She had some colorful highlights dyed into her hair. Her breasts are not too big, but very firm and fit well with her athletic figure. With that butt, she sure does a lot of exercise! Whether she has a boyfriend or not, I don't know, she hasn't been picked up from work by any man yet. During work we wear uniforms and safety shoes, so unfortunately her bodysuit doesn't show up so well. But at our last Christmas party she wore a dress, she looked just bomb in it. Like a sex bomb!
Alltägliche Arbeit im Hochregal
Of course, I call Anja to me as often as possible to show her something or explain it to her. Even though she is already in her third year of apprenticeship, she still doesn't know everything and one or two tricks of the trade. Most of the time, I also arrange it so that I am alone with her. Whether she has noticed that yet, I don't know. In any case, I already have my eye on the little one, maybe even two. How I would love to snack on them one day. At work, for all I care, right in a high rack.
Sex with trainees is, of course, strictly forbidden in our company – as in other companies. Even more so as their supervisor. But somehow Anja has totally turned my head. No wonder, I think the other colleagues felt the same way I did. On Tuesday of last week, she was assigned to the night shift, along with six colleagues and me. From time to time, I was also on duty at night, although not too often. And if Anja had to work, then all the better.
Of the six colleagues, four were forklift drivers and one was an order picker, the last one was in the high rack together with me. His name was Jochen, he was physically somewhat limited and had been working as a warehouse worker for 17 years, doing the same thing every day since. Pretty monotonous, but he probably didn't have many options. He liked working with me because I was pretty easy-going and gave him lots of breaks. Because of his slight disability, we had to give him many breaks from work anyway.
Our work pants didn't let us see deeply
Anja was also in the high rack. It was very hot that evening, the air conditioning wasn't working properly and the four forklifts didn't help cool things down either. It was so warm that at some point Anja folded down the top of her dungarees. She was wearing only a black top that left her belly exposed and gave a glimpse of her flawless skin. Her breasts were a bit bigger than I remembered, but not too big and still shapely and firm. She didn't seem to be wearing a bra, her nipples stood out a bit through the thin fabric. I struggled not to keep gawking at them, but managed to hide my stares. Only secretly I looked over to her from time to time with a furtive glance.
Jochen, as always, didn't notice this at all and he didn't seem to care about women either. Good, better for me. Because I was very interested in our trainees. Anja was but also a horny sow! I sent Jürgen to his break, a whopping 60 minutes was allotted to him after half the shift. When he was finally out, I gathered all my courage and went to Anja. The six other colleagues were busy eight meters below us and took no notice of us. I looked at Anja and smiled. She returned my friendly gesture.
We were alone in the high rack
"Are you still going to your friend's house after your shift today?", I questioned her. "No, I don't have one and I always go straight to bed after the night shift," she volunteered about her relationship situation. She grinned cheekily at me and went up one floor in the high rack. "Come here if you can get me," she flattened and climbed even higher. "Well wait, if I catch you…", I murmured. "Then what?" it echoed back as she went up another floor. "Then I'll fuck you in the high rack!", I snorted and at the same moment I felt a little ashamed to have been so direct. "Do it if you can," came the somewhat surprising reply. And she climbed one more shelf, turned around briefly and laughed at me.
When we got to the top of the high rack, she couldn't get away from me. Now I had it! While I was still panting because of the strenuous climb, I pulled her to me and just kissed her. To my delight, she got fully into it and we tongued around without restraint. A glance all the way down confirmed to me that the warehouse people were minding their business and didn't notice us. Hastily I pushed up her top. The buds of her fantastic breasts were already hard and just laughing at me. I kneaded her horny tits with both hands and twirled her nipples, which became even stiffer. "Don't take so much time and fuck me," Anja moaned in my ear. Well, I won't let you tell me something like that twice!
Anja was a gifted cocksucker
But first she knelt down and opened my pants, then pulled them down to my knees and began to jerk my semi-stiff cock. Quickly, the became quite hard. She just looked cute kneeling in front of me and looking at me innocently with her big eyes. She ran her tongue over my glans and pushed the tip of her tongue into the little hole.
I have to say, this girl had it going on! She licked my shaft and then my balls like ice cream. With both hands I now took her head and directed her lips to the tip of my cock. She opened her mouth slightly so that I could sink my stiff member directly into her. Anja sucked my cock devotedly. I had to be careful as hell not to cum immediately with this horny blow mouse. Surely she has blown many men's cocks, because Anja's blowjob skills were really fantastic. She was a cocksucker as she was in the book.
Certainly she blew me another four to five minutes, rubbing her pussy through her work pants, which had certainly already become quite wet. Her mouth made smacking sounds during the blowjob . I enjoyed her warm oral cavity and the full lips that sucked me out of my mind. She sucked my tube to the root, again and again I fucked her mouth with my now extremely hard dick. With her hands she massaged my balls, kneaded the testicles. My cock was getting plumper and harder.
She should be my little fuck sow – here and now
But in order not to really cum in her mouth now, I pulled my spear out of her and pulled Anja up. Our lips met in an endless kiss. So she couldn't kiss well either. Anja seemed to be a real dream woman. But anyway, for this moment she should just be my little fuck sow. I quickly turned her around, grabbed her tits hard from behind and kneaded them hard. A moan escaped her at that moment. With practiced handles I stripped off her pants and pulled down her panties as well.
With my knee I parted her legs and from behind I pushed my hand between them. First I penetrated her with my thumb, then with the other fingers I massaged her pearl. So I rubbed her clit for a while, my hand was already wet from her moisture. The pussy juice ran down her thighs. Now she seemed ready for the fuck.
Anja leaned slightly forward against the shelf and propped herself up. With both hands I spread her buttocks, put my cock on her fuck hole shining with wetness and with just one push I was inside her. She snorted and moaned when I fucked her like this. With all my might I fucked our trainee from behind. Her ass looked horny and also the prospect of my hard piston penetrating this little sow was wonderful. I could see exactly how my fat cock, enclosed by her swollen labia, penetrated her again and again. We fucked in this position determined fifteen minutes. But I couldn't keep it up any longer than that.
The slut cheered me on to fuck her even harder. No sooner said than done. When I hit Anja on one ass cheek, her body reared up. She stiffened, but I held her by the hair with a firm grip. She shook herself and climaxed with a huge orgasm. Now even I could not hold on any longer, now it was my turn. My cock began to twitch as she gripped me tightly her vaginal muscles. Yes downright abmelkte.
With several thrusts I came pulsating in her pussy. My tube shot the sperm into her tight, wet cave and did not stop twitching at all. In a flash she withdrew from me, knelt down again and licked the last drops from my plump, purple glans. She looked me again totally sweet in the eyes and smiled before she put her lips over my dick again and sucked me clean.
What can I say? Since then Anja and I are a couple. We are in love like two lovebirds and have done it a few more times at work. But our favorite thing to remember is our first time having sex on a high shelf!