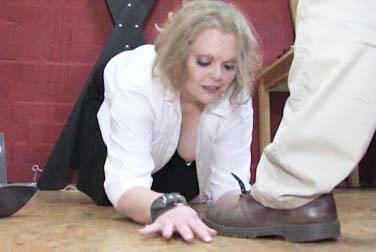 Marzenna's corporal punishment
A BDSM story with an erotic touch of brand 1973 / BDSM Stories
…I had gotten a nice new colleague from Poland at work who, in her mid-thirties, had curves like a photo model. A fantastic body, which she also showed to advantage every time.
---
Eronite empfiehlt dir
Das Dating 3.0 – Die Zukunft des Dating

Eronite empfiehlt dir
Dating 3.0 – Die Zukunft des Dating

Eronite empfiehlt dir
Das Dating 3.0 – Die Zukunft des Dating

---
Through skin-tight tops or blouses, tight jeans or even miniskirts. Her long blonde hair was different every week. She was very reserved and shy. But polite and courteous when spoken to. I, on the other hand, inconspicuous, with a belly and completely inconspicuous, could not believe it when the being from another star spoke to me and flirted with me.
One Friday she asked me if I could show her a little of our city after work. Where you can go and have a good meal, where there was a disco. I affirmed this and arranged to meet her nervously with excitement. She gave me her address and we met around 7 pm in front of her apartment in Mainzer Straße.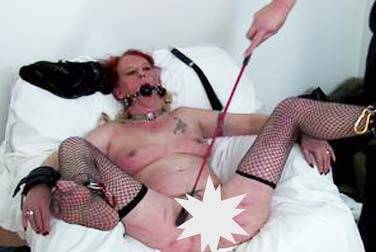 It was a mild summer evening and I was wearing a grey blazer, black suit trousers with white shirt, tie and matching shoes on it. Marzenna on the other hand wore blue jeans and a funny t-shirt. She wore her blonde hair loose. We walked through the market place once and also walked through the small alleys beside it. Everywhere small pubs and cafés. Several boutiques and museums.
Until we went to an Irish pub and found a place on the terrace. It just made me curious.
"I am honored that you asked me to show you the city. I think I'm the least attractive man in the company! And certainly not an Adonis. Why did you even approach me. You must be two classes better than me!" I asked her soberly.
"I liked you from the start. Besides, I like men with stomachs. That's when I saw you, with your belly and an old rusty VW Golf. I find you very attractive and appealing. Besides, since I started working for you a few weeks ago, I've turned down so many employees, I can't even count them." She took a short break and had a sip of beer.
"Those highly styled slimeballs who have to drive a Porsche to land a woman. So this guy was talking to me from the side today and said, "You look so waited on, should I get it for you," he said to me. Then I said to him that I had been waiting all day for such a stupid saying and that I was glad it was him," she replied in detail. I was speechless, shook my head slightly and grinned. She was a woman I had imagined in my wet dreams. And now she sat before me in flesh and blood, drinking beer and smoking.
"What do you do in your spare time?" she asked me curiously.
"Well, I play darts at the club, I love to cook, travel in Asia, listen to great music and watch the occasional porn movie." She smiled and pulled her cigarette once.
"You are honest… I think the class you gave me, that you watch porn occasionally. I have a 17-year-old son, he's actually my pastime," Marzenna replied openly.
BDSM Stories and SM Stories
"You have a child? What about the father?"
"Ran away. "Abandoned me and him… What kind of porn?" she kept listening to me.
"What?"
"What kind of porn are you watching? Lesbian, gay, normal, or BDSM porn? If I may ask!" curiosity leaned closer to me. I answered quietly:
"You may ask! My favorite thing is to watch BDSM porn. I'm really into that… I know it's not for everyone or woman, but please don't be disgusted by me. I've been single for seven years, so I need to relax a little." Marzenna grinned over both ears.
"I like you better and better. I'm actually kind of into that myself. I can't believe you've been single for so long. You seem intelligent and have manners. Are you domineering or submissive?"

"Dominant! Don't tell me you are too?" Marzenna shook her head and grinned again over both ears.
"No, I am absolutely submissive. This just gets better and better… …what about whips, gags and shackles?"
"Gagging and shackling I would like to have my partner, if she cannot move and stretches her crisp ass towards me on all fours, then I can no longer control myself. Then I become an animal. But I am not so fond of whips. I like physical contact, that is spanking with a bare hand on a bare ass, if my partner wants it that way, I would be closer to my wish. It is not my case, but during sex I could imagine it as a stimulation. "Sex is fun when both parties can live out their needs and desires." She nodded and grinned again. She took a strong sip of Irish beer and expressed her cigarette. She ordered a schnapps:
"You want one?" I nodded. She put on a cigarette again and took a long puff. "Wow, I'm all wet! What else would you like to do if I were your sex slave?" she asked me spontaneously.
"If you were my sex slave, I'd love to see several men giving you a hard time in every conceivable position and hole. "But even then, if you were an active player, you'd be the first one to get fucked in the ass." She checked me out thoroughly from top to bottom.
"Are you serious, you would do that?" I nodded and answered.
"Yes… I mean it. Why, is it too hard for you?" She took another sip of beer and rolled her eyes.
"No, there's no such thing as too hard. Oh, yes, I mean it. It has to be hard. I can't do anything with a boiled Mikkado. Let's go… I have to give myself to you now, or I'll get my pants wet.
All right, I quickly finished my glass, put the money for the bill on the table and went after her quickly. She was walking towards her apartment. When she arrived there, the door fell into the lock, she threw the house keys on a shelf and kicked the shoes into a corner. Quickly she threw herself at me, pressed me against the wall and was just about to defoliate and kiss me. I resisted and pressed her against the wall instead. I held her hands firmly against the wall above her head and pushed a knee between her thighs and rubbed her pubic area violently with the knee. With my left hand I held her hands above her head while my right hand danced over her horny body. Marzenna breathed quickly and loudly. Marzenas breeding was in full swing.
"If it gets too wild, give me a safe word!" I breathed on her.
"How about Mayday?" she panting at me. I nodded. I now stood with both legs between her thighs and took her hands and held them together behind her back. I took off my tie and tied her hands behind her with it.
Tied and gagged Marzenna had to endure everything BDSM
Marzenna grinned happily. I left them standing on the wall for a moment and looked around the hall for more bondage material. A scarf was hanging from the coat hook, I took it and tied her ankles together. I checked her from top to bottom.
"Where shall we do it? Living room or bedroom? What do you think?" I asked her curiously.
"Kitchen! What do you think of the kitchen?" she suggested.
"Good choice. Here we go." I bent over and put it over my shoulder. Your horny ass next to my head. And I carried her into the kitchen. I laid her with her breast on the small table. Took a short breather and hung my blazer over a chair. I put the shoes and socks underneath. I unbuttoned the first two buttons of my shirt. I ran my hair through.
"What's your son's name?" I asked her.
"Marcel, his name is Marcel and he is 16 years old!" she answered quickly.
"Where is he?" I asked her. What I would do to his mama right now would not be for his eyes.
"At his grandma's! Don't panic, he won't surprise us. You're doing really well so far." she loosened me up. I pulled her by the belt to the edge of the rectangular table. Now she stood stooping before me. Totally defenseless. Marzenna's head hung down on the other side of the table.
"Are you carrying any sharp objects I should know about?"
"Yes, but none made of metal. If you know what I mean?" I smiled and said yes.
l "m seeing this. I still have to search you."
"OK!" and she smiled softly too. I pulled her up slowly with her hands tied behind her back until Marzenna Aufrecht stood with her back to me. I started upstairs. I palpated the neck, over the shoulders to the arms. From behind I felt her back and felt the clasp of her bra. I opened it skillfully, through the T-shirt. Then I palpated her hips up to her feet and then across her calves, up to her thighs and up to her crunchy ass cheeks. Which I kneaded vigorously.
"Well, I couldn't find any metal weapons." I stood very close to her until the bulge in my trousers knocked at her back door. I reached around her in the front and unbuckled the belt. I unbuttoned the button and unzipped her jeans.
"Wow. No need to ask if you're hard," said Marzenna.
"I never said that either. I just wanted to ask if it would be too hard if I could fuck you in the ass first, at the gang bang." I pricked.
"I know exactly what you meant. But you "ve probably had anal sex before? Then you also know that there should be a lot of trust and use lubricating cream, otherwise you'll get badly hurt." I was smiling.
"Yes, I have had anal sex with a woman. I know exactly what to do. And I promise not to fuck you in the ass right now. Can you imagine what I'm about to do to you?" I answered and asked her.
"You take me hard from behind?" she asked me already knowing what I was about to do.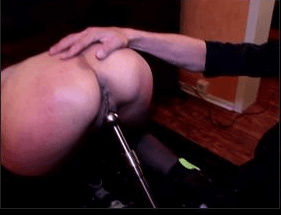 "Something like that, with a few changes… Yeah, that's what I had in mind." I was already full of anticipation. I turned her toward me so she could look me in the face. I untied her handcuffs. I took her T-shirt and bra off over her head until her hand-sized, bulging breasts laughed at me. I kneaded them with relish. I kissed her nipples and sucked on them. With one hand I went under her panties and felt her wet pussy. I stuck a finger in several times, took the hand out again and smelled the finger.
"Good, then I won't have to lick you wet. Your pussy smells good." Marzenna raised an eyebrow and put a little smile on her face. I turned her back and forced her to bend over again. I went to the side of her head and tied her hands right and left to the legs of the table. The tie, the other handcuff, I was missing something. I reached for a towel and then tied this hand to a table leg as well.
"Can I see your dick before you fuck me?" she asked me.
"Sure! Of course! If you laugh, I'm gonna put you over my knee after. Understand?" Her head bobbing up and down, saying yes. I put myself in front of her. First I opened my shirt and dropped it on the floor. Marzenna watched carefully and controlled my every move. Then I dropped my pants. I turned around so that my butt was facing her. My boxers fell to the floor and I turned around. My dick was in front of her face like a candle. I turned to the side so that she could see him lengthwise. And got behind her again.
"Well, cock-a-doodle-doo?" I asked Marzenna.
"Oh, yes. Didn't think so!"
"What didn't you think?" I curiously asked Marzenna. When I tampered with her pants and pulled her pants and panties down to her ankles. Now I saw her splendid ass. I took another towel from the drawer and put it on the table next to her. I untied her ankles and took off her pants completely. I threw it under the table. With the scarf and the towel, I tied her ankles right and left to a table leg.
"I never thought… that you were so well endowed! Pretty impressive, your cock. You must have made some women very, very happy with it." I was glad she didn't laugh at my dick, because I didn't want to put her over my knee.
"Has anyone ever told you you talk too much?"
"Yeah, my ex, who then stuffed me in the mouth with his dick. His was a sausage, unlike yours. Then with a gag," she replied curtly. I stood in front of her gorgeous ass and checked it out.
"Oh your ass, Marzenna makes me weak!" I whispered to myself.
"What did you say about my ass? I didn't really understand it." she intervened.
"I said…" and then, out of the blue, I plunged my spear from behind her wet pussy… "Your ass makes me weak, Marzenna," and I rammed it deep into her several times. Marzenna screamed out a loud cry of pleasure. To give my dominant position more perspective, I grabbed her in the blonde long hair and pulled her to me. I fucked her hard and fast from behind. During my deep thrusts, the left hand held her mop of hair, the other kneaded an ass cheek and occasionally dropped a pat on the cheek or kneaded her right breast. I was so aroused, I wanted to come inside her. But I held back for a moment.
What a horny ass, there's about to be something in it at BDSM!
And let my cock slip out of her. I alternately leaned forward, spread their cheeks with both thumbs and licked Marzenna's asshole. Marzenna moaned loudly and raised her head when she licked the asshole. Then I pushed my cock deep into her pussy again. Repeated several times.
Groaning, Marzenna screamed quickly just before her orgasm. I stuck my thumbs in my mouth and sucked them. Finally I stuck my two thumbs up her asshole, the other fingers of both hands pushed both cheeks apart to give my cock deeper access to her pussy. She tensed her ass cheeks and I knew she had come.
I was just before I came. I pulled my cock out of her and rubbed one on myself until I poured myself all over her back. I rubbed my glans through her ass crack and stroked her lateral back. My tail had lost its power, but it was no longer usable, because I still had a mighty pipe.
"It was the absolute hammer… It was fantastically good for a start," Marzenna said to me in a relaxed manner. I went around the table to Marzenna's head and stood in front of her with my cock in my hand. I held her head up by her hair pulling up, and beat her cheeks right and left with my beating. Marzenna closed her eyes and opened her mouth wide.
"You wish. You don't think I'm going to shut you up with my cock and allow you to suck my cock," I said to her in a sobering voice.
"Are you thirsty? Do you want a drink? I'm not gonna untie you now."
"Yes, a glass of water, please."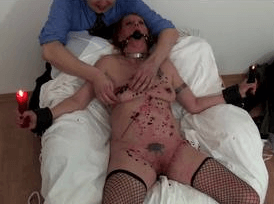 "Nothing harder than water!" I confused Marzenna. She smiled.
"Yes, do. Make me a big glass of vodka lemon. The ingredients are in the fridge. "The glasses in the top right-hand corner, by the sink." I followed her instructions and mixed us a drink. I went through the drawers and found a straw. She sucked the glass empty with the straw when I held it in front of her mouth. I let the swill run down my throat and swallowed. I walked around them once. I took another towel and rubbed my sperm away from her back.
l "II give you a lit cigarette. Please don't struggle, but I'm gonna untie you now and then I'll tie you up again." She took the cigarette butt in her hand and pulled the cigarette several times. She stood upright in front of the round table. She shook out her arms and legs and bent down again on the smooth plate of the table.
"No. Get on your back. Spread your legs." she did what I told her to do. She placed her feet on the small table, with her legs apart, and straightened her breasts. She lowered her head. Her blonde hair hung down. She finished her cigarette and gave it to me. I put out the cigarette. I tied her hands right and left to one table leg each. My cock grew back again when I saw her crunchy tits lying flat.
"I think it's great that you have naturally firm breasts."
"How do you know they're natural?" she asked me curiously.
"One, I feel the same way about what's real and what's fake. Second, I don't see any small scars on your breasts." I stood in front of her spread legs and pulled her pelvis to the edge of the round table.
"Oh my God, what are you doing?" she asked me. I took a coat hanger, squeezed it between their knees and tied the wooden hanger together with them. Now she was lying on her back, tied by her arms, hands and knees and was completely at my mercy. She could not bring her thighs together.
"Now can you imagine what I have planned for you?" I asked her spontaneously.
"Missionary position"? I would imagine so. Am I right?" she gave me a choice. I had that in mind.
"Something like that, anal maybe. Do you mind?"
"No, not really, you're kidding me." On the arm, no, it was on the table. I pulled her hip towards me. I took two more towels and tied her ankles to her wrists right and left after I pressed them on her chest. I went around her again. I got down on my knees when I was standing in front of her pussy. I pressed my face between their two holes and licked them both at the same time one after the other.
"You're killing me. I'm thrilled." Marzenna panting loudly to herself. Her whole body was shaking. I straightened up and went back to her head. I still had the scarf and blindfolded her. I took the back of her head with one hand and my cock with the other. I put my dick in her mouth and I put it out. I fucked her throat. Deep and fast. All the way. Marzenna swallowed with shortness of breath. During my deep throat fuck I kneaded her plump tits and enjoyed the throat fuck. I went around the table once for her back entrance. I licked her pussy and stuck my tongue deep into her pussy.
My dick was hard and stiff. Marzenna panting and moaning. I saw a bottle of olive oil standing by the stove. I took the bottle and rubbed it on my shaft. Now her hands were tied to her ankles. I held her by the thighs and pushed my dick up her asshole. I introduced my acorn. Marzenna cried out in delight as I inserted my tail deeper into her. Now I was deep in her asshole all the way. Marzenna was shaking all over. Slowly I almost pulled him out and drilled him back in again. Over and over again.
First slowly, then faster. She was wonderfully tight and my cock just slipped up her ass. Smooth and without resistance. After each deep blow Marzenna cried out loudly. And couldn't hold on for lust, her pleasure juice just squirted out of her pussy. I pulled it out of her ass when I came in and splashed it on her stomach between her thighs. I was sweating all over my body just like Marzenna. She was breathing fast and had goose bumps. First I unlocked her leg irons, then her handcuffs. Marzenna lay on the table for a short while until she lollied down and stretched all four of them. And suddenly jumped up.
I sat down on a chair in front of her with my legs apart when she straightened up again and sat on my lap with her legs apart. She was out of breath and took a strong breath. Marzenna smiled at me. Overjoyed. I lit two cigarettes for us. When Marzenna sat down on my thighs with her legs apart and she took a cigarette, my cock was pumped out and it hung slightly down. She stuck her cigarette cool in the corner of my mouth and played on my stomach. And kneaded him demanding. Then she held my balls and rubbed the shaft.
"You got an awesome technique. Your dick is gorgeous. I look forward to getting more from you.
Sergej – her ex-boyfriend – played Marzenna badly (BDSM)
Suddenly the doorbell rang. Marzenna jumped up nervously. She went into the bedroom, put on a bathrobe and hurried into the kitchen.
"This is my ex. Please. Hide in my closet. Please."
"Why, you're afraid of him. Do you think I couldn't defend myself against him?" I asked her in panic. The doorbell rang a second time.
"All right, please go in the closet. Please. Please…. get in the closet!" she begged me. I followed her instructions.
And she let her ex come in.
"Hi, how are you? Are you happy to see me here?" asked her ex when he arrived in the kitchen.
"No, you are no longer welcome here!" she replied quietly.
"Why? You got a new stud? Have you thought it over, whether you are ready for this?" he asked her assertively.
"What do you think? What should I be prepared for?" Marzenna asked him curiously.
"You know it well. I wanted to hook you up with a buddy. He should fuck you, for me. I wanted to watch. You got a new stud now? Tell me!" he answered.
"Yes, I have a new one! And you have no more power over me. And I'm not ready to fuck your boyfriend now or then" she answers him spontaneously.
"So what's his name?" he asked Marzenna.
"What business is it of yours You'll never meet him anyway," she replied protectively.
"Tell me his name! Otherwise you'll know what to expect. Don't let me explode, it's better for you," he demanded. Intimidated, she replied.
"Well, his name is Mark, he's a colleague of mine at work and he's not an Adonis in your sense. But he's got a great ass and you don't." She replied intimidated. I saw through the cabinet slot that he was upset and raised his hand to her counterpart. I wanted out of my closet to defend her. But then.
"So he has a nicer ass. But he'll never top my dick." he bragged.
"Your Dick!!!! laugh…. " she laughed out loud. "If your dick was half the size of your cheeky snout, Mark's dick would still be twice as big as yours. And it's powerful. Really big." I went out of my closet and showed Marzenna I was going to the bathroom. Without her ex seeing it. "Well, is he here?" he asked her again.
"Yes, in the loo," she replied intimidated. He went my way. There was a knock at the bathroom door.
"Come on out. I need to see you. What a Tarzan you are. What do you have that I don't?" he asked me through the door.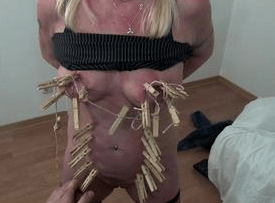 "Leave him alone. He's so much better than you," she replied.
"I want to see that for myself!" he answered her. I came out of the toilet. And stood in front of Marzenna's ex. He looked me up and down.
"You are Mark!" he said.
"And you? What's your name?' I asked him.
"Sergei…!" he gasped in rage. And went back to Marzenna. I went after him. In the kitchen he sat down on a chair. I stood behind Marzenna and defended her when he looked deep into her eyes.
"I see a short wiener, a fat belly, and you let that one get on you? Well, that "s a comedown. "Hope he gives you a good one." he started insulting and attacking her.
"Do you know that Mark's dick has so much more in a raw state at rest than yours does in a full-grown state. Unlike your pickle, which you call cock, I enjoy blowing up Mark's pipe and feeling how hard it grows inside me. It's embarrassing, isn't it?"
"You fucking cunt…. What do you know about a perfect dick? If you had thicker tits and a firmer ass, I could understand, you flat board." he got madder at her.
"Sergei…, Mark may not be as brutal as you and doesn't hit me, but he knows how to use his cock to go and use it at the right moment. He knows that I like hard sex and he gives it to me really well. With feeling that you never had, only thought about yourself. But I can promise you one thing. One of you, Sergei, will fuck me really hard and it won't be you. she kept provoking him.
"One more thing I want to know before I leave for good?" he asked Marzenna.
"What does he have that I don't have? A harder cock, perhaps. I don't want to believe that, and he probably doesn't have money either. When I look at the clothes, so what is it?" he asked her, slowly calming down.
"Experience!"
"Experience! Are you kidding me? That can't be? You gotta be kidding me."
"Yes, experience! Life experience! A foreign word for you. You are 24 years young. He's almost twice your age. You know, I was already thinking about what to do with someone younger then. Now I'm sure it was a mistake. So I'm gonna date an older guy like I always wanted to. Maybe it'll work out better this time. I'm confident it will." she revealed to him. Sergei came up to me and confided in me. Marzenna saw what happened.
"Listen. "This real blonde is a big deal. She'll try to hook you up with a kid and make you bleed financially. "If you're broke, she'll throw you away just like she did me. She's from Poland. They're all crooks there. So watch what you do. I bet you fucked her without a condom, so her egg must be fertilized already. Have fun with her." Sergei took his leather jacket and went out her front door. She banged the lock loudly.
"Is it true?" I asked her curiously.
"Listen! I have…" I interrupted her.
"What did you just say to him? Is that true?" I asked her.
"Here…" she took a box of pills from the kitchen drawer and showed them to me, one was missing. "I took the morning-after pill earlier. I don "t want to take advantage of you or sell you a kid. I already have a son. I don "t want another one right now. Trust me." She said to me intimidated. Butt-naked with her legs slightly spread, she leaned her bottom against the drawer and supported herself with her arms.
"That's not what I meant at all!" she looked at me in a stunned look.
"What did you mean?" she asked me curiously.
"That you want to get involved with an older guy! With me?" she looked down. I stood very close to her. With my right hand, I held her chin up and spoke to her eye to eye.
"You want to do something with me? Are you sure about that?" she got tears in her eyes and nodded. "So the last two hours weren't just an attempt by you to get fucked up the ass by me?" I asked her.
"But while we were sitting in the pub, the thought occurred to me! But when Sergey attacked me, I was glad you were here and I was happy. For a long time now I've felt safe again."
"You knew that after sex?" I asked her.
"Yes, I think I have a good knowledge of human nature and I can well imagine Can't you?"
"Yes, I do. I can imagine it very well. I'm touched that a woman like you is interested in me. I was thrilled that you asked me out today because I thought we were worlds apart. I noticed you from the beginning. The first day I saw you. You have an advantage. You can wear whatever you want and you'll always be able to wrap any man around your finger. You radiate something stunning that I can't explain. When I revealed to you that I am into BDSM and you were not averse, I already took a risk. Somehow I knew you'd understand. I wasn't wrong. Because I'm a good judge of character, too. And when you told me you took an morning-after pill, I was sure!" I explained openly. Marzenna grinned in relief and held her hands on my hip.
"You must know that I really didn't mean to sell you a kid. I really did take the pill." she admitted openly.
"I believe you! Don "t worry. I didn "t get you pregnant. Because unfortunately I can "t make children. I "m infertile. And I thought it was good of you to be so honest with me."
"Really… I'm sorry you can't father children. There's nothing better in the world than kids. Children are our future and our namesake." she stated openly.
"I think I'll try you! I'm thinking about having a relationship with you. But only through honesty, you will be able to warm my heart and win." I replied.
"Do I have a probationary period?" she asked me softly, whispering in my ear.
"Do you want me to give you a trial period?" I asked back whispering. I reached between her legs and rubbed her pussy tenderly. Quietly excited she replied:
"You can test me! Do your tests. I'm trying to make you happy in every way. How long is the trial period?"
"Until I say I love you. Then your trial period is over. Are you ready to enter into the agreement?" I smiled at her and left her pussy alone. Marzenna nodded.
"Yes! Ask me anything you want?"
"Who says I'm gonna ask you questions? I'll put you to the test some other way!" I confused Marzenna.
"How will you test me?" she asked me curiously.
"You'll find out. "But you've got to stop asking me questions now. I have no claim on you, so let's just take it a little normal. I'm glad you're interested in me. Without knowing about my financial situation. My interest was already piqued. OK?" she nodded and I was glad about it. "Do you have money?" She asked me anyway.
"You weren't gonna ask me anything else? But money doesn't bring happiness. It calms you down, but it doesn't make you happy. When you have a fortune, you're not happy in life. Only money. You can buy many things with it, but not love or happiness," I answered calmly.
l "m a little hungry! Shall we order something to eat? I know I shouldn't ask you any more questions, but are you hungry too?" I smiled.
"That's not what I meant. I'm hungry, what do you want to eat? Asian?"
"Sounds good. I love Asian food!" I replied. I called Su Chau, our urban Asian delivery boy, and ordered a number of delicacies.
Bollock-naked at the door Marzenna waited for the delivery service
The doorbell rang after 30 minutes.
"Go on, get the door and open Su Chau!" I asked her.
"But I'm naked! I have to put on something."
"No, you don't. You have a great Boddy. You got something to hide? No. So open the door for him with your sexy body. You'll see that he's completely mistaken. Because he sees you. He'll give you the food for free." I asked her.
Marzenna looked confused and opened the door. Su Chau stood there with eyes wide open. When she asked for the bill, Su Chau said it was an honor to supply it.
"Hello, Mark, thank you. Dinner's free," he saw me and he bowed to me. Marzenna turned to me and stared in amazement.
"What just happened there?" she asked me.
"Very simple. I had a good chat with him and immediately noticed that he was into European blonde women. The last time I asked him a question, I made a bet with him that if he ever saw a blonde naked in his front door, I wouldn't have to pay for the delivery! Voilà!" Marzenna put the bag with the food on the kitchen table and sat down.
"Now when he goes home, the first thing he'll do is jerk off and dream about you. That's pretty exciting, isn't it?" I asked her.
"How did you know I wasn't embarrassed to show my nakedness to someone else?"
"Because I noticed in the pub, watching you have sex with other guys, I could take pleasure from you and no shame. "That's how I knew you liked to show your body. I bet you also like to go to the nudist beach? Am I right?" she nodded and put the food on the table. I sat down opposite her.
"And do you have chopsticks?" She nodded again and took some out of the bag. We ate fast and greedily. By the time we finished, radio silence. She smacked and belched loudly. Typical Chinese.
"You know the eating habits of the Chinese? Do I like it when you smack and rub Where does that come from?" she smiled and was amazed at my reaction. She leaned back and took a deep breath.
"I love Asia. The culture, the people, the food. Simple and absolutely natural. Impressive." I was fascinated by her cosmopolitan outlook.
"So if I told Su Chau he could fuck you if I could watch! How would you react?" I asked her spontaneously.
"I'd ask, is this a test or are you just trying to provoke me?" I smiled.
"Maybe it's a test, who knows, maybe not. You like to show yourself naked. Dreaming of sex with several men and ready to be fucked by another if I may watch. You love Asian people and their culture and their food. So, what do you think about it?" I asked her again.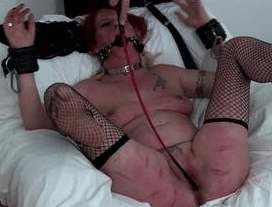 "Well, sort of, if you want it. Why not? He's cute, and he's exactly my thing." she admitted.
"I know why, he has a small belly. And you do like bellies, don't you?" she nodded and admitted to imagining a sex experience with him.
"Should I call him? Should I ask him to fuck you for me? Would you be willing to do that if I could watch?" I asked her again. She struggled with herself and was not really sure of herself. Nevertheless, she agreed.
"OK, but he should use a condom." i nodded and was glad she gave in to my desire.
l "II call him. He'll be right over." I dialed his home number. It was his turn and I asked him to come over here and fuck her. He consented.
"Okay, he'll be here in 10 minutes. So why don't you pick out a hot outfit for him and change. I'll be waiting in the kitchen. If the doorbell rings in a minute, you have to get him so horny he can't hold back." She nodded and went into the bedroom. After a while she came back. She was wearing a black mini skirt with loose stockings and a white blouse with a bra underneath.
"Aren't you jealous when I do it with him?" I smiled.
"No…. I don't do that, I'm not jealous. No way."
"I find that arousing." The doorbell rang. It was time. Marzenna went to the door and opened it. She let Su Chau in. He was two heads shorter than her when he stood in front of her in the kitchen.
"I'm glad you agreed to let me fuck you willingly." Su Chau admitted in broken German "Have you been committed yet?" he asked her.
"Incarcerated"? What do you think?" Su Chau looked at me thoughtfully.
"What did she mean? Mark. Didn't you tell her what I like when I fuck?" I grinned in my ear. Marzenna looked confused.
"Nah, I didn't. Just tell her you like rough sex. When you see a hot blonde, you want to fuck her in the ass from behind," I said for him.
"Have you two made up?" she asked us.
"No, we haven't," I replied.
"Why does the same thing always happen to me. When I promise a guy that I can stick his dick anywhere he wants me to, to let them all imagine my asshole?" she asked me.
"Simply because it's tightest there," I replied quickly.
"You say everywhere! Then I'd like to fuck your mouth first." Su Chau interjected excitedly.
"Did you bring my emergency kit?" I asked Su Chau? He nodded.
"Did everything you asked. Do you need the case now?"
"Yes, now is the time." he gave me the suitcase. I opened it. Marzenna looked stunned into his suitcase. And was really stunned. There were several restraint devices in the case.
l "m preparing Marzenna for you. All right?" I asked Su Chau. He nodded. Marzenna was mysteriously aroused.
"Come on, TREASURE… …bend over, put your chest on the table and stretch out your arms." She did what I told her to do. She stood with her legs apart in front of the round table. I tied her ankles to the legs of the table. Hands on the other legs stretched out wide. Su Chau stood in front of Marzenna's head. Opened his zipper and his button on his pants. She fell to the ground. He dropped his boxer shorts on the floor and threw them into a corner. Now he stood stark naked in front of her head and played with his wiener. I stood beside him and lifted her head by her hair. He put his wiener in her mouth. I let go of her head and Su Chau took the reins in her hand. He played with the back of her head and enjoyed her mouth fuck.
Hard in the tight ass fucked by the BDSM Chinese
His dick grew hard in her mouth. I went behind her. I pulled her miniskirt down to her knees. Then I pulled her panties up to her knees as well. I grew my dick slowly. I had a thick long Lyon sausage, which I slowly rubbed hard at the sight of her horny crunchy ass. Su Chau let Marzenna suck his cock hard Su Chau walked around her with a hard stand and then saw what I also saw. Two delightful buttocks.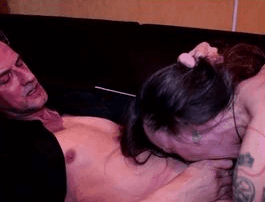 "How! You called me darling?" Marzenna addressed me. She was brooding. "Come on, jerk off in my mouth! While Chau fucks me, bear." she asked me. I thought it over very carefully.
"I gave Chau a condom.
"Can you put her in another position? I'd like to do it differently." I was thinking.
"Different how?"
"I'd like to look her in the face when I fuck her in the ass. I'd like to see her pinched face when I fuck her in the ass. And can you maybe tie her up and position her differently?" he whispered into my ear.
"That can be done. I have an idea." I untied her bonds…
Do you want to publish your BDSM stories or sex story? Send them to us!