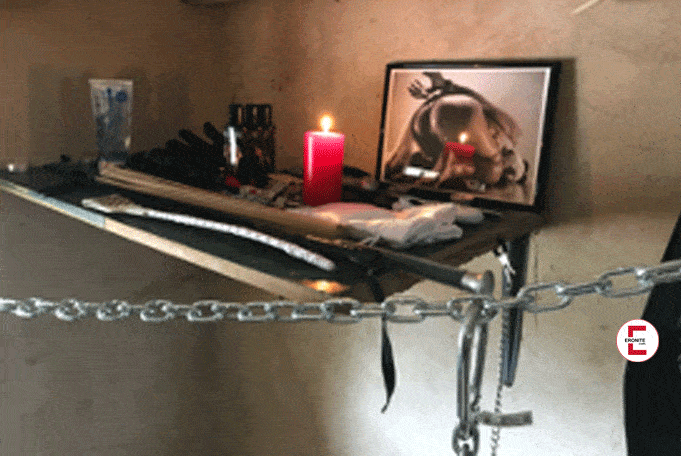 The first BDSM session was waiting for you
Your children are with their father. You're home all alone. In the afternoon you received a message: "At 9 p.m. you will lie face down on a table on your terrace on the ground floor, facing the house. Put your hands behind your back. You connect your eyes with a cloth. You'll wear high heels and hold-up stockings. Otherwise, you're naked. 9:00 sharp. Your first BDSM session awaits you."
---
Eronite empfiehlt dir diese XXX Videos, Livecams & privaten Kontakte:
---
Of course you'd be nervous all afternoon and early evening. Thousands of questions flashed through your mind? What would the course of a BDSM session be like? So far you were rather inexperienced in this field.
As you were told, at the appointed time you lay almost naked with your stomach on the table and wait. But you hear no car, nothing. From further away you can hear your dog and your piggy in the enclosure. What happens now? Tensely you try to hear steps or vehicle – but nothing. No noise. At the BDSM the first session you have imagined in your imagination differently so far.
You're breathing heavily, you don't know what's happening. Suddenly, out of nowhere, someone is standing behind you. You think. You're not sure. Was it just a draft? Or is someone there? You see nothing, but you hear nothing either. Your breath drowns out possible noises. You wait again, but it was probably only the wind that caressed your bare back.
When thoughts go crazy
Your mind wanders. You see yourself in the cellar where you had found yourself after a short trip to the aquarium. Chained and almost naked. You've been flogged, and you're hoping somehow to be spared today. Or not. You don't know what you're thinking right now. Not even what you want. You want it all, your senses are going crazy. You're just confused and really nervous.
In the moment of your thoughts, a hand suddenly goes over your back. But you don't feel any skin, just a tight latex glove that draws a pattern on your back with one finger. The finger slides over your skin, slides between your buttocks and checks whether your cunt is already juicy. You cannot see who touches you. You smell a man's perfume and ask the man his name. No answer. Icy silence. Instead, the guy presses his thumb into your wet hole and massages with the tips of his index and middle finger your clitoris. Now you get horny, enjoy the treatment of the unknown. From behind he puts a mask over your head, but your mouth remains free. For what, you already suspect. Now you are completely blind. Handcuffs are closing around your
Wrists, your hands are tied behind your back. The man now caresses you with both hands. They are strong, yet gentle. The latex from the gloves is driving you crazy. Again and again his fingers penetrate your now soaking wet pussy. You'd be ready to get fucked now. But the man apparently doesn't think about it, but puts a collar on you, to which he attaches a chain.
You can only smell him at your first BDSM session
He forces you up, pulls you towards him on the chain. You can smell it, manly perfume – but not see it. You want to taste him and try to kiss him. But he eludes you, goes around you and grabs your breasts from behind. Your nipples are already rock hard and you can feel his already erect cock on your butt, which you stretch out slightly towards him. The man pulls you into the house on a leash and lays you on the large, heavy wooden table in your salon. Again with your belly down, you present your bottom to him, pull your cheeks apart and can now see exactly your two holes.
He now pulls your labia long, it hurts slightly, but somehow it makes you even sharper. So sharp you seem to be going out. All of a sudden you feel him weights attached to it. You enjoy this pain very much, get hornier and hornier now, just want to be used and finally fucked.
Doesn't he want to fuck you?
The man takes a step back, but suddenly you scream. The stroke of a paddle hit your butt right on target. You scream, but nobody hears you out here. You beg him to stop. He strikes exactly 15 times. Then he lets go of you, kisses your neck almost tenderly, so that you shudder again. What does this guy want? Why doesn't he fuck you?
After this somewhat ungentle treatment he forces you down from the table, you now kneel before him. Now you feel a plump acorn on your lips. As if in a trance you open it slightly and he slowly pushes his hard cock into your mouth. Very easily and slowly he starts to fuck your mouth cunt. He's using you as he pleases. His dick is getting bigger and bigger in your mouth. Emphasizes slowly he pushes it again and again into your greedy throat, but then stops.
You know it's your turn now, and you keep sucking that stiff dick. The man grabs your hair and presses you on the floor, this is where your first BDSM session should start. You are now deliberately sticking your bottom up. As an invitation to fuck you right now. But the man still doesn't seem to want He'll just fuck you with his fingers and then he'll back off. You just lie there and wait, not knowing what's coming.
Left alone at the first BDSM session
He walks out of the room and leaves you alone. The man still doesn't speak a word. You don't know how long you'll be crouching there on the floor. To keep you warm, he'll put a blanket over you and lay you down on it. Promised to take care of you.
Where is he? What is he doing? You hear voice murmur. Damn it! Is he alone? Who is it? What does he want? You're almost going crazy with excitement. In the middle of this reeling, you are still lying on the blanket, you suddenly notice a boot on your body that nudges you. Your hands are still tied, you can hardly move.
The man squats over you, opens his pants again and pushes his hard cock in your mouth again. You greedily open your lips and devour the plump masculinity. You gotta choke, that's as far as he'll take his thing down your throat. But then he'll let go of you again. You feel his lips on yours, he kisses you tenderly, then wildly and demandingly. You want more from him. He, however, puts you on the couch backwards. Now he spreads your legs, sees your open gaping hole, which is already shining with moisture.
What a joyful torment
Again and again he takes your nipples between his fingers. Rub it, pull it, push it, suck it. They are as hard as steel, now even more erect. As he sucks hard on it, you almost come to orgasm, but he stops – unfortunately – just in time before your sexual climax can roll over you. Lust shakes you.
He seems to have something in his hand. If you could see it, you'd know it's a kind of tongue that vibrates. What's he gonna do with it? With powerful arms he continues to push your legs apart. You want to see him, want to physically unite with him, longing for a good fuck and your redeeming orgasm.
With two fingers he pulls your labia apart, gently pushing the foreskin of your clitoris backwards. It now skilfully attaches directly to your clitoris, stimulating it with the artificial tongue. You're leaking. You're writhing with lust. Starting to have trouble breathing. You're about to experience your climax. At least you think so – because suddenly his flat hand rushes down on you and hits exactly your most sensitive spot. "Fuck me now," you scream, barely recognizing yourself from your obscene choice of words, "fuck me like an animal, fuck me like your whore!"
15 agonizingly long minutes
Fifteen minutes the man plays this game with you. Irritates your clitoris to the max, lets go of you again, sucks on your nipples. It pinches the inside of your thighs, massaging your waist. Oh, God, what is he doing to you? How can you stand it? You can no longer, whimper for redemption, beg him to take you hard now.
Looks like it's your lucky day. You notice his bulging acorn, on which a drop of lust has already formed, since all this has not passed him by without a trace either, at the entrance to your cunt. He puts your legs on his shoulders. Very slowly he now pushes his spear into you, piece by piece. What sweet torture afflicts thee!
With slow strokes he starts to fuck you. Little by little he increases his speed, then pauses again briefly. You feel his lips on yours again. Your tongues merge into one endless kiss. He kisses you while his cock is still inside you and he lets it circle lustfully inside you.
Your whole pelvis vibrates and you come to your first orgasm. A veritable shower of emotions hunts through your whole body, making it literally shake. Now you had what you wanted, what you craved. A really horny fuck! So you could let yourself fuck for a long time, but the man has something else in mind with you. It pulls your body over the edge of the sofa, so that your head is right in front of its bulging stand. He doesn't miss that, takes the condom off and now fucks your mouth with all his might. Your saliva runs from the corners of your mouth, runs over your face and drips on his cock, which he powerfully sinks again and again in your fuck mouth. Not badly he would like to pump his hot load directly into your stomach, but he controls himself.
What does he plan to do with you during your first BDSM session?
Before you know it, he'll have you back on the table. Not only laid, but virtually discarded. You have to wait. Practice patience while he seems to be building something. So that you do not freeze and cool down, he has carefully put a blanket on your body. You hear a metallic clang, what's he doing?
After a few minutes, which seem like a small eternity, he takes you off the table. But not without running his fingers through your still wet cunt. He pushes you down on your knees, takes off your handcuffs and fastens you in a floor pillory. You are now so fixated that you are completely at his mercy. Bottom and pussy invite him to fuck. But what is this now?! You feel something on your back, it feels like oil. You're absolutely right about that assumption.
The man oils your body
What does he want, why is he greasing you? Oh no, you guessed it, he wants to fuck your ass. But you don't want to, and you're begging him not to. But he does not say a single word. Like that whole evening. He's not talking to you. All he does is fuck you up good and proper.
It stimulates your clitoris again and also strokes your anus. He skillfully fingers your cunt until you almost come back to orgasm. It stops just before you climax. Shit! What is this? You want to come, just come! Instead, he beats your greased ass with his hand until welts form. It hurts, but still you enjoy this man's treatment.
However, he cannot resist this lustful sight for long. Now he doesn't push his cock into your pussy as before, but with one blow he sinks his again rock hard cock in your smacking hole. Now you want to keep feeling him. He's doing you this favor. With all his strength he fucks you. Harder and harder. It strikes your buttocks, pulls your hair, and continues to strike hard and mercilessly. You moan loudly, whimper, scream everything together as you reach the climax with a loud grunt. Exhausted, you want to collapse, but he continues and fucks you like a wild animal. Until he too rears up, pulls his cock out of your pussy, wipes the rubber off and splashes it on your ass and back with a loud rutting scream.
The man rubs the sperm on your breasts, breathes a kiss on your neck. Still you are fixed in this pillory, can hardly move.
He's getting dressed. You ask yourself what he is up to now and just ask quite unabashedly if he wants to come for breakfast tomorrow. You want to know who fucked you so horny and repeat it. No answer. Once again, just silence. Why is this man so different? You're confused, but extremely satisfied. You could have sex like that more often!
Then this man releases one hand from its fetters, puts the key for the others within reach and leaves the house with quick steps.
When you have completely freed yourself and run outside, all you can hear is a car. He drove away without saying a word to you. Damn it!
The next morning after your first BDSM session – a few hours later – there is a knock at your door. He stands in front of it with a bag of fresh rolls and croissants.