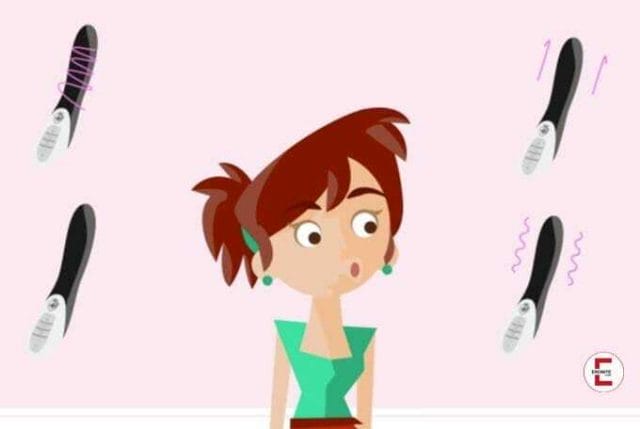 Inhaltsverzeichnis dieses Artikels
Electric Eric in intensive test
Electric Eric stimulator electrically stimulates with five variations. What else can the stimulation current vibrator do and are its effects satisfactory or do they go beyond? These questions and more are answered in the guide to the stimulation current vibrator.
---
Eronite empfiehlt dir
Das Dating 3.0 – Die Zukunft des Dating

Eronite empfiehlt dir
Dating 3.0 – Die Zukunft des Dating

Eronite empfiehlt dir
Das Dating 3.0 – Die Zukunft des Dating

---
Flexible toy for electrical stimulation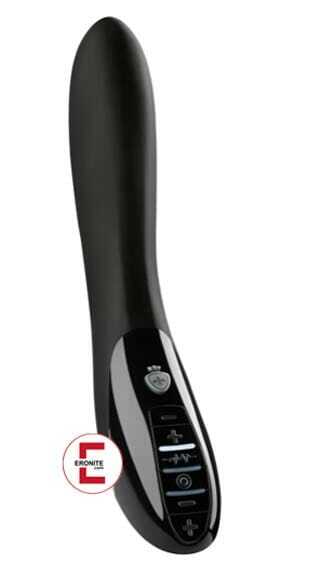 The stimulation current vibrator is flexible and spoils with five variations. There are ten intensity levels that add to the pleasure. The pulses are also possible without stimulation current. There are also eight vibration modes. There's something for everyone. The stimulation current and the vibrations can be controlled separately.
An additional function trains the pelvic floor. Furthermore, the stimulation current vibrator convinces with its long battery life. Once fully charged, it can be used for a full three hours of sustained use. In addition to the storage box, the scope of delivery also includes a USB charging cable.
The application of Electric Eric is very simple. It is used together with a water-based lubricant. For this purpose, it is inserted into the vagina, respectively into the anus. For control there are buttons on the stimulation vibrator.
What can the Electric Eric do?
Electric Eric stimulating current vibrator is very versatile for electrosex. It can be stowed away invisibly, but is still always at hand. An additional stimulation current device is not required. The vibrator is equipped with a motor that provides electrical stimulation. These take place via the lateral guide surfaces. For this purpose, the control is carried out via five different stimulation current modes with ten intensity levels.
If you want to leave the stimulation current out, you can also use the Electric Eric as a normal vibrator. Then it has eight vibration modes. Furthermore, it is possible to use both variants to experience a perfect climax. Both functions can be controlled separately.
The toy is absolutely flexible and can therefore be used as desired. Thus, areas of choice can be stimulated. In addition, Electric Eric provides an opportunity to exercise the pelvic floor. This prevents incontinence. On the other hand, more intense orgasms are possible.
More details about the vibrator
Electric Eric stimulating current vibrator can be used continuously for up to three hours. After that, recharging is required. It is made of medical grade platinum silicone. It therefore feels pleasant to the touch, even in sensitive areas. Do not use silicone-based lubricant, as it may damage Electric Eric.
Read also:
Sextoy in test: E-Stim Rabbit vibrator with stimulation current
17 erotic Orion stories for browsing
Die Geschenkidee für Sie: Massagestab Wand & Pearl Vibrator
Vorgestellt: Das Vibrationskissen vibepad von ORION
Water-based lubricant is the perfect choice for him. In the meantime, there are even water-based lubricants on offer that are specifically suitable for stimulation current devices. These are ideal for the use of Electric Eric. Its cleaning is possible with water and mild soap. Alternatively, there are special toy cleaners that additionally disinfect the stimulation current vibrator.
Electric Eric is 27 centimeters long and has a diameter of 3.5 to 3.8 centimeters.
Experience with the Electric Eric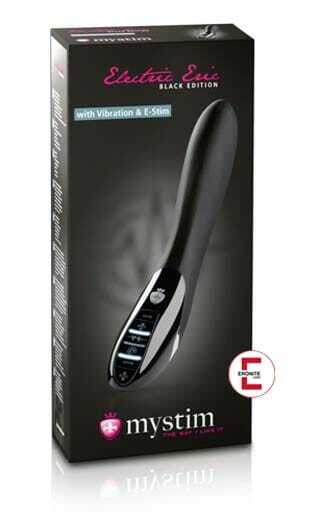 Especially interesting is the vibrator because of the stimulation current. It is recommended to try it out. Both vaginal and anal. The toy provides stimulating feelings that are not possible with any other vibrator. The stimulation current vibrator is suitable for single ladies or for couples. It can be incorporated into the game as desired and provides endless orgasms.
Those who want to buy the vibrator should be surprised how well it works. Among other things, the function with stimulation current feels very interesting. Unfortunately, it is not illuminated, so the Electric Eric is a bit complicated to operate.
Overall, the vibrator is a high-quality toy with excellent quality and good functions. Electric Eric not only pampers with stimulation current, but can also be used as a pure vibrator. It is suitable for all those who would like to experiment with stimulation current. Use for couples is also interesting, because it supports communication.
But single ladies are also enthusiastic about this sextoy. Trying it out is worthwhile in any case.
The operation of the stimulation current vibrator
As soon as the vibrator is switched on, it convinces with its individually adjustable vibration. It can be fixed as desired. The motors are well accommodated. In addition, stimulation can be applied selectively. One motor is located at the top of the device, the other directly under the center.
The different vibration programs are varied. They range from simple vibration of one engine or another. Both together can also be adjusted. In addition, there are alternating programs. In the process, the vibration changes and offers some surprises. The selection of programs is more than satisfactory. So everyone can find suitable settings.
The electrical stimulation can be switched on separately, as well as the intensity of this. There are also many programs in this constellation. They feel like a permanent tingling sensation or like slight jolts. One particular program is worth mentioning. Here the frequency is gradually increased before returning to the starting position.
The stimulation current vibrator offers the right stimulation for every taste. However, its use with couples requires more communication. There are reasons for this, because the setting and intensity can be felt on the handle. Unfortunately, this is not possible with the setting in combination with stimulation current. Here the partner must provide information about which program to expect next. But overall, this is not bad, because many women like to be surprised. After all, this increasingly increases the appeal.
However, it would be even better if it could be seen which program is currently switched on. The manufacturer could have solved this better, for example, with an indicator on the display. Therefore, before using it, it is necessary to study the operating instructions first. Once this is studied, single ladies or couples can use the toy easily and intuitively. However, the Electric Eric vibrator was developed primarily for single ladies.
Summary of the vibrator with stimulation current stimulation
Some may hardly endure their curiosity before using this innovative vibrator that runs on stimulation current. Once switched on, it has various surprises in store for its user. The use is possible in many practices, including BDSM. What is allowed at Electric Eric is what pleases. The scope of delivery includes a practical storage box. So it can also be taken along on trips and used when its owner feels like it.
The vibrator convinces with numerous advantages, but also has a few, few disadvantages. On the positive side, it is made of high-quality materials and ergonomically designed. It works with two powerful motors and has a special function with stimulation current.
Since it is battery operated, the use is flexible. The operating time is an enormous three hours before recharging is necessary. The stimulation current vibrator is waterproof and allows to train the pelvic floor. Furthermore, the toy feels very good in the hand. The quality is already evident from the fact that it is Made in Germany.
A small drawback is that it does not display which program is set.
Source of supply: orion.de
---
More sex toys in the test can be found here:
www.eronite.com/sextoytest