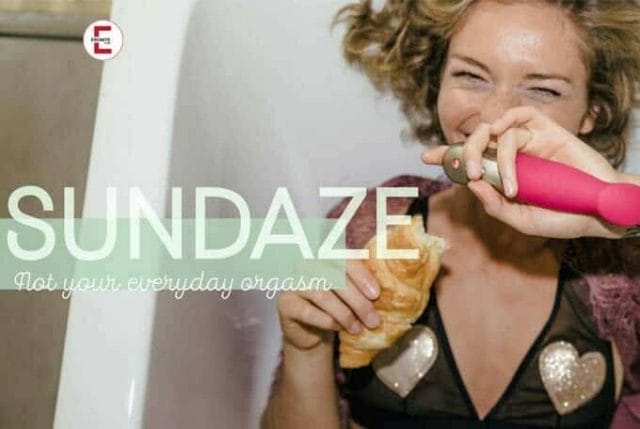 The SUNDAZE vibrator – intensive lust experience guaranteed
With the SUNDAZE pulsator women come much easier, faster and above all much more intensive. The reason for this is a new type of technology that not only makes the small pleasure-giver vibrate, but also pulsates, bumps and knocks at the same time. The stimulation therefore takes place in different ways. It almost goes without saying that this also intensifies the excitement. With the refined SUNDAZE vibrator women experience true moments of happiness and have lots of fun. This can all happen very quickly or can be delayed until infinity – just as you wish.
---
Eronite empfiehlt dir diese XXX Videos, Livecams & privaten Kontakte:
---
Technical refinement for a pleasurable pleasure
When masturbating with a vibrator, of course, no one likes to think about the technique behind it. But it is exactly this technique that makes the SUNDAZE vibrator so phenomenal. Fortunately, however, you can't tell by looking at him. On the contrary: Already when unpacking it proves to be a haptically exceedingly sensual sextoy, which one simply likes to take to hand. Its curves and organic shapes alone immediately create a familiar, even pleasant feeling, even though it has not yet been switched on.
The SUNDAZE vibrator has nothing dingy about it, but looks extremely elegant. It is therefore ideal for all women who not only want to be aroused quickly and emphatically, but who also want to retain a certain style despite all the horniness – regardless of whether they are alone with him or together with their partner. The SUNDAZE vibrator or the SUNDAZE pulsator, as it is often called, is an extremely sophisticated sex toy. Nobody has to think about the technology.
SUNDAZE vibrator with PULSEVIBE technology
Still, some technology is needed. As already mentioned: The SUNDAZE vibrator not only vibrates. Nor does it have a classic electric motor that generates uniform vibration, but rather the highly innovative PULSEVIBE technology from the manufacturer FUN Factory is built into it. The advantage of this technique: Instead of just vibrating, the SUNDAZE vibrator also produces rather tender impacts or a thoroughly tangible penetration.
A gentle knocking is possible with it as well as a certain movement of the device itself, which is triggered by integrated weights. A total of 15 different programs are available for the satisfaction of your lust. A lot of variety is provided for. There is of course a specific intention behind this. The overriding idea behind this is that it is not only the goal alone, i.e. orgasm, that matters, but also the way to get there.
The SUNDAZE vibrator is therefore designed to stimulate and excite in a variety of ways. The manufacturer takes into account very precise anatomical knowledge of the female vagina. For example, it is now known that stretching and thrusts inside the vagina play a part in a woman's arousal that should not be underestimated, to name just one example. This is exactly what the SUNDAZE pulsator is capable of.
On top of that, it is very quiet and, once switched on, works even when not in the hand, so it is easy to fully engage with the stimulations and feelings that have occurred. So women can enjoy uninhibitedly to the full without having to think about the SUNDAZE vibrator all the time. It is clear that in this way it is once again much easier to let oneself go completely, i.e. to surrender boundlessly to desire.
Try it out and feel your way around slowly
The SUNDAZE vibrator has an incredibly intense effect. Due to the many possibilities to adjust the intensity according to your own needs, it creates exuberant feelings that can affect almost the whole body and not only the stimulated area. So the SUNDAZE vibrator can actually overwhelm women in the best sense of the word. It is therefore absolutely recommended to first carefully approach the device and its possibilities. Tip: First start with a low intensity and then gradually increase it. Ultimately, the main thing at the beginning is to familiarize yourself with the SUNDAZE Pulsator.
But don't worry: this phase lasts only a short time. It is surprisingly easy to find out what a woman likes on which part of her body and how intense it should be. But above all, this finding out, this exploring, if you like, is already incredibly much fun. It is also important to mention in this context that it is advantageous to be unbiased and relatively relaxed. Woman should get involved with the SUNDAZE vibrator and openly try out everything she feels like. It's all about her lust.
And it's all about her body. Fortunately, the SUNDAZE vibrator is designed in such a way that it can be individually adjusted to personal needs and circumstances. In a very short time an amazing virtuosity in handling the Sex Toy can be achieved. And very quickly you forget that the SUNDAZE vibrator or pulsator catapults you into the seventh heaven of lust.
Here is an overview of all sex toys tested by Eronite