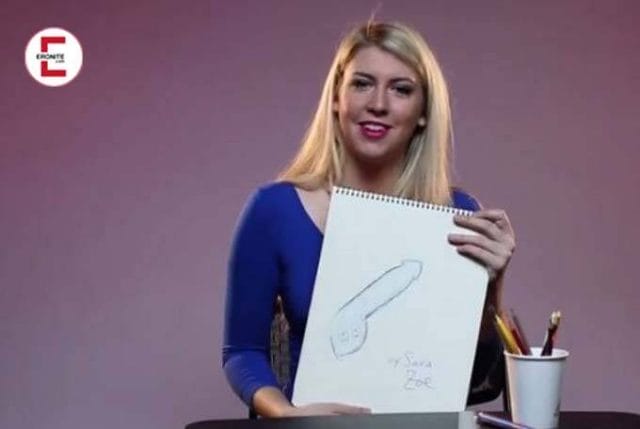 Who has the longest in the country?
Whether holidays, weather or salaries – regional differences can be found everywhere. Even with regard to a specific male attribute, impressive deviations come to light. How the German states compare in terms of length, what age has to do with it and why women are better at buying condoms are revealed in four fun facts by the data analysis of the marketing and market research platform Utry.me from Munich. In cooperation with a condom manufacturer, test persons were able to purchase four different set sizes in the Utry.me online store – from large to small. The evaluation period ran for 12 months, during which almost 1,400 users provided intimate insights below the belt.
---
Eronite empfiehlt dir diese XXX Videos, Livecams & privaten Kontakte:
---
4 Fun Facts you need to know
Fun Fact 1: South better stocked than north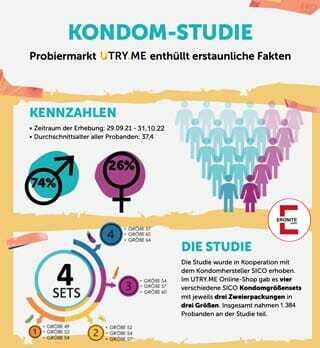 Analysis of geographic consumer data reveals a few unusual facts: the set with the largest condoms was purchased much more frequently in southern Germany (35 percent) than in western (31 percent) and northern Germany (18 percent). Accordingly, there is a clear winner: Bayern not only performs well on the soccer pitch, but apparently also in their home beds. As we all know, the size does not say anything about the quality. Eastern German men bring up the rear with 13 percent – but the data analysis does not reveal why this is the case.
Fun Fact 2: Larger sizes are more likely to be purchased
The second smallest set, which should fit best on average according to the manufacturer, was bought the least. But why is that? Do men misjudge the measurements of their "best piece"?
The reason is much simpler: most men said they had purchased this size before and were not satisfied with it, preferring to try something new. These figures are also reflected in Utry.me's data analysis. Only 21 percent of the test subjects resorted to the medium set, while 28 percent switched to the largest.
Fun Fact 3: Younger wearers better equipped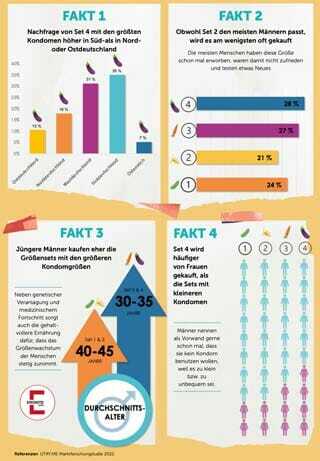 The market research study puts the average age of all test subjects at 37.4 years. It was found that men between the ages of 30 and 35 tended to go for larger sets and the age group between 40 and 45 favored the two smaller sets. While one might assume that the younger generation benefits in terms of size phenomena due to better living conditions, such as health care and nutrition, there is no scientific evidence to support this. Perhaps behind this lies rather the realistic assessment due to a high willingness to experiment.
Fun Fact 4: Women go for larger models
The relatively high proportion of women in the study is astonishing. According to Utry.me, 26 percent women participated and mainly bought the larger sizes. "Maybe it's because women often hear from men that condoms are too uncomfortable or too small," surmises André Moll, founder and CEO of Utry.me.

Read also:
– Hard facts about his best piece
– The differences between blood penis and meat penis
– Men beware: Penis length in country comparison
– 7 reasons why sex with small penis can be horny
– Guide: 5 sex positions for a small penis
– Average penis length in Germany: How long is it really?
He points out with amusement, "However, the men have done the math without the women, who think to themselves, then I'll order the larger size right away, to undermine any male-convenient excuse." So the flimsy excuse for condom refusers automatically comes to nothing.
Conclusion
Often, choosing the right condom is a matter of personal taste. Whether studded, colorful or flavored – one thing is important in any case: the size, or more precisely the width. This is crucial for the perfect fit. If a condom is too tight, it will tear more quickly. A condom that is too wide is more likely to slip off. Only if it fits perfectly, it is hardly noticeable and protects against HIV and other sexually transmitted infections.
"When it comes to choosing the right condom, online retail is playing an increasingly important role. This gives consumers the opportunity to choose different sizes online and test them at home," emphasizes André Moll. To find the right condom, consumers should pay attention to the width specifications when buying. It is usually located on the outside of the packaging.