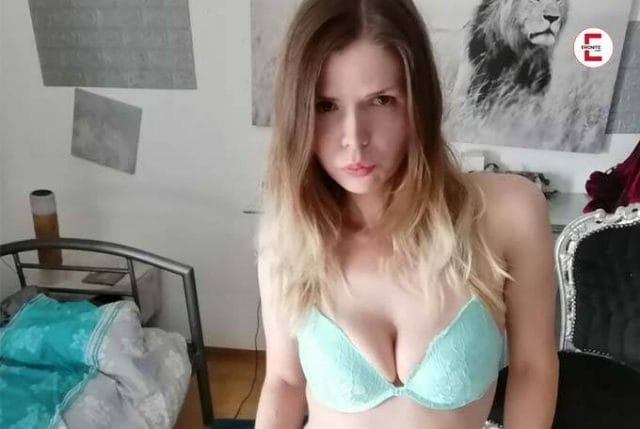 Katixxx and a few interesting questions
Katixxx is the proverbial girl next door: perky, sugary sweet and highly erotic. The sexy girl from North Rhine-Westphalia is so sexually open-minded that she calls herself a jerk-off template and just loves it when men not only use her for their masturbation fantasies, but also subdue her in bed and show her where the hammer hangs and who is in charge during sex.
---
Eronite empfiehlt dir diese XXX Videos, Livecams & privaten Kontakte:
---
The exclusive interview with the Rhineland girl
We are happy to have had the saucy gal in an exclusive interview with Eronite and she answered our questions on a few topics.
Eronite First of all, thank you for answering our readers' questions. We are sure it will be very exciting and enlightening. Not only your fans will be happy, but also we will be happy if we get to know one or two secrets, a joke from your youth or some private things about you. Tell me, since when are you actually active in the erotic industry, how was your start and what exactly do you do?
Katixxx I like to shoot homemade erotic videos, so now I'm looking for access to the industry. So far I've done this more privately, but I'd like to do some of it more publicly as I enjoy shooting this kind of stuff.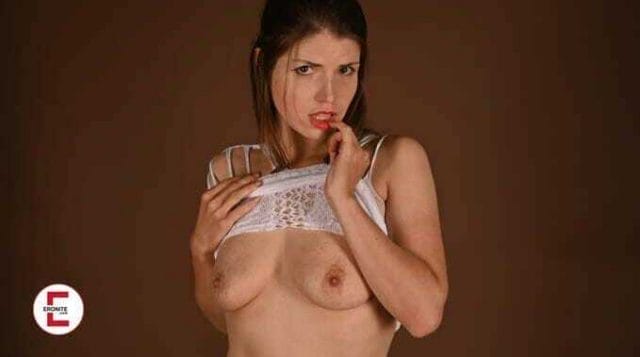 Eronite If you make porn for your users and make them happy, what is it about making adult films that appeals to you? And anyway, why do you actually produce amateur clips? Is it just for the money or is there another reason? Could you also imagine to shoot professional porn movies as well or have you even done that so far?
Katixxx I like to show myself in front of the camera. My body and an erotic charisma are important to me. It is important to me to be sexy and desirable – and I would like to do that professionally.
Eronite Imagine you're on set, everything's ready, the lights are on, the camera's rolling, and out of the production manager's mouth comes a "And – please!" What's going through your mind at this moment? Are you thinking about anything in particular or are you fully focused on your shooting partner(s)? Are there any scenes that you love shooting the most and what are they and why are they some of your favorites?
Katixxx It definitely depends on the situation. If everything fits, I am definitely fixated on the actor or the situation. In the beginning, however, I might still be a bit unsure and ask myself if I'm doing everything right and how I look in front of the camera with which movement. I can't think of a complete scene right now that I want to shoot. Generally I like the role of the little horny bitch who has to satisfy the man or woman. People are also allowed to grab my hair or hold me by the wrists. Something that tells me that you know what you do and want and that you want me, I can just let go, just do what you want.
| STECKBRIEF | Katixxx |
| --- | --- |
| Fotos & Videos | Mein Profil |
| Wohnort | Köln |
| Geburtsdatum | 26. Juli 1986 |
| Sternzeichen | Löwe |
| Körpergröße | 164 cm |
| Intimrasiert | Hollywood Cut |
| Hobbys | Lesen, tanzen, Erotikvideos drehen |
| Lieblingsfilme | Lucifer, Interview mit einem Vampir |
| Das mag ich | Guten, hemmungslosen Sex |
| Das mag ich nicht | Unterwürfige Männer |
"During sex I like to let the man cum on me".
Eronite Most of our contemporaries spend at least occasionally watching adult movies, some more, some less. Men more regularly and more often than women. How about you? Do you also watch a porn movie from time to time or do you think that you are already saturated with it professionally?
Katixxx Of course, I also look at what others do – and maybe there are good ideas that I do not want to copy, of course, but also find interesting for me changed. But I rarely found anything really appealing. But I like to watch cumshots and actually quite like to see a woman get cummed on. Logically, I also quite like that with me.
Eronite There are things that many actresses downright hate. At least, quite a few representatives of the guild have an aversion to one thing or another on the set. What is it with you? What do you not like at all about making porn movies?
Katixxx Hard to say, since I've tended to shoot alone so far. From a role perspective, I absolutely do not like having to act on my own.
Eronite The erotic and porn industry is fun, brings pleasure and at the end of a cam session or movie many people are happy. Nevertheless, the scene certainly has some downsides. What do you think are the dark sides of the porn and erotic industry?
Katixxx There can probably be rogue rip-off companies if you get to the wrong people.
"With just bedtime stories, I feel kissing is unnecessary".
Eronite tongue kisses inspire from puberty young and old alike. For many, there is no greater proof of trust than an honest, soulful and intense French kiss – often as proof of intimate affection and love. On the porn set, however, love is out of place. Nevertheless, many actors and actresses like to kiss their filming partner during the act. Is kissing part of sex for you and how do you feel about it during porn shoots?
Katixxx So actually I find kissing unnecessary in pure sex stories. But still possible.
Eronite Every person needs a rock, a support. Especially in less good times it is important to have people around you who are good for you and whom you can rely on. What did your family say when they found out about your job? Were they horrified, did they perhaps even break off contact with you, or were they completely at ease with their daughter's new situation?
Katixxx I think I am old enough to decide what to do with my body without my parents.
Eronite sex in front of the camera is different from private sex in the bedroom at home. The set is teeming with people, it's brightly lit, there are cameras everywhere and there is constant interruption from the director or production manager. It can be difficult to concentrate on the essentials. Quite different from home. What's it like for you to have sex in private? What impact does your porn job have?
Katixxx In the beginning, all the people definitely make me nervous.
The best way for me to let go is for my shooting partner to take the lead.
Eronite Not every porn movie or amateur clip is like the other. There are definitely things that differ from film to film. Most of them say "my films are not posed and everything is real", but almost all of them answer that when asked. Apart from that almost all users and also we know that it is just not real if the amateur or actress turns only with the own partner, but nevertheless in the films many "different" men are to be seen. Or we also know that no postman will simply unwrap his accidentally washed penis, already ready for use in his trousers, when delivering the parcel, force you onto your knees and push his hard strap into your willingly open mouth, while this of course – pure coincidence! – is filmed and he agrees afterwards of course also with the fee-free publication on relevant porn portals. But back to the topic: What really distinguishes your amateur porn from the others? Is there a unique selling proposition?
Katixxx I think I'm too new here for that question. I'm just experimenting now.
I film as I make it for myself. In a video with maid outfit I experimented with cream, since I alone have no sperm I like so.
"It is my goal to be a jerk off template for horny men".
Eronite There are good lovers and not so good. Surely every woman has made the acquaintance of every type of man. One is better, the other worse in bed. But when exactly is a man good at sex for you and what do you think most guys do plain wrong in bed?
Katixxx Wrong in bed sounds negative though. Everyone is just different. Someone with submissive preferences is not wrong, but does not fit me, because I need a suitable counterpart.
Eronite You are in the adult industry and we all know why men (and women too) watch porn movies. This isn't about dialogue or exciting action. Nor about dramas or comedies. No one has to resolve who the actual killer was in the end. Porn is all about one thing: your own sexual gratification. Mostly, the orgasm should also be reached as quickly as possible. The viewer of the sex films sees the protagonists of the erotic flicks as a "jerk-off template", he masturbates by often imagining himself in the place of the man (or the woman) and the hot actress herself to be thoroughly fucked (or to be taken by the well-equipped actor after all rules of the fuck art). How do you deal with the fact that most viewers – whether on cam or in porn – reduce you to your body and only use you as a template for their own firing?
Katixxx That's not really a question, it's the answer to why I do it. Yes, it is my goal to be a jerk-off template. Yes, I want men to find my body horny. That's the reason I started making sex tapes of myself. Why always this reduce-to-the-body talk? However, no one complains that they are reduced to their hobbies or characteristics. I make these films because that's what I want. I hope I can find it here. And I think there is also no nicer compliment than to be the jerk-off template of a man. What's so objectionable about that?
Eronite Even though our (western) society is considered relatively open towards sexuality and pornography, the job of a camgirl or porn actress is still not really accepted. Many turn up their noses at such a career choice. Be it out of ignorance, misconceptions, or even their own principles of outdated morality. Many people confuse the porn industry with the red light scene and think that every erotic actress is also a hooker and just prostitutes herself in a different way. Germany is known (and infamous) for the fact that people like to meddle in the affairs of others and – especially when they don't have a life of their own – really shoot their mouths off behind the backs of the people involved. Apart from the envy that many successful people feel. Is there anything you'd like to say to people like that?
Katixxx It's best to swap roles. I would like to see others live my life and if they really would have made different choices if they had lived my life and had my experiences.
"I would love to be a full-time porn actress".
Eronite "Nothing comes from nothing" is an old – and true – saying. Many shooting days are long, starting early in the morning and going well into the night. Then there is the day-to-day paperwork and organisation, the classic back office. There has to be time for the Livcam shows too, not to mention that everyone should also devote time to their social lives, family and friends. How do you balance it all and how many hours a day do you spend in front of the cam chatting with your fans?
Katixxx I still have a normal job in the morning. Therefore, I can only chat and shoot in the evenings and weekends.
Eronite Well, I'm sure not everyone can imagine this, but a full-time job as a webcam girl or amateur (or porn actress) can be very physically demanding and challenging. Hours in front of the cam, on stage in a live show or on the porn set during filming – physical fitness is essential for every protagonist. Do you have a special diet? What do you do for your body to stay in shape?
Katixxx I try to do something daily to at least once a week.
I go jogging or swimming or do a bit of calisthenics. I also like to dance.
Eronite You do not only shoot amateur porn, but also show yourself to your users and fans in front of the livecam. There you do a regular live show, viewers can also chat with you and make a wish or two. We imagine you'll have a lot of fun there too – sexual aspect aside. What do you like most about working in front of the cam?
Katixxx I like to show myself and be the jerk off template.
Eronite Sure there aren't always golden times when everything goes exactly the way you want it to. Whether it's rude users, annoying customers or just an unstable internet line, there are many things that can disrupt your normal workflow. If you could change one thing about your job, what would it be and why would you want to change it?
Katixxx More time to film and chat. To be able to implement the whole perhaps nevertheless full-time.
Eronite You probably didn't become a camgirl straight out of school or high school, or originally planned to do so. Many start an apprenticeship, some complete it or start studying. Some Livecamgirls or amateur girls do the job also only once part-time and change later completely. Others do this work just for the fun of it and are only online a few evenings a week. What would you be doing for a living today if you hadn't chosen webcam sex?
Katixxx I am a trained beautician. If I had always been able to choose everything in life, I would probably be a biologist, specializing in either genetics or virology.
I would shoot videos then but still!
"Contacts are certainly important everywhere – even in the porn business".
Eronite What were your first steps? How did you come to webcam sex? Did you have a mentor, so someone showed you the best way to break into the adult industry and make money? Or are you even under contract with an agency that supports you in all areas such as marketing, public relations, technology et cetera?
Katixxx An agency does not exist yet. However, I was very well advised by Detlef when applying to Eronite.
Eronite Making new friends isn't always easy in this job. There are many prejudices and especially men sometimes think that as a camgirl or amateur you are fair game anyway. Other acquaintances, on the other hand, first develop in the industry, with female colleagues or other representatives of the industry. Do you have friends in your private life who are also active in front of the cam? Would you recommend the work to others or rather advise against it?
Katixxx I don't know anyone who does that either. Everyone must decide for themselves what he/she does with his/her body. This is too personal for me to advise anyone.
Eronite And what advice would you give to a woman just starting out as a webcam model? Should she find an agency or do you think they just rip off the girls and enrich themselves? Or should she manage everything herself from the start? How important do you think contacts are in the porn industry?
Katixxx contacts are certainly important everywhere. You tell me.
Eronite Many men have their favorites among the camgirls and visit them regularly. Do you prefer to have new users every day or are you happy when you see the same person more often in the chat? Do you have regular users who visit you regularly and do you perhaps even receive gifts or other attentions from them?
Katixxx I'm happy about new users as well as when someone reports more often.
Eronite Some girls – if the chemistry is right – even meet with their fans. Men often think they know everything about their erotic star. Quite a few of them even fall in love with their adored amateur, who often seems to represent the ideal of a partner. Have you ever received declarations of love from users or even experienced stalkers?
Katixxx No declarations of love so far. Privately, I once had a stalker problem.
"I used to think vaginal orgasms were more of a rumor".
Eronite With time, every livecam girl also gets a certain popularity. Has any user ever recognized you on the street? How do you react in such situations? Are you happy, do you offer, if you have time, a little chat or even a coffee or are such encounters rather creepy or rather unpleasant for you?
Katixxx Probably depends on whether the chemistry is right.
Eronite Always the same man as a shooting partner becomes boring for the viewers at some point, they want variety. There it offers itself to turn with others this also in such a way to offer. Do you do user meetings? How did you find it? Do your fans have to pay for such a meeting and are they always filmed on such dates?
Katixxx When it comes to changing partners, I am more flexible towards women because they are more often more attractive, which is less common with men. So far I only make videos.
But I am not saying that meetings are out of the question. I would have to decide that on the fly.

Read also:
– Vanessa Liberte: Be my daddy – Now on 4based.club
– Fanseven – the German onlyfans and alternative?
– Redbaddy porn: dirty talk and cosplay girl at 4based
– Get free sex pics of your star on fanseven!
– At 4based earn money with erotic photos and videos
Eronite The hunt for the next sexual climax defines life for many. Whether as an amateur in front of the cam, privately with your own partner during domestic sex or as a user at home in front of the screen. Much boils down to experiencing it as intensely as possible. How would you describe the feeling of an orgasm?
Katixxx Pleasant.
Eronite The days when women had to suppress or put their own lust on the back burner are thankfully long gone. The modern woman of today lives out her sexuality. This includes masturbation. What is your favorite sex toy, do you only use it alone or with a partner as well? How is it different from having sex with a man and what do you like most about your favorite sex toy?
Katixxx vibration and shower jet. The shower jet is very great on my clit and is the only thing I have found that is sometimes able to stimulate my G-spot. My only vaginal orgasm was with the shower head. Before, I thought vaginal orgasms were a rumor. So it's still quite possible to deflower me in that respect, provided someone manages to top the shower stream.
But I must confess, so far this has never worked on a penis, no matter how many times it was tried. So there is no shame if it does not work. ;-)
Eronite In the adult industry, the percentage of bisexual women is much higher than in the rest of the population. I'm sure this has something to do with the fact that amateur women in the porn scene are much more open about sexuality than the average woman who has nothing to do with the industry. What's your experience with same-sex sex so far? Why don't you compare it to sex with a male partner? What are the differences, but also the similarities?
Katixxx women unfortunately often seem to be more reserved and wait for me to act. That unsettles me and is not my thing.
Eronite Just because you make your money in the erotic scene doesn't mean you're permanently horny and always wet. The fantasy of men to have a constantly willing sex partner is nevertheless served by many webcam girls. The reality is often different. How often do you actually need sex? Or is it enough for you to satisfy yourself in front of the cam or to experience an orgasm in your films? With all the intercourse and sexual climaxes, is there any room or desire left for private sex?
Katixxx Doing it to me in front of the camera is great. Real sex, of course, even better. I prefer to have sex one to three times a day. Time-wise, this is probably unrealistic. From under once a week I become dissatisfied.
Eronite Over the years, I'm sure you've experienced a lot during sex. Far more than most people do in a lifetime. But I'm sure you haven't tried everything yet either. What sexual experience are you still dreaming about that is missing from your "collection" so far? Is this just a fantasy or do you really want to make this a reality? After all, some fantasies can be quite nice in theory, but in practice they are not feasible or even illegal! But no matter how freaky or unrealistic, what's your secret sex fantasy?
Katixxx The users should best ask me that themselves!