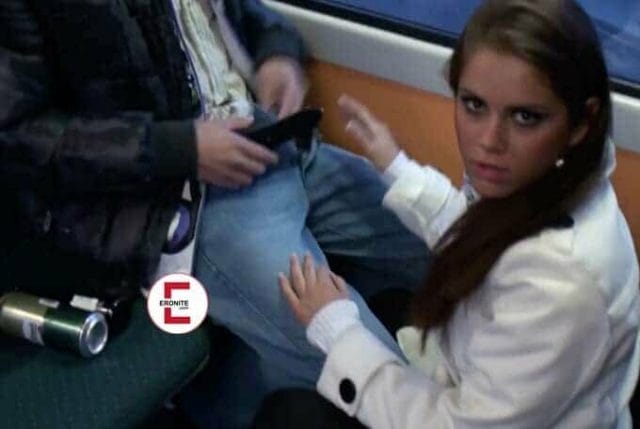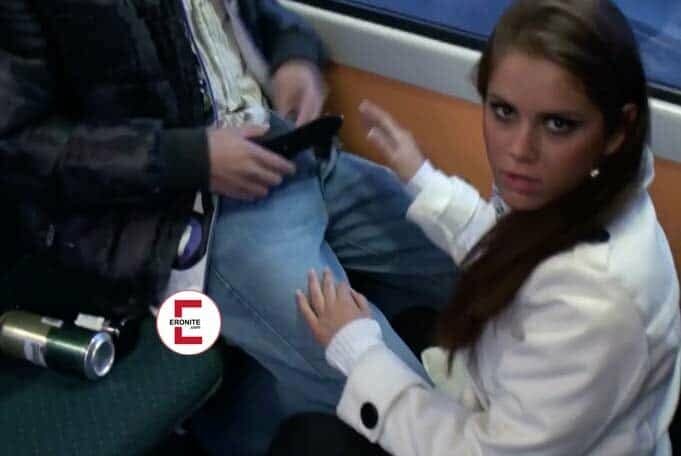 The erotic story from Berlin
Somehow it kicks me to do it over and over again in public. I'm still young and I just want to experience a lot. Two weeks ago, I had sex on a tram in Berlin. I want to tell you about that today, even though I was embarrassed at first. But the horniness was and is so great that I can not help it. An experience I wouldn't want to miss. Even if I hadn't even dreamed of Public Sex before.
---
Eronite empfiehlt dir diese XXX Videos, Livecams & privaten Kontakte:
---
I also enjoy reading sex stories with my boyfriend here at Eronite itself, where we often get inspired. By the way, it's very cool when we read to each other. Each one has a story and the first one who can't take it anymore has to grant the other one a wish. Of course, that always ends in wild popping.
The sex in the tram was risky
But I would like to introduce myself to you first: Well, my name is Franziska, but everyone just calls me Franzi. I am 29 years young and born in Mannheim, but I study mechanical engineering at the RWTH Aachen. I know it's supposed to be a man's job. But I'm interested. Other than that, I'm pretty feminine, have the curves in the right place (1.68m tall, 52kg, dark brown hair and a respectable bust with a 75C cup size) and like to dress up. Many might even call it dressing up, but I think a woman should look like a woman too.
The weekend before last we were in Berlin and since we are both students we just can't afford a rental car. Therefore, we had to rely on public transport, which is not a problem for us. Apart from that, the infrastructure in Berlin is very well developed, even at night, when the trains are closed, there are night buses, at least once an hour. Right on the first evening (we arrived already on Thursday), we had a horny experience, namely sex in the tram. But how did it come about?
I recently celebrated my 29th birthday, and my boyfriend gave me a trip to the capital with a visit to the Staatsoper am Gendarmenmarkt. A real cultural holiday, but of course we also wanted to go partying and let off a little steam. We had tickets for the opera for Friday night, but we wanted to go out and party on Thursday. Pretty easy in Berlin, there's something for everyone here. But since we didn't feel like going to a club, we decided to visit an Irish pub where there was live music every night. Unfortunately, there were no hotels in our price range in the city center, so we found ourselves in a pension in the Pankow district.
He already had a hard-on in his pants
In the Irish pub we first ate some sandwiches, then drank one or the other glass of Guinness and at the latest after the third glass I was pretty drunk. When I have a little buzz, I often get horny and would like to be taken through immediately, but in a pub, of course, this is not possible. And fucking in the bathroom is out of the question for me, that seems to be more of a guy thing. I was wearing a burgundy, tight velvet dress with no bra (didn't need it) and no panties (didn't want them).
I sat next to my boyfriend and suddenly became so horny that I opened my thighs a little and led his hand into my crotch My pussy was totally wet, which he noticed of course immediately. He also immediately started fingering me and working my clit. "Let's get out of here," he murmured to me. I left him sitting there and quickly paid at the register. After that he could get up and come along. I'm sure he already had a huge boner in his pants.
" Here's to the sex tape from the track.
Arm in arm, we walked towards the subway, stopping every now and then to make out like world champions. This turned me on even more, but we couldn't miss the time as the tram to our accommodation didn't run all night.
First we started to kiss passionately
When we arrived at Osloer Straße to change to the tram, we noticed that almost nobody was on the road anymore. It was late and people probably go to bed a little earlier on Thursdays. At least the Berliners who have to go back to work in the morning. Of course, this did not bother us tourists. It was getting colder and my friend put his warming jacket around my shoulder. I enjoyed these attentions, he is just a great man and an even better lover. The train was a long time coming, but finally arrived after 15 minutes.
We got on. Only two elderly ladies sat in the front and a single man in the very back, but he was asleep. We sat down in the middle, far enough away from both of them. Immediately as we sat we began to make out like crazy, but sex in the tram was not yet to think of. We were really hot for each other. Should we wait until we got home or take our chances? "Opportunity makes love," as Otto Waalkes once said.
The sex in the tram was insanely intense
My boyfriend didn't take long and immediately slid one hand down the neckline of my dress, the other straight to my private parts. A shiver ran through me as he touched my nipples and clit at the same time. With one finger he penetrated me and fingered my pussy, which was probably leaking and soaking the seat in the train. But I didn't care at that moment, I just gave in to my horniness and enjoyed his demanding fingers inside me. Just before I came, he let go of me, unbuttoned his pants, took out his semi-stiff prick and unmistakably pressed my head down on his erect member. I opened my mouth and he pushed me down even further, I swallowed his cock completely and noticed it getting harder and bigger. It almost made me gag. Actually, I wanted to lick his balls right now while sucking his pole, but he wouldn't let go of my head. Pulling on my hair, he then pulled me back up slightly, but immediately pushed my mouth back onto his lap. It wasn't a blow job anymore, it was a throat fuck. Deephroat just fucked my mouth.
I've been milking my friend for all he's worth.
This made me so horny that I wanted to feel him all the way inside me right now. "Sex on the tram, are you crazy?" he whispered in my ear at first, but he was so horny he couldn't really escape that thought anymore. He let go of me and I sat backwards on top of him. Since my pussy was already mega wet anyway, he could penetrate me wonderfully easy. I gyrated my ass, half standing in front of him, half sitting on him. It must have been an insanely awesome sight for him.
He could see exactly how my labia enclosed his hard spear and how my cunt literally milked him. Clearly, he couldn't take it for long. But in the pussy I did not want to squirt here, I had no panties on and this mess I did not want. Sex on the tram all well and good, but still we knew how to behave. After all, we both enjoyed a thoroughly good childhood.
A few more thrusts and I could tell he was on the verge of orgasm. I let go of him, turned around and knelt in front of him. I had sucked him off many times before, but when asked Swallow or spit? I always opted for the second option, so I wanted to do him a favor today. So I kept sucking and sucking, he looked at me in utter disbelief. I smiled at him and then let his hard-on disappear deep into my oral cavity, taking it all the way in. He closed his eyes and squirted. I swallowed it all, trying to catch every last drop. After all, we didn't want to get the seats dirty on the tram.
Prudes we were not, we just made the best of it!
"You perverted pigs are doing it in the middle of a tram? I filmed you with mine and now I'm going to put your sex tape on the internet. put as punishment!" The guy from the last row laughed and left the tram before we could even realize what had just happened. Of course, we didn't take the guy seriously. Even though he probably wasn't asleep at all or had woken up again and was probably sneaking up to the front to film us having sex on the tram, there was no telling that he was actually putting our sex footage on the internet.
But what can I say? My friend's best buddy actually discovered it now after all. Motherfucker actually posted our sex tape! Can you imagine something like that? We're not prudes, but that went too far, didn't it? Because not every day you have horny sex in the tram and is filmed secretly.
" Here's to the sex video from the tram.
But do you know what we did then? After all, we didn't want to give the pervert a stage to make himself the center of attention over other people. We just downloaded the video ourselves there and uploaded it again on this amateur portal. So at least we can still earn money with it. Because on the net, it's like…
And you know what? Because I swallowed the first time, he fucked me later in the hotel then still so horny and brought me several times with the tongue to climax that I could not at some point more. By the way, I didn't find the swallowing that bad and would do it again. We have never had such hot sex and even today, when I think back to it, I immediately get wet between my legs again. Just the thought of it makes me all fuzzy. I would love it most if someone would lick me right now. At this very moment!