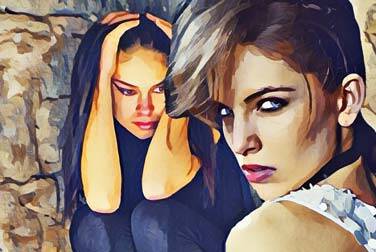 Two lesbians test strap-on dildo as lustful tool
Together with Mr. Doc in a sex store in the middle of Berlin
"Have you ever been fucked by a woman with a strap-on?" I ask. "Um no, but I've seen videos of women fucking women", she looks at me surprised and wide eyed. "Then this will be our first time."
---
Eronite empfiehlt dir diese XXX Videos, Livecams & privaten Kontakte:
---
Strapons as far as the eye can see
We are in a sex store in the middle of Berlin, we still lack a little orientation between the shelves filled with sex toys. But I know what I want. I run off purposefully, and she follows me. It's exciting to see what all there is that makes people horny and aroused. Today I'm excited by the thought of doing it to the little one with the strap-on. We are faced with a huge selection of the most diverse strapons. With one tail, with two tails, pink, black, natural, wide, veiny, long, with eggs, without eggs and even with hair. We laugh and realize that we are not into pink bunny ears and rather enjoy the sight of a real tail.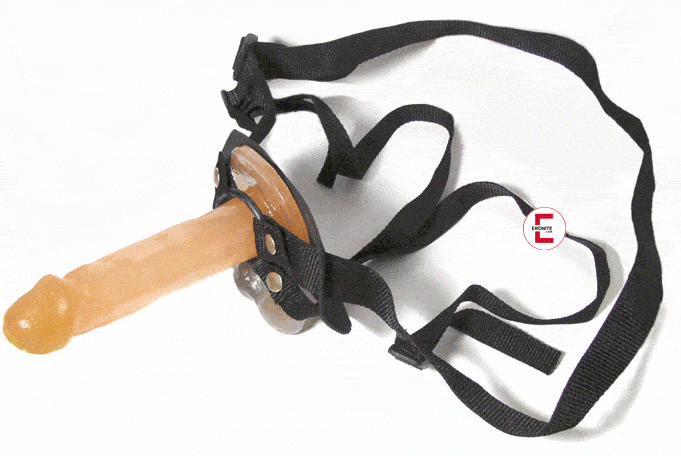 For me, it is clear from experience with other strap-on users, the strap-on dildo must fit tightly.
"Isn't it too big?" "No," I smile, "it has to be like that. I opt for one from Doc Johnson. 20 cm in length, a diameter of 5 cm. On the ride home I already have the hottest images in my head and want to try the strapon immediately.
She is a little nervous as I unpack our new toy. My new tail is very natural imitation, big, strong and even a little heavy in the hand at first moment. As I strap on my new cock, she helps me tighten the straps extra tight. Nothing should slip.
She lies on her back and spreads her legs. I like what she shows me. As she pulls her pussy wide apart, I see, despite the dim light, that she is already glistening with lustful anticipation. I want to taste them. I want her to be unable to take it anymore until I finally fuck her to redemption. This slight twitching when I lick her clit turns me on incredibly and her breathing becomes heavier.
Thanks strap on dildo she comes screaming loud and almost runs out
I lean back and slowly thrust with my big and heavy cock. Very slowly. I watch as I push her labia apart and as my cock disappears inside her. She closes her eyes and breathes in her pleasure even deeper.
A small movement back and another push, this time more violent and determined. That's how I keep going. Slow. Until she begs me to fuck her harder. But it's my game, this time I call the shots. My hand reaches for her beautiful breast and I bend over kissing her, slowly continuing – enjoying this horny sight. The movements are unfamiliar to me, but seeing their pleasure makes me forget it. I lean back, reach for my cock and now press it firmly against her G-spot with each thrust. I notice how she gets wetter and wetter and my thrusts become more violent. Until she seems to melt with lust and comes screaming.
I feel my legs, my muscles and breathe heavily myself as I sink to her. She is still trembling when I kiss her tenderly….
I choose the size myself – experiences with the strap-on dildo
The advantage of the wide choice
A few weeks later we are back in our sex store in the middle of Berlin. This time, however, we want more. Because as beautiful as the strap-on dildo is, in its requirements it no longer satisfies us. It's not that my little girl doesn't climax regularly when I give it to her hard with the strap-on, but I definitely come up a little short. But this can be remedied. We were ready to dig deep into the large selection and dig a little deeper into our pockets for some new experiments.
And what kind of selection was that, please? You can clearly tell when a store specializes primarily in women. So this time we'll see that the dildo not only gives pleasure to my little one, but also provides a little more "variety" for me. In addition, I still have a small plan up my sleeve, but the little one did not have to know about it yet.
Vibration, double dildo and a variant without harness
In the store, we quickly saw that all that glitters is not gold. Not every strap-on dildo seemed firm and of good quality, and seemed to be able to keep up with our pace. This time, however, we do not necessarily want a real tail, but more creative creations may also wander into the shopping cart. A large strapon with vibration function finds its way into our shopping cart as well as a strap-on without harness and other straps.
This has a second, thicker knob at the bottom, which should slide into the active partner. My curiosity is piqued. The last thing I pack is another strapon. This one is long, thin and has a panty in which there are two more dildos. I would surprise the little one with this one.
The Strapless Strapon in its first use
Hardly back in our own four walls, our purchases are unpacked and thrown on the bed. Purposefully I reach for the Strapless-Strapon, which particularly appealed to me. Can this really work without straps and harnesses? Her gaze is directed at the long and slightly curved shaft, while I enclose with my hand, the yet quite thick ball, which will disappear in a moment in me. As hot as the thought makes me to fuck my little one right away with the strap-on, I'm clearly not wet enough for this size.
Next to the bed is the bottle with the lubricant, which I first distribute with my hand on the lower part of the strap-on. I make it easy for myself today. The short skirt up, the panties to the side and I can already put the dildo. He's so big! I take a deep breath and press my pelvis against the strapon. With a soft sound, he slides inside me and immediately fills me. Interesting, the part of the strap-on that is on my clit has slight nubs. I can already feel them with every movement.
The strap-on dildo in the endurance test
"Lie down!" My voice sounds rough in my ears and I point to the bed. The little girl, who has been watching me with fascination the whole time, tears off her clothes. My hand is still covered with the lube, so I slowly stroke "my shaft" along. I want to kneel between her wide spread legs and notice that the strapon starts to slip. Even my well-developed pelvic floor muscles can't hold the in this position. "Turn around!" I command and change my position. Doggy, behind her and with closed legs, it works as desired. I put the wet tip of the strap-on dildo to her wet shiny pussy and slowly sink it into her. She sighs comfortably and presses her little butt against me.

Read also:
– How to get a guaranteed threesome with two women
– Who fucks who here? MFF threesome with zoomer couple
– Capital lioness Lia Leone in exclusive interview
– That's why lesbian kisses are so different than with men
– Lesbian fantasy: doing it once with another woman
I find my rhythm and slowly get faster. Looking down I can see her wide spread ass and again and again the purple dildo disappearing between her lips. Not only that the sight makes me horny, but also the dildo itself. The tension of my inner muscles in combination with the friction on my clit make me increase more and more. We sweat, gasp and groan in competition. I can see from the reactions of the little ones that this one is well on its way to coming.
Spice up – such a role reversal is fun
I slide my wet finger down, between her buttocks and gently penetrate her butt with my fingertip. This touch is already enough to set off fireworks in her. She comes screaming loudly under my thrusts and now I can't hold on either. The climax overtakes us both. Panting, we sink onto each other. It takes a few minutes before the two of us are together again. I roll the little one onto her back. "Ready for round two?" I ask her. She grins mischievously at me, smiles and nods.
"Wait a minute" I say and slide off the bed. I rummage in the bag with the purchases. Now apply some lubricant and I'm back in bed. "Close your eyes" I whisper, whereupon she closes her eyes. I slip the latex panties over her feet and legs. Now press the legs upwards. "Hold them like this" I whisper. The little one grabs her ankles and lies open in front of me. I put the two built-in dildos to their openings. She is relaxed and already they both slowly slide into her. She gasps for air. I pull the panties up and her legs back down.
Her strap-on dildo rises seductively from her pussy. I lose no words, but squat over her and insert the dildo into me. "Look at me" I whisper in her ear. She looks, marvels and slowly and carefully moves her pelvis. The first time she wears and uses such a strap-on dildo. The movements are cautious at first. However, the two dildos inside her seem to give her pleasure. As I ride her, she gets wilder and wilder. Until you climax again and clearly in front of me and roar out their lust.