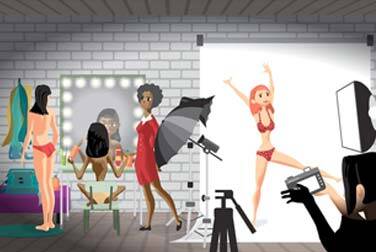 Real pleasure instead of a monotonous job
Become an erotic performer or how a dream comes true
What man hasn't dreamed of sex with beautiful women, fantastic looking babes competing with each other to see which one will get their turn first. For most, this kind of thing only happens in their minds, or at best, in porn. It may well come true, however, because erotic performers are wanted.
---
Eronite empfiehlt dir diese XXX Videos, Livecams & privaten Kontakte:
---
Erotic performers are envied
Most men live in a committed relationship where sex becomes routine over time. There is nothing left of fire and passion. That's why so many married men go to whores, by the way, because they experience the pleasure there that no longer exists at home. However, there is one major drawback to this. Whores are expensive. Erotic performers, on the contrary, are paid even for sex! And what sex! No boring flower sex, but wild, unbridled lust with hot girls who have no inhibitions. That's where fantasies come true.
In porn casting, for example, scenes are regularly shot for a threesome or for anal sex, or the actresses spoil their male shooting partners in hot outfits that normal men only get to see in porn. Becoming a porn actor has its advantages and is definitely more enjoyable than a boring office job.
Become an erotic performer – how does that work?
One thing is clear, jobs as porn performers are not reported as vacancies to the employment agency. If you want to become an erotic performer, you usually have to apply for a porn casting. It's kind of like a talent contest for the adult industry.
In fact, there is a great demand for erotic performers. Especially men are in demand. This is not only because by far not everyone who likes sex also has what it takes to become an erotic performer. There are also more and more porn movies being shot and users want to see some new faces every now and then.
How does the casting process work?
Those who are confident to act in porn can apply on the website www.erotikdarsteller.com. There is a link to the casting there. The German label Eronite Movie Productions is looking for amateurs who would like to act in porn movies in this way at regular intervals. Of course, they don't shoot a hot clip right away.
First of all, we're going to casting. This is done in a major city somewhere in Germany. Sometimes a club is rented for this, sometimes it takes place in a hotel. Usually one or two dozen men show up for the casting, all of whom would like to become porn actors.
How it happens at a casting for Popstars is well known from various talent shows on television. Casting for porn, on the other hand, is about sex. The (male) participants have to prove that they are suitable for the job. There are usually 2 or 3 well-known female porn stars present to perform the test.
Those who pass the test are added to the agency's database and can often expect their first small roles after a short time. However, before this happens, the future porn actors must sign a declaration in which they assign the rights to their own image to the casting agency. This is a basic requirement for every erotic performer.
Becoming an erotic performer is not easy
Above all, steadfastness and endurance are required. The conditions at the porn casting are anything but ideal for sex. There's a big difference between watching porn at home and masturbating with pleasure, and being live on set and having sex on command. It happens to many men, including even experienced porn stars, that their best piece does not move at the decisive moment.
On top of that, most have to wait a very long time at porn casting and are extremely nervous. No wonder that only a few master the casting at the first attempt. But this is not a serious problem. The staff at Eronite Movie Productions knows all about it. If everything else fits, candidates get another chance at the next casting.
The requirements to become an erotic performer
Since these are so-called adult videos, the law requires that all performers be at least 18 years old. No minor may become an erotic performer. Porn actors should also not be romantic types, but have fun with wild sex with changing partners. You need to be able to focus on the action and not be so easily distracted by outside influences.
You will quickly realize that porn sex is very different from private sex. Private sex is about partners satisfying their own lust and that of the other. Porn, on the other hand, focuses on the (invisible) viewer. He should find the clip horny and be able to relax. Erotic performers practically have to turn other people's fantasies into reality. This is not always easy and requires a high degree of discipline.
A small example of this: The female porn star looks very attractive and wears suspenders, fishnet stockings and high heels to boot. He would love to pounce on her, push her to the ground and throw himself on top of her. But that wouldn't go down well with the viewers at all, because then they wouldn't be able to see what was happening. So he has to bow to the director's instructions and position himself so that the camera has the woman in view.
This is not so easy and requires some practice. In addition, sex should last as long as possible. No one wants to see a Minute Man in porn. It is not unusual for the scene to have to be repeated two or three times before it is accepted.
What else do you have to pay attention to when applying as an erotic performer?
Even if you want to become an erotic performer, you have to submit an application portfolio, just like any other application. It's a little different, though. No one cares about the resume or the diploma from school. Instead, future erotic performers should rather be open and honest about their strengths and weaknesses in the sexual field.
This means, for example, what type of woman they prefer, what practices during sex they like and which they strictly refuse. This helps the production team to select suitable roles and shooting partners. If an erotic performer has a very specific inclination, there is nothing wrong with that, on the contrary. Maybe performers with that slant are being sought out right now.
A few photos should not be missing from the application documents. The best way to get a first impression is to take so-called full-body photos. Nude photos may also be included, but do not necessarily have to be submitted.
To become an erotic performer means for many to fulfill a dream. With perseverance and willpower, the goal can definitely be achieved. The best way to get there is through porn casting . There, candidates are tested to see if they have what it takes to become porn actors. The application for the porn casting is best done online on the website of the casting agency.
Become an erotic performer – the pros and cons of the dream job
As it was already said above, for many men it is considered an absolute dream to become an erotic performer. Those who are lucky enough to have access to the porn industry through a casting quickly realize that the job does not only have positive sides. What exactly is it about?
Become an erotic performer – what speaks for it
The reason why very many men dream of starring in porn is undoubtedly the beautiful actresses. There are many amateur girls working in the German erotic scene. They not only look beautiful (after all, they earn the money with their appearance), but are usually approachable. Stars who like to be touched.
You don't get that in Hollywood! In addition, Germany is becoming more and more cosmopolitan. Besides blondes and redheads, there are more and more exotic women from Africa, Asia and Latin America living in Germany. Some of them find their way into the erotic industry.
Erotic performers still have the chance to live out their sexual preferences. What average man has ever had a threesome with 2 Latinas or fucked a super sexy blonde in red overknees and corsage?
It is not uncommon for the videos to be shot at popular vacation spots. Sun, sea, palm trees and sex are everyday work.
What are the disadvantages of working as an erotic performer?
A profession is an activity that is performed for pay. However, it is not very good for (male) porn actors, at least if you compare the salary with the number of working hours. Very few performers can make a living from their job.
Things look a little better for the women. They can also work as camgirls or amateur whores.
Erotic performers receive little appreciation. In porn, it basically comes down to how big their dick is and how well they can use it. Nobody is interested in their personality and intelligence. This can be quite frustrating in the long run.
For erotic performers, relationship problems are also pre-programmed. Many of them are singles. It's no wonder, either. What woman wants a boyfriend or husband who, as a profession, constantly has sex with other women, one of whom is more beautiful and hornier than the other?
Another point is the fear that someone from the social environment will find out about the job. If the person is a public official, holds a position of trust, or works for a church institution, there could be dire consequences.