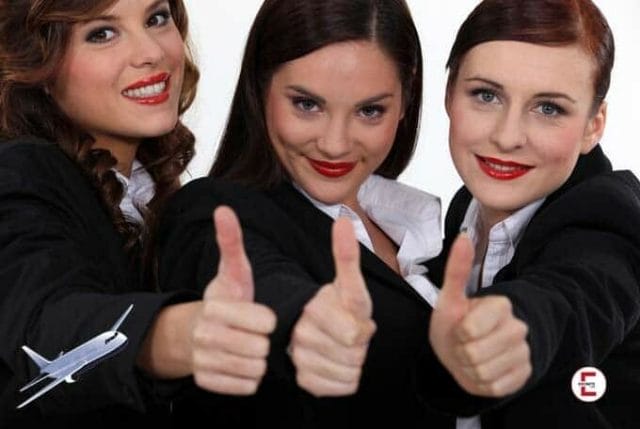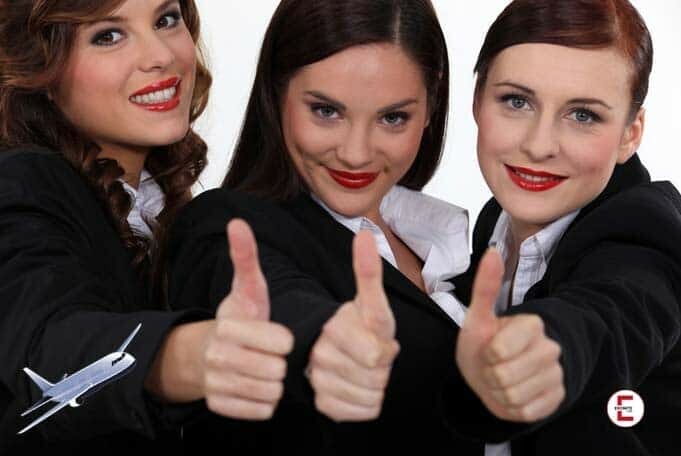 "We always do this after flights"
The cabin crew often consists of personnel of different ages. But when I flew to Brussels the other day, I first thought I had landed in a training class. All girls. Three of them together were not yet 75 years old and the fourth in the bunch, who apparently had been in charge on board, was not older than 30. My mate and I look quite good, I think. And because of our charming and humorous nature we are also quite well received by the girls. So it was the easiest thing for us to hit on the stewardesses. With the older one it didn't work out so well, but the three others jumped at it.
---
Eronite empfiehlt dir diese XXX Videos, Livecams & privaten Kontakte:
---
In the suite with the three stewardesses
We asked them if they stayed in Brussels, which they answered in the affirmative, as they did not fly back until the next day. Great, we thought, that would be just what we needed, then we could arrange a date with the three flight attendants and have them over at the hotel in the evening. What we did not know at that time: the girls thought exactly the same!
After we had exchanged our telephone numbers and arranged to meet for the evening, we landed in the Belgian capital deeply relaxed and full of anticipation. Coincidentally, Ann-Kathrin, Jessica and Sophie were staying in the same hotel as we were, only on a different floor, as we later found out. We had scraped together our savings and treated ourselves to a suite with our own whirlpool. When the girls saw this later, they were quite impressed.
At 9 p.m. they were standing in the hotel lobby where we picked them up as agreed. In the restaurant we ate a little something, but then disappeared quite quickly and sat down at the bar. A pianist played quiet and romantic music on the piano. We realized that tonight there was still something going on with the three young women! Alcohol flowed in streams, we all had one cocktail after another, which tasted really delicious in this bar. Especially Sophie and Jessica were totally tipsy. Ann-Kathrin drank a little less. Probably also in the knowledge that they had to fly back again the next morning while we were still trying to get into the Atomium in Brussels.
They had it all planned
Suddenly my buddy stood up, grabbed Jessica by the hand and went away with her. Target: hotel room. I did not let that sit on me, hooked the other two girls and followed them. Already in the elevator my buddy and his new conquest kissed around unrestrainedly. Ann-Kathrin and Sophie were still able to control themselves, although I would have liked to help them now. Arriving in the suite, the three stewardesses were amazed at the whirlpool, which was in the middle of the room, but allowed a view of the Brussels skyline at night through the large, floor-to-ceiling windows.
"Would you like to take a bath with us?" asked Sophie briskly and we didn't have to ask twice. In no time at all we were five of us stark naked and landed under loud giggles in the huge bathtub , which was big enough for us to sit comfortably. "That's how we always do it with attractive men after our flights," joked Jessica. The other two nodded eagerly. We all had to laugh. Soso, these horny bitches had planned everything and not us, but actually they had towed us. Anyway, we knew things were about to get hot in here. And we should not be mistaken.
My hands were wandering with the flight attendants
Ann-Kathrin made the start and grabbed blatantly directly at my already semi-stiff cock and started to jerk it off. My two hands went on a walk at the same time and I now fingered Sophie and Ann-Kathrin. Both moaned softly when I penetrated their cunts with my fingers. Meanwhile my buddy was sitting on the edge of the pool and Jessica was sucking on his giant cock. It was so big that she could barely get it in her mouth. I couldn't keep up with that, but as they say. "It's the technique, not the size that matters!"
My buddy kneaded the heavy and already slightly sagging tits of Sophie. Her horny nipples were so hard, you could probably cut glass with them. Meanwhile he obviously enjoyed the blowjob and Ann-Kathrin also wanted to give me a blowjob now. She briefly dipped her head under water and she had snapped. But so that she could breathe, I stood up and she continued to blow like a world champion.
To our delight, the three stewardesses were also bisexual
But Ann-Kathrin wasn't satisfied with that and Sophie also made herself noticed again, stretched her bottom towards me and just wanted to be fucked. Her friend posted herself next to her. What a horny sight, these two tight asses right next to each other. And I was invited to fuck her! I took turns fucking the two stewardesses. My eyes strayed to the side. Even Jessica and my buddy fucked. She sat on him and rode him like a sex maniac. It was cool to see the two of them in the rider position while I took turns serving the other two girls. They seemed to like that. My spear bored into their pussies, Sophie even ran out of horniness and my cock was already slimed all white by her cunt juice.
My buddy suddenly stood up, lifted Jessica up and now fucked her standing up. She moaned and cheered. Her body shook. After a while she knelt in front of her stud and continued sucking on his stand, which grew bigger in her mouth. He held the stewardess by the hair and repeatedly rammed the hard cock into her throat with full force. She had to gag and rattle. Saliva was running from the corners of her mouth. She seemed to be barely able to breathe, gasping for air over and over again, but he kept poking at her until he poured out with a loud tube in her mouth. Jessica bravely swallowed his sperm and then immediately turned to Sophie, who was "free" at the moment, because at that moment I was taking Ann-Kathrin doggy from behind.
As if the three stewardesses had any idea how they could drive me crazy
Sophie spread her legs and Jessica pulled her tongue through her wet furrow, which was framed by the swollen lips. Her clitoris was hard and stood out like a one. You could literally see the horniness. Sophie licked her friend by every trick in the book. Jessica and Ann-Kathrin, whom I was still fucking a tergo, came to orgasm at the same time. Now I wanted to cum! As if the three stewardesses had guessed it, they started to work on my hard pipe at the same time. They sucked and sucked, kneaded my testicles, nibbled on my glans and flicked over my perineum.
I couldn't stand it for long. Just as Jessica had my flask deep in her throat, I noticed my balls contracting and wanting to pump up the sperm. Just in time I pulled my wiener out of their mouths, the three girls opened their lips and I squirted a giant load of cum into their open mouths, with much of my cum landing on their faces. They kissed and licked each other's male lecherous juice. Wow, that was awesome!
The girls took a shower, my buddy and I got a beer from the minibar and toasted to this great evening. Unfortunately the girls disappeared quite fast after the shower, said goodbye with the words "See you" and a wink. We knew that this was not meant seriously and they were just keen on a horny fuck. Anyway, it was all worth it and we had a lot of fun. And not too close. ;-)
Our return flight brought a small unexpected surprise
We still drank the whole night the mini bar empty and were drunk accordingly on the return flight. It was very empty in the plane, several rows in front and behind us were empty. We both fell asleep. When we were awakened, we looked into six eyes: there were three stewardesses. Three older ladies who were both coming on to us. But we didn't want any milfs. Besides, we were totally exhausted from last night anyway, so we refused to laugh and say thanks.
If we tell our friends at home about our experience, probably nobody will believe us anyway. But it was still cool and this sex experience will remain in our memories for a long time!