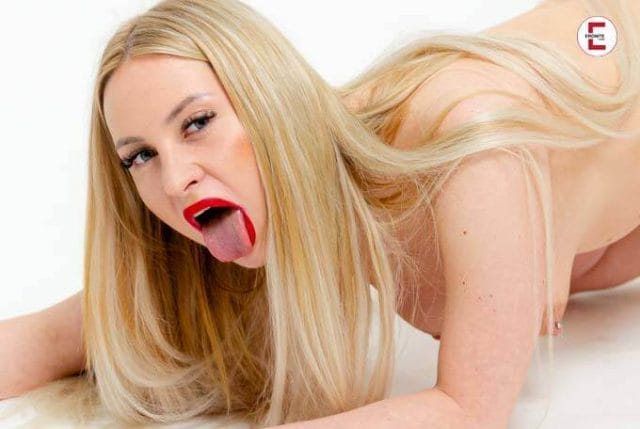 Who could resist this sucking mouth?
Erotic movies are not just for passive consumption. They can function at least as well as idea advisors. Who hasn't wanted to reenact a hot scene from a blockbuster motion picture with their partner? Maria Gail porn is full of ideas and inspiration for you to try.
---
Eronite empfiehlt dir
Das Dating 3.0 – Die Zukunft des Dating

Eronite empfiehlt dir
Dating 3.0 – Die Zukunft des Dating

Eronite empfiehlt dir
Das Dating 3.0 – Die Zukunft des Dating

---
Maria Gail porn as a source of erotic inspiration
The blonde natural beauty from the far north describes herself as a nymphomaniac, feminist and downright pervert. If you take a closer look at her profile and scroll through the list of MariaGail porn, you will be able to confirm this.
Sex toys of all kinds are regularly tested here, so that the viewer can get a very nice picture of the respective toys. Likewise, Maria Gail porn very often comes to triple combinations. Optionally with two men or two women. There is something for everyone here.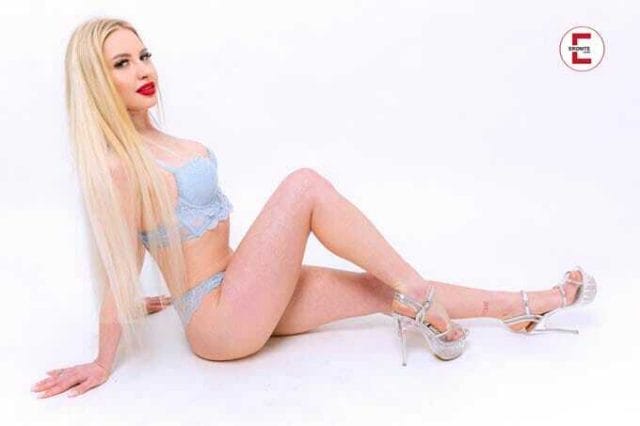 Whether these videos are testing new toys or unusual positions. MariaGail porn definitely invites you to replay.
Her fuck movies animate couples to act out
Even those who have no ambitions to become active in front of the camera should give the videos of the pretty North German a chance. Entertaining entertainment of the dirty kind is guaranteed as well as new insights. If you want to learn more about eroticism, you can do so here. In a very pleasant way, of course. Because unlike LinkedInLearning or comparable portals, this is not dry theory. The Maria Gail videos all come from real-life experience and invite you to immediately apply the new knowledge yourself. The final test in the form of own application is quasi voluntary. Only certificates do not exist, unfortunately (there are for it here for expert and professional tail evaluations).
We are happy that we had the nasty blonde, who always wants more and more sex, in the interview and we were allowed to ask her some intimate questions:
Eronite – Das Erotikmagazin First of all, thank you for answering our readers' questions. We are sure it will be very exciting and enlightening. Not only your fans will be happy, but also we will be happy if we get to know one or two secrets, a joke from your youth or some private things about you. Tell me, since when are you actually active in the erotic industry, how was your start and what exactly do you do?
Camgirl Maria Gail I started in the erotic industry a year and a half ago. At first I only did webcam and then I started shooting amateur videos as well. In the meantime I also play in professional productions.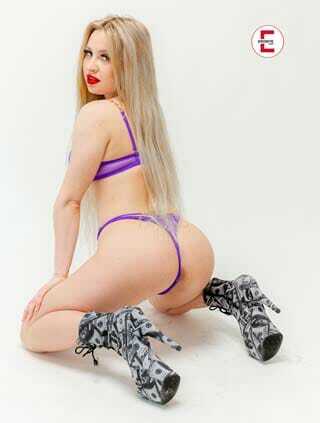 Eronite If you make porn for your users and make them happy, what is it about making adult films that appeals to you? And anyway, why do you actually produce amateur clips? Is it just for the money or is there another reason? Could you also imagine to shoot professional porn movies as well or have you even done that so far?
Maria Gail It makes me horny to know that the men out there are jerking off to my videos that I produced myself. I also shoot for professional productions and it's just great to be on a set.
Eronite Imagine you're on set, everything's ready, the lights are on, the camera's rolling, and out of the production manager's mouth comes a "And – please!" What's going through your mind at this moment? Are you thinking about anything in particular or are you fully focused on your shooting partner(s)? Are there any scenes that you love shooting the most and what are they and why are they some of your favorites?
Maria Gail First you get made up, then pictures are taken, and then the scene usually starts. You feel like a star on set and I love it. I always have fun on set, but of course you also have to keep in mind that it has to look good in the end. Eventually, you'll have all the positions that look good on camera – and then everything becomes even easier.
German erotic productions Maria does not like to watch so much
Eronite Most of our contemporaries spend at least occasionally watching adult movies, some more, some less. Men more regularly and more often than women. How about you? Do you also watch a porn movie from time to time or do you think that you are already saturated with it professionally?
Maria Gail I personally like to watch fuck movies sometimes. The German productions rather less, because you know most of the actors personally, but the foreign ones go clear.
| STECKBRIEF | Maria Gail |
| --- | --- |
| Alias | MariaGail |
| Profil | » Hier klicken |
| Wohnort | Berlin |
| Geburtsdatum | 26. Juni 2001 |
| Sternzeichen | Krebs |
| Körpergröße | 158 cm |
| Gewicht | 53 kg |
| BH-Größe | 75 C |
| Intimrasiert | Hollywood Cut |
| Haarlänge | Lang |
| Hobbys | Fitness, Reisen |
| Lieblingsfilme | Horrorfilme und Kriminalpodcast  |
| Lieblingsfarbe | Pink |
| Das mag ich | Wellness, Strand |
| Das mag ich nicht | Lügner, Stress |
Eronite There are things that many actresses downright hate. At least, quite a few representatives of the guild have an aversion to one thing or another on the set. What is it with you? What do you not like at all about making porn movies?
Maria Gail You shouldn't do anything you don't feel like doing and only get involved in certain things for the sake of money. The people who don't have fun on set are not made for the porn industry and should urgently look for a new job.
Eronite The erotic and porn industry is fun, brings pleasure and at the end of a cam session or movie many people are happy. Nevertheless, the scene certainly has some downsides. What do you think are the dark sides of the porn and erotic industry?
Maria Gail The health tests are very important, but it is precisely these that are often omitted from the amateurs. I get tested for the most common STDs pretty much every two weeks. If you shoot without a test, I think it's very irresponsible.
The cute porn mouse kisses on the film set also sometimes quite with pleasure
Eronite tongue kisses inspire from puberty young and old alike. For many, there is no greater proof of trust than an honest, soulful and intense French kiss – often as proof of intimate affection and love. On the porn set, however, love is out of place. Nevertheless, many actors and actresses like to kiss their filming partner during the act. Is kissing part of sex for you and how do you feel about it during porn shoots?
Maria Gail I have no problem kissing on set. We have sexual intercourse together and in my opinion it is part of it. Not everyone wants to do it and you should, before you start shooting, again set the boundaries of what you want to do and what you don't want to do.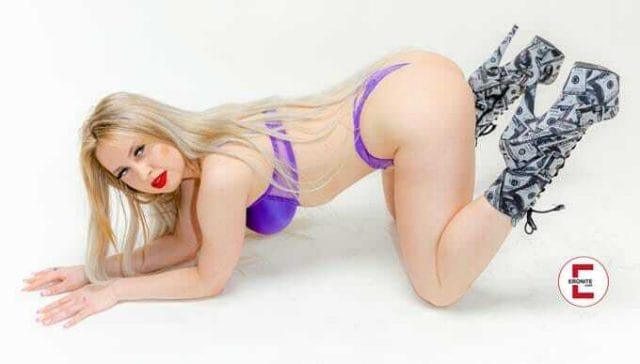 Eronite Every person needs a rock, a support. Especially in less good times it is important to have people around you who are good for you and whom you can rely on. What did your family say when they found out about your job? Were they horrified, did they perhaps even break off contact with you, or were they completely at ease with their daughter's new situation?
Maria Gail My family knows what I do – and gets along well with it. Except for my mother, but I have never had a good contact with her.
Eronite sex in front of the camera is different from private sex in the bedroom at home. The set is teeming with people, it's brightly lit, there are cameras everywhere and there is constant interruption from the director or production manager. It can be difficult to concentrate on the essentials. Quite different from home. What's it like for you to have sex in private? What impact does your porn job have?
Maria Gail I have a lot of sex in private. You could already say that I am a little nymphomaniac. Of course, you can drop better at home. Nevertheless, when the chemistry is good, you even forget about the cameras and people around you on set.
Eronite Not every porn movie or amateur clip is like the other. There are definitely things that differ from film to film. Most of them say "my films are not posed and everything is real", but almost all of them answer that when asked. Apart from that almost all users and also we know that it is just not real if the amateur or actress turns only with the own partner, but nevertheless in the films many "different" men are to be seen. Or we also know that no postman will simply unwrap his accidentally washed penis, already ready for use in his trousers, when delivering the parcel, force you onto your knees and push his hard strap into your willingly open mouth, while this of course – pure coincidence! – is filmed and he agrees afterwards of course also with the fee-free publication on relevant porn portals. But back to the topic: What really distinguishes your amateur porn from the others? Is there a unique selling proposition?
Maria Gail I pay attention to the quality of my films and a smug story, so that the user gets something new every time. In my opinion, it's the quality that ultimately decides whether a film is good or not. Some movies are so poorly made and sold as authentic. Germans should really start paying a little more attention to quality and be willing to pay money for something good.
For the blonde cam sessions are a win-win situation orgasm-wise
Eronite There are good lovers and not so good. Surely every woman has made the acquaintance of every type of man. One is better, the other worse in bed. But when exactly is a man good at sex for you and what do you think most guys do plain wrong in bed?
Maria Gail I enjoy shooting with experienced actors the most. They always know what to do and have an idea of how things work. I don't like to repeat things on set and if the actor is not that experienced, sometimes the scene can get exhausting.
Eronite You are in the adult industry and we all know why men (and women too) watch porn movies. This isn't about dialogue or exciting action. Nor about dramas or comedies. No one has to resolve who the actual killer was in the end. Porn is all about one thing: your own sexual gratification. Mostly, the orgasm should also be reached as quickly as possible. The viewer of the sex films sees the protagonists of the erotic flicks as a "jerk-off template", he masturbates by often imagining himself in the place of the man (or the woman) and the hot actress herself to be thoroughly fucked (or to be taken by the well-equipped actor after all rules of the fuck art). How do you deal with the fact that most viewers – whether on cam or in porn – reduce you to your body and only use you as a template for their own firing?
Maria Gail I like to be the jerk-off template and also have a lot of fun shooting. In the cam, not only the user is satisfied, but also me. So it's a win-win situation.
Eronite Even though our (western) society is considered relatively open towards sexuality and pornography, the job of a camgirl or porn actress is still not really accepted. Many turn up their noses at such a career choice. Be it out of ignorance, misconceptions, or even their own principles of outdated morality. Many people confuse the porn industry with the red light scene and think that every erotic actress is also a hooker and just prostitutes herself in a different way. Germany is known (and infamous) for the fact that people like to meddle in the affairs of others and – especially when they don't have a life of their own – really shoot their mouths off behind the backs of the people involved. Apart from the envy that many successful people feel. Is there anything you'd like to say to people like that?
Maria Gail Sex work is a profession like any other. Whether you are a camgirl, porn actress or prostitute, you should treat everyone with respect. There is also far too little talk about sex work and it should not become a taboo subject. Education and acceptance is important.
Eronite "Nothing comes from nothing" is an old – and true – saying. Many shooting days are long, starting early in the morning and going well into the night. Then there is the day-to-day paperwork and organisation, the classic back office. There has to be time for the Livcam shows too, not to mention that everyone should also devote time to their social lives, family and friends. How do you balance it all and how many hours a day do you spend in front of the cam chatting with your fans?
Maria Gail It is indeed a strenuous profession. I try to turn on the webcam every day. Several times a month, other performers come to produce content with me. When I also have professional shoots and have to travel away for them, it's very stressful. I luckily have someone who helps me with the office stuff and takes care of contracts, uploading videos and editing. Otherwise I would be completely lost. This also gives me a little more time for myself. And that person's name is Jason Steel. I would like to take this opportunity to thank you again!
With her users she has built a small community
Eronite Well, I'm sure not everyone can imagine this, but a full-time job as a webcam girl or amateur (or porn actress) can be very physically demanding and challenging. Hours in front of the cam, on stage in a live show or on the porn set during filming – physical fitness is essential for every protagonist. Do you have a special diet? What do you do for your body to stay in shape?
Maria Gail I go to the gym three to four times a week. On top of that, I'm on a keto diet. This means that I do not eat carbohydrates and sugar. It's very important to keep fit, even if you don't always have that much time.
Eronite You do not only shoot amateur porn, but also show yourself to your users and fans in front of the livecam. There you do a regular live show, viewers can also chat with you and make a wish or two. We imagine you'll have a lot of fun there too – sexual aspect aside. What do you like most about working in front of the cam?
Maria Gail My users are really the best and when I have a bad day they always make me laugh. We have built a small community and some users may even write to me privately.
Eronite Sure there aren't always golden times when everything goes exactly the way you want it to. Whether it's rude users, annoying customers or just an unstable internet line, there are many things that can disrupt your normal workflow. If you could change one thing about your job, what would it be and why would you want to change it?
Maria Gail Every now and then I have technical problems and unfortunately my laptop is too weak to do gaming streams. It's actually allowed on my webcam platform and I'll definitely do that at some point when I buy a new laptop. Otherwise I am satisfied with my small community.
Eronite You probably didn't become a camgirl straight out of school or high school, or originally planned to do so. Many start an apprenticeship, some complete it or start studying. Some Livecamgirls or amateur girls do the job also only once part-time and change later completely. Others do this work just for the fun of it and are only online a few evenings a week. What would you be doing for a living today if you hadn't chosen webcam sex?
Maria Gail I trained as a beautician and then dropped out because it wasn't for me. I love my job and can't imagine doing anything else.
Eronite What were your first steps? How did you come to webcam sex? Did you have a mentor, so someone showed you the best way to break into the adult industry and make money? Or are you even under contract with an agency that supports you in all areas such as marketing, public relations, technology et cetera?
Maria Gail It was a coincidence that I read an interview with a webcam girl and then I thought it would be something for me too. I then messaged the gal on Instagram and she helped me in the beginning when I had questions.
The erotic industry can weld people together
Eronite Making new friends isn't always easy in this job. There are many prejudices and especially men sometimes think that as a camgirl or amateur you are fair game anyway. Other acquaintances, on the other hand, first develop in the industry, with female colleagues or other representatives of the industry. Do you have friends in your private life who are also active in front of the cam? Would you recommend the work to others or rather advise against it?
Maria Gail In the meantime, I only have friends who work in the erotic industry. I have met so many great people through my job. We are all like a family with the same problems and worries. The industry brings people together.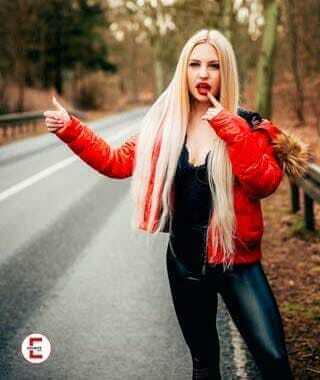 Eronite And what advice would you give to a woman just starting out as a webcam model? Should she find an agency or do you think they just rip off the girls and enrich themselves? Or should she manage everything herself from the start? How important do you think contacts are in the porn industry?
Maria Gail You should work for yourself in the beginning and not use agencies because not everyone is honest and many girls are taken advantage of by agencies. In the beginning I also had a very bad experience with a performer who supposedly wanted to help me and in the end I didn't even get my videos that we shot together. Please take care of yourselves, girls!
Eronite Many men have their favorites among the camgirls and visit them regularly. Do you prefer to have new users every day or are you happy when you see the same person more often in the chat? Do you have regular users who visit you regularly and do you perhaps even receive gifts or other attentions from them?
Maria Gail I have many users who are with me every day in the cam, but I am also always happy to meet new people and am open to their fantasies. Every now and then I get gifts from my Wishlist.
Eronite Some girls – if the chemistry is right – even meet with their fans. Men often think they know everything about their erotic star. Quite a few of them even fall in love with their adored amateur, who often seems to represent the ideal of a partner. Have you ever received declarations of love from users or even experienced stalkers?
Maria Gail Fortunately, I had never had a stalker before. But the declaration of love happens more often. I do not pretend anything and always say that I do not meet with users.
People who only want to shoot with mask are out with me
Eronite With time, every livecam girl also gets a certain popularity. Has any user ever recognized you on the street? How do you react in such situations? Are you happy, do you offer, if you have time, a little chat or even a coffee or are such encounters rather creepy or rather unpleasant for you?
Maria Gail I have never been approached on the street. But it's also probably because I haven't been in the industry that long. But at Venus, users actually came to me with DVDs where I was the cover girl. It was really cute.
Eronite Always the same man as a shooting partner becomes boring for the viewers at some point, they want variety. There it offers itself to turn with others this also in such a way to offer. Do you do user meetings? How did you find it? Do your fans have to pay for such a meeting and are they always filmed on such dates?
Maria Gail Mostly I shoot with professional actors, I have shot a few times with users, but of course I also require a health test and people who then only want to shoot with a mask are out with me anyway. I just don't shoot with everyone. It really must be a very good fit.
Eronite The hunt for the next sexual climax defines life for many. Whether as an amateur in front of the cam, privately with your own partner during domestic sex or as a user at home in front of the screen. Much boils down to experiencing it as intensely as possible. How would you describe the feeling of an orgasm?
Maria Gail You have to let yourself go and be very relaxed to have a good orgasm. These are the basic requirements. The question is somewhat difficult to answer, because each person has different preferences. I always come when the man gives me a hard mouth fuck and then comes deep in my throat at the end. It is my fetish and it makes me so incredibly horny.
Maria has a secret tip (keyword: "toothbrush")
Eronite The days when women had to suppress or put their own lust on the back burner are thankfully long gone. The modern woman of today lives out her sexuality. This includes masturbation. What is your favorite sex toy, do you only use it alone or with a partner as well? How is it different from having sex with a man and what do you like most about your favorite sex toy?
Maria Gail I enjoy it most when I get it on with a vibrator. In women, the clitoris is very sensitive. Now here's an insider tip from me: don't use your electric toothbrushes just to brush your teeth. Very important is the tongue cleaner attachment and then the fun can begin.
Eronite In the adult industry, the percentage of bisexual women is much higher than in the rest of the population. I'm sure this has something to do with the fact that amateur women in the porn scene are much more open about sexuality than the average woman who has nothing to do with the industry. What's your experience with same-sex sex so far? Why don't you compare it to sex with a male partner? What are the differences, but also the similarities?
Maria Gail I am bisexual and like to have sex with women. In my opinion, women are much better at licking because they know from their own experience what feels best. No dildo in the world can replace a real cock, unfortunately. But it is not bad, because you can have sex with both sexes at the same time.
Eronite Just because you make your money in the erotic scene doesn't mean you're permanently horny and always wet. The fantasy of men to have a constantly willing sex partner is nevertheless served by many webcam girls. The reality is often different. How often do you actually need sex? Or is it enough for you to satisfy yourself in front of the cam or to experience an orgasm in your films? With all the intercourse and sexual climaxes, is there any room or desire left for private sex?
Maria Gail With me everything is always real and I can never have enough of sex. I am nymphomaniac and almost always available for some pleasure. I had often had sex after a long day of shooting!
Eronite Over the years, I'm sure you've experienced a lot during sex. Far more than most people do in a lifetime. But I'm sure you haven't tried everything yet either. What sexual experience are you still dreaming about that is missing from your "collection" so far? Is this just a fantasy or do you really want to make this a reality? After all, some fantasies can be quite nice in theory, but in practice they are not feasible or even illegal! But no matter how freaky or unrealistic, what's your secret sex fantasy?
Maria Gail I have never really experienced bondage and would love to try it. Bondage is really an art – and many people don't dare to do it. You have to follow certain rules so as not to hurt the woman. Very important is also the rope, it can not be a normal rope, but specially made for this purpose.
Foundation product test of the erotic kind
The range of sex toys is huge. Too big to try it all yourself and, to be honest, too expensive to buy it all yourself. But luckily there is Maria Gail and her videos. Here you can see lots of toys and their uses up close. After enjoying the films, you can calmly think about buying the utensils you have just seen.

Read also:
– Private amateurs looking for shooting partners for porn
– Sweet Dannika from Ukraine wants only one thing…
– German pornstars: 40 most popular amateur girls
– Paulina Schubert incest twins porn interview
– Nicole Kleinhenz – interpreter of love in exclusive interview
Certainly, you will find some things that you want to get. In the same way, there will also be toys that you'd rather keep your hands off after watching the video. MariaGail porn is not only hot, it is also a great way to save money.
Maria Gail porn as a creative treasure trove
In all seriousness. Nobody is born omniscient and the subject of eroticism is still not allowed as a school subject. It's perfectly natural to try to broaden your horizons on the subject of sex on your own initiative. In most cases, one's own relatives are ruled out as possible contacts. Even your own partner is not always the right choice for something like this, especially when it comes to fetishes and inclinations off the norm.
The simplest solution nowadays is the Internet. On the relevant portals you can find Maria Gail porn and other films, which are bursting with horny ideas and new game possibilities.
For those who currently have a partner, it is best to include them while consuming the videos. This is the quickest way to find out what you would like to try out together. By the way, if you watch Maria Gail porn for two, you regularly run the risk of not getting the ending at all. The temptation to try out what you have just seen is simply too great. Of course, this increases the repetition factor of Maria Gail porn immensely. Besides, this is a risk that most viewers will be very happy to take.
Become a shooting partner of Maria Gail
If you want to take an active part in Maria Gail porn yourself, you are usually just a mouse click away from your goal. In one of her videos, the cute blonde explains exactly what to do: Simply write to her, preferably not just with a one-liner, and pay attention to the tone of voice. Make a meeting place and date, appear on time and well-groomed and nothing stands in the way of the fulfillment of kinky fantasies. Who gives himself a jolt and dares, can admire himself in the future in the Maria Gail porn. And brag about it to his buddies.