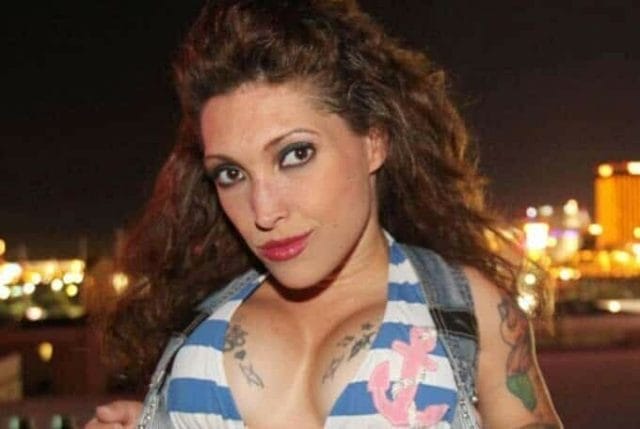 Erotic actress Bridget Powers arrested
It is small but mighty! And above all – especially in the USA – she is one thing: famous. Bridget Powers is a small-bodied porn actress who has now made acquaintance with the police after getting into a fight with her boyfriend.
Petite porn actress in Las Vegas
Last Wednesday, in the gambling city of Las Vegas in the US state of Nevada, concerned neighbors of the porn star called the police. From the house next door, they would have heard a woman and a man screaming. The couple, the diminutive porn actress Bridget Powers and her partner got into a heated argument, the situation threatened to escalate.
During the altercation, the responding sheriff said, Powers, 38, stabbed her boyfriend several times with a knife, injuring his leg. While the rushed police officers overpowered the erotic star and took her to the station in handcuffs, her boyfriend was taken to a hospital.
Small-screen porn actress "Bridget the midget" Powers now faces charges of assault with a deadly weapon in combination with domestic violence. The perpetrator of violence and mother of a 13-year-old boy is still in custody. She faces several years in prison.
At the end of the nineties the small porn actress started her career
Already at the tender age of 18 Bridget Powers shot her first porn movie. With only 1.17 meters of body greetings, the diminutive porn actress is one of the smallest performers in the world. More than 50 sex films include the works of the little woman. When she decided she only wanted to shoot films with condoms, the production company threw her out the door. Powers, who was also known as "Bridgette," then ended her porn career.
However, the little madame was not completely forgotten, but continued her career in front of the camera in a completely different genre: For example, she played in "Tiptoes" alongside Kate Beckinsale, Matthew McConaughey and Gary Oldman. The small-screen porn actress also had engagements in the psychological thriller "Temptation" and the comedy "Cain and Abel".
---
(Source and photos: Facebook / Bridget Powers, Las Vegas Metropolitan Police Department)