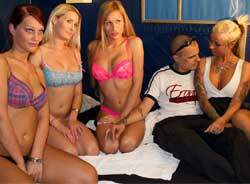 Report about the My Dirty Porndate 11 in Geesthacht near Hamburg on 31.05.2014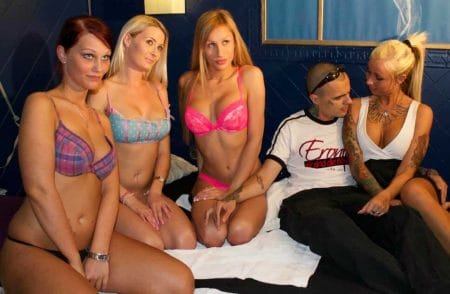 MyDirtyPorndate 11: Granted, I'm going to the most prominent party of the German porn community with mixed feelings. Four hours drive, Berlin – Hamburg, that's fine. I'm tired. I follow a personal invitation of the organizer: Flattering for a scene boy like me. But the one or other – let's say – promo gag in the run-up to the event does raise certain expectations of the situation on site. In my luggage I have my lovely camera assistant Aniken and our hope
Kimber Lee
, the flawless trans bomb. The arrival begins cordially: The organizers, the club owners of "The Freaky Rock" and the volunteers welcome us with a tour, drinks and a warm buffet of the extra class: food, drinks and the first tits become visible – this guarantees about 70% of my basic satisfaction. Time to thaw out a little. In the first discussions with other guests of the amateur scene (that's self-evident) it quickly becomes clear: I'm better known here than I thought – "Yes, I know who you are!"; "We're friends on Facebook"; "I've seen this and that about you. up to: "Yes, yes, of course I know you, I've been calling around for hours in advance because of you, to calm the situation down." – Aaah yes! And this from people I hardly knew by name before. Obviously, my beef was taken a little more seriously with an ex-work mate than I was: "No, no, I didn't actually want to fry anyone on the grill today. Besides, I'm full up on opium, so I don't feel like rushing." Terrified looks. Somehow people don't quite share my sense of humor, I get the feeling.
---
Eronite empfiehlt dir diese XXX Videos, Livecams & privaten Kontakte:
---

Kimber Lee
Kim just laughs and elegantly makes the white iPhone and her champagne glass dance in her fingers. Several admirers, film candidates, fans cavort with beating hearts around our exclusive actress. My self-confidence is rising, we have a damn good starting position here. For the rest of the evening we already have the first appointments for filming, now we want to "warm up". Courageously I walk through the crowd with my transsexual Paris Hilton hooked underneath and, after a short consultation in each case, give compliments to the broad male amateur actors: "Hey, our Kimber Lee here has an eye on you: Are you shooting?" The first acceptances are moved into one of the comfortable rooms in no time. There Kim immediately drops all decency like a professional and shows the boys what she is made for: Deepthroat, gagging and one ass fuck after another. Awesome! Aniken and I are busy filming. In between, I also meet good friends and acquaintances like Sebastian von Romberg, who immediately went for a shoot with
Kimber Lee
is clamped. With a swollen chest we throw ourselves with our now half-naked TS-grenade back into the starting party. Time for me to finally act like a chauvinistic full-body pasty.
MyDirtyPorndate 11 – Turn, turn, turn
The first shots are in the can, I'm in operating mode and that means for me: there's no stopping. With crazy eyes and malmetic jaws I walk through the crowd and search for "stuff": Quickly we meet the ultra sharp Mia Bitch. Rrrrrr. We conjure up a hot TS/Girl scene together with the boys and girls from the Kiel label Maniax-Media. No less than six cameras are in use. There's something unreal about it. I love that. The people are great at working together! Let's go: Three boys, bouncers, soldiers, brothel operators: Fall in! Where's a woman who lets these guys splash her around? I find the insanely sympathetic crazyangel in the garden with her hand between her spread legs, some building candlesticks and tails pointed at her. That's right, she wanted to do a bukkake scene today. Fantastic! "How would you like to do a blow job scene with some guys right now?" Jackpot, she's in! Their camera assistance and they are simply super pleasant and uncomplicated. We shoot the scene together and promise to meet again. Aniken and
Kimber Lee
come towards me, as soon as the scene is finished, with a tall good-looking guy: Next scene! No breaks. Just turn, turn, turn! Awesome! I love this rush!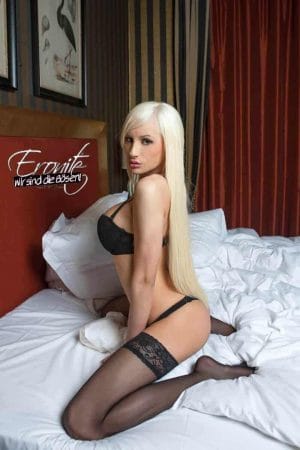 Slowly I am getting exuberant: I approach the most beautiful women in the room in a targeted manner and involve them in conversation. I go home with phone numbers and Facebook contacts that three years ago I might have longingly adored in front of my home computer: I could never have imagined that I would be allowed to work with such pearls of the German porn scene. Meanwhile, the first celebrities have arrived – Anni-Angel, an icon of the German amateur community, has arrived with highly attractive female companions. No words! This woman is a professional and plays several leagues above me. I say to the promoter: "I'm dying to shoot with Anni-Angel, can you help?" – "Just talk to her, she's around the corner." Easier said than done. I know that she and
Kimber Lee
know each other. Maybe this will make it easier to get started. "You, sorry to interrupt -" I sound as if I've never talked to a woman before "- I think your work is just great. Is there any chance that you and Kimber Lee shoot a scene together?" Big surprise: The woman is totally open-hearted: "You, I won't let you ask me to do that, I wanted to anyway. But -" I expect the worst "- only if Sexy Jules is also allowed to shoot." Overkill in my head! I get Kimber Lee, Anni-Angel and the mega hot Sexy Jules in front of my fucking camera… Fucking god, this will be a work of art. What an honor! From that moment on, I'm nothing but exhilarated. I run from one place to the next and tell my numerous new acquaintances about my luck.
I bark like a scared little puppy through the revolving room: "Attention!" The mood is exuberant, it is already late and everyone is exhausted. With great effort I conduct some group photos and the approximate scene concept together. Four cameras, three top-class girls and my set. Awesome! After a few minutes of agreement, we let the girls loose on each other: they lick, finger, jerk off. In between, Anni-Angel skilfully seizes the situation: "Well, I'd still like a warm shower…" And already she manoeuvres the two playmates through an anonymous, eavesdropping crowd of fans in front of the door towards the shower cubicle: four cameras jostle for the best view through the narrow entrance. With a grin, the girls lock the milk glass door after a while: "That's it for today, sweethearts…" Cut!
I'm coming down slowly…
Kimber Lee
meanwhile almost falls asleep with my head on my shoulder, I myself only stare apathetically at the pole dancing and other performances. A few last conversations with the loyal souls of the party: I was especially taken with the trio of Uwe Ra, Micha Intim and Quaisy – these are three guys who volunteer to support My Dirty Porndate and not too close: They are like a social media storm troop. And they promise me: From now on you are one of our friends. I still have no idea what a boost in popularity this will have on me,
Kimber Lee
and which will mean Eronite Movie Productions. My head is like a blank. We're slowly packing up all our stuff. I stand with my white-and-black work clothes and the camera bag on my shoulder in a now almost empty swingers club. The last people present are, without exception, well-disposed towards each other. You say goodbye. It's light outside. We're getting in the car. Back to Berlin. The head full of impressions that most people will not make in their lifetime. At home the bed is waiting. I only wake up on Monday morning after 24 hours of sleep as if from a dream that has lasted for days. The next MyDirtyPorndate is on 05.07.2014 again at the "Freaky Rock" in Geesthacht, this time as a summer party: Rafael Santeria from Eronite Movie Productions will be there in any case!