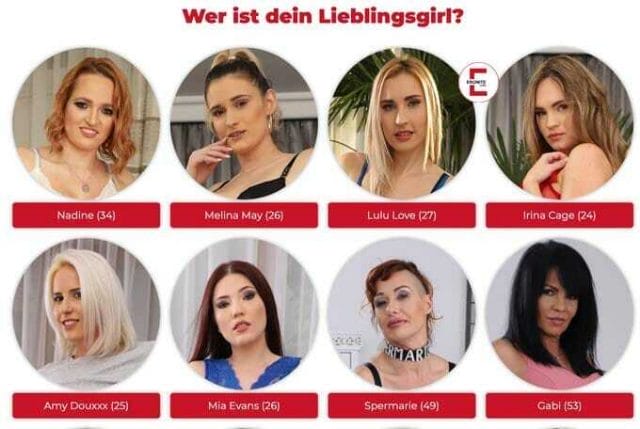 Horny competition brings a breath of fresh air to the erotic world
Eronite presents the FunDorado Casting Contest. Every vote counts. Hundreds of girls are up for grabs and the fans decide who will land in the coveted first three places. Extremely attractive prizes worth over 85,000 euros await the three winners. The action can be found at www.casting-contest.com.
---
Eronite empfiehlt dir diese XXX Videos, Livecams & privaten Kontakte:
---
What is the FunDorado Casting Contest about?
Of course, FundoCasting is all about eroticism. How could it be otherwise? The winners will receive production budgets for the shooting of their own erotic film. For first place there is a budget of no less than 50,000 euros! Second place will receive 25,000 euros and third place will be rewarded with a budget of 10,000 euros.

It goes without saying that just about every girl has lined up for the FunDorado Casting Contest. After all, they want to be able to shoot all their films on a decent budget. And fifty thousand euros is a very respectable figure. The user decides who receives the rewards at home. In other words, the girls with the most fans also have the best chance of making it into the coveted top three. Many erotic fans will now ask themselves how they can support their very personal favorite in this competition.
The exact procedure – or what exactly the individual user has to do
All you need to vote in the FunDorado Casting Contest is a valid email address. No further data is collected. The users therefore remain anonymous as far as possible. A fact that will please most erotic fans very much. After all, people are reluctant to give their whole address, full name and age on the Internet. No matter which pages you are on. These don't even have to be porn sites, where alarm bells ring when you're asked to divulge too much data. Those who like to inform themselves on erotic sites on the Internet have usually created a mail address for this purpose anyway. And exactly this address can be used to vote for the girl of your choice at the FunDorado Casting Contest.
By the way: Everyone who votes in this contest gets unlimited access to FunDorado content for three days. Complete. Without restrictions. Three whole days. So 72 hours of the hottest live action free of charge. Is there a better bonus for doing something you were going to do anyway? Because voting for your favorite girl should be a matter of course for every friend of webcam eroticism.
Who will the choice be?
Does the reader opt for girls who are already dear to him, with whom he can look back on a chat history? Of which there is already a huge collection of videos in their own media library?
Or shouldn't the money be used to financially support an aspiring, young newcomer to the business?

Both ways of thinking are understandable. There is no right or wrong here. Each user decides individually according to their preferences and tastes. This is also the intention of the makers of the FunDorado Casting Contest. Because at the end, the audience's favorite should be determined. The shooting star of a wide mass of erotic fans. Thousands of users of all ages with a wide range of preferences will vote, creating a broad spectrum. Those who make it onto the coveted winner's podium will truly have something to be proud of.
The agony of choice will be more than difficult. Because almost everything that has rank and name in the erotic world is represented. For each girl there is a short text as well as hot photos and horny videos, if one or the other girl is still unknown. A leisurely scroll through this string of erotic beauties is recommended either way. Even if you should have made your choice long ago. One or the other pearl can be found in any case. Possibly some users will reconsider their previously believed safe selection. Who could blame them with this highly erotic selection of classy women?
So FundoCasting promises to be a very exciting affair. Not only the girls themselves, but also the users should check www.casting-contest.com every now and then for the current status.
What does the winner of the FunDorado Casting Contest do with the prize money?
Many of the porn videos that can be seen on the net these days were created by the girls themselves. And with means that are already in the girls' household anyway. The smartphone replaces the camera and the microphone and a free video converter program is used to edit the video. Despite everything (or exactly because of it), these videos are very pretty to look at in most cases. The charm of the simple production makes the film seem as if it was created for you by your own girlfriend.

This inexpensive porn is already very good. All those magical films shot with just a smartphone and maybe a cameraman. What could the smart girls do with a budget of fifty thousand euros? The opportunity to experience your favorite girl in a lavish production will bring tears of joy to many a person's eyes.
What will a budget of fifty thousand euros do at this point? A remote and exotic location? Different performers? A hundred-page script full of action? Background music licensed by GEMA? The latest erotic outfit? The possibilities seem endless and the girls are always creative.
Presented by Eronite
When we were asked if we wanted to present FundoCasting, the editorial team came to a unanimous yes. Contests of this kind are simply a great thing and bring a breath of fresh air into the erotic world. One thinks now already of the girl, who may crown herself in the future with the title "FunDorado Casting Contest" winner. We were also convinced by the fact that everyone who votes in the FunDorado Casting Contest gets three days of free access. This noble gesture should give new users the taste to use FunDorado and the offers there in the future. There will certainly be more than a few who will do just that. Because the offer there is really very rich. And not just since FundoCasting was launched.

Read also:
– That's why every man finds wet t-shirt contests horny
– Introducing: Three hot international amateurs
– Safe porn sites: Serious sex sites based in Germany
– These 9 international camgirls you should know
– German pornstars: 40 most popular amateur girls
Thus, it was clear to us that we want to present the awesome competition. Plus, of course, we're just as excited to see the results as anyone else.
But now enough of the many words. If you haven't done so yet, click on www.casting-contest.com now and choose your own personal favorite.
And these girls are up for election (in alphabetical order): Abby Strange, Amy Douxxx, Ashley CumStar, Bella Diana, Cathy B, Christy Ley, CloeDirty, Daphne Clyde, Diana Rius, Dirty Priscilla, Dolly Diore, Doreen Darlin, Elena Lux, Elyna Flower, Emma Secret, Eva Engel, Farah Slut, Gabi, Hana Naomi, Hot Svenja, Irina Cage, Jada Sparks, Jasmine Rouge, Jessi Red, Jolie Noir, Juicy Jane, Julia Exclusive, Julia Parker, Julia Winter, Kitty Core, Krizzi, Lady Lyne, Lea Luestern, Lena Lust, Lili Charmelle, Lina Mila, Linda Leclair, LindaLush, Lisa Luchs, Lulu Love, Luna TrueLove, Melina May, Mia Blow, Mia Evans, Mimi, Nadine, Nicky Thorne, Nika Venus, Pure Vicky, Rosalina Love, Sasha, Sexy Jenjen, Sexy Susi, Sidney Dark, Snowhite, Spermarie, Stella Interstellar, Sweet Melli, Vicky Hundt as well as Zara Mendez.