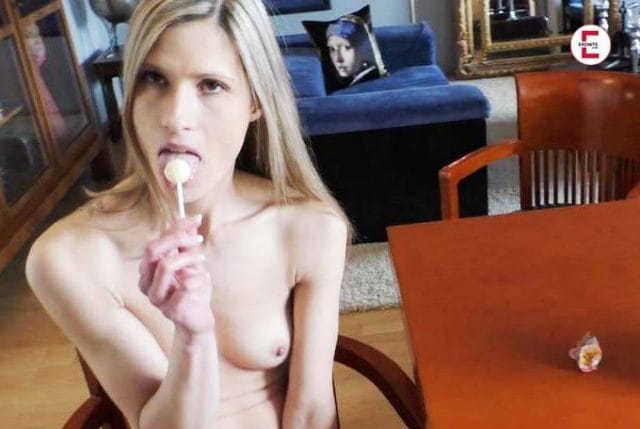 Submissive secretary next door
Pure passion and desire. This is the motto of the sweet blonde. During the day, she sits dutifully at work in Düsseldorf in the role of secretary. In the evening she turns into Melanie Schweiger (also called MellyBunnyLuder) and lives out her horniness in front of the cam and in her movies. Melanie Schweiger porn is an absolute eye-catcher and has long outgrown its insider tip status.
---
Eronite empfiehlt dir diese XXX Videos, Livecams & privaten Kontakte:
---
Melanie Schweiger is unbeatable natural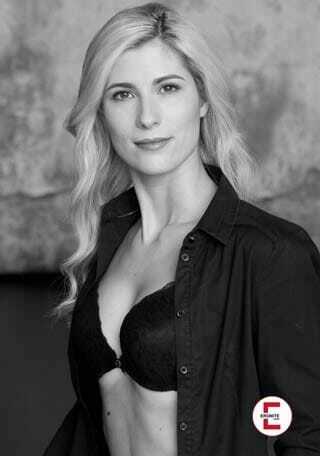 The name sounds everyday and unaffected. So is the girl behind this name. Even though the cute blonde may not be a model, she exudes a natural beauty. And this is exactly where the special charm lies. In Melanie Schweiger porn everything seems real. There is nothing to suggest that anything is contrived. It's all authentic. Here the fun is in the foreground. A natural-looking woman like Melanie is also immediately taken for granted. There is no other way, because everything about her is convincing. From common names to casual colloquialisms. The beautiful "Girlfriend from next door" appearance does the rest to surround this girl with a very special aura.
Who knows her videos, knows that it is very often verbal to the point. Melanie loves to be licked, but she likes to give blowjobs just as much. Here again, naturalness plays a very important role. In her films, there is only what Melanie and her shooting partner really like to see. No one is persuaded or even forced to do anything. This would also not be compatible with the natural charm of the cute blonde.
Another important point in her videos is eye contact. Melanie loves to see the horniness in her filming partner's eyes and watch him head towards climax. If he still moans uncontrollably, the sexy blonde imagines herself in the seventh erotic heaven. Once she has made her partner really horny and made him feel it violently, Melanie is at her destination.
Melanie Schweiger reveals even more to us in the exclusive interview, in which she answered questions and explained her respective point of view on various topics, sometimes in great detail. But now enough written, we dive into the world of the pretty cam girl, the amateur from North Rhine-Westphalia.
The big, exclusive interview with Melanie Schweiger
Eronite – Das Erotikmagazin On your website you reveal that you are a full-time secretary. This is information that some people have to let sink in for a moment. Nobody, when standing in front of a secretary, thinks directly that she can shoot porn. How do you reconcile your main job with your dark secret, which you only carry out in the evenings? Do your superiors and colleagues know that you work in the porn industry in your spare time?
Camgirl Melanie Schweiger Has not everyone in his own way a "little" secret? Why does no one think when they stand in front of a secretary that she also shoots porn? This is a prejudice. I have friends in my circle of friends who also film themselves having sex and shoot their private porn. The only difference is that they do not show these films to the public. But I do believe that the one or other woman you meet in the supermarket while shopping has already filmed herself having sex or has had herself filmed. Sometimes we are far too uptight when it comes to sex. Our society taboos the topic far too much, which of course also has the reason that I "can't" tell everyone, but would like to! My supervisor knows about my hobby and also supports me in this regard by sometimes giving me time off when I have an important appointment (fan meeting, user shoot, etc.). However, I will have to make up for the lost hours. One or the other colleague also knows my films. Sometimes I have to smile then in the morning in the office when I have published a new film. I wonder if they secretly watch my movies at night when their wife is asleep. In short, I deal with it very openly if I have the feeling that my counterpart is open to it. Otherwise, I won't mention it because I don't want to get into endless discussions. Discussions trying to convert me to stop. I often don't understand that, because I'm not trying to convert anyone to watch porn if they haven't done it yet.
| STECKBRIEF | Melanie Schweiger |
| --- | --- |
| Künstlername | MellyBunnyLuder |
| Fotos & Videos | Mein Profil |
| Wohnort | Düsseldorf |
| Geburtsdatum | 20. September 1983 |
| Sternzeichen | Jungfrau |
| Körpergröße | 165 cm |
| Gewicht | 51 kg |
| BH-Größe | 75 B |
| Intimrasiert | Landing Strip |
| Haarlänge | Lang |
| Bist du liiert? | Nein |
| Hobbys | Leichtathletik, Schwimmen, Laufen, Party, Fashion |
| Lieblingsserie | GZSZ |
| Lieblingsfarbe | Rot |
| Das mag ich | Intelligente und höfliche Männer, respektvoller Umgang, Toleranz |
| Das mag ich nicht | Sexpraktiken, die eigentlich in den Bereich der Toilette gehören sowie Arroganz |
The madness of watching my own porn movie
Eronite Admittedly: The porn shoot is not for everyone, mostly it is seen as negative to undress in front of a camera or even to have sex. Still, you seem like a woman who likes to be naked in front of the camera. Why exactly did you become a porn actress? What appeals to you about it?
Melanie Schweiger But why is it negative? Ultimately, only because it is socially and morally despised. The society has determined for itself that it is negative! There is actually no plausible reason for this. For me it is exciting every time to see myself having sex. It's like a drug for me to capture my passion on film. To see how the man enjoys me and I him! If the sex was good, I relive it while watching the movie. Of course, not as intense, but again with a feeling of happiness in the stomach and head. That was also the reason why I keep shooting porn. I didn't want to publish my first film at all. It was a spontaneous date and the guy just kept the camera on it. Afterwards we watched his shot video together in bed. I was totally blown away by that! I wanted to do that again. Well, in the end it turned into over 150 films in the last four years.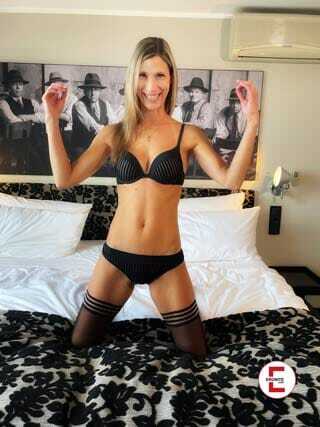 Eronite For anyone interested in the porn and erotic industry, it will be hard at first to shoot the first porn movie and show yourself naked in front of the camera for the very first time. So how did you come to be in front of the camera? How was it for you to stand in front of a camera for the first time?
Melanie Schweiger Well, it went quite differently for me. I didn't strip naked, had to follow stage directions, but did it on a private whim. I never woke up and said to myself: Melly, today you're going to be a porn actress. To be honest, even today I don't see myself as a typical porn actress who specifically wants to make money in the industry. It was the fun of sex that gave birth to my films. Therefore, there are not more than 500 films from me. I only shoot when I really feel like it. Firstly, when I'm up for sex and secondly, when the chemistry with the sex partner is right. By the way, this is also a reason why I have only once stood in front of a professional camera. Here you make a day and a time when you meet on the set. Do I know that far in advance if I feel like having sex at that time of day? For my one professional shoot, it worked. Yes, I was horny for the actor Bodo. Wanted to feel and smell him. I was totally curious and really positively surprised that I forgot all the cameras around me while fucking. Those who know my films know that I do not pretend to lust and passion. I think here's the key: don't do anything you don't enjoy and only do it when you don't have to pretend!
Retraining from secretary to chambermaid?
Eronite For the most part, anyone who makes a movie also has a script to stick to. What does it look like on a porn shoot? Are you allowed to have sex the way you want or is there a set process that must be followed? How long does it take to get a film in the can?
Melanie Schweiger No, of course there is no set process. I think about a story for all my films. Own fantasies or experienced stories of girlfriends in their respective relationships. Even my first movie had a story: the hotel meeting after the date. It wasn't made up, it wasn't acted out, it was just the naked truth. Reality TV is what I think they call it? As soon as fixed dialogues or sequences had to be rehearsed, that would no longer be compatible with me. It would then actually be played, freely according to the motto "…and at that point in the film you must now groan". Nah, that's not my thing at all. I would rather give free rein to my lust and horniness. That's why it usually only takes a maximum of 60 minutes to shoot the film. It is simply filmed what happens.
Eronite On your website there are many videos that resemble a tutorial. An example of this: "So you get every maid and get to squirt your semen in". Where did you get this idea to make some kind of guide for the user?
Melanie Schweiger Actually, they are my own fantasies. I imagine what it would be like if I were a maid and while cleaning the room the hotel guest surprised me. What do I do then if I like him too? A sizzling situation that I have mentally played through several times. As far as I know, as a maid, it is forbidden to get close to the guests. But this is exactly where the appeal lies for me. The mixture of prohibition, lust and passion. I love to realize my own fantasies that would be impossible to portray in reality. Only retrained once from secretary to maid. Oh dear, then I would have already gone through many trainings to make my dreams come true.
I do not play an orgasm in private or in front of the camera
Eronite Many people can not imagine that there are porn actors who really enjoy shooting. So please enlighten us: Do you really enjoy having sex in front of the camera? Do you really get an orgasm every time or are there moments when it's all an act?
Melanie Schweiger Yes, I really enjoy showing myself naked in front of the camera. Why not? I am very happy with my body, with small exceptions. I feel great in front of the camera during sex and knowing that others are watching me have sex makes me even hotter. I would love to know which scene they watch multiple times or even run in slow motion. I'd love to be a fly on the wall. Of course I do not get an orgasm with every movie. For this, some turns are also too short or the respective shooting partner could no longer hold back and had to cum. Then I always have to grin, because I feel it as a compliment. Freely after the motto "Well my dear, have I just made you too horny that it had to come out?". Therefore, I do not experience an orgasm in all films. But that's okay and those who know my films also know that I don't fake orgasms. I don't do that in private or in front of the camera. You have to be able to indulge yourself.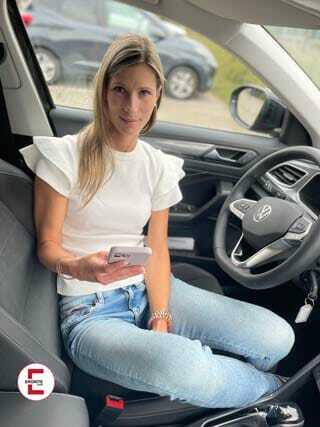 Eronite On your website it says that besides shooting porn videos you also like to sit in front of the webcam. How exactly does a livecam chat work for you? Are you directly alone with one spectator in a room or are there several spectators at first? Are there regular viewers who drop by more often? Do you prefer someone to stop by more often or do you like it better when a new viewer joins? Are there any advantages for the people who watch you more often?
Melanie Schweiger webcam I do rather rarely and also quite spontaneously. There was a time when I was often to be found in front of the webcam. However, I miss a little closeness to the man. Partly it has then something of commanding. Now do this, do that. To be honest, it's not really my cup of tea. When it comes to sex, things are different. I like to let myself fall and act submissively. If commanding words fall in the process, it makes me sharp and I enjoy it because the passion and lust is completely given. In front of the webcam, I then feel treated as a mere commodity. I don't like it that way. Of course, you can't generalize and not all users are the same. However, I had to experience it more often. Regular customers were different and often we just chatted with each other until I took the initiative and undressed. Regular customers have been able to experience fun with me in front of the camera more often than unknown users.
Eronite Those who make porn films logically have sex more often. What about your personal life? Do you still feel like having sex? What influence does your job have on your private sex life? Has your private sex life changed since you started having sex in front of the camera? Can private sex and sex on camera be separated at all?
Melanie Schweiger For me, sex life has not changed. In the end, I don't pretend in front of the camera, so private sex is almost identical to film shooting. I think my fans love that too, that I'm just the way I am. No fake orgasm, no practices I don't feel like doing. Besides, I only shoot when I really feel like it and am horny. Otherwise, it makes no sense in my opinion. No one goes to a club to dance if they are not in the mood. Yes, that's how it is for me too. Therefore, I do not separate private sex from sex in front of the camera.
Eronite Of course, a porn actress must be able to deal openly with the subject of sex. How does it look in the partner search? Are you already taken or how do you handle the issue when dating? Do you tell your dating partner directly about your dark secret or do you want them to find out for themselves?
Melanie Schweiger When I date a man, I don't barge in. First, I always tell them about my main job as a secretary. But since it's important to me that he has just as much passion for sex, I don't hide my dirty little secret. I think he would figure it out pretty quickly anyway. At the latest when I am recognized and/or approached on the street. Maybe that's why I'm still single. So far I haven't met a man who would partner with me and accept my hobby. With some men I have experienced that they initially had full understanding for my hobby. But after about two months, they start to question my hobby and want me all to themselves. Unfortunately, this is a great pity. Because love and sex belong together, of course. But I can also have sex with other men simply because of the desire and curiosity.
Maybe I will find a partner who shares my dirty hobby
Eronite If the right partner showed up on your doorstep and wanted you to give up your hobby, how would you react? Would you give up your part-time job for the right partner? What about when children are involved? Could you imagine having a partner, kids and your dark hobby at the same time?
Melanie Schweiger That is a very difficult question! I can't answer that in a definitive way because I have too much fun shooting. I enjoy the attention of the fans, their beautiful compliments. It's just very relaxing to share with them the common passion for sex. Let's face it, how often in society is a woman pigeonholed as a "slut" just because she has fun sleeping with men?! It is difficult for a woman to live out her desire openly in the truest sense of the word. So if a man would figuratively put the gun to my chest: Your hobby or me, then that would not be good conditions either. Maybe something like that has to grow in a partnership. I don't want to rule it out, but wouldn't it be nicer if he joined me on this adventure? Here would be already the first big common ground, which would not stand in the way of a later family foundation.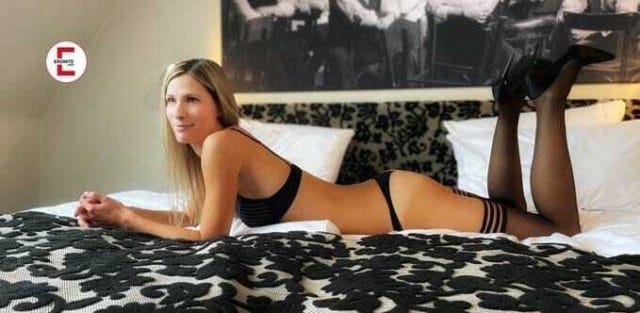 Eronite You have a lot of videos uploaded on your website. You could try and get to know many things according to them, they are very different. Have you developed any preferences or tendencies for yourself in terms of which roles you prefer to slip into? Are there practices that you disagree with?
Melanie Schweiger Oh yes! I love to play the seductive slut. To literally suck the brains out of married men. Don't ask me why, but I love playing this role. Maybe it's just the validation of getting married men into bed. Can I reveal something? Sometimes the thought crosses my mind even when I'm shopping. Then I see an interesting man with his girlfriend or wife and in my mind he is above me or I am kneeling on the floor in front of him. I wonder if he would do a user turn with me. We don't have to tell his wife anything! In my mind I go through all my favorite practices with him: Doggy and 69! I have found that I have quite a submissive streak. Somehow I like to be used during sex, if the mutual respect is right. The next minute, however, I cool down and shake my head inwardly: Melly, you are and remain a dirty slut! What I absolutely do not like are sex practices in the area of feces. That rather disgusts me.
Eronite Some men who watch your porn movies will surely recognize you on the street from time to time. Have you ever been approached by a man or do they just look at you sheepishly and don't dare to approach you? Have you ever experienced a man harassing you?
Melanie Schweiger Yes, lately I'm being recognized more and more often. I can usually tell because they greet me with "Hi Melly." How else would they know my name? But I also think it's nice and I'm happy about everyone who addresses me. Whether at the gas station or at the last Rhine fair throwing cans. After all, it has its advantages: at my gas station I get a small gas discount if the cashier is there and knows my films, and when I threw cans at the last Rhine fair in Düsseldorf, I was allowed to throw until all the cans had fallen over. My reward: the grand prize! ;-) I find that totally sweet from my fans. So far I have not been harassed, but then I would also make a very clear announcement. Here I would then have to protect my privacy. And let's be honest: through my films I let many people gain very deep insights into my private life.
It is not easy to find honest and reliable shooting partners
Eronite Even though it should be obvious that you are not looking for a serious relationship this way, there are certainly fans who can't tell the difference in the real world. Has a viewer ever fallen in love with you? Or maybe a user has stalked you before? What is the best way to avoid something like this?
Melanie Schweiger I wouldn't categorically rule out a serious relationship. Why should you? If the chemistry is right and common interests fit, I could also imagine a partnership. However, I cannot judge whether a user has already fallen in love with me. So far, I have considered online marriage proposals to be more of a joke on the part of the users. Who gets married these days without ever having met the other partner? Well, if it goes according to that, then one or the other user has actually fallen in love. But so far it has never ended in stalking. I think a clear line would have to be drawn then.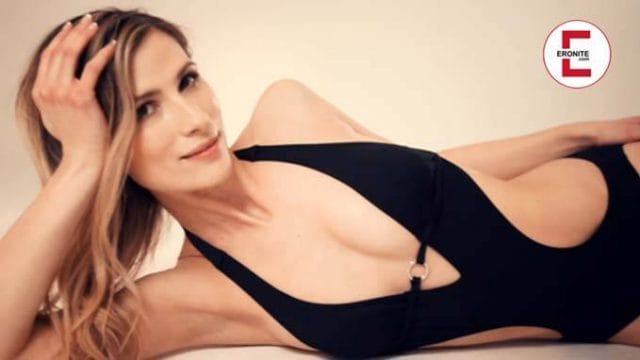 Eronite On your website, men can apply to become your shooting partner. This will bring tears of joy to the eyes of many fans. Of course, it is known that there are sexually transmitted diseases from which everyone should protect themselves, especially if the sex partner also changes from time to time. How do you protect yourself and your sex partner from sexually transmitted diseases? Could you imagine having multiple shooting partners at once? As a woman, is it also possible to apply as a shooting partner?
Melanie Schweiger Of course I can imagine having several filming partners. But can the individual shooting partners do the same? That is, can they imagine shooting with several men they don't know? I think it's always quick to say "Yes, I'm in!" from home. But when it comes to meeting other men on the shooting day, the nervousness of the individual man is quite high. So far I have not shot with several men at the same time. It's also not so easy to find shooting partners you can trust unconditionally. Then everything really has to fit. But more about that in the next question or answer. By the way, women have already applied to me, but unfortunately it didn't quite fit yet. Either it was the distance that made shooting together impossible, or the chemistry just wasn't there. I do not want to talk about the subject of diseases. The topic of sex is much too beautiful for that than to be destroyed by this topic. You don't ask a race driver why he doesn't lock his race car at 50 km/h because crashing into the guard rail is too dangerous, do you? Although he wears protective clothing, he plays with fire. That's all I want to say about it.
Eronite To stay on the topic of shooting partners: What are your requirements for your sex partners? Is there anything you don't like at all? Do you yourself have a say in finding the right co-actor? Will there be only one porn shoot with the shooting partner or several?
Melanie Schweiger The subject of shooting partners is not an easy one. Why?
Many want to shoot and it is really hard to find the partner that fits from the multitude of applications. Ultimately, you get to know each other exclusively through chat. So it's not so easy to get a picture of the other person. I do webcam rather rarely, as described above. I also don't do user turns because I have to, but because I feel like the other person. This, in turn, can only come about if the chat dialog is right. If he makes me curious for more. That my curiosity, however, sinks below the turf at first sentences like "Want to fuck?" or "I want to shoot with you!" should be clear to everyone. I also always find sentences like "Are you still looking for a shooting partner?" interesting and cause me to shake my head. To be honest, this is not very original and does not make me in any way curious to get to know them further. In all the user shoots I've had in the past, I've asked after a while if he could imagine doing a shoot with me. None of the men had mentioned the subject in dialogue until I asked him. I find that very respectful and classy. What do, in turn, expect the men who immediately fall with the door into the house and best 12 hours later only three question marks after the chat unanswered by me? On my website, I have made a small video on the topic of "Application Userdreh", but I have to note that this is probably called rather rarely. The fan André, with him I was able to experience great sex on camera a few days ago, is the best example of the perfect process.
We met and wrote to each other on the Internet. Sometimes there were two weeks of radio silence, because it just did not happen to write to each other. This is where it starts: both must have the desire and interest in each other, without always having only a possible twist in mind. We wrote about common interests such as sports or fashion, etc.. André didn't even mention the word "user turn" in a single syllable. At some point I couldn't hold back my curiosity and asked him if he could imagine doing that with me. Some of you may be smiling now, but this is not a matter of course. It is difficult to find a partner who will show his face in the film. In addition, many platforms require an internal so-called ID shot. This means that the shooting partner must have his or her face and ID photographed, which in turn must be uploaded to the individual platforms. Sure, because the platforms want to make sure that the shooting partner is of age, agrees to the release of the film and that the whole thing didn't happen secretly without his knowledge. However, many fans do not know this process. This fact alone does not make it easy to realize a shoot where the chemistry fits, where mutual respect is present and the irrepressible desire for each other is not destroyed by an ID shot. Then, if all these basic things fit, I prefer shooting with fans who have never been in front of the camera. That is then the special kick! Of course, it's easier to find shooting partners who know all the rules of the ID shot. But I, in turn, look for the unique, the new – for him as well as for me! If he and I liked it, I can definitely imagine more shoots. What I refuse, however, are shooting partners who, after a shoot, tour the industry with me and shoot umpteen different films with umpteen different actresses. They are, of course, forgiven, my interest in another shoot expires in this case. The unique is gone, the special, what connects you together. The whole thing then takes on a professional air that I don't want. Of course, I have also shot with professional actors because it was difficult to find a great user for the reasons mentioned above. In general, however, I prefer the inexperienced fan. I think that's just fair too! Right to a say? Sure, only I and I alone decide with whom and whether I shoot. Not to mention, the whole thing is just a hobby for me and does not serve as a source of monetary income. So who would want to dictate something to me?
I had a funny experience shooting with a 70 year old woman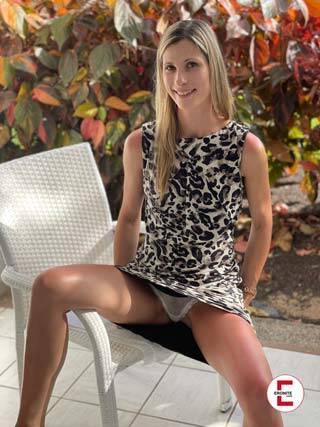 Eronite There are days when everything is too much for you. Having to have sex at the same time is torture and no one wants to torture themselves into anything. What's your situation? What do you do when you don't feel like having sex? Shoot porn clips that day anyway?
Melanie Schweiger No, as described above. I only shoot when I feel like it. After all, it is not a profession for me, even though your question is geared towards it. It's a hobby and I earn my money as a secretary. So why should I shoot a clip if I don't feel like it? Sex should be fun, not torture! Maybe also a reason why my films don't have a fixed chronological order (for example, every Saturday, etc.). No, in my opinion you can see something like that in the films. What woman has a desire on command? But I can understand every actress who earns her daily wage with this. I can't fault you there. Fortunately, I am so financially secure that I don't have to worry about this.
Eronite There are embarrassing situations in any situation. They accompany you throughout your life. One person is able to cope perfectly with embarrassing situations, while the other starts sweating at the slightest detail. Hand on heart: What was your most embarrassing moment in front of the camera? Are you sometimes uncomfortable having sex on camera?
Melanie Schweiger No, not in any way. I'm doing this without coercion. I do not earn my living with it. I once shot in a vaulted cellar in an apartment building in Düsseldorf. The title is something with "electricity provider". During the shoot, I heard a neighbor unlock the main door to the basement. Doggy was canceled, camera was left standing and my shooting partner and I ran in different directions through the basement. We heard the old neighbor swear, "What is this? What was done here?" As the 70+ year old woman kept calling for the owner of the camera, we left our hiding place and faced the situation. With a bottle of red wine in her hand, the older lady told me: "Child, I was young once too! Enjoy!" To this day I don't know if she meant the red wine or the sex in front of the camera. ;-)
Eronite Surely it is not easy especially for parents and friends to know that a loved one shows himself naked in front of the camera. Since the porn industry is still associated as negative, it is not easy for the relatives to accept that there are people who voluntarily have sex in front of the camera. Do your parents and friends know what job you do on the side? Have they possibly even seen one of your films?
Melanie Schweiger No, my parents don't know anything about it. I only let a few friends in on it. They think that's perfectly okay and can live with it just fine. One of my friends regularly watches my films and asks me if he can be a shooting partner one day. Well, that's exactly against my principle for choosing the shooting partner.
Eronite In every job, there are things you prefer to do over others. It's certainly the same with shooting sex videos. What don't you like about the job? What would you change if it were possible?
Melanie Schweiger It's not my job. My job is the life of a secretary. Therefore, I am completely self-determined. If I didn't feel like releasing movies tomorrow, I wouldn't do that either.
I ask myself: Am I really a real porn actress?
Eronite There are certainly some men and also women who like to watch a sex clip in their free time. Porn is a great way to live out your fantasies – at least in your mind. Do you still watch porn movies yourself, even though you shoot some yourself? What excites you about watching porn in your free time? Do you prefer watching fuck movies of other performers or do you even watch your own movies? What is it like to see yourself in a sex tape?
Melanie Schweiger I also like to watch porn in my free time. If the guy is well built and captures my imagination, why not! Why do men watch porn? I guess because they imagine themselves spoiling the woman they are seeing. That's exactly how it is with me! As already described above in shopping. I then imagine that I am feeling the guy myself right now. Not infrequently, I then start to masturbate. Sometimes with toys – sometimes without, but in thought with him and his best piece. I also do that with my own films. When I get really pampered, I like to watch it several times and relive it. But to be clear, I don't do this every other day. Again, only when I feel like it or after work to relax.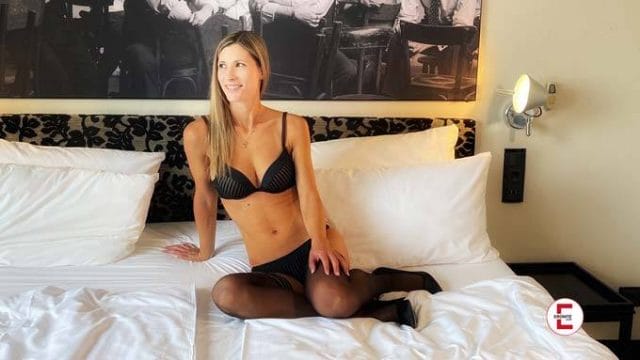 Eronite Through a job, friends for life can be made, sometimes it is also good to be able to exchange ideas with someone who experiences the same thing or shares the same hobby. Do you have people in your private environment who have the same dirty hobby as you? Have you perhaps even met people through it with whom you get along well in private?
Melanie Schweiger No, I have no contact with any other actress from the erotic industry. I don't want that either, because ultimately I don't identify with the industry either. Am I really a real porn actress? I don't see it that way. I make my movies privately and upload them to the internet. Sometimes one a month – sometimes none a month. I see myself more as a blogger who gives her fans a little more insight. An erotic actress is obliged to produce material. Just at the word material I differ from the classic porn actress. For me, it's not footage I'm filming, it's fun. Fun I get to experience and share in bed. Did you know that I already did nothing for 12 months once (November 2020 to December 2021)? I just didn't feel like it. For this reason alone, I do not seek contact with others in the porn industry. What good is that going to do me? I have a healthy circle of friends in Düsseldorf, mixed from school time friends and from the working world. The fact that I am pushed into the corner of a porn actress by my films is rather socially caused.
Eronite In many people's minds, porn is very superficial. The woman must be in good shape and look sexy. How do you deal with this superficiality?
Melanie Schweiger I don't mind. I, for one, am not shallow. It is true that I like my body very much. If I am reduced to that, I cannot change it. But it doesn't bother me either. Whoever gets to know me will learn that I am anything but superficial.
Eronite Adding to the superficiality, your porn is often used as a "jerk-off" template. Many women do not like being used as a masturbation template, some are disgusted by the very idea of a man satisfying himself in such a way. Can you handle your porn being used as a jerk-off template? Does this sometimes disgust you?
Melanie Schweiger Yes, that's no problem for me at all! On the contrary. I take that as a compliment! After all, this is exactly the favorite fantasy of mine described above. Turn the man's head. It's nice when a man sees me and his pants swell. Can any woman say that about herself?! It makes me feel desired. Many men also send me photos of what happens when they watch my movies. Then in the background of the pictures I see a laptop with my film, in the foreground a huge mess! I then have to smile and think to myself: Well, I've done it again. Just the idea that somewhere on planet earth a man is now watching my film and has his best piece in his hand makes me hot. I love that, because otherwise I wouldn't be allowed to release a film.
Comments under her videos are the gasoline in the tank for Melly
Eronite All beginnings are hard – often it is difficult for people to get over themselves when they have or want to have a hobby like yours. What advice would you give to someone who is brand new to the porn or webcam industry?
Melanie Schweiger Just be you! Don't pretend and don't do anything you don't feel like doing. Never be persuaded to do anything. Shoot only when you really want to, then it will be a wonderful hobby. Not only the dirtiest, but also the most exciting!
Eronite Of course, the last words of the interview belong to you. What would you like to tell your fans and those who want to become fans? This is your stage, share anything you want:
Melanie Schweiger First of all, a very big thank you to the many loyal fans who have followed me over the last few years. I am always overwhelmed when I get to read all the compliments on various platforms or social media. Sometimes I think to myself that I don't deserve this, since I deliver films to my fans rather sporadically. But maybe that is exactly the reason, because in none of my films the lust and horniness is played. Please don't be angry with me if I can't always answer everyone in a timely manner. There are simply too many letters, making it almost impossible to reply to all of them. I do my best! Promise! I have only one request: keep writing me your comments under my movies. I love that! For me, that is the gasoline in the tank, the air to breathe. I read each one and am always happy to read your opinions. Do not be angry, I can not shoot with everyone. In my current 17-minute clip it was André, maybe tomorrow it will be you? You can find instructions on how to do this in this exclusive interview with Eronite. I thank you all – stay healthy. Kiss, Melly
Approachable erotic star
MellyBunnyLuder is always looking for shooting partners. If you want to be a part of Melanie Schweiger porn yourself, you should contact the girls quickly. No shy, as natural as Melanie gives herself on the Internet, as unbiased she is in dealing with her fans. The sweet little fruit likes to get involved in a nice chat, which can also get a bit heated later on. But be careful: Melanie knows exactly how to wrap men around her finger in the course of a conversation. It goes without saying that she knows how to use all her charms. The cute blonde with brown eyes has a first-class knowledge of human nature. In a flash, she recognizes what her counterpart is into and assumes the corresponding role. At the same time, Melanie Schweiger is very changeable. She can play the dumb blonde just as convincingly as the man-eating vamp.
A little tip on the side: If you want to give your application a little more emphasis, you should take a look at Melanie's wish list beforehand.

Read also:
– Lara Bergmann – The interview with the hellcat
– This is why women in uniforms are so attractive
– I offered her a job, but she only wanted one thing!
– Every day I give my boss a blowjob under the desk
– Daynia, the most perverted AO slut in the region
– That's why sex with the boss is particularly appealing
– Blowing my boss and still not at the finish line
– Erotic story: My application as office whore
Once an agreement has been reached, nothing stands in the way of a joint shoot. Sounds uncomplicated? It is. They can also be relied on for planning around the shoot. After all, like all secretaries, this is a talent for organization.
Are secretaries submissive?
Even her bread-and-butter job, in quotation marks, has a certain sex appeal. After all, aren't secretaries said to always do what the boss says? Which, after all, suggests a certain submissive tendency. This is also the result if you scroll through the list of Melanie Schweiger porn.
Here you can find sometimes a roleplay as a schoolgirl, where MellyBunnyLuder satisfies her teacher. Oral and on knees. The result of her oral work is later distributed in her face. So if there are no clearly submissive tendencies to be found here, where then?
By her own admission, Melanie is into being fucked hard. Flower sex would not be her world, as she further reveals. Those who know her videos will not be surprised by this statement.
Whoever knows her photos and was able to admire her gorgeous ass, will also want to tackle it. With pleasure also harder and in such a way that imprints remain. The secretary can also take a slap or two.