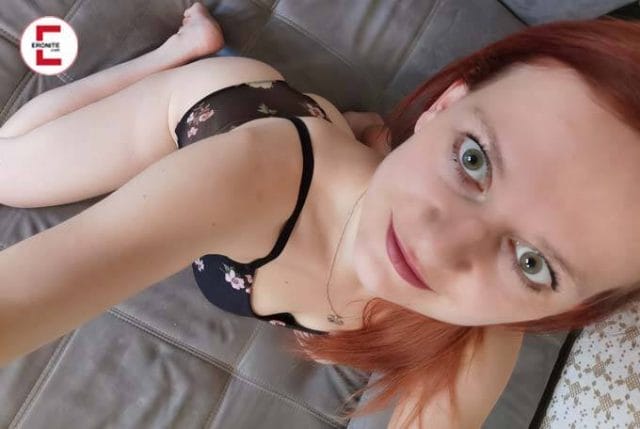 "Pregnant, so what? I'm still shooting porn!"
How Sophie Kush got into the erotic industry is already more than unusual. Some almost suspect a fetish behind it, if you slip into the scene as it happened to the red-haired amateur a year and a half ago. Since then she rocks the porn world and stands in front of the webcam for her fans her wife.
---
Eronite empfiehlt dir diese XXX Videos, Livecams & privaten Kontakte:
---
Redhead princess and naughty snotty brat in one person
She is young, red-haired, beautiful and a dream woman in every other way. Sophie Kush porn is rightly conquering the erotic scene and becoming more and more popular. Sophie Kush is the kind of woman you could stare at for hours. No wonder, with the looks and the cheeky but lovable nature.
A princess to fall in love
She has long red hair, green eyes and shapely face. The complexion of the flawless body is rather pale, like most redheads. Her 75B bust size fits seamlessly with the figure of her luxury body.
When you ask Sophie what she likes best about herself, the first thing she names is her ass. Fans of Sophie Kush porn will unconditionally agree with this statement. Because this butt, which is splendidly staged in various photos of her, is a real eye-catcher. And this by no means means a brief moment. No, this gorgeous ass has a hypnotic effect that makes the viewer stare at the object of desire for a long time. With lower jaw folded down. Drooling. Pursuing his erotic fantasies. By the way, in Sophie Kush porn this butt is shown to its best advantage.
Curiosity was the beginning
One day Sophie Kush noticed that something was missing in her sex life. She quickly came up with the idea of filming herself having sex, but dismissed the idea for the time being. The fear of being discovered by superiors or neighbors was too great. For research, she started watching porn on the Internet. And had tasted blood. In fact, she was so excited about the hot scenes that her vibrator had to serve that night.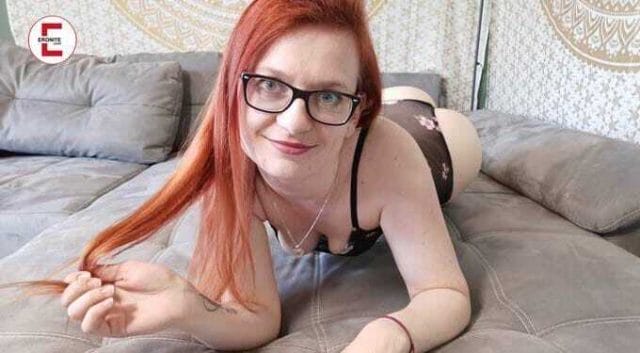 For a good year now, the redhead can be seen in front of the cam and in the Sophie Kush porn. Her favorites are films with male filming partners or videos about masturbation. Generally Sophie Kush is into flower sex, creampie, outdoor sex, oral sex, golden shower, sex with toys as well as fisting.
The big interview with Sophie Kush
We are glad that we had the easy-going girl in conversation:
Eronite – Das Erotikmagazin First of all, thank you for answering our readers' questions. We are sure it will be very exciting and enlightening. Not only your fans are happy, but also we are happy to learn one or two secrets, a joke from your youth or some private things about you. Tell me, when did you actually start working in the adult industry, how did you get started and what exactly do you do?
Camgirl Sophie Kush My entry into the world of eroticism – incredible, but true! I found interest in having sex filmed in the middle of my pregnancy. After the first few attempts, I came up with the idea of showing my videos online to others. The positive comments and feedback I received on my videos were ultimately the deciding factor that made me say I wanted to continue developing this hobby. And lo and behold, now I'm a porn actress since mid-2021 and I'm passionate about shooting porn. At the beginning of 2022 I have then also discovered the livecam for me and am since then regularly online as a camgirl.
Go directly to Sophie's profile
Eronite If you shoot porn for your users and make them happy, what is it about making adult films that attracts you? And anyway: why do you actually produce amateur clips? Is it just for the money or is there another reason? Could you also imagine to shoot professional porn movies as well or have you even done that so far?
Sophie Kush Since I felt the appeal of filming myself and showing myself to the world during my pregnancy and had an extremely positive experience with it, I think it's still that certain kind of appreciation that I get. Most men and also women are extremely respectful and always bring positive vibes. I get more confident with every video shoot because the men out there know exactly what a woman likes to hear. At the same time, I have a hell of a lot of fun with my hobby. I love sex and can totally relax and escape from everyday life for a moment.
"The feeling of squirting is just insane".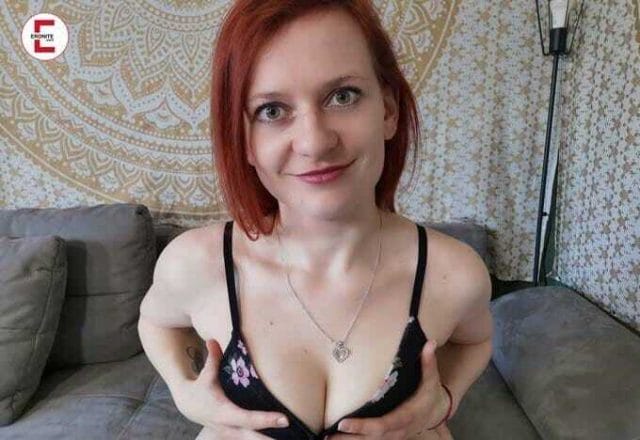 Eronite Imagine you're on set, everything is ready, the lights are on, the camera is rolling, and out of the production manager's mouth comes a "And – please!" What's going through your mind at this moment? Are you thinking about anything in particular or are you fully focused on your shooting partner(s)? Are there any scenes that you love shooting the most and what are they and why are they among your favorites?
Sophie Kush Since my husband and I shoot our videos alone, so it's just us on the "set" and no one else, I feel very comfortable. I think if there were other people, I would actually find it harder to focus on anything at all, let alone just let myself fall. My favorite thing to do is shoot scenes at my house, pampering myself, trying new things and getting to know myself more or less more. I especially love shooting scenes where it gets tiring, because the results the camera then captures are just phenomenal. But in fact there is nothing more beautiful for me than squirting. Even though I don't get it too often, this feeling and the tingling throughout the body is something very special, like fireworks one of my absolute favorites.
| STECKBRIEF | Sophie Kusch |
| --- | --- |
| Fotos & Videos | Mein Profil |
| Wohnort | Berlin / Brandenburg |
| Geburtsdatum | 2. Dezember 1994 |
| Sternzeichen | Schütze |
| Körpergröße | 164 cm |
| Gewicht | 50 kg |
| BH-Größe | 75 A |
| Intimrasiert | Hollywood Cut, damit man mein Piercing auch sieht |
| Haarlänge | Lang |
| Hobbys | Familie, Netflix, Reisen, Reiten, Skifahren, Tauchen |
| Lieblingsfilme | Carrie, Conjuring, The Cabin in the Woods, Get Out, Der Exorzist, Es, The Blair Witch Project, Silent Hill |
| Lieblingsserie | The 100, Breaking Bad, The Rain. |
| Lieblingsfarbe | Rosa und Pink |
| Das mag ich | Gutes Essen, positive Vibes, nackt im Meer baden, massiert und verwöhnt zu werden und bin gerne mit netten Menschen zusammen |
| Das mag ich nicht | Respektlose Menschen, Kohlrouladen, Spinnen und Unordnung |
"If you close your eyes, you can't develop".
Eronite Most of our contemporaries spend at least occasionally watching adult movies, some more, some less. Men more regularly and more often than women. How about you? Do you also watch a porn movie from time to time or do you think that you are already saturated with it professionally?
Sophie Kush Yes, I also like to watch porn. Mostly, however, out of curiosity about what other ladies and gentlemen are shooting. Because how can you develop if you close your eyes? So I'm always looking for inspiration and seeing what I can incorporate into my little films. But I must also admit that I get extremely wet from one or the other actress and when the film is over, my head cinema really starts. What I'm saying is that when I watch porn, it's either to learn or just to get really wet and aroused. What could be better than seductive images in your head?!
Go directly to Sophie's profile
Eronite There are things that many actresses downright hate. At least, quite a few representatives of the guild have an aversion to one thing or another on the set. What is it with you? What do you not like at all when you make porn movies?
Sophie Kush Since I shoot all my videos completely privately and this takes place mostly but also at the same time unfortunately only at home, I do not bother so much. It's super annoying when you're in the middle of shooting and then the dog barks or I've forgotten to turn off the doorbell again and it suddenly rings. Most of the time it happens in the hottest moments and so the whole shoot was for nothing. Yes, and what's more, it sometimes gets extremely warm, not from the physical activity, but from the lamps. Sometimes it feels like being in the desert. There you see once what you do everything for good shots!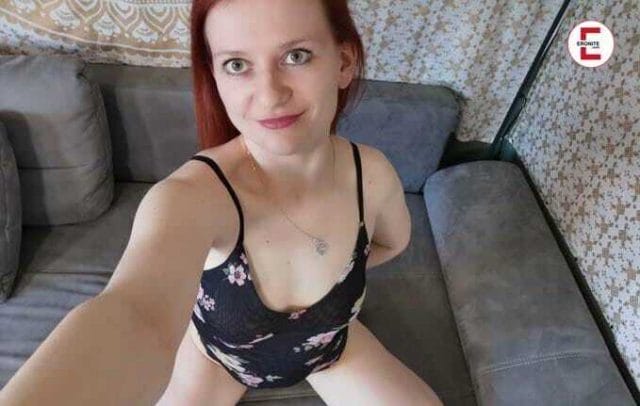 Eronite The erotic and porn industry is fun, brings pleasure and at the end of a camsession or movie many people are happy. Nevertheless, the scene certainly has some downsides. What do you think are the dark sides of the porn and erotic industry?
Sophie Kush Personally, being a mother of three and with the fourth on the way, I find the protection of minors extremely important. As I see it, it's just made way too easy for kids out there to consume porn. At the same time, there are a lot of women out there who are being forced to do things that I don't think are right. Otherwise, my honest and personal take on the adult industry is that it can be just as damn fun as any other job. It's super versatile and exciting. Of course, it can sometimes be difficult with family or friends, but most people are quite open about it. And let's face it, if you have a problem with being an erotic model, you know where the bricklayer left the hole in the wall.
"Wet tongue kisses totally get me going".
Eronite tongue kisses inspire young and old alike from puberty. For many, there is no greater proof of trust than an honest, soulful and intense French kiss – often also as proof of intimate affection and love. On the porn set, however, love is out of place. Nevertheless, many actors and actresses like to kiss their shooting partner during the act. Is kissing part of sex for you and how do you feel about it when shooting porn?
Sophie Kush Kissing is an absolute must during sex, especially wet and persistent tongue kisses really get me going. I just love to feel the partner so intensely and to be extremely close to him. But I also have to admit that it's a rarity in my films. But that's not because you don't kiss, it's because of the perspectives, the way I film. I think I should pay attention in the future but times to shoot more often videos with a hot tongue kiss foreplay.
Eronite Every person needs a rock in the surf, a support. Especially in less good times it is important to have people around you who are good for you and whom you can rely on. What did your family say when they found out about your job? Were they horrified, did they perhaps even break off contact with you, or were they completely at ease with their daughter's new situation?
Sophie Kush Well, so many people don't really know, but I don't peddle it either. Whoever knows, knows and whoever finds out, gets an honest answer from me. My mother is about the only one in my family who knows this and with whom I also talk about it sometimes. She can live with it and doesn't really think it's bad, but it didn't cause any enthusiasm storms. But my in-laws are very relaxed about it, for them it's something quite normal. As long as you are sure of what you are doing and feel good about it, you should pursue your goals.
Formerly rather shy – today she even loves anal sex
Eronite sex in front of the camera is different from private sex in the bedroom at home. The set is teeming with people, it's brightly lit, there are cameras everywhere, and there is constant interruption from the director or production manager. It can be difficult to concentrate on the essentials. Quite different from home. What's it like for you to have sex in private? What impact does your porn job have?
Sophie Kush Well, I shoot my porn at home and a professional set I do not know, but can well imagine how it goes there. I have to say, when I'm shooting porn and then you've had a position change and the camera angles are off, there really would be nicer things to do than take a break. I imagine the same thing on a professional shoot when it's "cut – we have to shoot that scene again." Of course it's part of it and the film should be something special. But it's much more exciting and beautiful when it's really private. You can just let yourself go, let yourself be pampered, don't have to pay attention to anything. There are no headlights to blind you, and you have a lot more space available. In fact, being a porn actress has helped me extremely. I have become much more open-minded in bed. I'm really keen to experiment and try out a whole lot of things. Just an example, but I never thought I would have anal sex. Today it is not one of my favorites, but I like it and enjoy it more and more.
Eronite Not every porn movie or amateur clip is like the other. There are definitely things that differ from film to film. Most of them say "my films are not posed and everything is real", but almost all of them answer that when asked. Apart from that, almost all users and we know that it is not real if the amateur or actress only shoots with her own partner, but still many "different" men are to be seen in the films. Or we also know that no letter carrier simply unpacks his accidentally washed penis, which is already ready for use in his pants, when delivering the package, forces you to your knees and pushes his hard strap into your willingly opened mouth, while that of course – pure coincidence! – filmed and he then of course also agrees with the fee-free publication on relevant porn portals. But back to the topic: What really distinguishes your amateur porn from the others? Is there a unique selling proposition?
Sophie Kush Phew , that's a good question. I would prefer to answer now that the men get to see simple and real orgasms with me. But I think that would be too unimaginative. Currently, my unique selling point is my pregnancy. There are not many German pregnant actresses and that too with red hair. Otherwise, I shoot videos because I discovered the passion for it during my third pregnancy. I invest in good technology so that my recordings are of high quality. I think every woman has her charm and a certain appeal, so each video is also unique and has its raison d'être. Not every porn clip can please everyone. But that's how it is with everything in life, the true lovers appreciate it.
"A good lover is attentive and mindful".
Eronite There are good lovers and not so good. Surely every woman has made the acquaintance of every type of man. One is better, the other worse in bed. But when exactly is a man good at sex for you and what do you think most guys do plain wrong in bed?
Sophie Kush Let's be honest, most men today – many may not even call themselves men – know neither what a woman wants and demands nor do they know their own bodies properly. They just want to quickly empty the bag and think that the woman has climaxed. Few people know about foreplay either. A good engraver, woman or man, is mindful and attentive, knows where a woman wants to be touched and realizes when it's time for a boost. I like to compare it to a manual car: we don't just shift from first to sixth gear.
Go directly to Sophie's profile
Eronite You are in the adult industry and we all know why men (and women too) watch porn movies. This isn't about dialogue or exciting action. Nor about dramas or comedies. No one has to resolve who the actual murderer was in the end. Porn is all about one thing: your own sexual gratification. Most often, the orgasm should also be reached as quickly as possible. The viewer of the sex films sees the protagonists of the erotic flicks as a "jerk-off template", he masturbates by often imagining to be in the place of the man (or the woman) and to fuck the hot actress himself to the hilt (or to let the well-equipped actor take him through according to all rules of the fuck art). How do you deal with the fact that most viewers – whether on cam or in porn – reduce you to your body and use you only as a template for their own launch?
Sophie Kush I think that's a nice kind of affection. No, nonsense, but I must say that I don't mind being reduced only to my body. I have, I think, quite a pretty appearance and also my body is not the ugliest. Especially considering that I have already given birth to three children. So why not!
"As a full-time mom, I'd like to have more time for my users."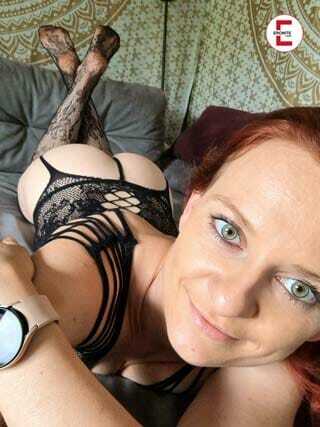 Eronite Even though our (Western) society is considered relatively open to sexuality and pornography, the job of a camgirl or porn actress is still not really accepted. Many turn up their noses at such a career choice. Be it out of ignorance, misconceptions or even their own principles of an outdated morality. Many people confuse the porn industry with the red light scene and think that every erotic actress is also a hooker and just prostitutes herself in a different way. Germany is known (and infamous) for the fact that people like to meddle in the affairs of others and – especially when they don't have a life of their own – really shoot their mouths off behind the backs of the people involved. Apart from the envy that many successful people feel. Is there anything you would like to say to such people?
Sophie Kush Everyone should first reflect and see if they don't have enough dirt to sweep at their own doorstep. Germany is a country where people are quick to point at someone without knowing them or ever having even seen them. You hear something and judge without looking into the matter. Everyone out there has their own problems to take care of.
Eronite "Nothing comes from nothing" is an old – and true – saying. Many shooting days last a long time, starting early in the morning and going well into the night. Then there is the day-to-day paperwork and organization, the classic back office. There must also be time for the Livcam shows, not to mention that everyone should also devote themselves to their social life, their family and friends. How do you balance it all and how many hours do you spend in front of the cam every day chatting with your fans?
Sophie Kush I'm a full-time mom, so there's really little time for my hobby. It's often very stressful and unfortunately I always plan too much and then still don't make it because everyday family life is often unplannable. As a result, I'm online less on cam than I'd like, because shooting videos is what I want to do, but I usually try to be live four days a week for at least two hours, which is really hard. From time to time I also have a fixed cam appointment with users and am then online for 15 minutes. I now also reply to messages via my smartphone, but even there it sometimes takes me a little longer than others. But most users have quite a lot of understanding for my situation that as a mother of three I don't always have time and still spend as much time online as possible. Yes, and I shoot two videos a week, so I'm particularly looking forward to that.
"Sometimes I feel like therapist Dr. Kush".
Eronite Well, surely not everyone can imagine this, but a full-time job as a webcam girl or amateur (or porn actress) can be very physically demanding and challenging. Hours in front of the cam, in a live show on stage or on the porn set during filming – physical fitness is essential for any protagonist. Do you eat a special diet? What do you do for your body to stay in shape?
Sophie Kush I do not have a special diet. I just eat what I have an appetite for. Sex is my only real exercise to stay fit. Otherwise, I walk my dog a lot and my three kids (soon to be four) keep me fitter than any sport can. That is also enough and it never gets boring.
Eronite You do not only shoot amateur porn, but also show yourself to your users and fans in front of the livecam. There you do a regular live show, viewers can also chat with you and make a wish or two. We can imagine that you will have a lot of fun there too – apart from the sexual aspect. What do you like most about your work in front of the cam?
Sophie Kush I always have very profound conversations where I really dive deep into the lives of the users. Sometimes I also feel like a little therapist: "Doctor Kush is listening." By all means, the one or other conversation also makes you think sometimes. Most conversations are super relaxed, funny and fun and quite often totally exciting. I and also the users have many orgasms and I must say that on the whole many nice conversations are held.
"Setting up and taking down the technology is a pain in the ass".
Eronite Sure, there aren't always golden times when everything goes exactly the way you want it to. Whether it's rude users, annoying customers or just an unstable internet line, there are many things that can disrupt your normal workflow. If you could change one thing about your job, what would it be and why would you want to change it?
Sophie Kush I would love to have much more time for livecam and video production. It would also be super cool if I finally had my own room for my hobby, because it sucks to always have to set everything up and take it down.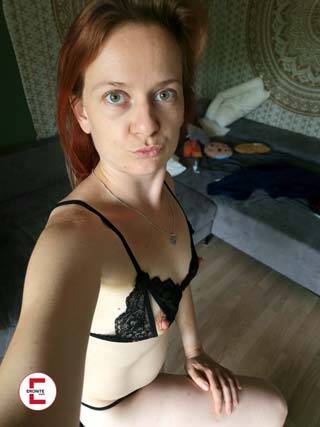 Eronite You probably didn't become a camgirl right after school or high school graduation or had originally planned it that way. Many start an apprenticeship, some complete it or start studying. Some livecam girls or amateurs do the job even once part-time and later change completely. Others do this work just for the fun of it and are only online a few evenings a week. What would you do for a living today if you hadn't chosen webcam sex?
Sophie Kush I would be a sewing riding instructor.
Eronite What were your first steps? How did you come to webcam sex? Did you have a mentor, so someone showed you the best way to break into the adult industry and make money? Or are you even under contract with an agency that supports you in all areas such as marketing, public relations, technology et cetera?
Sophie Kush The first year I did everything on my own and probably made a lot of mistakes. But they are part of it, after all. Then I asked the other actresses for help, but there was an answer from very few. In the course of time, I saw a report on TV in the evening. That's where I first heard about Pornagent and Magdalena seemed likeable right away. So I used the search engine and also made direct contact. In the end, I still do a lot on my own, but I get an incredible amount of advice and information at my fingertips that helps me. Pornagent has designed my own website and is available for me 24 hours.
"In school, I learned how important contacts are".
Eronite Making new friends isn't always easy in this job. There are many prejudices and especially men sometimes think that as a camgirl or amateur you are fair game anyway. Other acquaintances, on the other hand, first develop in the industry, with female colleagues or other representatives of the industry. Do you have friends in your private life who are also active in front of the cam? Would you recommend the work or rather advise against it?
Sophie Kush I would advise anyone, woman or man, to give it a try. What could possibly go wrong! You gain a lot of life experience, and if you realize it's not for you, there's normal office life out there waiting for you. So why not just dare and try something new? I think I would like to have a girlfriend or two who is also on webcam and preferably still a mom. So far, they are all just acquaintances and a real friendship has not developed. But that will surely come.
Go directly to Sophie's profile
Eronite And what advice would you give to a woman just starting out as a webcam model? Should she look for an agency or do you think they are just fleecing the girls and enriching themselves? Or should she manage everything herself from the start? How important do you think contacts are in the porn industry?
Sophie Kush Vitamin B is everything, that's what I learned in school. Vitamin B can open gates and doors that would have been closed to you for a long time. So yes, contacts in the erotic industry are really worth their weight in gold. Nevertheless, I would advise everyone to take care of their own affairs, then something real and honest will come out of it.
"From some users I even know the real name".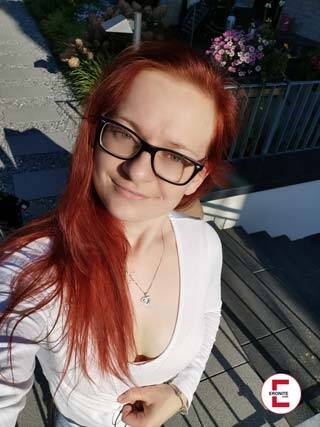 Eronite Many men have their favorites among camgirls and visit them regularly. Do you prefer to have new users every day or are you happy when you see the same person more often in the chat? Do you have regular users who visit you regularly and do you perhaps even receive gifts or other attentions from them?
Sophie Kush I generally appreciate any user who takes the time to visit me, just to say that up front. But I already have two or three regular users, if you may say so, who visit me regularly, so much more often. Some I even know by name and know many details of their lives. I haven't received any gifts yet, but I did get a little pocket money, which was also a nice gift.
Eronite Some girls – if the chemistry is right – even meet with their fans. The men often think they know everything about their erotic star. Quite a few of them even fall in love with their adored amateur, who often seems to represent the ideal of a partner. Have you ever received declarations of love from users or even experienced stalkers?
Sophie Kush Neither a declaration of love, although that would be really sweet, nor a stalker have I experienced – and I hope it stays that way.
Eronite With time, every livecam girl also gets a certain popularity. Has any user ever recognized you on the street? How do you react in such situations? Are you happy, do you offer, if you have time, a little conversation or even a coffee drink or are such encounters rather creepy or before unpleasant for you?
Sophie Kush I have never been recognized on the street and also think that I am much too unknown for that. But I'll put it this way, I certainly wouldn't mind a respectful and brief small talk.
For Sophie an orgasm is the best invention of nature
Eronite Always the same man as a shooting partner becomes boring for the viewers at some point, they want variety. There it offers itself to turn with others this also in such a way to offer. Do you do user meetings? How did you find it? Do your fans have to pay for such a meeting and is always filmed
in such appointments?
Sophie K ush There is a Mr. Kush who is my only filming partner, but I'm also at the very beginning of my development and who knows, maybe soon there will be films with female viewers – as a change.
Eronite The hunt for the next sexual climax defines life for many. Whether as an amateur in front of the cam, privately with your own partner during domestic sex or as a user at home in front of the screen. Much boils down to experiencing it as intensely as possible. How would you describe the feeling of an orgasm?
Sophie Kush The orgasm is the best invention that Mother Nature has come up with. It gets humid and wet, sometimes wetter than the Rhine, it is warm and full of harmony and sometimes extremely hot. The more intense and tingling the orgasm is, the more often you may feel it again. Like an addiction that wants to be fed every day. But the most beautiful is this absolute deep relaxation after orgasm. Those five minutes when you're simply floating on cloud nine.
"The horniest sex is after three orgasms".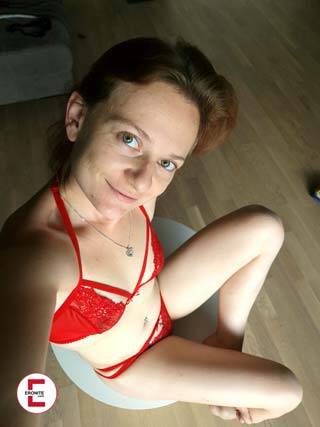 Eronite Fortunately, the days when women had to suppress or put their own lust on the back burner are long gone. The modern woman of today lives out her sexuality. This also includes masturbation. What is your favorite sex toy, do you only use it alone or with a partner as well? How is it different from having sex with a man and what do you like most about your favorite sex toy?
Sophie Kush So my favorite, although I think I have two, is firstly the Womanizer (this thing is certainly a household name to almost every woman and to the men: there is no better Christmas gift!). It's incredible and manages to release the most pressure in seconds. And then I have a favorite vibrator, which also has a stimulator for the clitoris at the same time. He is extremely horny and drives me crazy every time. But the horniest thing is to be spoiled by your own partner with the toys. There is no more beautiful foreplay and there is also no hornier sex than after three orgasms. I must say, my toys are a nice everyday companion. Especially in a large family like mine, I can relax so quickly and privately – without anyone noticing.
Eronite In the erotic industry, the percentage of bisexual women is much higher than in the rest of the population. This certainly has to do with the fact that amateur women in the porn scene are much more open about sexuality than the average woman who has nothing to do with the industry. What's your experience with same-sex sex so far? Compare it to sex with a male partner. What are the differences, but also the similarities?
Sophie Kush So far I have not been able to gain so much experience. In my "younger years" (Sophie laughs), I'm not that old, I once had something with another woman. It was also very interesting, I thought, but it wasn't like I wanted to or have it go any deeper. Thus, it was the first and last time until today. But that doesn't mean I wouldn't try again if the right one came along.
"I'd like to have sex in a hot air balloon one day".
Eronite Just because you make your money in the erotic scene doesn't mean you're permanently horny and always wet. However, the fantasy of men to have a constantly willing sex partner is still served by many webcam girls. The reality is often different. How often do you actually need sex? Or is it enough for you to satisfy yourself in front of the cam or to experience an orgasm in your movies? With all the sexual intercourse and the many sexual climaxes, is there any room and desire left at all for private sex?
Sophie Kush So it's enough for me to spread my thighs twice a week, but if I'm honest, it may well be more sex a week, preferably daily before bedtime or after getting up. But sometimes my hormones throw a spanner in the works.
Go directly to Sophie's profile
Eronite Over the years, I'm sure you've experienced a lot during sex. Far more than most people do in a lifetime. But I'm sure you haven't tried everything yet either. What sexual experience are you still dreaming about that is missing from your "collection" so far? Is this just a fantasy or do you really want to put this into action? After all, some fantasies can be quite nice in theory, but in practice they are not feasible or even illegal! But no matter how freaky or unrealistic, what's your secret sex fantasy?
Sophie Kush Phew , the question is really hard for me to answer and I must confess that I have not yet thought so much about it. However, I think it would be a highlight to have sex in a hot air balloon for once.
Eronite Thank you for answering so many questions. Is there anything else you would like to share or ask us?
Sophie Kush I am a young mom from Berlin and try to pursue my hobby with fun and passion. Thank you very much for the interview.
Sophie Kush Porn
This beauty's movies are a must-see for anyone who loves redheads. Since Sophie herself is into extensive tongue play, these are of course not too short in the videos. She also lets us share her first experiences in anal thanks to her videos.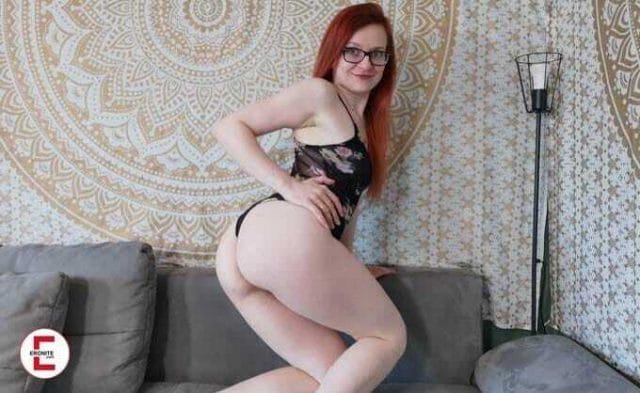 If you haven't seen any of the Sophie Kush porn yet, you should definitely take a look. It won't stop there, I promise.
The temperament of redhead women
Sophie Kush describes herself as sassy. This comes across as believable, after all, redheads are generally not given to mouthing off. The cheeky mouth, the curiosity for the wicked and the fun of sex unite here to an explosive cocktail. The whole thing mixed with the temperament of a redhead, results in an explosive firework of eroticism. Who has so much fire under the pretty butt, wants to live this out. In the case of Sophie Kush, this happens in front of the camera. Sophie Kush Porn. It doesn't bother anyone that the lady is a little cheeky and impudent. On the contrary. Quick-witted people come across as likeable.

Read also:
– The exclusive interview with 4based girl Katixxx
– Sex work in Ukraine – Exclusive interview
– Porn actresses and amateurs are now "content creators".
– These 9 international camgirls you should know
– German pornstars: 40 most popular amateur girls
Besides, the thought of a naughty girl allows for completely different fantasies. Is it okay to punish the naughty brat for her behavior? Or be rendered defenseless first by her mouth and then by a woman's weapons? One does not yet find any clues in Sophie that point to the realm of dark eroticism. But that would certainly be very desirable for many SM fans. Redheaded women are now a rarity. Redheaded mistresses are even rarer, as are redheaded slaves.
Webcam times and new videos
Fans and those who want to become fans pay attention: New videos are uploaded by Sophie Kush every Wednesday and Saturday. In front of the cam, the red-haired beauty can be admired mostly on weekends in the evening hours. However, you can also write to the woman with the legendary gorgeous ass.
When Sophie can arrange it, she also comes for spontaneous session in front of her cam. All for their fans. And your own fun in the matter. Sophie Kush has always kept that. A fact that her fans love. And also new visitors will immediately notice that nothing is artificial with the young redhead, but everything is real. Especially the natural horniness that Sophie is only too happy to show off in front of the cam.