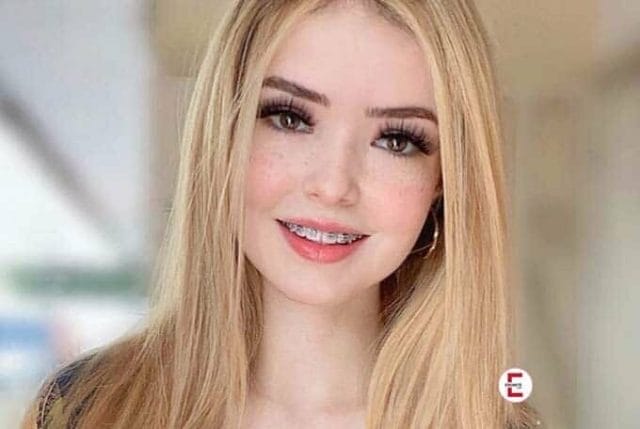 Barbie has never been so sexy and exotic
She is known for her lascivious movements in her dance videos, her terrific voice, her perfect body and for her braces – blonde Latina Germaine has a unique appearance. But who is Latina Germaine and what makes her so damn sexy?
---
Eronite empfiehlt dir diese XXX Videos, Livecams & privaten Kontakte:
---
The certain something of the blonde Latina
Scrolling through Latina Germaine's Instagram page, you may initially get the impression that Germaine and the Barbie character come true: blonde and long hair, flawless complexion, snub noses, red cheeks and a sweet kissing mouth. However, her face has a rather innocent and childlike look from its features. This impression is reinforced by her revealing braces when the South American Germaine smiles. But as far as her body is concerned, the blonde Latina is anything but innocent. It doesn't take any special attention to notice her full, plump breasts or apple bottom. Don't even get us started on her slim waist and curves that sit in all the right places. Her body is a complete contrast to her face. Latina Germaine has dyed her hair over time from black to brown today to Barbie blonde.
Instagram model with braces and freckles
At only in her early 20s, sexy Latina Germaine sometimes draws worldwide attention with her social media presence. On Instagram, thousands of subscribers follow her to not miss when the blonde Latina uploads a new photo of herself. In one of her pictures she presses her breasts juicily together with her arms and holds them slightly bent forward in front of the camera to give her audience especially deep insights. In another photo, however, Latina Germaine is shown sitting in a car with her cleavage covered and the focus on her smile, which sets off her braces. The question that arises with the sexy Latina is whether she really still needs braces at the age of 20 or just wants to stand out. We don't know, but one thing you have to admit: it definitely stands out.
More than just good looks
In her music videos it becomes clear very quickly that Latina Germaine is very familiar with her body. She knows how to live out her femininity and is not exactly stingy with her charms. Latina Germaine gyrates her hips á la Shakira, singing as if she were the Latin version of Swedish pop singer Zara Larsson. She combines innocence with eroticism in her music videos. This creates confusion, which, however, ensures that so much attention is generated. In her appearance in public in general, Latina Germaine clearly relies on her looks. Her pretty face and stunning body attract all eyes. When she uses her oriental dance interludes, one's mouth quickly waters. Their appearance is their trademark. Latina Germaine has much more to offer than her appearance.
Germaine was born on August 7, 1999 in Merida, Venezuela and has been singing since she was five years old. Her music career began at just seven years old when she entered her first music competition. In 2012, at the age of 13, Germaine was awarded the "Children Singer Revelation" and the following year the "Young Female Singer" award.
Initially, she attracted attention through a cappella cover songs on Youtube. Among their covers is the song "Sorry" by Justin Bieber. Latina Germaine first gained greater fame with her hit "Esta Noche Quiero Fiesta," which garnered over 100,000 clicks on YouTube. This was followed by the release of several original songs over the years. At the latest with her songs Tú Te Lo Pierdes and "Mi DM" Latina Germaines achieved the breakthrough. Today, the Venezuelan-born singer is one of the most successful, well-known and richest pop singers in her home country.
The bra can hardly hold her breasts
The pretty blonde can sing quite wonderfully, but it is rather her looks that make her stand out. It is a mixture of sweet and salty, of which one (s) can hardly get enough. The fact that the fiery Latina is causing such a stir is therefore not surprising. Excitement is a good keyword here. Her male audience is probably very excited watching her videos. In her music video for "Tú Te Lo Pierdes," Germaine swings her hips to the start and in alternating sequences to Arabic instruments and matching oriental accessories. The shooting angle is chosen in such a way that when she belly dances, her breasts look like two big balls that want to pop out of her bra-like top.
With her erotic side, however, Germaine captivates the gaze not only of men, but also of women who envy her assets. In other video sequences, however, the South American lolls in bed in a breathy cotton dress and overknees in innocent white.
In the music video for "Mi DM", the raunchy Latina goes a bit further and shows her most childlike side. Dressed in a sports suit and with her hair braided into two pigtails, she cuddles with an oversized teddy bear and proudly shows off her braces as she smiles. What is here a found food for pedophiles is in reality intentional provocation. But provocation is the best way to get attention. It is precisely this mixture of innocence and eroticism that forms the image of blonde Latina Germaine and makes her so damn sexy.
Photos: www.instagram.com/germaineoficial/