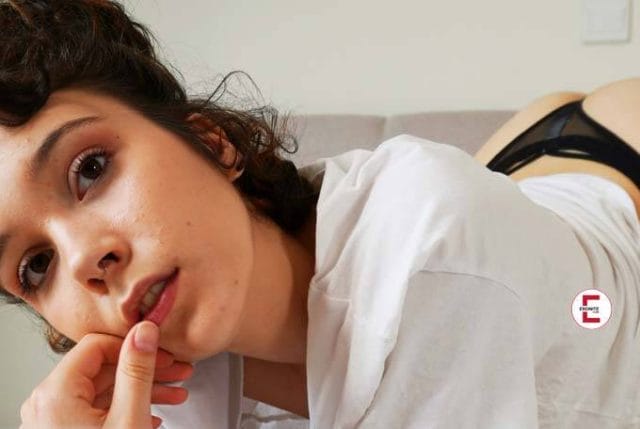 Lina Lynn – sugar sweet fuzzy head
She's young, new to the adult industry and extremely sexy in a refreshingly unapologetic way. Lina Lynn is still a relatively new face in the porn industry. It is precisely this shyness of a newcomer that makes the Hamburg native appear credible and honest. The look in her eyes, the sympathetic smile and of course the sex appeal – everything about Lina Lynn seems genuine.
---
Eronite empfiehlt dir diese XXX Videos, Livecams & privaten Kontakte:
---
No cliché, but authentically northern German
Lina Lynn is anything but a porn industry stereotype. There's no long, blond hair, no sprayed-on lips, and no silicone tits here. LinaLynn is a northern German original: short, brown fuzzy head, brown eyes and a really crisp figure. May the North be cool in its own right, Lina Lynn certainly is not. Who knows the pictures and videos of the sexy Hamburgerin, knows that it goes here extremely hot.
Erotic industry as self-therapy
By her own admission, Lina Lynn was brought up very strictly. Bring a friend home? Impossible. Not even dating apps were allowed. This was also the reason why she could never really get rid of her shyness as a teenager. At times, she couldn't even get a complete sentence out to attractive boys, as LinaLynn recalls.
There are girls who resign themselves to their fate and remain reserved all their lives. Not so Lina Lynn! The pretty Hamburg girl began to chat intensively on the Internet. Suddenly she was able to write completely openly with strange men about anything. While at the beginning it was only a matter of trivial discussions, at some point the subject of eroticism came up.
Suddenly, Lina Lynn found herself in a world where she could not only chat with men completely at ease. She quickly took a liking to uninhibited flirting and was soon able to twist her chat partners around her finger by the dozen. Finally, Lina Lynn could talk openly about sex and developed a penchant for erotic conversation and dirty talk.
So we are pleased to have had Lina Lynn in our exclusive interview:
Being anEronite amateur actress is a rather unusual profession. How did you get the idea to present yourself in front of the webcam? What appeals to you about your job?
Lina Lynn I was always very shy in "real life" and that's why I started writing with people from the internet. First on quite normal pages about quite normal topics, until at some point a portal was suggested to me as an advertisement, on which it was then about more than my preferred travel destinations. That made me very curious and through that I also dared more and more, then at some point I started with the webcam and at some point I also showed more and more of myself. What appeals to me about this job is, on the one hand, that I am my own boss and, on the other hand, above all, the experience that you gain and the nice and interesting people that you get to know over time.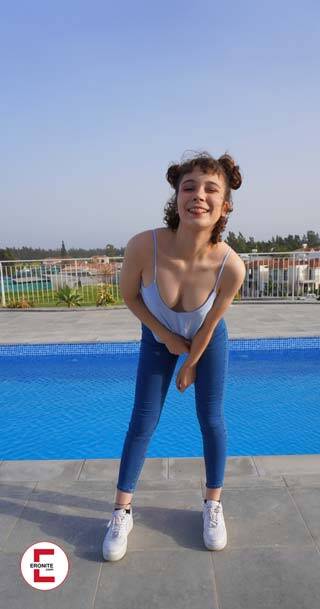 Eronite In your webcam chats you regularly deal with many different men. Do you have users who visit you often in your chats? Do you enjoy seeing the same faces over and over or do you prefer variety?
Lina Lynn Yes, I have a few regulars that come on cam every now and then or even visit me every day on the camshow as well. I enjoy both, with regular customers I know exactly what they like and we actually always have a really good time together. In addition, I learn a lot of new things. I like meeting new people though, there are some really cool people out there.
Eronite You give users different ways to see you. Several times a week you can join your camchat for a few hours and once a week there is a new video from you. What do you personally enjoy more? Are you more attracted to the porn shoot or the webcam?
Lina Lynn There is even a video of me twice a week :) I am unstoppable!(Lina laughs loudly) Whether I prefer to webcam or shoot porn, changes quite often. Sometimes this way, sometimes that. A lot depends on the mood, the video and of course the users. When I know a lot of regulars are coming that day, I always really look forward to the webcam. Sometimes it's a bit like meeting friends, you just have a lot of fun together. With videos, I especially like spontaneous shoots. For example, the other day I was hiking and the whole thing ended up in a short clip. Briefly, because we were hit by a very angry woman. It was pretty embarrassing, but also very funny in the end.
"Never could I even imagine having sex on camera"
Eronite In some of your videos you have one or more shooting partners. Which shoot did you particularly enjoy, did you perhaps even have a favourite shooting partner with whom it was particularly fun? What are your no-go's?
Lina Lynn When I first started out, I actually didn't think I'd ever have sex with someone on camera. When one thing led to another, I was really nervous and excited. I couldn't even watch my first sex clip myself, my roommate watched it for me and finished it. Seeing yourself having sex was really a weird experience. By now it's quite normal and natural. In any case, my sense of "special" clips has shifted every now and then.
For example, shooting outdoors for the first time was a very special experience and a lot of fun. Then the first time I shot with a girl, again it was a super special video because after that shoot I really wondered for the first time if maybe I was bisexual. This was actually confirmed a short time later. I had my first threesome with two girls and that was definitely one of my most special videos because it was so emotional for me.
But what I liked best about the location was the shoot on Cyprus by the sea. I had my first shoot with a well-known German TV station. That alone was very special to me, but then when I had sex near the camera crew on the white sand beach in front of a super beautiful sunset, that was just breathtakingly beautiful. Of course it was a bit risky and therefore exciting, but a great end for the day. I felt kind of free. My no-go's currently are definitely caviar, severe pain and blood, I don't like that at all. Other than that, I'm pretty open minded and like to try things out as long as you ask nicely. I'm only human, after all, and I want to be treated with the same respect.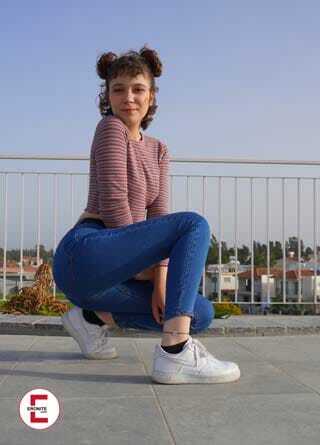 Eronite One of your latest videos is titled "Am I Bi? Total confusion after shooting with ItsAlice". It sounds like you're in a bit of an emotional mess at first. What were your first experiences with women and how would you describe your sexual orientation today?
Lina Lynn Yeah, that's right, that was a weird feeling. I had never thought before about whether I might also be into women, and all of a sudden it struck me that there was a whole other world out there. As I said before, this was quite emotional for me. So you have to imagine that there are two girls working on you, another one is filming and you're lying there and the whole time you're just thinking how incredibly beautiful and new and indescribable it is. I kind of found myself there – during a shoot, that's never happened to me before! It was chaotic and beautiful at the same time. I was pretty confused by that before. I also have to honestly say that sexually I am 100% attracted to both women and men, relationship wise I don't quite know yet. For that, I think I need to get to know someone a little more. I'm still in contact with both of them, but we're more like friends who like to make out, cuddle, and occasionally do more.
---
Lina Lynn in numbers
age 19
Star sign Aquarius
Relationship status Single
Sexual Orientation Bisexual
Residence Cyprus
Height in cm 175
Weight in kg 59
Stature slim
Hair Color Brown
Eye Color Brown
Website www.shorty.fun/llynn
---
Eronite As a porn actress you are used to sex in front of the camera. Compared to normal sex, there are definitely some differences. What did you find particularly difficult to get used to? Do you put more thought into it than you do in private and are there things you would never do in front of the camera?
Lina Lynn I had to get very used to looking at the camera. During private sex I don't look my partner in the eye the whole time. Most of the time I even have them closed and just enjoy. I think about it more in front of the camera, after all, the result should look good. Up until now, everything I do in my private life, I've done in front of the camera. Some things, like deepthroat or anal I did for the first time and really only in front of the camera. Anal I could also imagine privately, deepthroats rather not so. Surely, though, there will be things I only want to do privately. I still have a lot to discover!
"It's not just in the porn industry that you're reduced to looks".
Eronite In the erotic industry looks are definitely very important, you have to have a good body and always be dressed sexy. Do you enjoy it or do you sometimes feel too reduced to your looks?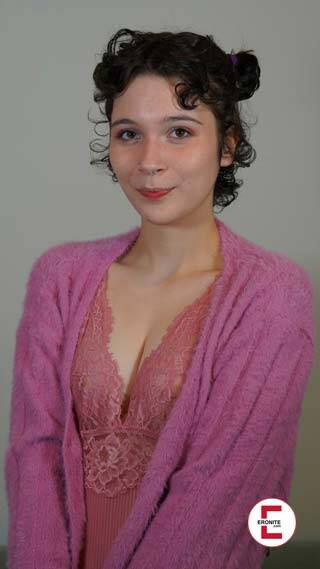 Lina Lynn In fact, many users have been very quick to show me that they are interested in me. Yes of course, that's what they all say, I'm sure many are thinking now, but I showed almost nothing of myself in the beginning and I didn't shoot any porn either. More like videos of changing and putting on lotion and stuff. I thought at first that no one would want to see this because it's a porn site, but I got so much positive feedback. And also in the webcam so many people visited me to talk to me. Some have actually told me that they would like it if I just stayed at this level, i.e. didn't do anything at all. Basically, I think, whether in or out of the porn industry, you're reduced to your looks, whether you're a man or a woman. Everyone has their preferences, after all.
Eronite Every year there are certain prizes and awards to be won. What other goals do you have in your career as an amateur actress? How important is fame to you in your profession?
Lina Lynn So I don't have that kind of set goal. I just want to see how far I get and how far or how long I enjoy it.
Eronite You come across as very innocent and sweet, seeming more like the good girl next door. Do you see that as more of an advantage or disadvantage in your job? You think camgirls always have to be all dirty?
Lina Lynn I find it more of an advantage. I'm just not the one who's a cliché performer. But that's just 100% me. Many people are surprised when I tell them what I do for a living, because – at least I think – I seem rather introverted and shy. But as a "girl next door" I also awaken one or the other fantasy and that makes me happy. After all, it also means I'm okay just the way I am.
Eronite What was your first experience with dating like? You yourself say that you had a rather strict upbringing, so surely it was more difficult to make contact with the opposite sex?
Lina Lynn I have an ex-boyfriend, he was in my parallel class at the time. Somehow we got closer on school trips and had our first kiss by spinning bottles at a birthday party. After that, not much really happened with me in terms of dating until I signed up with Mydirtyhobby. Many people might find this strange, but I was only 18 and had just moved out of home when I dived into the world of eroticism. Bringing someone home beforehand was more or less unthinkable. Therefore, I have had real contact with the opposite sex actually only as a webcam girl and through the friend of my roommate.
"Nobody needs to come riding in on a white horse".
Eronite Right now, feminism and attitudes towards women are a big topic. Men's behavior, especially in dating, is being judged more and more harshly. What's your take on dick pics?
Lina Lynn I have nothing against nude pictures in general, would be funny if! However, you should look where and to whom you send some. I think if you ask first, you're on the safe side.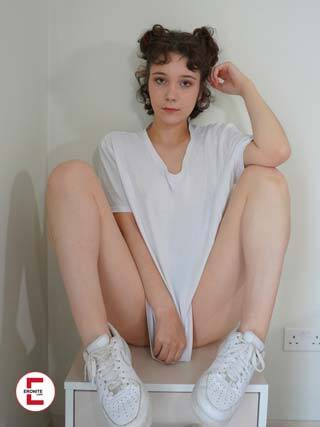 Eronite dating as a whole is a difficult subject, tastes are so different and what gives one person butterflies in the stomach causes another to have acute thoughts of escape. What does your perfect date look like?
Lina Lynn I think it always depends entirely on the situation and my dating partner or possibly yes my dating partner at times. In general, however, rather comfortably eat something and talk. Whether it's in a restaurant or having a kebab on a park bench. The main thing is to like each other. So don't worry, no one has to come riding in with a white horse and a huge bouquet of red roses and then carry me off into the sunset. Although a horse is definitely a definite plus, I love horses and dogs, animals in general.
Eronite When your day went really bad, nothing worked out like it was supposed to and you're in a really bad mood, what do you do to feel better? What's your recipe for good humor?
Lina Lynn I then lie down in bed and listen to music really loud, cuddling my dog and singing along at the top of my voice. So my neighbors always knew when I was having a bad day.
Eronite The current situation with Corona has us all pretty limited and there's not really an end in sight yet. What do you personally miss most in your life? Do you feel the situation is affecting your work?
Lina Lynn In fact, my life hasn't changed that much at all. Sure I miss going out to eat and shopping, but I think there are worse things. My work has affected Corona rather positively. People are much more at home and bored or want to get other thoughts. Many people also come to my webcam more to talk.
"My job made it possible for me to emigrate in the first place"
Eronite Tell us one thing you think we absolutely need to know about you. Anything else you'd like to share with our readers?
Lina Lynn Some people already know. I recently moved to beautiful and sunny Cyprus. Just to try it out for now, see what it's like. It was a really big step for me, I'm actually a shy girl and then to make the decision "I'm going to emigrate now" within two months was the most exciting and thrilling thing I've ever done after entering the porn industry. This job has already given me a lot of confidence and I am grateful that it allows me to do something like Cyprus.
The first time…
Browsing through her films, it immediately becomes clear how Lina Lynn virtually teaches herself about eroticism. Many video titles begin with "for the first time". From the first video shoot to the very first presentation of her bust to anal sex and creampie, it's all here. You can literally watch Lina Lynn penetrate further and further into the erotic realm and gain new experiences. Clearly, Lina feels as comfortable in the porn industry as a fish in water. There is no other way to explain the large number of videos that follow each other in quick succession. It's fun to watch the sweet northern light as she absorbs new erotic knowledge and immediately applies it. Despite her now considerable accumulation of films, Lina has always retained the amateurish manner that makes her so likeable.
Anecdotes made in Northern Germany
The sexy Hamburg girl, who now lives in Cyprus, has an extensive fund of funny stories from the everyday life of a porn actress. Whoever listens to her will sooner or later get to hear one or two farces. For example, there's the situation where Lina Lynn was sent her very first dick pic. Lina, who was still inexperienced at the time, had dropped her mobile phone in shock at the sight. Today, of course, Lina is more hardened and would not let a photo upset her. On the contrary. The perky LinaLynn would wink at you and ask if she could hold the good stuff.
Role model?
Let's hope that many girls follow the example of the North Germans and dare to explore the world of eroticism. Especially with overly strict parents and a staid upbringing, it takes real girl power. Independent girls who are ready to take their lives into their own hands and go their own way. The career of Lina could be inspiring for many girls growing up. Not every one of them has to make it in the porn industry. Even though that would be kind of desirable, of course.
---
You in the interview too? Certainly!
We are constantly on the lookout for new interview partners and
-partners who would like to present themselves to our readers. Just click here: Apply for an interview now!
So far, over 175 (amateur, fetish, porn, gogo, calendar and fitness) girls have taken their chance to draw attention to themselves in order to increase their own sales! If you don't have an amateur profile yet or if you are looking for more sites, have a look at the amateur portals we recommend where you can earn money.