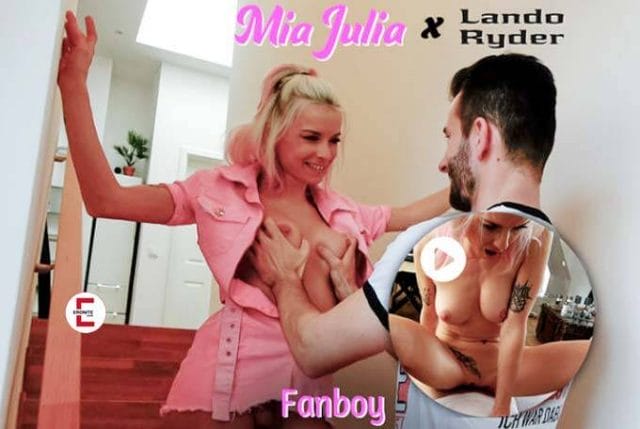 Mia Julia fucked and filmed while doing it
Who Doesn't Know Mia Julia Porn? But the new one with Lando Ryder, who got to know her better as a fanboy, is something special. He is proud of her invitation that he was allowed to shoot a sex clip with the Mallorca Ballermann star. He also says that he has never met a woman as erotic as her. But what is actually the storyline in the sex video with Mia Julia, who once shot porn after porn as Mia Magma?
---
Eronite empfiehlt dir diese XXX Videos, Livecams & privaten Kontakte:
---
Mia Julia Porn With Lando Ryder
Her porn movies are fucking hot. Everyone who knows her and has seen films by her knows that. This is also true for the new Mia Julia porno she made with Lando Ryder. This is about the only movie with her that can be seen on MyDirtyHobby. She receives him in a fancy furnished house in a short outfit in pink. He appears quite casually in a T-shirt and jeans. But it doesn't take long for the two to get rid of their clothes and get down to business.
The two protagonists indulge each other until Lando Ryder can't take it anymore and cum inside her. Both performers are known to a wide audience. Mia Julia has done porn before (first as Mia Magma) and then started a career as a singer at Ballermann in Mallorca. So it is clear that her fans would like to watch the Mia Julia porn and are eager to see what happens to Lando Ryder in the movie.
Lando Ryder, on the other hand, is not only known as a porn star, but can even be booked as a call boy. Women who enjoy him are welcome to have an unforgettable time with him. So, fans of Mia Julia porn and Lando Ryder can be excited to see what awaits them in the exclusive movie.
Who's behind the sex tape?
Besides the last shot Mia Julia Porno, the blonde lady, who is only 1.57 meters tall, can already look back on a long career. She was born in 1986 in her hometown Munich. Near there, she grew up in the countryside with her two siblings.
Even as a girl, she knew that one day she would pursue the hairdressing profession. That she would not just shoot a Mia Julia porn probably not yet. In fact, she trained as a hairdresser and then worked in that profession for some time. At the same time she made her first acquaintance with her future husband Peter Bruckner.
Some time later she connected with the adult industry and in 2010 got a two-year contract and shot her first Mia Julia porno. She took the name Mia Magma and appeared again and again at fairs or on television. In addition, she was often seen in magazines, for example in Penthouse or FHM. She also appeared as a guest in a rapper's music clip.
Mia Julia Porn – More Milestones In Her Life
In 2012, she hung up her porn career for the time being and got a taste of the Schlager world on Mallorca. An artist simply brought her on stage during a performance. She liked it. This is how her career as singer Mia Julia came into being. Since then she has been winning over fans with her upbeat songs. However, her fans waited in vain for a Mia Julia porno at first.
Due to her fame, she was invited to participate in Promi Big Brother. The erotic industry had not completely forgotten her, because she was twice the face of the Venus in Berlin. The first concert where she stood alone on stage took place in Essen in 2016. Since that time she has toured regularly in German cities. She did not shoot a Mia Julia porno anymore.
The singer and porn actress today
Mia Julia is now one of the most popular singers. Their fans do not only live in Germany, but come from Belgium, Switzerland, Austria, Luxembourg and Italy. She is at home on stages all over the world and performs in about 400 concerts a year. But her favourite place to sing is the Mallorcan Bierkönig, which she has christened her living room. There she is always admired by her fans.
In 2021, Mia Julia is scheduled to tour again starting in December. In the meantime, she made a Mia Julia porno with King Orgasm One, a porn producer, and Lando Ryder. The tour was originally scheduled to begin in May. At the end of the year she will probably perform in seven German cities. The final will take place in Cologne. Those who have already purchased tickets can use them. Fans who already have a ticket but cannot attend the concert will have the opportunity to return it. That could mean there could be more Mia Julia porn by then.
Who is this Lando Ryder?
Lando Ryder, the second lead in the new Mia Julia porn, can be booked as a callboy. He is very popular with the ladies. What they like about him is that he responds to them and is authentic. He is also known for being very persistent. For him, life is a mixture of taking and giving.
Lando enjoys playing American football, doing endurance and weight training, or participating in video productions, like the Mia Magma porn last. If you want to get to know him yourself, you can book him as a callboy. Also in the context of event appearances. He cares deeply for his clients.
Of himself, Lando Ryder says that he is an educated and friendly man who takes his job as a call boy very seriously. He has gained a lot of experience and knows exactly how he can wrap the ladies around his finger. He also proved that in the Mia Julia porn. As a callboy, Lando is a lover, travel companion or event guest.