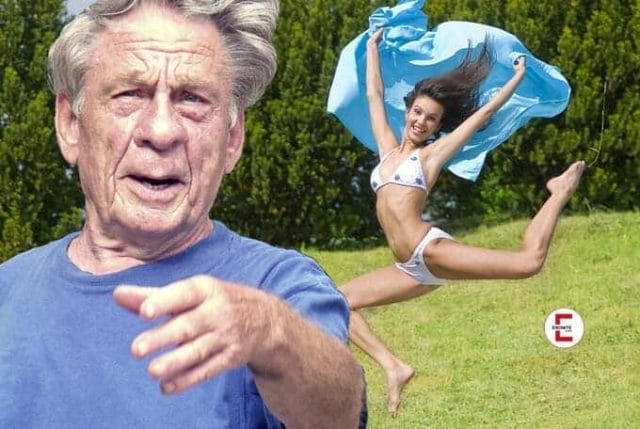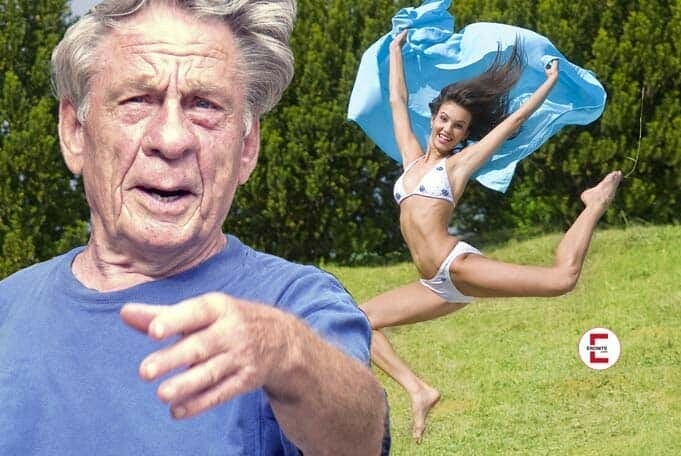 Grandpa Helmuth is a horny and old goat
Hello, my name is Jenny. I turned eighteen four months ago and I'm doing my Abitur next year. Actually, pretty much all the boys at school are into me. I don't want to sound conceited, but I seem to be very attractive to the so-called masters of creation. I am 169 cm tall, have straight, long, brown hair, rather big eyes and am actually athletically slim.
---
Eronite empfiehlt dir diese XXX Videos, Livecams & privaten Kontakte:
---
Every guy is only interested in my body
That I have quite a strong attraction to men, I also notice from the fact that even all teachers stare at my bottom, my legs or directly at my breasts at every opportunity, no matter how small. Her eyes are devouring me. If I have a question, they always come to my seat and seek physical contact. At least they are more disciplined and polite than my male classmates. They grab my ass at every opportunity, that's really annoying and often unbearable. I only have to bend over the bench once, can I listen to snide remarks again or I have another hand glued to my bottom. Since apparently each of the guys is only interested in my body, I don't have a boyfriend either. Weekends therefore usually remain without big appointments.
Therefore I am often at my grandpa Helmuth's house on Saturdays. Since my childhood I have had an unbelievably good connection to him. By now he is already over seventy, has a really big belly and is just a nice cuddle bear. He's always been like a best friend to me. We talk a lot, play cards or just watch TV. You know, like friends.


A few weeks ago, however, this changed forever. I honestly still can't believe what happened to me. For a long time it seemed to me that the way my grandfather looks at me is not the way a grandfather should look at his granddaughter. However, I have always ignored this. After all, he is my grandfather.
Grandpa Helmuth was quite relieved that evening
It was early evening and we were sitting on the couch next to each other, watching a little TV and chatting about everything. I was wearing my favourite summer dress, cuddling with my big heart pillow in front of my chest. At some point Grandpa Helmuth said: "Tell Jenny, you're such a pretty girl. Why don't you have a boyfriend?" I wondered why he was interested, blushed a little and thought about avoiding the real reason a little. I didn't want to tell my grandpa that apparently all men only want my body in their bed.
"You know, Grandpa, the boys are just all a little bit wacky and awfully rude. Except you, of course." Grandpa Helmuth laughed, I smiled. "Well, that's a relief," said Grandpa and went on. "Jenny, you've grown into a really beautiful young girl. It's a pity the boys don't seem to be very nice to you. They don't really understand how to treat such a lovely girl."
I got so hot I thought my blood was boiling over. Because when he said that, he put his hand over my knee and stroked slowly up and down. Was my own grandfather really just about to hit on me? "Thanks for the compliment, Grandpa," I said, brushing his hand off my thigh. With the back of his hand he started to stroke my cheek and my upper arm. I looked into the television as if petrified, but he moved very close to me and stared at me literally. His hand wandered back to my thigh, he pushed it slightly under my knee-length thin summer dress. "What are you doing, Grandpa? That's not possible," I said in a shaky, low voice. He gave me a long and gentle kiss on the cheek and began to breathe audibly louder.
First he pawed my youthful breasts
"How pretty you've become, Jenny. An old man like me hasn't seen one of these in ages, you know. I'm very lonely and I need you a little bit now. Trust me, girl. Just be good for a little while." My breath faltered, my face must have been bright red, it was boiling inside me. I couldn't even say anything and just looked at him with eyes wide open. Then his face approached and he kissed me on my mouth without any sense of shame. My seventy-year-old grandpa had put his hand under my dress and kissed me on my mouth. I was paralyzed – and then I had to digest the next surprises.
He put his hand on my left breast and began to massage it. With his finger he circled around the nipple, I didn't wear a bra. My nipples got hard. Even the kiss did not stay the same. He started sticking his tongue in my mouth and circling around with it. I don't know why, but I was in such a trance that I returned it. I flirted with grandpa Helmuth, whose hand had grabbed my whole body and finally fingered through my cotton panties at my pussy. I closed my thighs in the process. But I could not defend myself and surrendered. For a while it went on like this until my panties were wet from my cervical mucus.
From his thick pipe my eyes watered
I had to moan softly and noticed how my breathing rate increased significantly. Then I heard Grandpa Helmuth take his fingers off me to open his belt and then his fly. He also pulled his tongue out of my mouth. I looked at him, completely confused, insanely excited, disoriented and helpless, he reached into his pants and pulled out his stiff penis. It was huge, unbelievably thick and the glans shone. Grandpa looked deep into my eyes. "Be a good girl," he said, stroking my hair and moving my head towards his monstrous beating. You could not call it anything else.
He pressed my head down harder now and pushed his cock right into my mouth. The short mmmmhhh sound I made did not stop him. I started blowing my own grandfather. Hornyness and disgust alternated in this blowjob every second. I just did. I was doing it for the first time and it was like another world. He moaned deeply and pushed me towards him as far as I could, I choked and had tears in my eyes. Grandpa Helmuth wanted me to take his cock really deepthroat all the way into my mouth. He now also began to move his pelvis and carried out light thrusts.
I can not swallow everything from Grandpa Helmuth
It went like this in about two minutes. It felt like an eternity. I finally noticed how the cock in my mouth began to pulsate and twitch. Oh, my God, I thought so – and looked a little scared. That's when it happened. Grandpa Helmuth grunted like a boar and squirted an awful lot of sperm into the mouth of his eighteen-year-old granddaughter. At first I tried to swallow everything, but it was simply too much. The part that didn't want to go down the esophagus ran out of my mouth, then it pumped the next gush after it. I whimpered a little and let my grandfather's rock hard penis continue to push into my mouth. He pumped and pumped, made noises like a rutting deer and made my mouth water.
" Spermaginative women wait here
The pushing had stopped now and I raised my head. My whole chin was full of semen and I made a bewildered face. I looked at him questioningly and waited for instructions. I needed clear guidance because I did not know what was going to happen now. He reached beside him and wiped my mouth clean with a handkerchief. Then he gave me a careful kiss on the freshly cleaned mouth. "Jenny, you really are a good girl. Let's just keep this between us, and you'll get a little reward."
The taste of his semen stayed in my mouth
I sat there petrified and felt totally used. My own grandfather had just injected his sperm into my mouth. I sucked my grandfather's penis I couldn't believe it. And certainly not that I liked it. Grandpa Helmuth reached into his pocket and gave me a hundred euro bill. "Here's your reward. Next time you come to your lonely grandpa's, you can earn some more if you want to." I was stunned. Did my seventy-year-old grandfather want to make me his sex girl or what? I was brief and understood that he had already done so. "Thank you, Grandpa," I said reluctantly, got up and straightened my little dress. "I think I'd better go home now."
"Jenny, what you just did was not only beautiful, it was right. "You are there for your grandpa when he needs you. "Take it easy. It's part of being your age." I nodded and walked away. For the first time I left my grandpa's house with the taste of sperm in my mouth. I was confused and felt a little uncomfortable. But I would have had to lie if I had said I didn't like it that way at all. It was incredibly exciting and new. But also incomprehensibly disgusting. I walked home and knew I was a hundred euros richer.
" The prettiest live cam girls
A week went by and I got more and more excited. What would happen if I went back to Grandpa's on Saturday? What would he do to me? Would I have to do it again? At school I slowly realized that every single male was like my grandfather. Everyone wanted sexual gratification from me. Everyone. Mr. Walke, my physics professor, stood right behind me in the lab, just so he could press his pelvis against my butt. I knew what he wanted – and I just let him go. Every man sought physical contact and I slowly came to terms with it. Somewhere I liked it a little.
Grandpa Helmuth only wanted to see me from behind
It had now become Saturday afternoon and I went with a queasy feeling to Grandpa Helmuth, who I also had to take a box of medicine. I wore skin-tight blue jeans, a white spaghetti strappy top and my hair was pinned up with a samurai braid. Today I even wore a bra, because otherwise you could see my nipples through the white top. Grandpa Helmuth opened the door, hugged me and gave me a kiss on the cheek. "Well, there she is, my sweet Jenny. Today you look beautiful." "Hello Grandpa. Thanks. Here's your medicine," I said with a smile and entered.
He looked at me with sharp eyes and was visibly excited. His pants had a bulge in them, as you could easily see. I felt a bit uncomfortable and I thought about leaving again, so he asked me to go into the kitchen to help him cut carrots. "No problem," I said and stood at the kitchen counter. It struck me as a little odd that he needed my help on this. Well, it wasn't long before I understood He just wanted to look at me from behind.
I thought I might not have worn these jeans today. It really brought out my apple-shaped and protruding butt in a very special way. I also noticed that in school, that the boys went crazy when I wore these jeans. Grandpa stood behind me and stared at me. I felt it. Until he came closer and did the same as Herr Walke did a few days ago. He pressed his pelvis against my bottom, put his hands over my upper arms and talked into my ear.
A French kiss with your own grandfather?!
"Good job, Jenny. Your grandpa's very lonely today, you know. He needs you now, my girl. Just be a little nice to me and I'll give you another reward." My heart was pounding and I went into shock again. He started kissing me on my ear, cheek and neck. Grandpa Helmuth sniffed at me, breathed very strongly, massaged my breasts with his left hand and went a little deeper with his right. He unbuttoned my pants and walked with his hand under my pink Hello Kitty briefs. His thick middle finger began to play with my Mumu and massaged my now wet flower. I bent a little and closed my thighs, but his hands were everywhere. I was defenceless at his mercy.
He had me in his grip and hugged me like a bear hugs a young Bambi. I started moaning softly, sounding like a squeaking mouse, because his finger was rubbing strongly and fast and lightning was flashing through my whole body. He licked my cheek several times with his rough tongue and then searched my mouth with it. I was now like on drugs, had my eyes closed and let my grandfather's tongue into my mouth. He flirted with me and pushed my jeans down a little. Now he pushed my panties after, so that my abdomen was completely uncovered and free. I was just standing there like I was rooted to the spot.
Grandpa Hellmuth was a perverted old man
Grandpa Helmuth started to open his belt and push down his pants and underpants. Then he whispered something in my ear that shook me through my marrow and leg. "You sweet little princess, you. I'm gonna fuck you like a whore now. And then I'm gonna pump a huge load of cum all over your sweet pretty girl face." I was in shock and nodded. Like I was his subordinate. What a perverted old man, I thought. He bent me forward and pushed my back through, so that I had to stretch my bottom towards him.
I could now feel him rubbing his concrete hard penis against my cleft and slowly penetrating me. He did this a few times and then began to push incredibly hard. My whole pelvis bounced and I had to moan unbelievably loud. This was so uncomfortable that I put my hand in front of my mouth. But my loud whining could not be stopped, because my apparently undreamt of perverse grandfather rammed me like a machine and pushed me in front of him. I moaned like never before in my life. The excitement was felt from hair to toe.
He squirted the full load of semen in my face
With his hands he pushed my top and bra up and massaged my breasts while he continued to push without losing intensity. He slammed me with every knock against the kitchen furniture. My heart was pounding and you could hear a loud clapping with every stroke. My fingernails bored into the kitchen counter and I now understood what the word horniness meant. So it went through easily ten minutes, until he stopped without warning and pushed me with my head to the ground. I now knelt in front of Grandpa Helmuth, who jerked his huge penis and ordered me to lift my face and close my eyes. My breasts were exposed and I still had my pants down to my knees.
So now I was sitting in front of my over seventy year old grandfather, who was holding his thick penis in my face. His jerking off movements became faster and faster and he started grunting again like a boar. Then I felt a charge of hot sperm running across my closed mouth. It ran down my chin all the way to my neck. So much came out of him that he covered my entire face with it. He grunted and screamed. It was incredibly humiliating and I felt very dirty. He literally tagged me. Like an animal. But if he doesn't do it, someone else will, I had already understood so much about this world. It's basically inevitable.
This sticky mess was to be our little secret
Again he stroked my head and called me a good girl. So it was over. "Hang on, Jennifer. I'll get you some towels to wipe yourself off." I needed a whole pack of handkerchiefs to get rid of my grandfather's white sticky drool. Maybe now you can get a feeling for the amount he sprayed in my face. I got up and straightened my clothes. My knees were shaking and I was a little dizzy.
"It's the greatest gift you can give your grandpa, Jenny. Thank you for that, my girl." Grandpa gave me two hundred euros this time. "Is it normal that we do this? Can't we just go back to the way we used to?" I asked him with great uncertainty. "Of course, Jennifer, of course. We just don't tell anyone. You're a young woman now, and you need to give your old grandpa some love. It's perfectly normal. Believe me. We do everything else the same as before. I promise."
He gave me a kiss on the cheek and offered to stay with him. But everything had changed. I couldn't stay with him to play cards. Not with the man who just called me a whore and probably treated me like one. I turned him down and went home. My whole pelvis, my whole hip felt a little bruised. I stumbled more than I went. But in any case, I felt sexually satisfied.
" Are you sexually unavailable too?
The coming school week was not necessarily any different than usual, except that three boys were waiting for me in the girls' loo during free period. Those bastards. One held me from behind and the others grabbed me. They reached under my shirt and even into my pants. I just kicked and screamed like crazy. Then when I kicked the guy in 7th grade, they let go of me and disappeared. I locked myself in my room and went to pee. To be honest, my thoughts were already with my grandfather, and I was used to the fact that everyone in the school, from the first graders to the headmaster, wanted to get into my pants.
What was Grandpa Hellmuth up to with his old buddies?
It became Saturday again and I decided to go to grandpa to tell him that I don't want to do that in the future. I had the feeling that it was just not normal and felt used and dirty. Although I liked it in some ways.
I left home early in the afternoon. This time I wore short pants, similar to hot pants, and a light pink top. I wore my hair down. I arrived at Grandpa's and rang the doorbell. Grandpa Helmuth opened and welcomed me as usual with a hug and a kiss on the cheek. "Hello, my favorite granddaughter. It's wonderful to see you Jenny. You look simply divine." He went through the same routine again. "Grandpa, I have to talk to you." "In a moment, Jenny. In a moment. Come first, I'll show you a surprise." "No, Grandpa, it's really important to me." "Come, girl, I want to show you someone."
He was simply the clearly more dominant of the two of us and I agreed. We went into the living room and there were two old men sitting on the sofa. One was incredibly fat and looked very unkempt. The other had hardly any hair on his head and visibly yellow teeth. I looked at my grandfather questioningly, while the feeling of a bad and disgusting fear rose in me. "This is Hermann and this is Rainer. Both are good friends from the neighbourhood and terribly lonely men. I want you to get to know each other."
Grandpa put me between the two of them, who watched me from top to bottom and grinned all over my face. Fat Hermann wanted to give me a kiss on the cheek, which I denied. I turned to the other side, where Rainer was waiting and gave me a kiss on the cheek. "What's this all about?", I asked. "Grandpa, what's going on here?" "Jenny, calm down. Those two are very lonely. So am I. All you have to do is be a little nice. The gentlemen and I have joined forces. "If you're a little nice, you'll get 900 euros." "I can't believe what you're asking me", I said angrily. "I thought you were my friend," I threw after.
Ugly Rainer kept trying to kiss me
I wanted to get up to leave, but they held me down. They started grabbing me and kissing me. I became very agitated, writhing like crazy and trying to avoid them, but they had a hundred hands. It did not take long and the first hand was under my bra. The fat Hermann had his already under my slip and started to finger me. The thighs I pressed together with all my might, but could not avoid that he stuck his middle finger again and again into my pussy. I tried to avoid Rainer's kisses, but he just stuck his tongue in my mouth and held me down.
"Humping until the doctor comes
I resigned myself to the fact that I could not defend myself against the old guys and that they would just take me now. Because I secretly enjoyed being at the mercy of those horny bucks. Excitement rose in me and I let myself fall. I trembled and felt the touches as incredibly hot. They'll do what they want with me, I knew it. Grandpa Helmuth didn't help me at all. He even seemed to like it, because he already had his penis in his hand and was masturbating. For a while that went on until the two guys also opened their pants to unpack their cocks. They pushed me off the couch with their hands, wanted me to get on my knees.
I stood naked and bare-assed between the old men
Then all three of them stood in front of me and alternately pressed a penis into my mouth. While I sucked on one, I had to satisfy the other two with my hand. I wailed with my mouth full, which only spurred the three old men on even more. At some point they picked me up and started to undress me. Her hands and fingers were just everywhere. Grandpa Helmuth kissed me and said: "Good job, Jenny. Just hold still. There you go."
While he was saying that, Rainer drilled his finger into my butt. I moaned and gave him a nasty look. I was now standing stark naked in the middle of the old guys and was afraid to know what was coming. They bent me over the couch so that they could use all three of me at the same time. My grandpa Helmuth was allowed to start and pushed his penis into my vagina from behind. He stuck a small massage stick up my bottom. Like the last time, he started to execute violent shocks.
" porno grandpa gambled away almost 200,000 euros
Fat Hermann simply put his penis in my mouth and stroked my hair. I had to satisfy Rainer with my hand while he kneaded quite roughly on my breasts. I moaned and snorted like never before. I whimpered and howled really hard. The gentlemen seemed to feel motivated by this, only to push me even harder in front of them. They were staring me in the face. They started to take turns with it and so everyone got a turn several times. I almost didn't get Rainer's penis into my mouth, it was so thick. My jaw was really threatening to fail. When he stuck it in me from behind, it felt like I was gonna burst.
My pelvis was already hurting because the guys kept pushing me harder, looking at my face; the more I whimpered, the harder they slammed their pelvis against mine. They also hit me on my bottom, said dirty things or tore at my smooth brown hair. It was very brutal what these men, including my grandfather, did with me here. And yet something about it seemed to appeal to me.
Not only is it an advantage to be a girl as pretty as me.
Pretty and being a girl has its drawbacks too, I thought to myself. At some point I had to kneel down before them again and lift my face. What was now threatening to come, I knew from Grandpa Helmuth. I sat completely naked and exhausted in front of the three hairy, seventy-year-old men, who grinned at me and rubbed their old peckers. The first was Hermann. He pulled me by the hair in his direction, almost started to bawl and a huge amount of viscous mucus came out of his penis. Right on and in my mouth. It smelled terrible and tasted even more terrible. My mouth overflowed again, mainly because I didn't even try to swallow this disgusting slime. It dripped thickly from my chin.
My grandpa Helmuth joined. He grunted louder than the last time and sprayed me again in several bursts all over my face. God, it was disgusting. His sperm was thinner than Hermann's and it ran all over my face. He emitted real grunts and stroked me over the head. Now the bukkake should come: Rainer looked at me, kept rubbing his monster of a dick and suddenly screamed out. He tore at my hair and distributed his sperm in such a way that now really my whole face was covered with it.
" Are these granddaughters mature too?
Without exaggeration it was a complete mess and I felt dirtier than ever before. The old men got dressed, put the money on the table and left without saying anything. My grandfather brought me a whole box of paper towels. It ran and dripped from my face onto my hands, which I held in the air underneath. So I wiped myself off, put my clothes back on, took the money and told my grandpa that he was a perverted pig. He wanted to explain and apologize, but I blocked off and left his house.
Up to now I haven't gone to grandpa's house, it's hard to imagine what might be waiting for me next time. That was definitely enough for me! Once and for all. However, ever since then, I have had to think about it every time I've had the satisfaction of satisfying myself. Well, maybe I'll call Grandpa again sometime. But really just maybe.