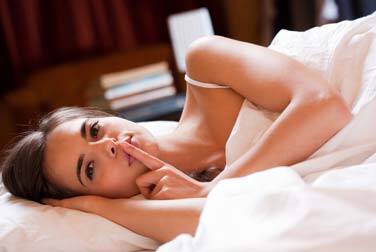 It's not for nothing that sex is considered the most beautiful minor matter in the world…
… yet the whole world need not share in it!
Sex is private and what happens in your own bedroom should stay there. While some don't care if they get weird looks from the neighbors, when the mother-in-law-to-be visits, it's …quiet sex is more of an advantage. After all, who wants to sit across from other family members at breakfast and wait for the Last night's intensity to be addressed? Avoid sex noises is commendable right then.
---
Eronite empfiehlt dir diese XXX Videos, Livecams & privaten Kontakte:
---
Quiet Sex: Long foreplay under the covers
Quiet sex is especially good in bed under the covers. The longer and more intense the foreplay, the shorter the sex. And foreplay can also be very arousing. This way you can kiss and caress each other on all parts of the body even under the covers and be especially close to each other.
Unwanted sex noises stay away and soft moans don't come out from under the covers. That's why it's not so bad if someone bursts into the room. Because the one doesn't get much at first. Also, it can be especially arousing to hold your partner's mouth shut. So silent sex can be wonderfully incorporated into the sex act.
Avoiding sex noises due to squeaky bed impossible?
Trying to be quiet is of no use as soon as the material makes sounds. To do this, you should first move the bed away from the wall. Playing music softly can also help mask squeaky noises. So quiet intercourse is not entirely impossible. Also, against a not-quite-noise it bed, a long, extended foreplay can help. Because if both are already so aroused during foreplay that they are about to climax, thrusting movements that trigger the squealing are almost completely unnecessary.
When there are overnight guests, quiet sex can sometimes be necessary. However, this does not mean that you have to completely give up the most beautiful pastime in the world. Extended foreplay in a feather bed can help prevent loud moans and bed squeaks. Also, forcing one another to be still during sex can be quite arousing. And if you let some soft music play in the background, nobody notices the sex.