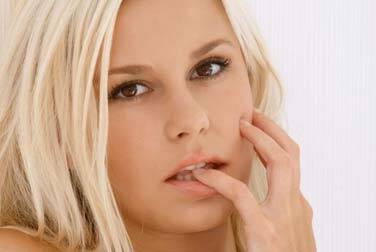 The blonde sexy perky girl from southern Germany
Private Lisa Porn: Small, Wet & Willing
According to her profile on the amateur porn site MyDirtyHobby, Private-Lisa (previously she called herself "Little-Lisa") is still quite inexperienced in sex and pornography. She claims to have registered there because her ex-boyfriend, who she had previously been with for eight years, couldn't give it to her properly and hadn't satisfied her craving for wild, uninhibited sex. Now she shows her Private Lisa porn uninhibitedly on the internet. And it can be seen – there is no question about that!
---
Eronite empfiehlt dir diese XXX Videos, Livecams & privaten Kontakte:
---
A new video at least twice a week
Because of her boring sex life, she now has some catching up to do, which she prefers to do in front of the camera. She was very curious and therefore wanted to shoot a porno. The pretty blonde apparently got so much at your expense that since her registration in November 2016 already 164 Private Lisa porn have been created.
For nearly three years, she has typically released a new sex tape starring herself every two to four days. A remarkable porno résumé for a young woman who, by her own admission, is still quite sexually inexperienced! Private-Lisa – also known as "little wet Lisa" and "Little Lisa" – is 26 years young and comes from Bavaria. She is not in a committed relationship, heterosexual and speaks fluent German and English.
She enjoys meeting interesting people and counts cooking, baking and nude yoga among her hobbies. Musically she is into pop, soul and jazz. Most important to her are love, health and fun in life. On a desert island she would take a book to read, a man to fuck, and a pillow to sleep on.
Private Lisa Porn: Horny Sex Movies With Little Lisa From Bavaria
The 1.60 meter small blonde from the star sign Aquarius convinces her shooting partners with crisp 75B breasts, chestnut brown eyes including irresistible bedroom eyes and an athletic slim, intimately shaved body of her fuckability.
But she also likes to satisfy herself in front of the camera. Preferred with her favorite sextoy, a slightly curved dildo. Her filming partners should not only be physically fit – she likes especially big cocks – but also charming and funny. For their happiness, she needs sex "sometimes very often".

One Night Stands, Flings and Regular Sex Meetings
That's also why "sometimes very often" new Private Lisa porn is posted on MyDirtyHobby [link to her profile]. She seems to have made amateur pornography her main profession by now. This would also explain why she keeps posting new videos of herself.
Little wet Lisa especially enjoys making movies with filming partners who are into one night stands and flings. But also men who are interested in regular sex meetings can get their money's worth with her and go through the little Bavarian girl by all the rules of art in one of the very popular Private Lisa porn movies. Big cocks, nylons, creampies, oral sex and role-play are regularly central themes in Private Lisa porn. Recently she has also been shooting more and more sex movies with women and with both sexes at the same time, which is why her field of operation had again increased significantly in recent months. Inexperienced Private-Lisa is certainly not anymore!
Private Lisa Porn: Satisfying In The Best Sense Of The Word
Right from the start, your strips for the stiff have received excellent user reviews. This proves that the 26-year-old knows exactly what to deliver in front of the camera to give her viewers a thoroughly satisfying experience. But this is not done with professionalism alone. You can tell she has a lot of fun and interest in sex and pornography.
In each of Private Lisa porn she gives 100% to give herself and her filming partners a horny session. This enthusiasm is shared by their users and rewarded with very good ratings. Small, wet Lisa is not afraid of new challenges and lets herself be taken in all positions and also outside the bed. For example, she also already did a porn in prison! We are very excited to see what heights Private-Lisa will climb in front of and behind the camera.