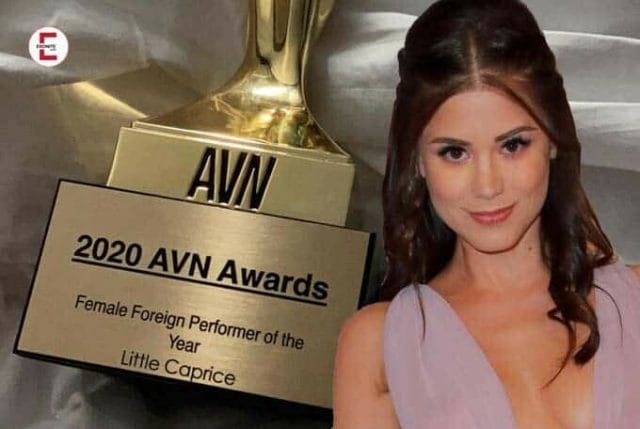 Despite the success, the superstar remains down to earth
The erotic lover has the choice among a large number of films. The only question is, "What should you use as a guide?" As with other films, it is awards won that provide some guidance. What the Oscar is for feature films, the AVN Awards are for erotic films. These awards have been presented annually in Las Vegas in January since 1984. The AVN Awards are the most important film awards in the adult industry. Little Caprice won the "best actress international" award in 2020.
---
Eronite empfiehlt dir diese XXX Videos, Livecams & privaten Kontakte:
---
Another success for Little Caprice
Winning the AVN Awards is not the first prize. Last year she won several awards, including the Venus Award and was nominated several times. In erotic prices there are many categories. Among other things, her website Little Caprice Dreams was also showered with awards. Not only Little Caprice is successful, but also her husband, Marcello Bravo, won several awards. Participation in the AVN Awards is also not new to Little Caprice. Last year she was nominated in seven categories.
This year it finally worked out. This is a nice award for the likeable Czech, who is far from the end of her career. She and her partner still have a lot of plans. If you want to get an idea of the work, just visit Little Caprice's website. There he finds some revealing pictures and video clips that the porn actress and Marcello Bravo always produce on their own. Not only do they stand in front of the camera themselves, but they also manage the entire back office themselves – from editing to sound recording to distribution. So it's no wonder that many other actresses have already joined the fabulous duo.
Little Caprice – Your way to the AVN Awards
Born in 1988 in Brno, Czech Republic, the actress is by no means fixated only on her body. The actress, whose real name is Markéta Štroblová, studied nutritional sciences at the university. Certainly, she turned the heads of fellow male students at college. That they study together with a performer who wins the AVN Awards, certainly no one would have dreamed. Little Caprice probably didn't either, because she first worked in the beverage industry. At some point she realized that she could earn more money with her attractive body. She started shooting the first videos at Video Art Holland. She appeared under various pseudonyms.
In 2011 she had to take a break due to illness. In 2014, she resumed work and appeared in an erotic online game. In 2016, she launched her first website. This year was also the first time she was nominated for the AVN Awards.
Before winning the AVN Awards successfully in the U.S.
To win an AVN award, it is important to be known in the US. The chapter of America began for the brunette beauty in early summer 2018, when she started working for Greg Lansky's production company Tushy and Vixen. Tushy specializes in anal sex. Her very first performance earned her first place among the most popular actresses.
She also repeated this success for Vixen. She was not only successful in film, but also in the press. In August 2018, her beautiful body graced the cover of Hustler magazine. As mentioned, seven AVN Awards nominations followed in 2019, and finally, this year, her greatest triumph: winning the award for Best Actress.
Many a performer would find the tremendous success going to her head. Little Caprice, however, remains true to herself and thus comes across as extremely likeable. She talks on her website about how winning the AVN Awards seems like a dream to her. When she actually heard her name called at the awards ceremony, she initially thought there had been a mistake. She couldn't believe that it was actually her who was soon to hold one of the coveted AVN Awards in her hands. After the win, she thanked her fans for making the success possible in the first place. Her husband also plays a big role. He builds her up when she once doubts herself and doesn't know what to do. The thanks to him became at the same time a touching declaration of love. That makes the star really human, because you don't find something like that every day in the porn industry.
What are Little Caprice's next plans?
Of course, Little Caprice is not resting on her success at the AVN Awards. An important part of their work is their website. For this she regularly produces exciting films together with her husband.
In October, the 24th Venus erotic fair will take place. Of course, it will be represented there again. After winning the AVN Awards with new confidence and many new fans. There, as every year, she has her own booth, which she manages together with Marcello. Fans can admire and buy hot photos from her. Of course, they also get autographs and can buy DVDs. Little Caprice is represented there herself and answers the questions of her fans. Anyone with questions about the AVN Awards is welcome to ask at any time. In Berlin, this prize will probably already be a thing of the past. She may be able to enjoy winning the Venus Award there.
Watch movies from Little Caprice
If you are in the mood for Little Caprice movies, it's best to sign up on the Little Caprice Dreams page. Even those who do not want to register should visit the site. He finds a lot of free erotic material. The Young & Beautiful film series is particularly popular. In episode eight, she can be seen together with Kendra Sutherland.
On the Internet, Little Caprice movies are in demand and are available for streaming on many portals. However, the visitor should be careful with some sites, because they are not always free of viruses. Their official site, however, is safe.
After winning the AVN Awards, the demand for films with Little Caprice will surely increase. Little Caprice and her partner are certainly aware of this and they will be producing many more exciting films in the future.