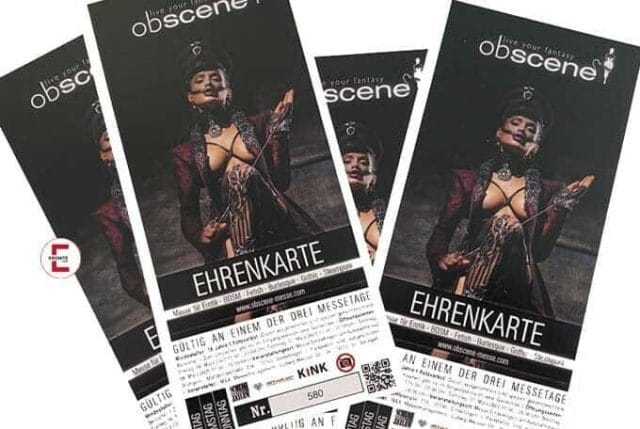 Enter for a chance to win a ticket!
For all those who care about BDSM and fetish, the fetish fair obscene in Stuttgart is definitely one of the must-attend events this year. It will take place from 6 to 8 March at the exhibition centre in Stuttgart-Sindelfingen and is the largest event of its kind in south-west Germany. A visit is definitely worthwhile. We are giving away four free tickets. How it works and what exactly distinguishes the fetish fair obscene is here.
---
Eronite empfiehlt dir diese XXX Videos, Livecams & privaten Kontakte:
---
Sales show and fun scene meeting place in one
First of all, the obscene 2020 is clearly a trade show. As a visitor you get to see a lot of products that belong to the areas of BDSM and fetish. The palette ranges from lingerie and clothing to various toys and sophisticated "torture tools". New products are presented as well as well-known classics.
And, of course, many of these products can also be purchased directly on site – just as it is at a trade fair. At the same time, however, the fetish fair obscene is also a popular scene meeting place. There are opportunities throughout to meet like-minded people and make new contacts. As the trade fair organiser has meanwhile acquired an excellent reputation, interested parties from all over Europe come to Stuttgart. And that in turn means that nothing stands in the way of cross-border, pleasurable traffic.
For example, you can also find out about certain practices and trends that are very much on the rise in other countries, but which few people here are aware of. The fetish fair obscene is therefore also an important source of inspiration around the topics BDSM and fetish. Oh yes, you can also make friends as a visitor, of course.
With free tickets into the fair luck
Even if the prices for the tickets for the fetish fair obscene 2020 are kept within narrow limits – the fun is even more awesome, of course, if you don't have to pay anything. This is exactly what is possible with our action. We are giving away 4 x 1 free tickets among all participants, which grant full access to the exhibition grounds. Furthermore, with these special tickets it is also possible to get access to the various game rooms at the fair.
Participating in our raffle is really easy: Just send us an email via the contact form with the keyword "Free tickets obscene 2020" in the subject line and explain why you should definitely win the ticket for free. The mail must have reached us by 22 February 2020 at the latest. As always, legal recourse is excluded. In addition, of course, the terms and conditions of entry for sweepstakes apply.
[contact-form-7 id="130841″ title="Kontakt_copy"]