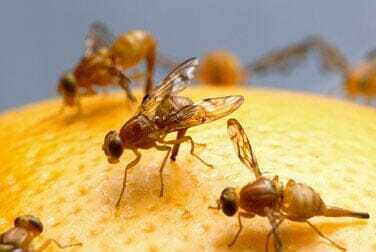 The ejaculation of male fruit flies – highest love happiness
Watch this: Now even the insects are spraying!
Whether animals are capable of true love is uncertain. However, researchers in Israel have now found out that the seed effusion of male fruit flies means for this sexual fulfillment.
---
Eronite empfiehlt dir diese XXX Videos, Livecams & privaten Kontakte:
---
What is the origin of ejaculation in male fruit flies?
The researchers found out that red light (!) stimulates certain neurons in the brains of male flies. These neurons stimulate the secretion of seminal fluid. When the researchers irradiated some areas of the test area with red light, the male fruit flies preferred to stay there. The researchers concluded from this that the ejaculation of male fruit flies must be a pleasurable experience for them. The assumption was confirmed when the researchers associated red light with a certain scent. Afterwards, the male flies preferred to visit places with this scent, even if no red light irradiation was offered there.
Alcohol – the great comforter
In connection with the studies on the ejaculation of male fruit flies, the researchers found something else that amazed them. They offered the animals food with and without alcohol. The animals that had ejaculated preferred food without alcohol, while the others that could not "unload" preferred food with alcohol. Apparently they wanted to comfort or numb themselves with it.
What does the study on the ejaculation of male fruit flies show?
The sex drive is an instinct that is present in all living beings that reproduce through sex. The principles are the same, whether we are dealing with fruit flies or humans. Therefore, the ejaculation of male fruit flies can be used to draw conclusions about human sexual behaviour. For men, the greatest pleasure and fulfillment during sex is ejaculation. The longer and more intense it is, the better. It's not a question of education, it's instinct. After all, in nature sex serves to produce offspring and to ensure the preservation of the species.
To make sure that this is also practiced, nature has linked the male's ejaculation to a strong feeling of lust, which can be downright addictive. It does not matter whether it is the ejaculation of male fruit flies or the ejaculation of the man during sex. Perhaps this is also an explanation why many men have such a strong aversion to condoms even though they know the risks.