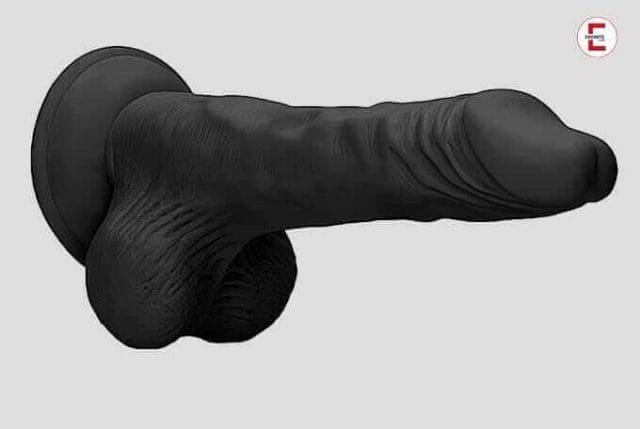 The black giant dildo Dong with Testicles
If you are looking for a special toy, you should take a closer look at the Dong with Testicles. The black giant dildo has it literally in itself. It promises pleasurable hours for two or even alone. Everyone can decide that for themselves. At least, it can be perfectly integrated into the love game. But what details make it stand out? This is revealed in the article.
---
Eronite empfiehlt dir
Das Dating 3.0 – Die Zukunft des Dating

Eronite empfiehlt dir
Dating 3.0 – Die Zukunft des Dating

Eronite empfiehlt dir
Das Dating 3.0 – Die Zukunft des Dating

---
What are the features of the giant dildo?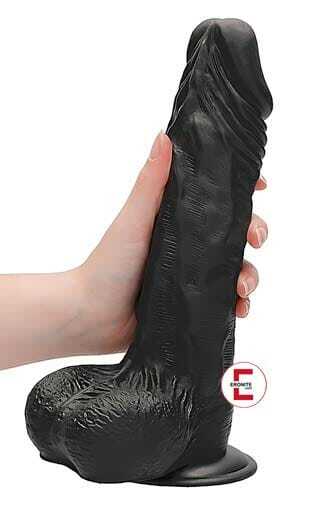 The black giant dildo feels very realistic. The material is pleasantly soft and looks very real. The development was done with great meticulousness, so that the tip is clearly pronounced. In addition, the veins can be seen. In addition, the black giant dildo is equipped with testicles, so it is even more authentic.
Its shapes and structure are lifelike. In combination with the haptics, the black giant dildo actually appears like a real penis. Made from pliable TPE that is free of all phthalates. It mimics real skin very well and is safe to use.
The dildo is manufactured by injection molding. This ensures that defects and odors are reduced. On the other hand, the durability and temperature resistance are achieved. The equipment of the Dong with Testicles includes a powerful suction cup that can be attached to smooth surfaces. This keeps your hands free. Furthermore, it can be combined with straps to keep it in place.
The dildo measures 5.6 x 5.6 x 24 centimeters and weighs 740 grams. Its diameter is given as 5.6 centimeters. The insertable length is 20.4 centimeters. It is waterproof and can also provide pleasure in the shower or bath. Due to the high-quality material, it can be cleaned quickly and easily.
The black giant dildo – The possibilities of use
Many women use a dildo to satisfy themselves. Not only single ladies, but also those who are in a relationship. Because the black giant dildo can be used not only for vaginal penetration, but it can do even more. This is also the reason why men use the Dong with Testicles.
Another option is to include the dildo in lovemaking with your partner. Thus, the fun can be additionally intensified in pairs or with additional people. The black giant dildo is just versatile. But how can it be used now? First of all, many women do not reveal to their partners that they use a dildo, but this is a pity, because just this black giant dildo promises exciting hours with other people.
Women wrongly fear that the partner can consider the dildo as a competitor. The opposite is true. The black giant dildo can be perfectly integrated into sex and can provide exciting and new experiences. In addition, it is also suitable for use in a threesome. All fantasies can be lived out with him, as long as the parties involved are willing to do so.

Read also:
– Sextoy test: Mr. Dixx Mighty Mike 23 cm dildo
– Virtual dildo masks planned for digital avatars
– Make your own ice dildo – it's so easy!
– With a pump up dildo I blew up the rosette of my slave
– Strap on dildo: lesbian pleasure with a strapon
Role reversal is also possible with the giant dildo. Who wants, can also stimulate the male part with it anally. Many men like to be pampered in this way.
The giant dildo opens new horizons
The black giant dildo allows its users to get to know their bodies in a different way. Therefore, it should be used carefully and cautiously, especially at the beginning. Not only when using it, but even before that, when the topic comes up with the partner. Nevertheless, it is worthwhile to formulate the idea clearly. Even if it costs many people to overcome. You will be surprised that your partner is open to the giant dildo.
Since it is equipped with a suction cup, all people have their hands free to use elsewhere. Thus, the dildo can be fixed on all smooth surfaces, allowing new variations. Where can the Toy be attached? For example, on all the walls or even in the shower. On chairs, this is also possible. In addition, it can also be attached to the smooth surfaces of the bed. There are many more possibilities. This is where imagination is needed.
And there's another area of use that doesn't have much to do with sex at all. The giant dildo has namely also optical advantages. Therefore, it can be arranged together with other dildos as an unusual decoration. The more colorful the color selection, the more appealing this arrangement will look. If you don't want to do that, you can of course store the black giant dildo in the drawer.