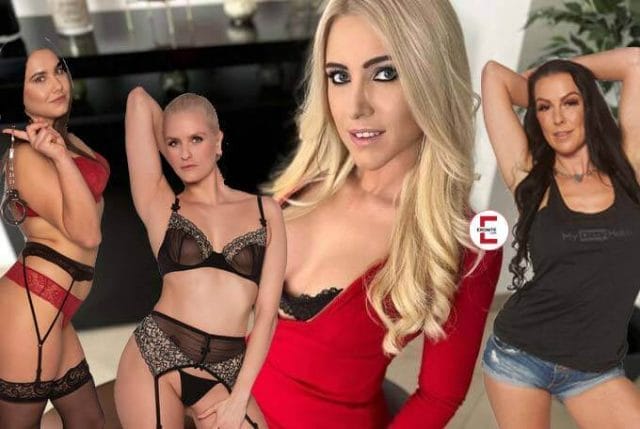 A new chapter in the history of erotic communities
The stages of erotic entertainment have always seen surprising twists and turns. But this year, a very special event is setting new standards. Germany's largest amateur community, MyDirtyHobby, celebrates its 18th birthday in an extraordinary setting – the VENUS, Europe's most renowned erotic trade fair.
---
Eronite empfiehlt dir
Das Dating 3.0 – Die Zukunft des Dating

Eronite empfiehlt dir
Dating 3.0 – Die Zukunft des Dating

Eronite empfiehlt dir
Das Dating 3.0 – Die Zukunft des Dating

---
Venus and largest amateur community are meeting place for porn starlets
Not only will VENUS open its doors in Berlin from October 26-29, 2023, but MyDirtyHobby will also shine with an impressive presence. The company has not only reached the status of full age, but also secured a place as the main sponsor of the fair. An impressive exhibition area underlines its leading role in the industry.
But what would such an event be without the stars who have shaped the success of MyDirtyHobby? Four renowned brand ambassadors: Fiona Fuchs, Schnuggie91, Jenny Stella and Daynia will crown the event with their presence. You won't be alone, as German-American star Texas Patti is traveling from the United States to wow show attendees. Furthermore, fans can expect a squad of familiar faces from the amateur community. Names like Cat-Coxx, Elli_Young and many more will be on hand to get close to their followers, take photos and sign autographs.
Beyond the lights and action
However, the VENUS offers much more than just shiny surfaces and fleeting encounters. MyDirtyHobby has developed a novel booth concept in preparation for the event. Captivating lighting design and impressive LED walls turn the stand into an absolute eye-catcher, where visitors linger and are amazed.
In addition, trade show visitors can grab exclusive fan merchandise in the well-stocked merchandise store. If you're looking for a breathtaking show, you'll find it on the main stage. A true fireworks display of eroticism and seductive performances awaits the guests.
The mission behind the brand
The largest amateur community, MyDirtyHobby, is not only a place where erotic content is shared. It offers adults a platform to share their own passions and fantasies in picture, video or live stream. With a high demand for authenticity and diversity, the community stands for a free development of one's own eroticism.
Read also:
– MyDirtyHobby – social network for adults
– The great guide: How to become a porn actor?
– Danger of confusion with Pornhub: Kebab store should change logo
– This has (not) washed up: Two new faces for the brand MyDirtyHobby
If you want to dive deeper into this fascinating world, you can find all the necessary information on the official website.
The 18th anniversary year of MyDirtyHobby at VENUS marks not only an impressive period in the history of the largest amateur community, but also the beginning of a new exciting chapter.