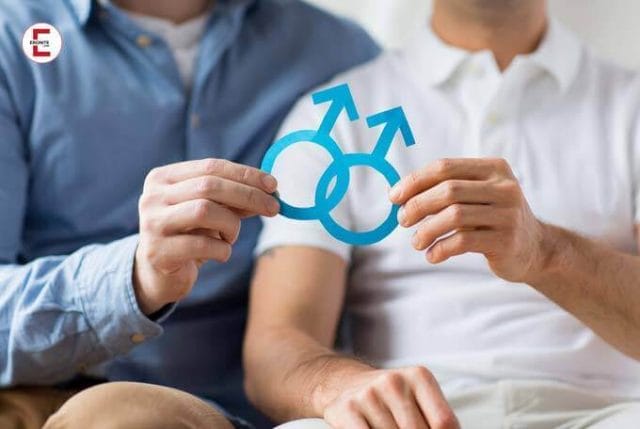 The two still do not get enough
"Then you'll just have to fuck me more often." I said carelessly to my best friend Alex after he gently deflowered me. My first time happened out of desperation, because after all, I had to deal with very heavy equipment that an old pervert wanted to stuff inside me for a lot of money. But that doesn't mean it wasn't great. Alex opened my rosebud very gently. He licked around my anal ring with his tongue, pressing his wet muscle against my wrinkled folds with so much feeling until they opened up and he could dip in with the tip of his tongue.
---
Eronite empfiehlt dir diese XXX Videos, Livecams & privaten Kontakte:
---
His soulful and tender licking made me feel things I had never heard of. I could feel his tongue getting faster and greedier. My mind rebelled, but my body responded. With the targeted touches that he distributed on my erogenous zones, he put me in a drug intoxication-like state in which I could no longer grasp clear thoughts. My brain shut down. I was so busy moaning that at first I didn't even notice how he carefully penetrated me with his fingers.
My cleft was completely untouched. I had not even thought of introducing something there until now. Every time Alex and my father spent more time together, they were fucking. That threw me off track quite a bit. I had then mostly been busy with a girl. As a bartender, I just met many. But then my mother died. My father and my best friend outed themselves as lovers and a perverted customer of my father wanted to solve all our financial problems once he was allowed to enter me with his monster cock. Alex wanted to sacrifice himself for me and I could have punched him in the face for that, because I knew how self-righteous this so-called sacrifice would have been and because I felt responsible for how my family was doing.
Despite pain I liked it
So now I lay moaning and gasping under my best friend and let him finger my twitching flesh with such intensity that I thought I was going crazy. I started it because I wanted him to stretch me for the monster. But when it came to the point and he drilled me with two fingers, I was no longer capable of thinking. As his stiff member overcame my resistance and slid into me inch by inch, I was in no small amount of pain. But I felt a tender hand rubbing my hard pleasure flesh, which was about to burst. His nibbling on my neck and loving deep voice whispered in my ear to relax. I let it happen.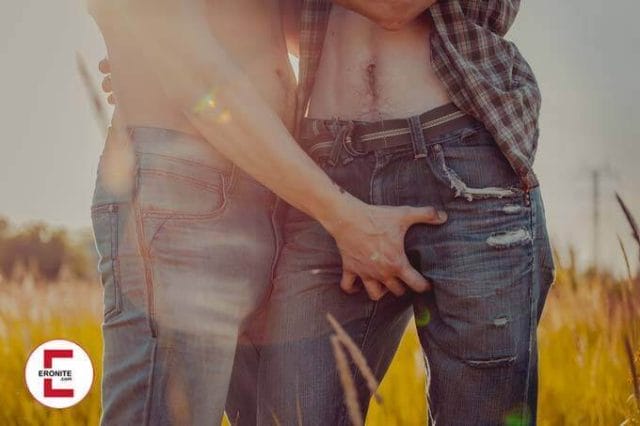 His penis penetrated me to its full length until it bumped against something. I bucked against him and groaned deeply. It was incredible. His movements were so tender and careful, but he kept guiding his member deep inside me, touching that spot again and again. I had no idea at the time that my prostate could cause such feelings. It just robbed me of any sense of time and control. I was completely at his mercy and I enjoyed the gentle push in and out so much.
When he finally squirted into me, I got violent feelings of shame and immediately jumped up to announce several times that I was not gay. The warm feeling inside me totally confused me. It had felt good and it wasn't allowed to. I should not have enjoyed it. What did that say about me? When he explained to me that my ass was not a pussy and I then replied to him quite seriously, then he just had to fuck me more often, it was clear to me that gay or straight no longer played a role for me. I would just go with it and make the best of it. It hadn't killed me, and I would somehow get a grip on my overrunning feelings.
Crazy about his cock
A little later I rode on his lap, after I had asked him to slam me properly. I enjoyed the feeling that his hard meat caused in my intestines. I was still mad at Alex and also still pretty confused. But at the same time, I liked what he was doing to me and I couldn't keep telling myself it would leave me uninvolved. We fucked really often during that time and at some point I also reached the point where I just admitted to myself that I liked having sex with him. For some reason my body reacted to it and for the same reason I wanted to kiss him and get inside his body. It was new and exciting and way too good not to savor.
But it wasn't just curiosity and adventure. I dreamed about Alex all the time. My ass craved his cock when he wasn't inside me and I wondered if I might be bisexual. Most people are. Maybe Alex had somehow set something in motion in me that had actually always been there. I noticed that I started thinking about men and looking at other men.
Early in the morning, before school, we always met and drove the car to a deserted parking lot that was completely empty because the supermarket had not yet opened. It was a popular meeting place for gays. Sometimes we had company from other couples who were openly making out. There he pushed me already his beating purely.
He fucked me first every morning on the back seat and later as my inhibitions sank also on the hood. Quite openly. I hung with bare ass over my car, my legs were slightly spread and he covered me from behind while pulling my head back by the hair. When it came to him, he squirted all over my butt and back. "Ahhh, that was awesome. I've always wanted to do that." He grinned like a honey pie horse as he helped me get my thoroughly fucked cum-wet body up off the hood. "Wow." I gasped. "You've really got me all over." "You need it, you horny sow, come on, let me suck you."
Our first threesome was awesome
He went down on his knees and took my circumcised pleasure piston in his hand. He directed the tip against his lips. I closed my eyes in joyful anticipation of his wet, experienced tongue and his fantastic blowjob skills. Not only is he amazing at fucking, he can also give incredibly awesome blowjobs. "Awesome, you two are awesome!" I opened my eyes to see a guy in his thirties wearing washed out blue jeans and an ACDC shirt standing in front of us. He had an impish smile on his face. "Sorry to sneak up on you like this, I'm Benjamin." He reached out and squeezed my hand tightly. I was a little embarrassed, but Alex wasn't. He jumped right up and greeted the guy with a handshake.
"May we help you?" he asked mischievously. I heard the mischievousness in his voice, and I thought I'd known him long enough to sense that he was having naughty thoughts. "I was hoping you'd let me help you." A little embarrassed, he stroked his dark blond mop of hair. "I've never seen horny young guys like you here before. Sorry for the crude pickup line." "It's okay." I heard Alex say. I felt the handsome guy sizing him up. His gaze lingered long on his crotch. "Do you like what you see?" flirted Alex at him. "Oh yeah." He looked over at me now and smiled. "You're shy, huh?" "Not really." I laughed a little more freely now. "It's just all new to me. Very new."
I explained to him that until recently I had sworn every oath never to make out with men and that I was quite popular with girls. To seduce a whore he found incredibly horny. I could see from his eyes that he was really horny for me, and somehow I felt it was a compliment to turn on a complete stranger like that. Alex is a hardened male seducer and doesn't give a shit about anything, but my innocence somehow seemed to irritate the sweet observer more. Alex took me aside and whispered in my ear that we could have a threesome. He had already appraised the guy well out and noticed that he had a gem in his pants. "Why don't you just let him shove it in you?" He whispered to me. "It's bigger than mine. You'll love it." He gave me a pat on the butt and pushed me toward the stranger.
How wildly we fucked each other
"My friend wants to be convinced." he winked at Ben. He pressed his lips to my neck and nibbled. "Can I kiss you?" he asked. "No." I only wanted to be kissed by Alex. He was the only one allowed to conquer my mouth with his tongue. No one else. But I liked the way the guy looked at me and stroked his hands over my bare chest. His mouth put itself over a nipple and sucked gently on it. Alex put my member on Ben's and started stroking our tubes with both hands. Ben grabbed his and pulled on it until it was hard. So we jerked each other for a while. Until Alex finally bent me over the car again and sank his stiff pleasure meat into my hole, which had closed but opened again without much pressure.
He fucked me with a few thrusts, then pulled out and left the field to Ben, whom he slipped a condom on single-handedly. He gave me a slap. "What a nice ass. You like that, kid?" "Ahhh…yaaa…" He really had a bigger dick. I could feel the difference. He stretched me like never before and rammed into me with feeling. I screamed with horniness, which animated him to increase his pace and practically fuck me in the hood. Then I heard him groan. He was suddenly pushed forward and pushed into me. I could tell by his gasps that Alex had entered him and it was now my buddy's thrusts that set the tone.
Ben, who was sandwiched between us, received Alex's ramming penis in his guts and didn't have to do anything. His cock rammed itself into me. We switched positions and I let Alex take me while I got to visit Ben's anal amusement park. I had never felt anything so incredible. Being in the middle was a huge pleasure. I was stimulated from both sides. To be fucked so horny in the ass while I myself pleasured someone else and whose tight ass grabbed my cock like a glove was heaven.
Now Tobias is sure: He is gay!
When Ben was inside me again and I thought either Alex takes him now or I get to take Alex, I felt my hole stretch even further. I looked behind me and saw Alex tampering with me with his fingers. Then my best friend, the horny sow, just pushed his way in. I gasped deeply. They moved at the same time, while Ben and Alex grinned at each other behind my back.
The friction for the two guys who had their cocks inside me had to be fantastic. For me, it was an incredible stretch that was both painful and pleasurable. My cunt was so wide open that Alex took a picture of it as they pulled out of me briefly before Ben stuck his whole tongue in me and gave me a good licking. Then the two hot stabbers penetrated me again at the same time.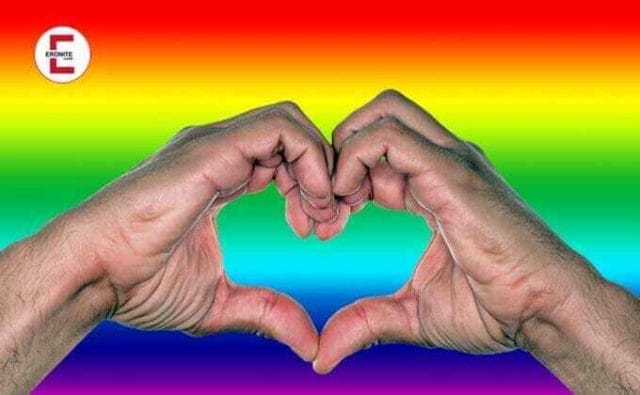 Now I was sure, quite sure. I am gay. Gay, it doesn't get any gayer than that. I felt it as a liberation to admit it so honestly. Two thick cocks were now in me at the same time and I loved how my body reacted to it. It was pure horniness that filled me to the nerve endings. "Ahhhh, you guys are sooooo big!" my brain cheered and without realizing it I screamed that out loud too. Alex shot his whole load into me first and slid out of me. Ben fucked me with a few hard thrusts into the well inseminated hole that could take his horny cock like greased by now. Then he also came, pulled the condom away and sprayed me his man-juice all over the back, on which Alex sperm from the first round had not yet dried.
Exhausted, I slid off the hood. They caught me before I hit the ground. "Maybe we'll see each other again!" Ben didn't feel like taking care of me. He had had me, fucked me almost into senselessness and that was it for him. But Alex held me in his arms and kissed me very tenderly. He drove me to a rest stop and helped me clean up in the restroom. Before we finally drove to school, he showed me a surprise, which he had actually wanted to give me later. While he was already sucking my cock deliciously again, he pushed two love balls into my ass.
With an inflatable anal plug in his ass, he made me suffer
There was a remote control with it and he tried it out right away. While his tongue was still spoiling me, I felt a gentle and steadily increasing vibration in my ass. I threw my head back and moaned out my orgasm. Of course, the horny sow could not resist to press the button again and again during the lesson and drive me crazy with intense contractions. When he had to go to the bathroom at some point, I hurried after him. My cock was so hard I thought I was going to explode. So I ripped off my boyfriend's pants in the toilet stall and fucked him while keeping his mouth closed. The back of his pants were hanging down and he would have been thrown against the wall every time if I hadn't caught him again and again in time.
"I'm sorry," I gasped. "You make me so horny." When I let go of him, he turned around, "Don't be sorry." His tongue captured my mouth and we kissed wildly and passionately as our hands played with our hard cocks. "Oh, Tobias. If you knew, I still have a lot of toys, that was just the beginning." Said, he got down on his knees and swallowed the full length of my penis. He's really good at it, almost never has to gag, even though my fuck belt is pretty thick. Not big but thick, like my dad's. He sucked me until I came and it burned a little this time. I could not even count how many orgasms I had already had and it was only noon.
Finally, school was out. My father was working and we had the place to ourselves. I was lying on my back, my ass stretched way up, my legs on his shoulders, and he shoved an anal plug in me, which he slowly blew open until it started to pull a little. "You'll get used to it." he smiled and then he impaled himself on my fat piston and rode me. I felt my sphincter trying to push the thing out as my meat hammer slammed into my boyfriend's tight ass making him moan, sweat and scream.
A gaping hole was the result
The feeling was strange, but in fact I quickly got used to it. While I was doing my job and serving drinks, I was horny all the time. This foreign body in my ass, inflated to its full size, stimulated me all the time. I had to twist it a little bit every time I took a break and penetrate myself with it. Of course, that made it worse. There was no other thought left in my head. Again and again in front of my inner eye appeared the horny juicy cock of Alex, which I now wanted to have so much in me. I imagined myself sucking him first and wetting him properly with thick drops of spit before sitting on him and just riding him hard and fast. As only a nineteen-year-old can.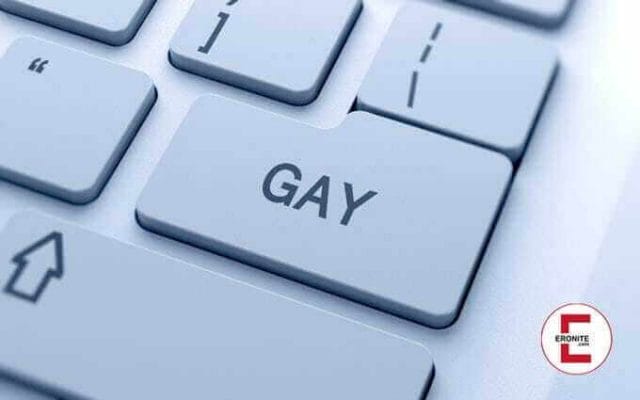 Alex did two honor laps at school, I did one. But when it comes to fucking, he deserves an A. I was so horny for him that I literally ran into his arms after work and this bitch had of course planned this. It had been a folk festival for him to torture me all the time and he enjoyed my torment to the fullest. I had to fuck him first, with my belly leaning over the edge of the bathtub, the giant thing impaling me even deeper by tightening my cheeks. Finally he lifted me with passion onto the washing machine, the back of my knees resting on his shoulders. He pulled the plug out of me and photographed and licked my gaping hole.
"If you don't fuck me soon, I'm going to die," I gasped. "We don't want that." He pushed the plug all the way into me again and twisted it. I moaned. "Alex, please, please…" "What?" He tortured me, in that he was now stroking my steel hard pole as well. "Please…" i moaned. "Come on already…please…" He gave me another kiss on my gaping hole. I gasped under his wet demanding tongue. "Do you know how beautiful you are?" he asked me. "Alex…I beg you…fuck me already!" I cried out. "Go ahead. Give me your cock. Right now. I'm going crazy. I need you inside me. So badly. Please…" I was about to add that he should take me, when it finally happened.
We also became closer on a human level
The tip of his penis plunged in. Effortlessly he slid into me. He pushed my legs wide apart and now fucked me properly. His hard meat he rammed with force again and again into my well-prepared hole. I screamed like a banshee. Never before had he been able to take me without long foreplay and certainly not like this. He really banged me, not considerately and gently as usual, but really hard. So hard that his mushroom head almost slammed into the top of my skull, so brutally and deeply he rammed it into me. But then I fainted. I found myself on the floor, lying with my back on the soft bathroom carpet. A gentle hand patted me awake. "Wow." I formed with my lips. "That was our best fuck yet."
"You thought it was good?" "It was great. I want to wear the plug more often now." He kissed me deeply. "It was actually meant for when we don't see each other. At school, I wanted to put the balls back in you." "Oh." I blushed. "Alex, you are such a dirty pig. The way you tortured me today, that was really sadistic." He chuckled maliciously. "You know what, you dirty piece, those bullets are for you. Tomorrow I'll get the remote control." I determined resolutely. He laughed. Of course, that's how we implemented it. He had the balls in his ass and I kept the anal plug. I stimulated him all the time to get even and he became as ratty as I had been.
Our sex in these weeks, was simply the hammer. We also became closer as people, we had so much fun together, in really every way imaginable, enjoying each other's company on all levels. It wasn't just sexual. I found spending time with him a revelation in every way. My thoughts no longer revolved around my mother, our debts, or why we had started all this in the first place. I was happy, I opened up to him emotionally like I had never done with anyone before. That's why I was completely surprised when I saw him crying after I thought I was over everything now.
I love both of them, but I love Tobias more
How could it be that he had seriously considered that I wouldn't want him once I got past the monster penis experience? In reality, I had thought I was over the father thing and over anything negative. Under no circumstances could I have started from scratch and gone back to the girls. He had completely occupied my heart and my sexuality. There was only him. But there were so many misunderstandings to clear up. Fortunately, we were open with each other. He was so upset and sad that I almost cried myself. I was touched that he loved me. Of course, I had thought he would run right back to my father. Who was I, nineteen years old, inexperienced. I had a lump stuck in my throat when he had meant that he loved me more, and then fate had decided.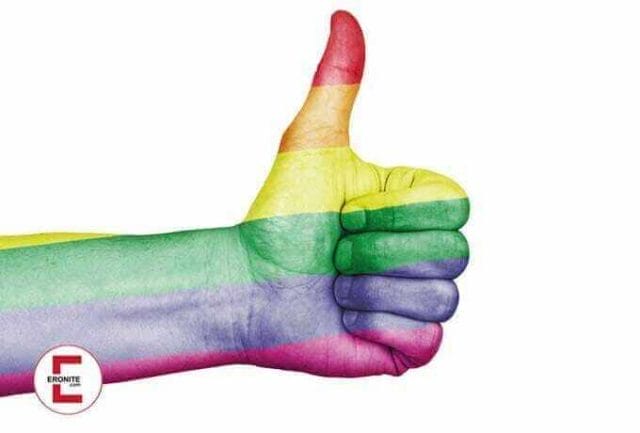 "So that's what it was like for you." Alex caresses my face as we both share our experiences. I pull him in close, pressing my front against his back. We walked out of my dad's apartment, made out in a back alley, and eventually ended up at his place. "I love you," I say. His slender body snuggles into my arms. We're both naked in bed. His father has allowed us to crash at his place for a while until we have a place together. He's known we can't keep our hands off each other, but he's asked us not to be too loud. Because of the neighbors. I think he's really cool with it. Speaking of fathers. "Do you regret it?", I ask. "What?" Alex hooks his fingers in my hand.
"That you can't be with my father anymore." He sighs softly. "I wouldn't call it regret, I love you and I love him. I'm sorry we hurt him, but I love you more. We're together now. You make me happy." He does, too, I think. I don't even know what I did to deserve so much happiness. "I'm lucky you want me." It's as if he's guessed my thoughts. "You don't know how lovable you are, how strong, how brave. For the people you love, you would just do anything. And you always give a hundred percent. Your soul, your heart, your strength, your being and your courage, that makes you unique. You are something special, a jackpot. I feel like I won the lottery." I am so touched that I kiss him.
My father leaves the apartment in a hurry
It's a lie that I wouldn't have minded sharing Alex with my father, because that's the way it is. I would have minded. Quite a lot. I want love, passion, romance and everything all at once. I'm just as wired as my dad. "I think that's sweet." Alex turns and kisses me. "It's romantic." For him, the idea of limiting his sex life to one man is new. My father never restricted him. He wanted to let him have his youth, along with all the experiences that mattered.
Alex made out with several young boys and acted out as a young gay, but he always knew that he only loved my father. Until the moment when I conquered his heart and completely confused him. He's still a little confused. I feel that my father's spirit is between us, but I want this bed to be just the two of us. Slowly I push myself into his pleasure channel. I'm taking my time this time because I love him and I want to make love to him. My hands touch him as we cuddle in bed and gently fuck, trying not to make any noise.
Then we hear the door slam. Alex's father has left the apartment. I guess we hadn't been quiet enough after all. That his son is in bed with a man is too much reality for Marco. Just knowing it is enough. Marco heard the two boys moaning in their room. The panting increased in volume more and more. Two young bodies, so keen on each other, can not hold back for long. At some point, passion breaks through them. He lay in his bed and could not sleep.
Cheered up the fathers get supplies
Images appeared in his head that he did not want to have at all. His son kneeling on the floor, behind him Jacob deflowering his tight hole. For two years, Jacob had been fucking his son behind his back. Marco much preferred that Alex had fun with Tobias now. It seemed more normal and safe to him. A twenty-year-old could not want the same thing as a forty-year-old, and he wanted his son to enjoy his youth. At some point, he could no longer stand the moans and gasps of the boys, got dressed and left the apartment.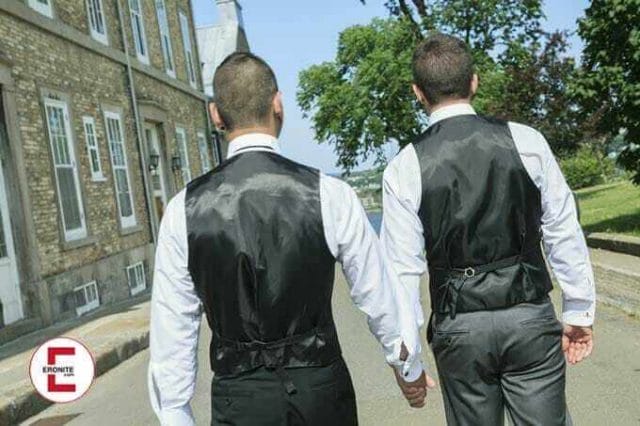 Jakob is sitting alone on the sofa watching old family movies when Marco knocks on the door. Marco has gone to a gas station to get a six-pack of beer. "Sorry, I'm not in the mood," Jakob rebuffs. "I know why, too." grinds Marco. "Oh yeah?" Somewhat anxiously, Jakob looks at him. Not another scene, his exhausted brain whines. He can't take it anymore. Actually, he just wants to be alone, reminisce about Fatima and look at his little son. How he takes his first steps and does not yet think about stealing lovers. That's how innocent Tobias was back then. So sweet. A real shining child. He wants to watch this all night and maybe cry a little more. Heartache wants to be lived out. At some point it's better.
"Where are those two?" asks Jakob. "At my place." replies Marco succinctly, suggesting they stop talking about it. "I thought we were having a drink together." Jakob is relieved. Not having to talk about what's tearing his heart apart is a relief in itself. Actually, it's kind of nice not to be completely alone. At least one person cares about his feelings. Six beers are quickly drunk. They go to the gas station and get a refill.
Marco is curious about what it is like to be taken
Together they sit on the sofa, talk about God and the world and get drunk. The more they drink, the funnier and more uninhibited they become, and eventually they banter and exchange sex stories. There are a few girls they remember from their student days. A few of them they also had sex with together. Marco bursts out laughing at the memory of how silly they were back then. "You know, man, I felt you too, tip to tip, just a thin wall between us when we took the same woman. If I'd known you were gay back then. That wasn't all. There was more. I was really too blind to see that. Remember when you were thirteen?" Jakob remembers their doctor games. "We were kids." he dismisses it.
"I was a child, you were already precocious then, I had no idea. It took me a year longer to hit puberty and then I was chasing skirts and dragging you along. You always wanted to be like me." "That's true." Jacob admits. " Now I'll tell you something, and it's only because I'm drunk. I listened to my son and yours have sex and now I'm curious. I was actually curious sometimes back then when our dicks met in a woman's body, but I would never have dared. Now I finally want to know." "You're really drunk." Jacob is quite shocked. "You don't mean that."
"Maybe I'm really drunk, totally drunk even, but I want to know. What's it like to be taken?" "Heaven on earth." "That good, huh?" Marco puts down the beer bottle and turns to Jakob. His hand rests loosely on his knee. Jacob pushes it away emphatically. "You're drunk, you don't know what you're talking about." "Maybe not." Marco slurs. Heaven on earth, he thinks. He heard his son cry out loudly and lustfully. That must have felt very horny. Heaven on earth. Jacob was a virtuoso in bed. They had shared a girl often enough. Jakob had regularly made her scream. "But can you remember how many times we had drunken sex with girls? Did any of them ever regret it?"
With feeling Jakob rubs the veiny shaft
Jacob shakes his head. None of them had regretted it. They had been a well-oiled team. Both devilishly good lovers, perhaps a bit more uninhibited when drunk than when sober. The thought of taking his best friend takes shape and he tries to fight it. He doesn't want to take advantage of Marco, nor does he want to jeopardize their friendship. Marco takes his hand and slides it into his lap. "Still the old broody one." he smiles. "Look, I'm hard, and I want you to show me something now. So, it's your move. We've shared almost everything, so why not this?" Tentatively, Jacob begins to touch the bulge. It really is already rock hard.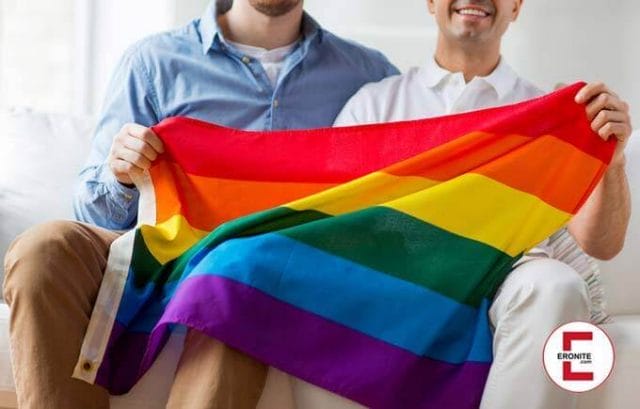 He pulls down the zipper and the excited sinful flesh whip jumps out at him, which is a few centimeters larger than his own when extended. But the circumference is the same. The long foreskin covers the forbidden fruit that wants to be revealed. As the skin here is also kissed by the sun, he realizes that Marco still likes to tan threadlessly. "Do you like my cock? It's gotten a lot bigger since then." "Mmhh…" makes Jakob. "Don't you want to play with it a little?" asks Marco. "You weren't so shy back then." Jakob pulls back the foreskin and strokes the dark wet glans with a thumb, eliciting a moan from Marco.
Emotionally Jakob starts to rub the veiny shaft. Marco now gasps with closed eyes and enjoys the treatment. His fingers search for the zipper of the other and take out his cock. He opens his eyes and marvels, "Since when are you circumcised? That's new." "You haven't seen it in a while." Jacob teases, grabbing the hand that's holding him. He slides it up and down on his butt. "It still works the same. Make him hard." Marco watches as the plump unsheathed glans thrusts through his loose fist.
Jacob enjoys the first blowjob from Marco
It looks incredibly delicious how she eagerly produces pre juice and gets wet. "I'd like to try something new. I want to kiss you." Jacob leans forward and purses his lips. "No, not like that. I want to kiss you down there." "Oh, God, Marco." sighs Jacob. "This isn't happening. I'm dreaming." "I hope it's a nice dream." Marco goes for a dive, doing his best to get the love meat into his mouth. He chokes on it a few times, then restricts himself to wanking it and caressing the glans with his tongue. It's not gross, it actually tastes pretty good and feels good in his mouth too. Jacob leans back and moans.
It's not the best blowjob of his life, but he adds points because here's a die-hard het trying on his cock. His member is rock hard by now. Marco senses that, too, and his tender sucking-blowing-and-stroking tactics intensify. "If you don't stop, I'm going to cum in your mouth." Reluctantly, Marco lets the meat hammer slide out of his mouth. "I'd rather you cum in my ass, though." "Man, you're really killing me!" Jacob holds his head and laughs sheepishly. "God, what a day!" "Does it hurt?" wants Marco to know. Jacob pulls him close and looks him urgently in the eyes. "I would never hurt you. If you really want it, lie down. I'll make you feel good." "I trust you."
Jacob thinks it will be easier for Marco if he doesn't have to look at him and gently turns him onto his stomach. He licks his rose until it opens and pushes first one and then two fingers in and out, only to see the petal slowly contract. When he penetrates again with his fingers, the sphincter already gives way more easily. Marco moans loudly in the meantime. Jakob lets massage oil drip into the hole. He loves it raw, but he would never do that to a virgin. Carefully he slides another finger in and then starts to thrust. "Are you ready?" he asks again, just in case. "Yesssss…" gasps Marco. "Oh god, sooo good…don't stop…" "Then the tornado comes."
Filled with hot man juice, they go to the shower
Slowly, Jacob pushes his way into the narrow channel. He makes his friend feel every inch as he settles on him. Then he moves his pelvis and both are in seventh heaven. Jacob pulls him into a kneeling position so he can plow him in front of him while gently popping his virgin cherry. It really does not hurt. Marco can fully enjoy how his friend since childhood conquers unexplored territory and marks it with his flag. His butt fills with hot man juice and it shoots out of his BB gun like a fountain. Sticky white sperm spreads everywhere.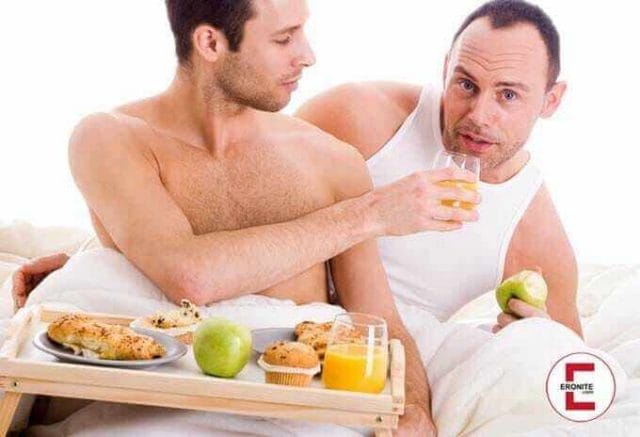 When they finally stand under the shower and both slowly sober up, Marco laughs, "Nice, so now I know how it is. Did you enjoy it too?" "It was good. It was very good." "I'm glad you enjoyed it. I enjoyed it too. It was a fantastic once-in-a-lifetime experience." He claps his hands. "You know buddy, we should find you a good man." "I don't know if I can love again so soon." "No one more than you." assures Marco. "You love from the bottom of your heart and I'm afraid I can't give you that. I needed it in the ass once because I was curious and wanted to know how it felt. I know that now and I'm grateful it was you. But I'm into women. You need a guy who only loves you.
You deserve a guy who loves only you. Come to my sister's studio tomorrow. She runs a dating company and she will do a sympathetic interview with you and record it on video. I bet that a lot of nice men will be attracted to you. Of course, we'll give it to you as a gift. That's clear."
He fucks me first at the window, then on the desk
Tobias and I are still fucking. This has been going on for hours. That's why I'm not worried at all about where my father is staying for so long. I feel my lover's rock hard cock deep in my ass and hang out the window with half my ass while he fucks me. If I let go now, I would fall out.
But he holds me securely in his arms and pops me gently. Then he lifts me up, sweeps everything off my work desk except for the computer, which he gently sets aside and lays me on top of it. He bends over me and shoves his full length strap all the way in. "Oohhhh, Godt, I love you," I gasp. "That's so good, oh, Tobias, that's so good. Yaaa, right there, ohhh God!"
He closes my screaming and moaning mouth with a kiss. Our tongues are fighting with each other. One hand reaches down and grips hard his balls and cock. I can feel the orgasm that was already in the starting blocks being pushed back. But mine shoots through my body unchecked, making me scream and soon I'm hanging limp in his arms while his steel-hard tube continues to work gently inside me.
Sperm production was running at full speed
He fucks me very slowly and with infinite feeling until I recover from the first orgasm and race towards the next. This time he also allows himself to come and he shoots me his sperm in thick spurts purely. We both scream out loud as it comes to us and stay on top of each other, exhausted.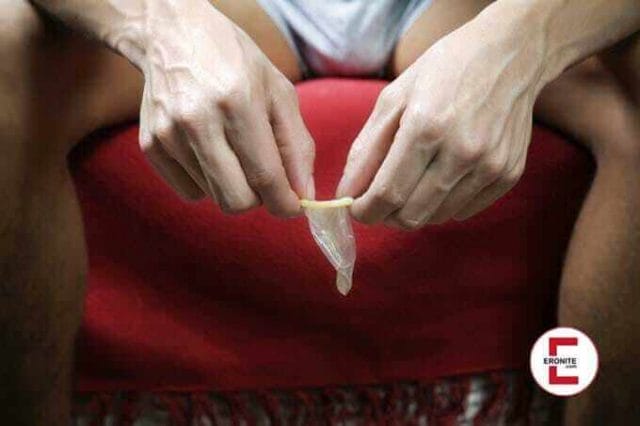 The next morning I can't move and neither can he. We lie in bed together, our leg muscles no longer working. It is completely unthinkable to go to school. I am so tired, so pleasantly exhausted. We did it all night long. It's incredible how much sperm he pumped into me and vice versa. The whole room smells of it. My father takes one look at us, screws up his face and goes right back out. The olfactory shock is too much for his nose.
He lets us sleep until noon. Then he throws us a newspaper in bed. Apartment advertisements. The hint is more than clear. Immediately, we put our heads together and flip through the newspaper together. I can't concentrate. The incredible horny candy cane attracts my attention and I put my hand on it. But Tobias gently pushes her away. He doesn't want to upset my father and he doesn't want to upset his.
The next load goes in the face
So we just fight our way through the classifieds. The apartments are all quite expensive. There's nothing really good among them. "We should take a look at some of them," Tobias says. I nibble on his earlobe. "Do we have to get out of bed for that?" "Yes." He makes a weak attempt to fight me off, but then he does lean toward me and kisses me.
"This is bad," I moan into his half-open mouth. My hand strokes his thigh, getting closer and closer to his crotch. "If we have to get out of bed, then I can't do this anymore." I take him in my hand. Tobias presses his lips together and struggles for self-control. "Alex, I would love to make out with you all the time too, but we really need to…ahhh…"
He moans as I take his swollen uncovered mushroom head between my lips. "Alex, we have to, we promised your dad…oh God…don't stop!" I slide a dry finger into his butt. It slips in easily. No wonder, with all the cum from tonight. With two fingers I bring him to freak out. Tobias squirts his load full in my face. "Boa, you are such a rat." he yips. I grin. As if I didn't know that. I know exactly how often I can make him scream.
The monster tail will help us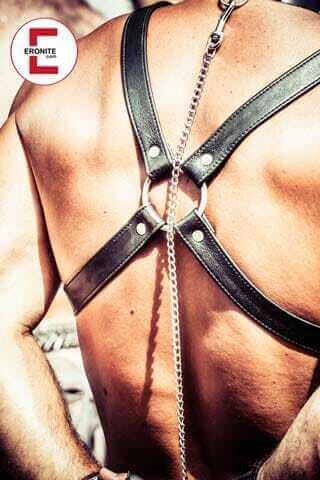 Just when I think my lover has forgotten any thought of his ex-boyfriend, Mielke calls me. He wanted a second fuck from me yesterday and I was still too woozy to think about it. His voice sounds very pleased when he hears me. He's lying in bed, jerking his ponytail and thinking about me, he claims.
Alex sits astride my soft bump, takes his index finger and points blindly at a condominium. It's big, has a balcony, is in the center of town, yet in the countryside. "I want that one." "We can't afford it." I deny. "I can think of a way we could afford it right now, real quick." he whispers. There's a flash in his eyes. His grin tells me he's thinking of something very kinky, and I realize what he means.
"The monster tail." "That's the one." He puts his hands on either side of my cheeks and smiles dirty as he weaves back and forth on my soft bulge, slowly making it hard. "Are you going to deny that I can make any man hot if I want to?" "Oh no."
Two of them want to use Mielke
I have seen it. He has seduced more than one gay man in the parking lot into a double dick fuck. "So do you believe me that the sugar daddy with the monster in his pants won't even know what hit him if we both work him over?"
Alex is such a dirty slut and so horny at that. My cock gets really hard when he moves his butt and says things like that. He really wants to go through with it. A threesome with me and the monster and that for money. It's really spoiled, even for him, but damn, it totally turns me on.
Of course he uses that, that rat. He pushes me into him and rides me in a way that only he can. This speed is breakneck with which he impales himself and his screams are out of this world. I can't believe that this incredibly hot guy really belongs to me. When I take it, I'm always burning with passion. I can hardly contain myself.
"Now we're in control!"
I take my hand off my phone and respond again to what Mielke says. He wants to see me so badly, he can hardly stand it. Absolutely he must enter me and I should take my filthy friend. Of course, he heard everything. We are to come to him immediately and hurry. Alex's look is so cheeky when Mielke hangs up that I reach for him and give him a good slap. We fall off the bed, our bodies landing on the floor with a thump, but I stay inside him and keep thrusting into his bowels.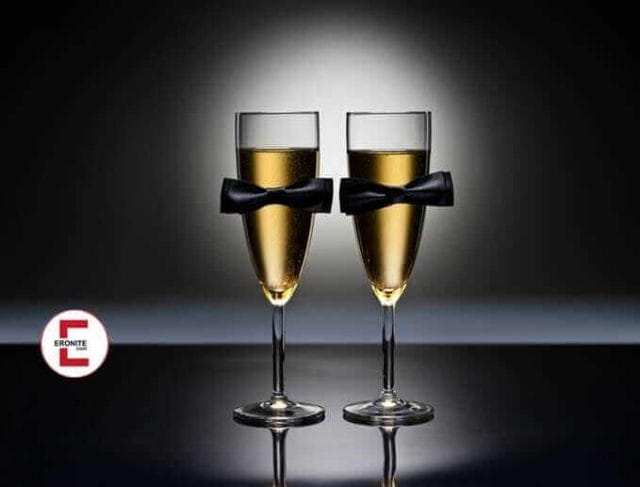 Actually, I find Mr. Mielke disgusting. He took advantage of my family's need. But he has a gem, you can't deny that, and he also knows how to handle it. Alex has no qualms at all. He puts his arm around my shoulders as we leave the apartment and walk down the street. "You know, the first time he took advantage of you and pressured you. Now you're in control. We're in control." I hadn't thought of it that way. He's right. His other hand slides into my back pocket as a matter of course. He catches my eye. I reach around his waist. I don't care what people think. I could have shouted it from the rooftops that I'm in love with him.
"We have to turn here." "No, we're going to have a nice ice cream sundae together. He can wait," Alex giggles. I let myself be infected by his jolly mood. An hour later, Mr. Mielke calls me and asks where I'm staying. Meanwhile, Alex is licking his ice cream spoon with relish. He chuckles when I hang up: "I heard his balls explode all the way over here.
He is sexy and masculine
Mr. Mielke is quite upset when we finally arrive. He has been waiting for us for quite a long time. He stares at me with greedy looks. When he wants to touch me, Alex stands between us. "Remember me?" he beams at him. "You're that boy…that…" "I think I said something to you once." "About you riding me at a wild gallop until I ran out of breath. That's not one of the things a man forgets." "So you haven't forgotten me, I'm glad to hear. Because the other day you said you weren't that interested in me."
His eyes wander greedily over Alex's slender body. My friend is wiry and well-built, blond and attractive, but not like a surfer. His rocking leather outfits clearly set him apart from this stereotype. He has a masculine stature and a hot ass. His blue eyes are bold and full of life. He's incredibly sexy, in a masculine way.
When he enters a room or sits on his motorcycle, women's heads turn to look at him as if a police siren were wailing. Even the men turn around after him. That's why I don't go to a gay bar with him. He's so hot he'd burn the place down. A lot of people go for that Billy Idol look and once he turns up the bad boy charm, it's all over. This also has an effect on Mielke. The perverted sow already gets dachshund eyes and starts drooling. "What do I care about my ramblings of yesterday. Come on in."
Now he slides on his knees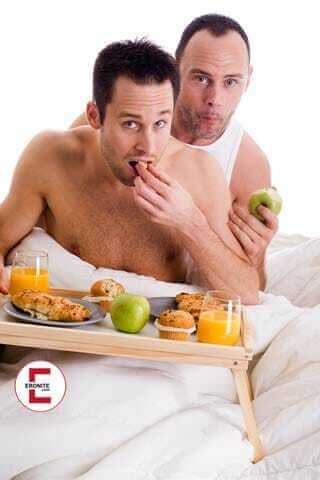 Mielke has a designer apartment that someone else has furnished. You can see it in how lovelessly everything has been put together. It is sterile and uninviting. But expensive for sure. A nouveau riche snob. His decadence testifies to his stupidity. I feel it right away and that's why I butter him up.
Marco taught me that you can achieve a lot with such people if you flatter their ego and make them feel they are much more intelligent than they really are. Tobias takes the same line. As expected, he is completely enraptured by us.
Under normal circumstances, I would have felt sorry for the guy. He is lonely. You can feel that. But he blackmailed my ex-boyfriend, took advantage of him and abused his family's need to get his son into bed. I don't forget that. Now he may quietly slide a bit on his knees and beg for attention. Revenge is sweet.
First is blown
"Can I fuck you now?" he asks with a greedy undertone. "Wow, you get down to business fast." Tobias grins. "Can't you think of anything else you want to do with his body?" I ask. Tobias pushes his lower lip forward. "Do I have to tell you first?" "Blow?" he asks. He slides on his knees and worships our young bodies. "You're a genius. I'm sure you're really good at this."
Tobias shoves his strap into his mouth and he sucks like there's no tomorrow. "What about me?" I ask. Mielke slides over and takes me in his blow mouth while his hand stimulates Tobias in the process until he is hard to bursting. It's nice how he spoils our much smaller cocks and even sucks them at the same time.
No one has touched it yet. I see that his monster is really hard, but he shall not find redemption yet. Before that, we prefer to play with him for a while. Therefore, I pull away the hand that wants to satisfy itself and put it on my testicles. He reaches out with the other hand himself. Tobias moans with delight.
Mielke must watch how we do it with each other
"You know, what do you say we watch each other do it?" I suggest. He nods eagerly. "But you're only allowed to look, not grab," I warn. "Not even myself?" he whines. "No, you don't want to spill your precious juice, do you?" "All up your holes?" His eyes glaze over with lust at the idea. He's getting quite sore with his bulging piece, too.
Tobias lies down on his back and I mount him. Mielke squats a meter away from us, breathing heavily. His huge tail is so big that it doesn't even stick up stiffly from his body. He hangs heavy on his sack and eagerly produces pre juice while I spend myself riding wildly on Tobias.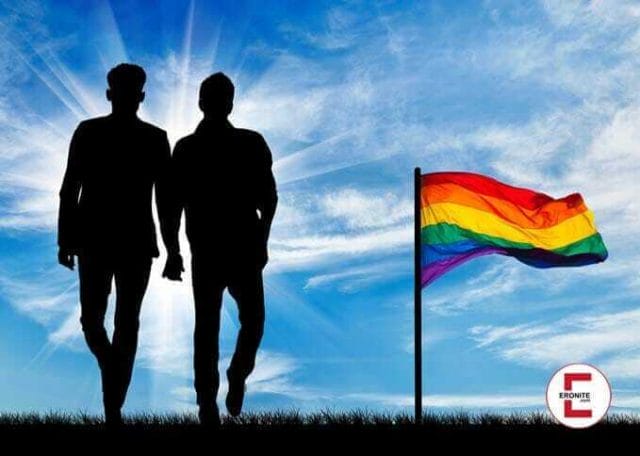 We're really nice inside and it really turns me on to be taken like that while someone else is watching. Mielke slowly creeps closer and closer. I can detect the smell of tart man as he holds his monster to my lips. He looks at me guiltily, like a schoolboy, but also expectantly, with that greedy look in his eyes.
And already the show is over
"Go take a shower, you stink like a polecat." I order him and concentrate again on the thrusts of my lover, who hammers into me from below while I meet him with my pelvis. We slam into each other with force with each thrust. Tobias is getting better at pushing my pleasure buttons. He is the best thing that could happen to me.
Such a good lover with so much perseverance and he loves me as I love him. His strong hands grab my ass cheeks and slap them a few times. Then he holds me by the waist to indicate that I should stop moving and slams me good. Mielke trolls away disappointed. While the water is running, Tobias claps his pelvis especially loudly against my butt. We moan like mad. When Tobias snots into me, Mielke is finished.
"Now I've missed the whole show," he grumbles. Yes, punishment must be. After all, he disobeyed me when I told him to just watch. But he certainly heard us. "Come here." I pull Mielke behind me and let him lick my freshly inseminated ass. Then he bends over Tobias and licks his cock clean as well.
We both lick his monster cock
"You did a good job." Tobias praises. "Yes, very well," I confirm. "I think someone deserves a reward, though, don't you?" "I think so, too," Tobias agrees. Mielke loves how Tobias and I kneel in front of him and lick his fat monster at the same time. Our tongues slide up and down the huge length, not touching at all because he's so thick.
Mielke groans loudly. First I put my mouth over his thick glans when he comes and swallow his cum. Then I let go as thick white semen runs down my chin and it's Tobias's turn. We both get our loads violently and then we kiss to rub our cum smeared tongues together and spread the white fullness in our mouths.
Mielke feels totally excited by this. So much so that first Tobias and then I get to fuck him. He hasn't made out with a man passively in a while, but he makes an exception with us. After recovering from this round and regaining our strength, Tobias and I are now kneeling side by side on all fours on the floor. Each of us has a fist in the ass thickly lubricated with lube.
Slowly he pushes his 30 centimeters inside me
In between kneels Mielke, who enjoys making us scream. Each of us tries to hold back, because the one who cum first is also the one who has to take the ponytail first.
Tobias is superior to me in stamina and that's why I am. I have been dreaming about it since I first heard about it. And now a thirty centimeter monster pushes itself very slowly into my anus. I realize right away that Faust is a child's birthday party compared to it. It hurts. It hurts like hell. I cry out loud and then I feel a hand caressing me down there.
Soon my penis disappeared into Tobias' mouth. He licks and sucks and blows me quite devotedly, while his hand strokes me continuously. Mielke started poking and I try to relax and push out. It still hurts mean, but there is also pleasure. I feel an intense friction and an increasingly strong feeling of pleasure.
I want to have control over the monster
The thick beating is half in my asshole and is pulled out completely. I gasp as the fat glans passes my sphincter a second time. It hurts a lot, but it's also really cool. Mielke pulls out again and Tobias, who has worked his penis all the time and is about to come, sticks it in me and squirts me full. Mielke rolls his python snake in the juice of my lover. It feels much better now.
I start to really enjoy it and even try to ride the magnificent cock a bit, bracing myself with my hands and legs to have control over how deep the monster penetrates me. Mielke just lets it happen. He leaves it up to me how far I can go. Tobias licks my rosette very softly and also licks the penis again and again when it slides out of me a bit. With thick drops of spit, which he spreads on it, he lubricates it.

Read also:
– Gay cruising: gay sex in public places
– Why do women like to watch gay porn so much?
– Gay sex story: A boring TV afternoon
– The outing: Yes, Ernie and Bert are gay
– Frederick the Great: The gay King Fritz of Prussia
He kneels between my legs on the floor and sucks again and again in between my balls, which he kneads all the time with his one hand while the other massages my strap. Then his tactics change and he sucks, nibbles and licks like a maniac on the part of the huge shaft that is still exposed.
Pain and pleasure unite
Again and again his wet tongue glides over my sore rosette, which is stretched to the breaking point, until he finally licks his way up my perineum and takes my cock all the way into his mouth again. Just in time. I shoot my sperm into Tobias' mouth. Then my eyes go black.
Mielke did not get me drunk. He stuffed his cock into Tobias right after me and when I come to, they are already in full swing. Tobias gasps with every thrust, but he also pushes himself on the cock and really impales himself on it. I see pain and wild lust in his face and then he collapses under Mielke.
He injected a good load in his ass. It flows out of my friend's flabby body. I crawl over and lick his sore asshole very gently, freeing it from the foreign sperm and applying a cooling ointment to his wrinkled swollen circle. He moans gratefully and does the same to me.
After all the screwing we talk about payment
"I'll never say anything again," I whisper to him appreciatively. "The way you can take a punch, I didn't think you had it in you. Wow. Respect." "I've had it in before, after all." he whispers back. "Still, though," I counter. Tobias is tougher than me, and I can admit that. I don't feel any less manly for it.
Now it is time to talk about payment and it is clear that we make Mielke pay properly. He also likes to do that and still feels like the winner in the whole thing.