Outdoor blowjob in the forest at night
About three months ago, I introduced myself to you in an interview at Eronite. Thereby you could experience that I like to live out my sexuality freely. Your lovely responses have encouraged me to share my intimate life with you. Therefore, you may now also (virtually) be present at my first outdoor blowjob. Being blown in the woods was a very special experience for my partner as well.
Who am I?
If this video is the first that you see of me, I would like to introduce myself briefly: I call myself Sweet Mia XXX, I'm blonde but not stupid, in a relationship but sexually very open-minded, 31 years, and so maybe latecomer to online sex. At 58 kilograms spread over 1.68 meters, I have the curves in the places where men like them. I enjoy the sex inside and outside of my open relationship. I like men, women, couples, …
Walks as foreplay – not only at night in the forest
When it comes to sex, I have experienced many things, because I like to experiment. But an outdoor blowjob was a new and exciting experience. When you get right down to it, it's a Corona late. Like many of you, I have intensified walks in nature during times of various lockdowns. Actually, I'm a bit of a party girl and enjoy partying. However, this was only possible to a limited extent, so my partner and I went for a lot of walks. On these walks, I've been dreaming of giving him an outdoor blowjob. I'm sure he wouldn't have minded getting a blowjob from me in the woods either. But because of the nice weather there were always too many people on the road. Thus it remained with holding hands, smooching and perhaps sometimes a few secret caresses. For example, he likes to caress my natural breasts while making out and is happy when the hard nipples become visible through T-shirt or blouse afterwards. Often these walks have made us so hot that we've been all over each other in the hallway back at the apartment, but that's a whole other story.
So my dream of an outdoor blowjob was mainly opposed by the potential spectators. Not that I don't enjoy it when you watch me on webcam, have fun with my movies or when others watch me having sex in a swingers club. But the right entertainment for families walking with children in the forest, of course, is not.
During our extended walks, I looked at the forest from a whole new perspective. Where are the trees close together? Where can you find a clearing with fresh grass or damp moss? Little did my partner know that I was secretly on the lookout for the perfect spot for an outdoor blowjob. However, he clearly enjoyed it when I put at least the second part of the word into action after the walk. But his magnificent manhood also tastes just great and I know he loves to be orally pleasured. Of course, I also enjoy his revenge for my efforts afterwards.
It's good to be in the dark
As the evenings got warmer and warmer, we then moved our walks into the evening hours. And so I could finally experience my first outdoor blowjob. As we often do, we strolled along one of our favorite woodland trails in close embrace. We were getting closer to the spot I had chosen. Even as I strolled, I had my hand on his bottom.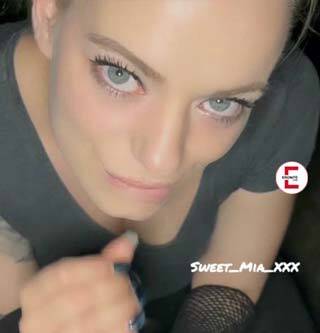 Again and again we stopped, pressed our mouths together and enjoyed the wrestling match of our tongues. Then at last came the three oaks, behind which I had discovered a mossy clearing. My sex partner was amazed when I pulled him behind the trees.
We hadn't met any other walkers, and by now it was too late for children anyway. Making out, we reached the clearing, which was surrounded by trees and shrubs almost blocking our view. He went wide-eyed as I pushed my top up. He had already noticed that I wasn't wearing a bra during the close physical contact. But when I showed him my firm breasts now, not only his eyes got bigger and bigger. However, he was not yet aware that he was about to be blown at the outdoor blowjob in the woods. It wasn't until I looked deep into his eyes with a smile and sank to my knees that a knowing smile entered his face. I asked him to record the experience for you, my fans, which he willingly did.
Trembling with anticipation of my first outdoor blowjob, I unbuttoned his pants. As you would expect, his "little friend" jumped out at me. My tongue ran along the shaft with relish. I couldn't wait to take that good piece deep into my mouth. But I started this outdoor blowjob first by playing around the plump glans with my lips and tongue.
I know exactly, dear men, how you want to be blown in the woods. Equally, though, I know that I had already made my guy pretty hot with the smooching along the way. So I held back no longer. I skillfully took as much as I could of his manhood into my mouth during this outdoor blowjob. I could literally feel him growing inside me. With first gentle, then wilder and wilder movements I massaged his best piece. My hands played with his butt cheeks.
The unaccustomed oral sex led to success faster than usual. I felt him literally explode in my mouth. I swallowed the first splash, knowing more was coming. I kept the further discharge in my mouth for the time being. After that I stood up, smiled at him and showed him his slimy cream on my tongue. Swallowing with relish, I asked, "Well, did you enjoy the outdoor blowjob as much as I did?" I neither expected nor received an answer. But the way he spoiled me at home afterwards spoke volumes. It definitely won't be our last oral sex in the woods!