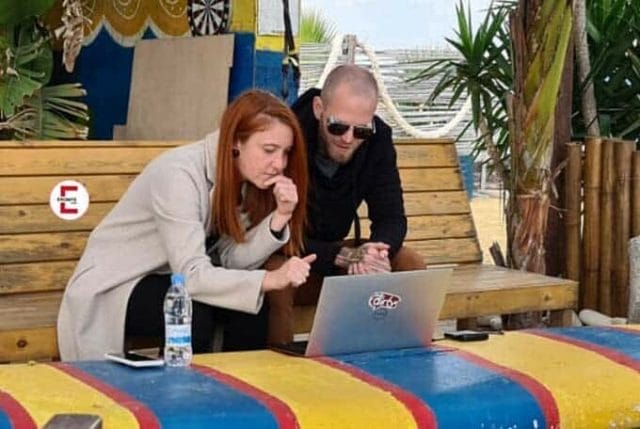 The world of filmed eroticism with the porn agent
Pornagent, a marketing and management agency that, through television and the press, has become a household name, and not just to those in the know. The amateur porn industry is booming like never before. A development from which especially German amateur porn sites profit. The competition is growing daily, and it is especially difficult for newcomers to do everything right from the start. The Pornagent managers Marlon and Magdalena Faust are especially aware of this.
---
Eronite empfiehlt dir diese XXX Videos, Livecams & privaten Kontakte:
---
"It has never been so easy to set foot in the world of filmed eroticism. This is made possible largely by the ever-easier production of porn films from home. Especially during the first phase of the corona pandemic, we experienced a surge in new amateur porn actresses and webcam girls as well as users," says Magdalena Faust.
The first steps into the amateur porn industry
What looks very easy from the outside, however, presents many women with some challenges. Unlike professional porn productions, amateurs take care of everything themselves, from the production of their content, to uploading, to marketing.
Nevertheless, the amateur porn industry is growing in popularity and is often preferred to professional shoots. One reason for this development, according to Pornagent, is the self-determination of each individual amateur porn actress. Shoot where you want, when you want and with whom you want. This is a crucial factor for many women. The good to very good earning potential in the amateur sector also attracts many interested parties.
Even in times of the pandemic, stations like RTL or the BILD newspaper reported on the amateur porn industry, which was growing despite Corona. Through such reports and also in the direct search for a successful entry or advancement in the world of amateur eroticism, numerous women come across the website of Pornagent.

Who or what is "porn agent"?
Pornagent is a marketing and management agency founded in 2017 that specializes primarily in the German amateur porn industry. She accompanied greats like Fiona Fuchs or Hanna Secret during their career. Both are Venusaward winners and Brand Ambassadeurs of Germany's biggest amateur porn site Mydirtyhobby. At the same time, the agency helps aspiring newcomers to success.
At Pornagent they found not only detailed information and services, but also experience videos of other performers. In addition to the competence of the team, they also emphasize the good working atmosphere. This is especially important to many porn actresses and women who want to become a camgirl, because there are now many agencies. However, people often simply underestimate the work and expertise that goes into running a porn agency. In the worst case scenario, this can cost a performer more than just money.
Who looks around in the performance area of porn agent, but it quickly becomes clear that the profession as a porn actress or webcam girl is much more demanding than it often appears from the outside. Besides an image concept, the right equipment and the successful production of content, a budding porn star also has to think about his outdoor advertising. In addition to social media consulting, Pornagent offers its clients placement in a wide variety of television and news formats. However, that alone does not bring a porn actress a monetary return.

Running your own website as a porn actress is not always that easy
A website where the actress can promote other content, such as social media accounts, in addition to her videos and promotions, allows webcam girls and porn actresses to do additional affiliate marketing. An important retirement provision, as the agency points out. Nevertheless, not every erotic actress has such a side.
"People often simply underestimate the value of having their own website. That and the difficulty and cost of creating a legally compliant website often keeps performers from doing so. At least that's what our experience and conversations with porn actresses have shown us. We have often had to deal with performers who have had problems because of their websites. The German youth protection is one of the most common problems" say Magdalena and Marlon Faust, the directors of Pornagent.
In fact, there are many things to consider when creating and operating websites in the adult industry. In Germany in particular, the debate surrounding the protection of minors on the Internet intensified once again in May 2020. The State Media Authority NRW issued warnings to various porn portals. To prevent this, Pornagent adheres to German law for all websites that the agency creates and operates for its clients. But that in no way means that things don't heat up on them. An overview of the individual websites of amateur porn actresses working with Pornagent can be found here.

The all around package for aspiring camgirls and amateur porn actresses
Pornagent, itself a Venusaward winner as best "Newcomer Marketing and Management Agency" 2018 and 2019, drew attention not only for nature and animal welfare-related projects like #mehrholzvondenhütten and #fckfur. They developed alternative concepts for a slow entry into the amateur porn industry. According to the agency, this is especially beneficial for young women who have the time to take a look at the amateur porn industry.
But what would a website be without the right content and reach? Pornagent offers an all-round package that starts with a personal consultation. With this goals and wishes of the amateur porn actress, or the webcam girl are agreed upon. The next step is the development of an image concept. The focus should be on personal characteristics of the client.
Because an interesting personality, according to Magdalena Faust, usually brings an actress much more than just a good outer appearance. For the porn agent it is important to put the woman in the foreground, not only the clip. Who is she, what does she do and like, these are essential questions to help the team create a concept.
Insecurity, nervousness, fear: How does a professional agency deal with this?
Because of this, it's no problem with Pornagent if you don't want to go all the way. The marketing and management agency advises young women in particular to start slowly. Those who find after a few weeks that the amateur porn industry is not for them can quit without fear of hardcore clips being found on the net.
But very shy women also like to make use of this approach. "Often the curiosity is great, you have seen something on TV or an acquaintance is a webcam girl or porn actress. Directly from day one to load sex clips on the Internet, but then many do not dare. We can make it possible to sniff some "porn air". After three weeks, most aspiring amateur porn actresses usually find out if this is for them. Then you can still produce and upload sex content," says Magdalena Faust.
Before the movie is after the movie. That's why Pornagent doesn't just give you a detailed briefing on video shooting and the right equipment. The agency also helps with the editing and possible post-production of videos.
Some people only have one place to freely express their sexuality…
But it's not just the amateurs that Pornagent cares about. "Humanly, it should fit from all sides and everyone should feel comfortable, which is why every user should be treated with respect," says Marlon Faust, who came to Germany-wide fame at the time with porn actress Luna Love.
"People need to be aware that we are on a porn site. For some people, this is the only place where they can freely express their sexuality and share it with others. No one has to like any fetish or do that, but kindness and politeness should be shown by everyone. After all, it's something extremely intimate and no one has to judge or punish anyone for it," explains the porn agency founder.
In summary, Pornagent offers an alternative approach to mainstream porn in addition to an extensive range of services that are free of charge for amateur porn performers and webcam girls.
Curious too? On pornagent.de(link) you can get in contact with the pornagent team and get individual advice, no matter if you are a complete newcomer or already a confirmed professional.