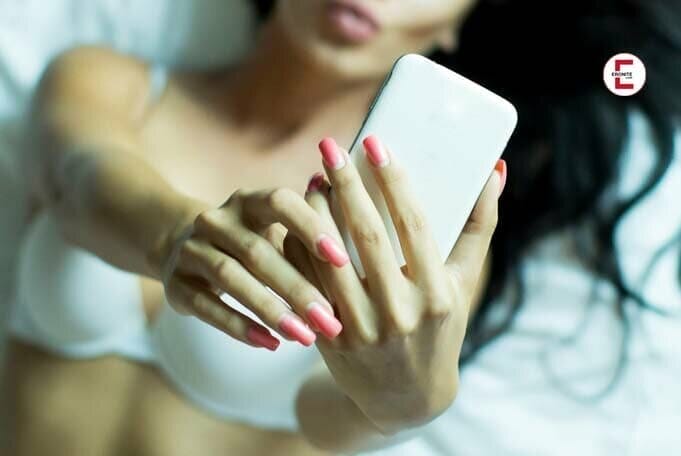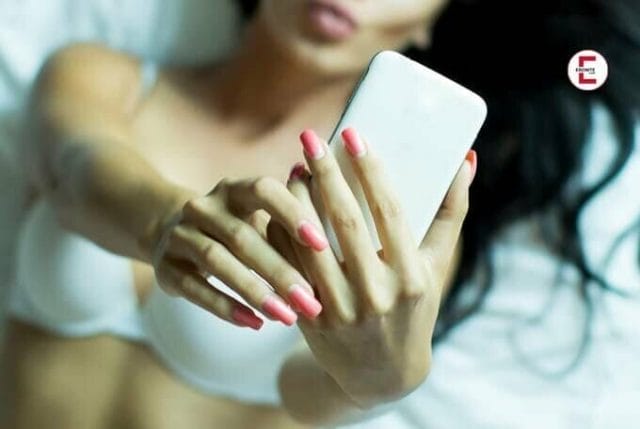 Write dirty to me, baby: this is how Whatsapp sex works
Watch out, it's getting hot!
"Hey, I was dreaming about you…. It was hot. We had sex. All day and all night. In every position you can imagine. Wild and gentle and fast and slow. I'd love to know if it felt as good in reality as it did in my fantasy. I want you." – This WhatsApp message at breakfast or meeting at work or jogging. Whatsapp sex is the most beautiful distraction from everyday life. Sexting is the quick sex for in between. And this is how sexting and sex chat work in messenger.
Sexting – What does that mean?
Sexting? It's those awkward, uptight porn conversations and lots of, unsolicited penis photos, right? Bullshit! Sexting is made up of two words: "sex" and "texting." That is, you send each other dirty messages via cell phone and make the other person hot with dirty talk and sexy photos. The goal of sex chat via WhatsApp is to create cinema in the head.
WhatsApp Sex – Why? Sure, sex meetings via WhatsApp are not normal dates. There's no touching. It's all in the mind. But as we all know, mental cinema is the be-all and end-all of an erotic experience. The attraction of the sex meeting via WhatsApp is that there are no inhibitions. You can let your thoughts run free. Because when texting online, you don't see the other person, you don't look anyone in the eye, while you let your thoughts run free and explain what you would like to do. Another advantage of sex meetings via WhatsApp is that it is fast. Here spontaneous sex dates are possible in a few minutes.
Sexting – Where?
Everyone has kinky fantasies that can now be realized with super simple means. WhatsApp offers itself as a messenger service for spontaneous sex dates. Why? WhatsApp is what most people have, it's free, quick to download and super easy to use. And WhatsApp has many features: Texts, emojis, photos, videos, calls, video calls. If sexting as foreplay isn't enough, you can go the extra mile with WhatsApp.
Find sex contacts via WhatsApp
Private sex contacts that you know make WhatsApp sex easier. WhatsApp sexting is perfect for taking flirting a step further. It's also good for keeping the relationship fresh and exciting. Or to freshen up a marriage that is a little rusty and bring new life into your love life. Sexting works especially well in long distance relationships when you haven't seen each other in a while and there is desire.
But not only WhatsApp sexting with your partner, but also dirty talk with a stranger, a new acquaintance, has something appealing. Only where do you find private sex contacts?
WhatsApp erotic contacts can easily be found online. Mobile sex search has rarely been so easy. But beware: If you google for WhatsApp erotic contacts, the choice is endless. The Internet offers a variety of WhatsApp sex numbers of women. However, you should not aimlessly look for erotic WhatsApp contacts for sex on the Internet, because they are mostly just fake. Behind these WhatsApp sex numbers of women are usually not real people.
WhatsApp Sex! Here we go! But how?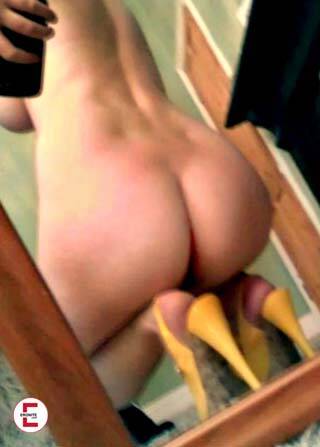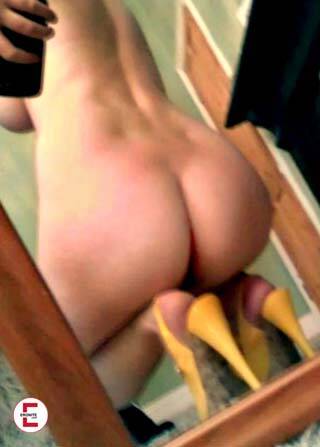 It is better to look for suitable sex contacts on a sex portal and then exchange WhatsApp numbers for sex with them. Unlike free fake numbers that are available for free, on sex portals on the internet you get WhatsApp numbers for sex from real contacts that are verified. On this page are women and men who are all looking for the same thing: erotic WhatsApp contacts for sex! Means dirty talk without a serious relationship, real feelings or hope for more.
If you want a sex date, you have to ask the potential partner for his number first, just like in real life. It is best to first use the search function of the sex portal and look for contacts that appeal to you. Then just send a short message and ask for the number. What takes sexting to another level is group chat. Exchanging sexy messages with multiple people can be very exciting.
The appeal of sex chat via WhatsApp is to give free rein to your thoughts without restraint. If you like to write, you can surprise the other person with long, hot texts and detailed stories. The pros write entire short stories. The more detailed the texts are, the better the other person can imagine the fantasies. On the other hand, you also have to be careful not to over-explain. Just the hinting is the exciting thing when seducing, because that provides for head cinema. Not everyone is naturally creative in their writing and can come up with stories on the fly. It doesn't matter, sexting can be learned!
The first message is always the most difficult!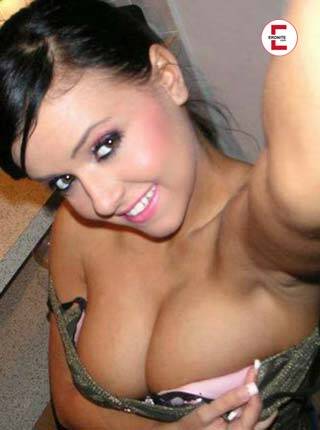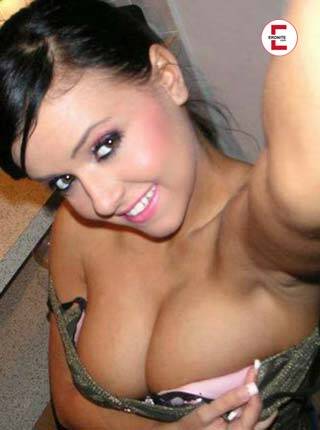 Dirty talk really has a lot of sex appeal. They can be moody and really hot. And now it can start, the sex, so the text marathon. In the beginning, WhatsApp sex can feel weird and cramped. How do you start something like that? Don't pretend, don't be too crass. First, break the ice and slow down. It never hurts to prepare the other person for the erotic conversation. With phrases like, "I look so hot right now. Do you want to see it?" or "I'm counting the seconds until you're with me. I know exactly what I'm doing to you!" or "I can't stop thinking about us having sex!" you tease dirty talk well and create tension.
And then just wait and see what the other person makes of it and how they react to it. It's never wrong to write down your sexual thoughts. But it also doesn't hurt to read through your message again before you click send. The goal is to turn the other on more and more. That's also part of the game: finding out what the other person likes.
Secret WhatsApp Sex Shortcuts
The dirty talk is nobody's business. That's something intimate that stays in the chat. So that no one else reads the chats and an embarrassing situation arises, abbreviations can be used during WhatsApp sex. Here's an overview of sexy abbreviations:
IWSN = I want Sex now
Dog = Got nothing underneath
4YEO = For your eyes only
LH6 = Lets Have Sex
Dinner for two? = 69s
NSFW = not safe for work
MaDiNa = Get Naked
RRR = In Out Down
NSA = No strings attached
MBA = Married but available
These shortcuts only work if the other person has been having WhatsApp sex for a while and also knows the shortcuts. You have to be careful with abbreviations because they can quickly be the killer of a text and WhatsApp sex.
When you're just getting going, you don't want to be googling terms and abbreviations. Therefore, use only with caution.
Save words, play with emojis!
Pictures are worth a thousand words. The same goes for emojis. The little pictures heat up a text even more. Therefore: save words and play with emojis. How this works and which emojis have which message, here is an overview:
Eggplant = Penis
Banana = Penis
Corncob = Penis
Nuts = testicles
Pressed thumb = handjob
Water drop = sperm, male ejaculation
Honeypot = Vagina
Peach = Woman Butt
Donut = hole (front or back)
Handcuffs = Bondage
Open mouth = kissing / oral sex
Smiley with tongue out = oral sex
Lollipop = Oral
Hotdog = Sex
Piggy = Dirty
Devil = Horny
Volcano eruption = orgasm
Raindrops = sperm
Now: Just let your imagination run wild. The combination of individual emojis is what makes the text really messed up.
Two examples:
An eggplant combined with mouth and tongue stands for a blowjob. Who would like, still hangs the drops with it.
The kneeling male and the dog represent the doggystyle.
WhatsApp sex with pictures and videos yes, aaaber!
When texts and emojis are no longer enough, you can create even more anticipation by including images and videos in your messages. So you can visually delight yourself as well. A sexy photo or a hot clip is quickly made with the smartphone. Now you can offer his sex contacts by WhatsApp in addition to the head cinema also something for the eye. So WhatsApp sex is even more fun.
Important: You should only send what you really want to share. You should always be aware, especially if you don't know your sex partner on WhatsApp, of what can happen to your pictures. You should never be pressured into doing something you're not ready for.
For starters, you can send photos and videos that don't show your face, for example. This is how you avoid embarrassing situations. Because in today's digital world, such images can be seen by hundreds of people very quickly.
On the other hand, the advantage of WhatsApp is that photos remain stored. So you are of the sex partner via WhatsApp also still something for the post-game or round two there.
Professionals find the climax in WhatsApp sex during video chat. Here's how to have live WhatsApp sex. For example, you can watch how the other person satisfies himself in front of your own eyes. It's definitely a memorable experience.
Have fun!
Now the mobile sex search and Whatsapp sex can begin. Tomorrow the first message will not be: "Good morning! How did you sleep?"
It says, "Good morning! I had a dream about you. It was hot. You want to know what we did in the dream? *eggplant emoji* *water splash emoji* *slobber emoji*"