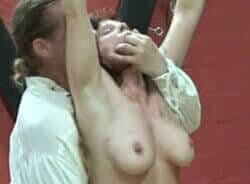 Wife's duty of obedience put to the test
This rejoices the hearts of all husbands: Written down in European law and really laid down in the BGB: The duty of obedience of the wife to the spouse!
---
Eronite empfiehlt dir diese XXX Videos, Livecams & privaten Kontakte:
---
The "Code Civil" was added to European law by order of the French general and emperor Napoleon Bonaparte (1769 – 1821) and even Civil Code (BGB) included this duty in its legal text (in the meantime, however, paragraph 1354 has been deleted).
Well, men and especially dear women, who would have thought that the wife's duty of obedience actually exists? What would the feminists around Alice Schwarzer say about this? We would like to invite these ladies for a talk in our editorial office. But those who reject porn as sexist will certainly not have a more benevolent opinion on the subject of fetish & BDSM.
What seems old-fashioned has its justification after all – especially for the followers of BDSM. After all, here subjugation and power are considered part of the repertoire of pleasure plays. A serving and ruling in metaconsensus, even if for many the aspect of alleged violence plays a major role. However, as long as all exercise their cravings freely, soberly and with free will, nothing stands in the way of this.
And if the wife (or girlfriend) does not want to be of service, just look here: www.sittenwidrig.com/dating