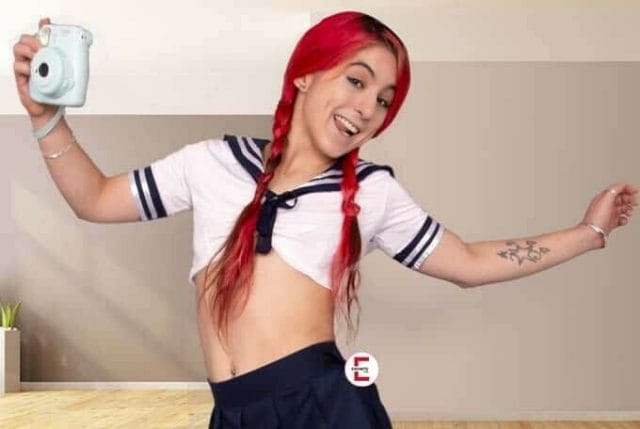 Jenny Style would abolish the competition
Born in the mid-nineties and raised in Germany, she moved to the Netherlands at the age of 18. Since then she lives there with her two dogs Luke and Wicki. Since her first trip through the forest of Elwynn she is addicted and a real fan of computer games. Sometimes she spends hours with Zelda, WoW, Overwatch and so on. We are happy that Jenny Style found the time in between to answer a few questions.
She was young and needed the money
Eronite – The erotic magazine What do you like most about your work before the cam?
Camgirl Jenny Style That I can be who I am. My users will confirm this for sure. I do gymnastics through my room or I dress up as a doctor, policewoman etc. and just have fun with my fans.
Eronite If you could change something in your job, what would it be?
Jenny Style I would abolish the competition among the performers and introduce fair payments!
Eronite What would you be doing today, if you hadn't decided for webcamsex?
still be a geriatric nurse.>
Eronite What were your first steps? How did you come to webcam sex?
Jenny Style I was young and needed the money ;-) Seriously: A TV-report made me aware of the webcam-job and I thought I could do that too!
Eronite Do you have friends in your private environment who are also active before the cam? Would you recommend the work to others or rather advise against it?
Jenny Style Yes I know some girls who earn their money as webcamgirl . But whether I would recommend the profession to others, I don't know right now. This profession is only for women and men with a strong character. Sometimes people can be really mean, let's put it this way.
A big thank you to my users
Eronite What advice would you give to someone who is just starting out as a webcam model?
Jenny Style Write me a personal message and I can help you to avoid putting your first foot in your mouth.
Eronite Do you prefer to have new users every day or are you happy if you see the same person more often in the chat? Do you have regular users who visit you regularly?
Jenny Style Sure, like every camgirl I have regular customers. Fans, who have been with me since my first day, here a fat thank you – You are really incredible! But I am also very happy to meet new people every day, to exchange experiences and to get to know other perspectives of life.
Eronite Have you ever received declarations of love from users or even had experience with stalkers?
Jenny Style both! The little crushes and sometimes really sugary news already embarrass me and make me blush quite a bit. What goes beyond that, however, scares me! For example, I already had a stalker who regularly stood outside my house at night. This is really scary!
Small profile
artist name JennyStyle
Locality/region Amsterdam
date of birth 12 November 1996
Sign of asterisk scorpion
body height in cm 153
weight in kg 50
bra size 75 A
I am intimately shaved Hollywood Cut (complete)
hobbies gambling (everything from Blizzard), my dogs
favourite film or series Shameless
favourite colour turquoise
I like that sweet stuff
I don't like that at all spiders
Eronite Has a user on the street ever recognized you? How do you react in such situations?
Jenny Style Yes, sometimes I get recognized on the street. But most of them just wave once or shout "Hey JennyStyle". Others then dare to have a short conversation, which I find very nice and nice.
Jenny Style would like more sex
Eronite Do you also do user meetings? How did you find it?
Jenny Style A very big no! This is somehow nothing for me and I also have to say that I would be a bit afraid to go straight to bed with strange men!
Eronite How would you describe the feeling of an orgasm?
Jenny Style What a question: explosive!
Eronite What is your favorite sex toy?
Jenny Style My new collection of Lovense. With this, someone else can control my toy. Totally exciting!
Eronite What experiences have you had with same-sex sex so far?
Jenny Style Women know what women need!
Eronite How often do you need sex?
Jenny Style More often than I get it! I don't know, five times a week? That would be nice!
Eronite What sexual experience do you still dream of?
Jenny Style I don't dream, I experience it! ;-)
Eronite Anything else you want to tell us?
Jenny Style Thanks to the fans who have been standing by my side and following me for so long. I have grown to love you all and hope that you will continue to support me!
---
The first part of the interview is available from Micha Intim:
micha-intim.com/interview-with-jennystyle