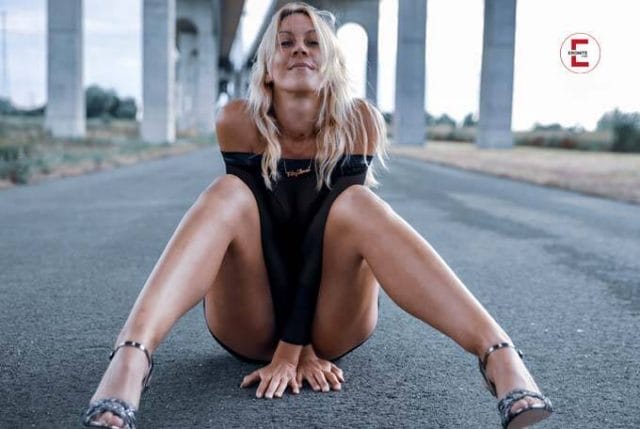 Miley Weasel – The Hot Blonde Next Door
The north german livecamgirl Miley Weasel is in front of the livecam every day for her fans. The blonde next door, as she calls herself, has now posted over a thousand (!) hot videos online for her followers. Camgirl Miley Weasel is a feast for the eyes with her erotic figure, perky smile and gorgeous ass. The best proof that northern lights are not always hypothermic.
---
Eronite empfiehlt dir diese XXX Videos, Livecams & privaten Kontakte:
---
What is the best way to describe camgirl Miley Weasel?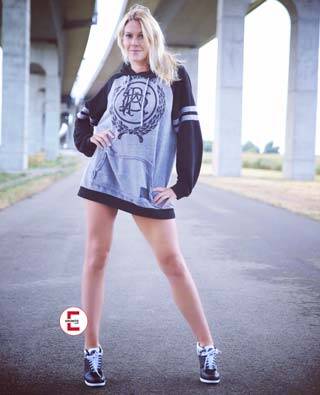 The first thing any man should notice when looking at her photos is the erotic look in her eyes. Anyone who gets lost in Miley Weasel's eyes will quickly notice the vast experience of this dream girl. The knowing look reveals that she has already won the flirting game before it really starts. The question of whether one succumbs to their charms no longer arises. Now it's just a matter of whether it goes straight to the bedroom or the kitchen table.
Next, any viewer should notice the shapely butt, which at this point may properly be called a tight ass. A sight that invites not only male eyes to linger. Associations with apples or peaches should not be uncommon at this point.
Continuing with the sheer endless legs, the impact of which is likely to drive many a man into a very pleasant frenzy. The figure is just perfect, the skin flawless and beautiful. With Miley Weasel, everything just sits exactly where it's supposed to. Not too much and not too little.
All this makes the hot blonde from the cool north a highly explosive erotic cocktail.
Young Old Hottie In The Porn Industry
The sugar-sweet blonde has been active in the erotic industry since 2003 and is up to all the tricks. It all started with erotic photo shoots, a little later videos and livecam were added. The first films were made more or less on the side. The North German liked it, produced more and more videos and enjoyed the horny experiences. Many fantasies – like sex with other women or strange men – she could realize and live out through her versatile video shoots.
She now posts two new videos online every week, on Mondays and Sundays. Miley Weasel is lucky that her family knows about her activities in the porn industry and accepts it. This makes it much easier to approach the matter. A lightheartedness that definitely stands out when enjoying her videos.
The big exclusive interview
We are very pleased that the leggy amateur agreed to give some interesting answers to our questions for our readers:
Eronite – The Erotic Magazine In an industry that is notoriously competitive, the challenge is enormous despite an ever-growing popularity. It is therefore a big step to go down this road. You do need a healthy dose of self-confidence. Apart from your good looks, what were the decisive reasons for taking this step in the first place and would you do it again?
Camgirl Miley Weasel So I didn't really have any particular reasons. I have made at that time with my partner the one or other small video during sex and sometime by chance the portal Privatamateure (today Mydirtyhobby) saw. Then we simply uploaded something and the people watched the stuff like stupid. And so it has become more and more over time. I would possibly do a few things differently, but basically I would definitely do it again.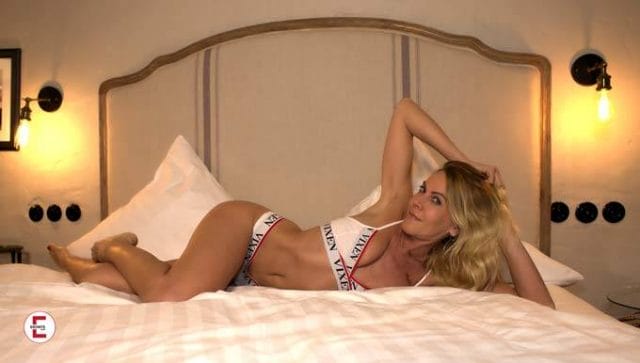 Eronite your work has a somewhat negative image attached to it, but this is constantly improving for the better and is slowly losing its wicked tinge. Do you see it the same way and how could one best describe what you do, what are your special offerings? Can you describe in a few words what people can expect from you?
Miley Weasel Unfortunately, that's only partly the case. Every now and then you hear that you should rather go to "real" work or something similar. Because many people simply don't know that this is really a full-time job if you want to make a living from it or have certain demands. I, or rather we, basically work from 8am in the morning until 1am. Because there's a lot more to it than "just" shooting cam and video for a few hours. And what you can expect from me is that I really only shoot things that I like. I also don't have set shooting days or anything. I just think that's stupid, I make my videos when I really feel like it. I think that's already a big difference from many others. And I also only shoot with men who aren't from the industry. With me there are no male professional actors to see and there will never be in my amateur clips.
Eronite You have been a porn actress and webcam girl for over 10 years. What do you think has changed in the industry during this time and would you say it has become easier to get a foothold in the industry?
Miley Weasel Yes, it's been 15 years at MDH in December and it hasn't gotten any easier. They like to tell the new girls that, though. Basically, newcomers are of course relieved of a lot by various agencies and managers and at first glance made easier. But I think that a lot of independence is lost and the girls don't know what to do when things aren't going well. I do work with Pornagent on a small scale, but I take care of everything regarding my content absolutely alone with my partner. Of course, it's great to have someone to help you with certain things, but you should be careful to stay independent and not be dependent on anyone.
"I think you always have to be genuine and kind"
Eronite To avoid monotony, you have to be different than average. This is the only way to achieve lasting success. Are there things like your looks, your figure, your sex appeal that you want to highlight? Are you targeting a specific group of people, do you have ideas on how to stand out and generate interest?
Miley Weasel So I think it's important to just stay genuine and kind. There are certainly girls who are on the portals on the road and call themselves a porn star (constantly make one on arrogant bitch), but then "only" shoot videos with her boyfriend / husband. For example, I find something like that totally silly. When people realize you're just doing this to make money and you're not actually enjoying it, then users will just lose interest in you. There are enough new girls coming in every day. And I don't really have a specific target group, there's something for everyone with me 😉 I already said earlier how I stand out from the rest. I just shoot on a whim and not with professionals.
---
Short profile
Stage name Miley Weasel
Residence/Region Hamburg
Date of birth September 6, 1981
Zodiac sign Virgo
Height 170 cm
Weight 56 kg
Bra size 75 B
I am intimate shaved full (Hollywood Cut)
hobbies fitness, visiting concerts, pets
Favourite films and series I don't really have one, but I like comedies, action and horror.
Favourite colour pink
That's what I like heavy metal, beer and skimpy clothes 😉
I don't like rude or self-involved people…
---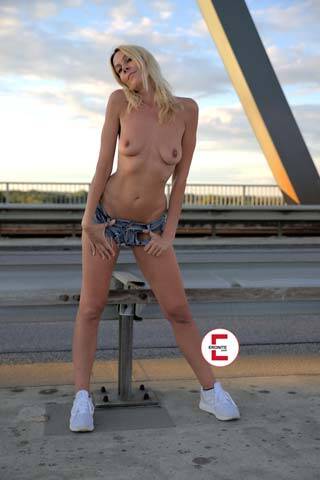 Eronite Everyone has a certain attitude about themselves. Regardless of how other people want to see you, you still have your own personality. How would you describe yourself? The intellectual equal partner or are you more the sensual type? Could you be described as a MILF, the wallflower, the submissive woman next door or the actively demanding and constantly hot slut?
Miley Weasel That's a good question, it depends on whether it's private or in front of the cam. In my personal life, I'm just your average girl next door. In front of the webcam, however, I can be absolutely anything. Except MILF maybe, since I don 't have kids. But that's exactly the exciting thing, I do things in front of the livecam that I would never have done in my life otherwise and that's what I like so much about my job.
Eronite The number of female visitors on porn sites is constantly increasing. For a long time now, women have also been uninhibited in admitting their needs and secret desires. This is no longer a taboo subject and the woman of today likes to become active herself. The time when women had to hide is over. How do you handle it and what are your experiences with sex-starved women?
Miley Weasel Yeah, I guess that's true 😉 And I've had my share of fun with a woman or two, of course. I also find it very good that women also finally dare more and also stand to look at porn and cams. I am there for all open 😉
Eronite When thinking about sex, you have your own preferences and prefer your own practices. There are endless ways and means to enjoy it. If you had the choice to determine the character, gender, and inclinations of your admirers, what or who would you prefer? What are your personal favorites when it comes to sex? What's your favorite way?
Miley Weasel So in front of the cam I really try everything. With men, of course, I prefer young, athletic guys. If, then it must also be worth it for me 😉 And I do not mind if they are then also a little more dominant, because it may then also like to go a little more violent to the point. However, I do not have a particular thing that I prefer. I like to be surprised. It just has to be fun and awesome.
"Man doesn't have to be 18 years young to succeed anymore"
Eronite The preferences of the audience are varied, not only in the practices shown, but also in the age of the performers. A perfect age to be successful, it seems, no longer exists. Which "role" do you like better, the one of the cute teen you started your career as or the one of the experienced MILF who knows what men want?
Miley Weasel It's hard to say, best a mix of both. It both has its advantages and disadvantages. But it's really nice that you don't have to be 18 or 19 to be successful anymore. Even if there are still portals that do not see the forest for the trees, as far as the topic is concerned 😉
Eronite The descriptions in your clips aren't exactly prudish. Apparently you have no problem calling a spade a spade. You also show yourself to be open to the types of play that are not generally considered normal. Dirty talk doesn't automatically have to be perceived as dirty. Do you also find it a turn-on during private sex when dirty talk is used and you use words to stimulate each other during sex?
Miley Weasel Even if it sounds stupid, but the sex in front of the camera is my private sex and yes I'm totally into it when it fits.
Eronite words like horny tits, hot sluts, uninhibited, willing and similar terms appear on porn sites all the time. Of course, they are intended to stimulate the imagination and arouse curiosity for more. You mustn't have any false inhibitions. Which qualities apply most to you? How might one aptly describe you?
Miley Weasel I think the closest thing to me would be the curious little minx. Since I'm still trying out a lot of new things and I'm nowhere near the end 😉 .
Eronite Your provocative clips can not be called short and watching them virtually invites to masturbate and masturbate. As you do this, do you imagine who might be enjoying this and what they might be doing to themselves? Do you have horny feelings yourself while shooting and do these thoughts maybe even tempt you to play your game even more intensely?
Miley Weasel When I'm shooting, I don't think about who might watch it later or what that person might do with it. But I just like to be filmed during sex and at best there are also spectators somewhere who are secretly there. I find something like that extremely cool, that's why I like to shoot outdoor. And I only shoot when I feel like it… so of course I have horny feelings about it 😊
Sexy Miley is also insanely attractive to women
Eronite You don't only shoot your sensual videos with one shooting partner, but you also like to change sometimes. The sexual contact with women seems to be just as little foreign to you as the most diverse practices, which your viewers get to crave in your clips again and again. What appeals to you most about shooting with different people and would you not turn down an adventure with an interesting woman in your private life?
Miley Weasel Yeah, that's what I meant at the beginning, I just try things in front of the cam that I would never have done in private. For example, the other day I had met a guy through a dating app and half an hour later we were fucking/turning and it was just awesome! I would never have done something like that in private. And an interesting woman is certainly never knocked out with me 😉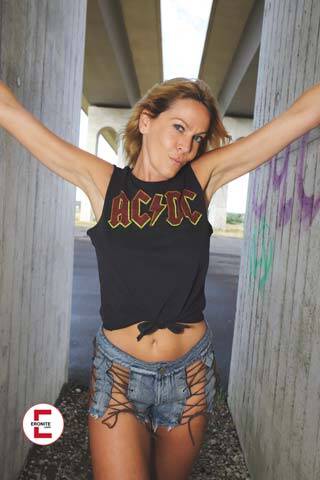 Eronite We were already at the point that you're also incredibly attractive to women and it's obvious that you're aware of that. Do you find it more exciting to do it with a woman or do you prefer an interesting man or a mixed couple? Do you prefer any sexual variation at all or does sex in all variations give you pleasure?
Miley Weasel I find it a little "harder" with a woman, at least the first time. Since you're a little more careful and looks first, how she reacts, etc.. But if you then raushat, it's really cool 😊 I can only recommend. So far, I have only shot with women with whom I am very good friends and get along well away from the camera. And I don't necessarily prefer one particular variant, I'm open to everything.
Eronite outdoor clips are one of your trademarks. Are there any special places you could imagine having sex? Maybe a certain country, a romantic setting, a role-playing game. Where could you really get going and give yourself over completely uninhibited?
Miley Weasel Special places, well, I like places that aren't extremely public, but where someone could definitely drop by at any time. This tension is just too horny, if I am then also tied up or even blindfolded. Then it can really go off with me 😉
Eronite More and more often you see scenes of violence on porn sites and erotic clips. BDSM, Dominas and much more. The desire for the new, the unusual and the offbeat is growing all the time. Inhibition thresholds are constantly being reduced. People are looking for new stimuli and challenges. Where do you draw the line, what would you reject? Could there be reasons to deviate from your resolutions?
Miley Weasel So now extreme bondage or violent fantasies I will never do (nor anything illegal of course) . Although I am very open to new things, but somewhere is then already end. Against a hot dominatrix I have but absolutely nothing to object 😉
Eronite Are there things and activities in your job that you particularly enjoy? Clips, whole movies, certain sex practices? Do you look forward to some shooting days because just the idea of it turns you on? Are you attracted to the prospect of a particular partner who has certain preferences that you will work with?
Camgirl Miley Weasel It's hard for me to say because my videos are really spontaneous and unscripted. Maybe you talk about the start shortly before, but the sex happens as it happens. And that's just what makes it so much fun for me. No matter who I do it with then 😊
"I still feel a lot of motivation and ambition".
Eronite In addition to your personal charisma, eroticizing charm and captivating looks, your sexy body plays a very important role in your life. If you want to keep your appearance this gorgeous, you'll have to go through some trouble to do so. In addition to a balanced diet and a healthy lifestyle, exercise is also a top priority. What sports hobbies do you have? Are you engaging in a repetitive habit that maintains or even enhances your physical assets? Are there any sports that particularly appeal to you?
Miley Weasel I get asked this question a lot, but I don't have a particularly balanced diet and I also do a lot less exercise than I would like. I do have my own little gym, but hardly ever get to use it lately. So other than a little fitness, I don't do anything at all – unless taking the dogs for a walk counts as exercise 😉
Eronite Since you should also think about the future, are there surely any wishes and goals you would like to achieve besides your job? It's never too early or too late to deal with it. How high did you set your personal bar? Are you already thinking about your professional and private future? Could a relationship play a crucial role in this and what kind would you prefer?
Camgirl Miley Weasel So, I actually had this point recently. That's why I'll be leaving MDH as an exclusive amateur. I just had different ideas of what to do next. I had a good offer from MDH and think most women would have taken it. It didn't feel right to me though as I wouldn't have got any further and it wasn't foreseeable, I'm probably MDH too old or whatever 😉 I still have a lot of ambition and motivation left in me. That's why I'm trying to start something new in October and I have a very good feeling about it.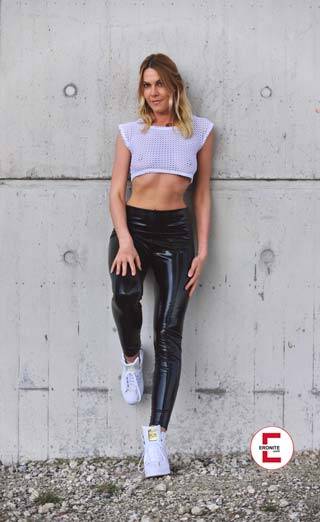 Eronite In your line of work, it's not all friends. I'm sure you encounter resentment and envy on a daily basis. The competition is fierce. Dealing with other people at work can sometimes prove difficult. You often find yourself having to cut corners and back down, but you also have to push through your goals. Finding the right middle ground requires balance, courage and assertiveness. What path are you taking to manage this and how well have you done with it so far?
Miley Weasel Yeah, that's unfortunately the case. It's best if you can really call a few people in the industry friends and know that you can completely talk about anything. I personally have but fortunately very rarely problems with others and hope times that also no one has a problem with me 😊
Eronite You've been building your career for over 10 years now. It is in the nature of man to be successful in his career as well. You make plans and go down paths that will get you to the top as quickly as possible. I'm sure you've thought about it too. Do you have role models and ideas about what you can and would like to achieve? How far do you go on this journey to be among the best? What are you willing to do for it and what would you say has been the hardest part of your journey so far?
Camgirl Miley Weasel Even if it may sound stupid, but I belong to the best(at least at MDH and they are not insignificant) for quite a long time. Professionally, therefore, it was actually the most difficult thing for me not to extend my contract with MDH and now to try something new. I really would have loved to stay there, but circumstances just didn't allow it. In the short term, of course, my goal is to first be at least as successful at VisitX as the years at MDH, and then we'll see 😉
Eronite Before we thank you for your frank and very insightful words, we wish you continued success and all the best in your further professional development and of course in your private life.
Miley Weasel You're very welcome and thank you as well 😊
A Shoot With Camgirl Miley Weasel – No Risk No Fun
When it comes to choosing her locations, the perky blonde is all about the outdoors. By which camgirl Miley Weasel specifically does not mean a secluded spot in the deepest forest. The cheeky little fruit prefers busier places like beaches or even parking garages. While she explains with a wink that she doesn't care about getting caught, she does enjoy the thrill of the risk. Great fun. So as a potential shooting partner, you should know in advance what you're getting into. Once the charming blonde has her prey wrapped around her finger, many a man will find rational thoughts difficult.
Fan of hot guitar riffs
Miley Weasel is into heavy metal, regularly attends concerts and looks forward to the Wacken Open Air Festival every year. Her photo gallery includes sexy pictures in AC/DC outfits. The horny blonde openly stands by her music, which makes her once again stand out from the crowd in relevant fan circles.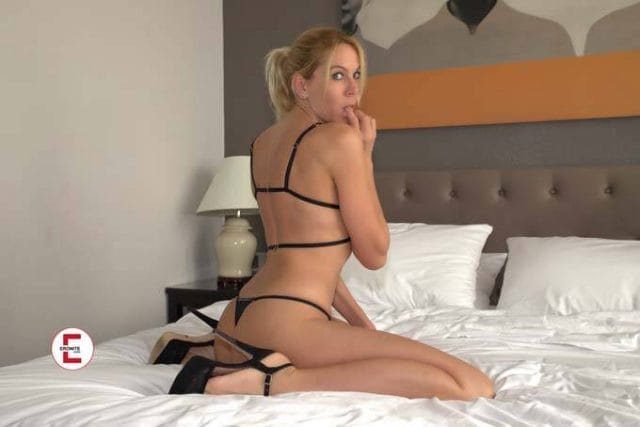 The Toy Box Of Camgirl Miley Weasel
If you've been in the industry this long and love what you do, you've accumulated quite a bit of paraphernalia over time. In the repertoire of the sexually very open-minded blonde are toys of all kinds. From dildos and vibrators to love balls, blindfolds and restraints, it's all here. By the way, her personal favorite toy is a dildo made of glass or acrylic.
Sexual preferences and fetishes
Miley Weasel Loves Getting Taken Doggystyle From Behind. This knowledge should make every man who has ever admired her tight ass, the tears of joy shoot in the face. Besides, the blonde likes to ride her partner. On this occasion it comes with pleasure to deep eye contact and hot dirty talk whispering.
By her own admission, Miley Weasel does not have a direct fetish. But in their bombastic filled video selection there are also movies from the SM area. Here, camgirl Miley Weasel takes on both the dominant and submissive roles. She makes both appear authentic, unaffected and genuine. A certain tendency towards the dark side of eroticism cannot be denied.
But camgirl Miley Weasel can also be quite different. So with young and inexperienced shooting partners, the hot blonde is good at gently taking the helm. Their playing partners are taken sensitively by the hand and profit from the great wealth of experience of the North Germans. Not infrequently these, somewhat shyly begun meetings, end in hot and animalistic fuck parties.
Regular visits are worthwhile
If you visit the profile of camgirl Miley Weasel[direct link here] often, you will quickly notice that it is teeming with offers. The pretty blonde keeps posting discount promotions and price reductions with refreshing regularity. Miley cares about her fans and has a knack for marketing on the side. So much for the prejudice of the dumb blonde.