The erotic camgirl from Lower Bavaria
In Germany there are thousands of camgirls who give their enthusiastic fans deep insights (in the truest sense of the word) into their lives. Most of them are amateurs, but they work so professionally that they enjoy a good international reputation. Many of the actresses come from world-famous metropolises such as Berlin, Munich or Prague. To succeed, they speak perfect High German, if not English. Camgirl Gymbunny can do even more – namely Bavarian!
Who is she and what is so special about her?
The same thing applies to Gymbunny that is said about chili peppers: the smaller the pod, the hotter it is. Gymbunny, the hot whirlwind is only 1.57 m and 48 kg light. What's particularly striking is that despite her petite figure, she's endowed with huge tits, bra size 70F.
At least during the first encounter, hardly any man will notice that Jasmin, the camgirl's first name, has brown eyes. Guaranteed his eyes will linger on her curves and hills. Then, when she lets her long mane blow, men don't care about eye color. The hot mouse was born on November 2, 1997 in Passau. Until recently she lived in Lower Bavaria, but now lives on the beautiful island of Cyprus. She makes no secret of her origins and to this day speaks a distinct Bavarian dialect. This is an absolute rarity in the industry and goes down very well with her fans.
How did Gymbunny become an amateur porn star?
Jasmine grew up like any other girl. Her career as a porn star began in 2018. At that time a friend of hers gave her the idea to try it as a camgirl. For the first three months of her career, Gymbunny only gave solo performances on webcam. She stripped for the growing number of her fans or played around with various dildos and vibrators.
Whenever she was alone at home, she pursued her secret hobby. For a long time, however, it did not remain with the solo shows in front of the webcam. Soon Gymbunny was shooting his first videos. Since she likes to work in the great outdoors, her work as a camgirl didn't stay a secret for long. Soon not only her family, but also the whole village, indeed the whole region knew about it. Although there was some hostility, the public reaction was mostly positive. Her mother and grandmother support Jasmin in her work because they see that she enjoys it very much.
We are happy to have had the Bavarian girl in our interview: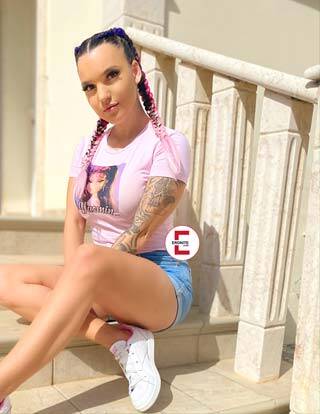 Eronite Nobody came into the world as an amateur actress, most of them discovered an exhibitionist streak in themselves at some point or slipped into the erotic industry by chance. Everyone has a different story to tell. How did you get into being a camgirl?
Gymbunny I have actually not yet discovered an exhibitionist streak in myself. On the contrary, I'm rather shy. What drew me into the industry was more curiosity, I've always been very sexually open minded. After a short time, I just fell in love with the diversity of the profession.
Eronite Socially, it is still difficult to work as a woman in the erotic sector. Often, certain stigmas are directly attached to the work. Did you ever have to deal with negative reactions from your environment or was your job always accepted?
Gymbunny In my direct environment such as friends and relatives I have thank God never received negative reactions. On the contrary, I was actually very supportive for the most part. In the village or in the county it was unfortunately a very big problem for some people. Among other things, my then shooting partner lost his job because many people called his then employer and forced his resignation through phone terror.
Eronite There is always talk of the darker side of the porn industry. Do you ever regret getting into the industry? Is there anything you would change if you could?
Gymbunny If I regretted working in the industry, I wouldn't do it anymore and would have drawn a line much sooner. It's not like I'm forced to keep doing my job. I cannot report directly about negative experiences. However, I would like to see better cooperation among the female colleagues.
---
Gymbunny in numbers
Date of birth 2 November 1997
Sign of asterisk scorpion
Relationship status Single
Sexual Orientation Bisexual
Residence Cyprus
Height in cm 157
Weight in kg 48
Stature slim
Hair Color Brown
Eye Color Brown
Website www.shorty.fun/gymbunny

Eronite The job in front of the cam is an interesting and varied job that could certainly attract the interest of many young women. Still, all beginnings are hard, in any profession. What tip would you give to other girls who are also interested in the job as a camgirl?
Gymbunny My first tip is that you should definitely find someone to help and support you, especially in the beginning. My second tip is to question people, especially those who are very very nice to you. My third tip is to always have all contracts always reviewed by a lawyer so that you are not unintentionally tied to someone. In general, you should just stay very unattached.
She likes dresses best – red dresses and matching shoes
Makingeronite erotic videos is a pretty intimate thing and certainly it goes better if you like your partner. What does the perfect shooting partner look like to you? Do you have a particular type?
Gymbunny A well-groomed appearance is important to me in my shooting partner. Of course, reliability also plays a very important role. I don't have a particular type of man. Above all, it is important to me that he takes the whole thing seriously and that the video shoot is in the foreground. When shooting, it's important to have good results at the end of the day. The shooting partner must be aware of his job.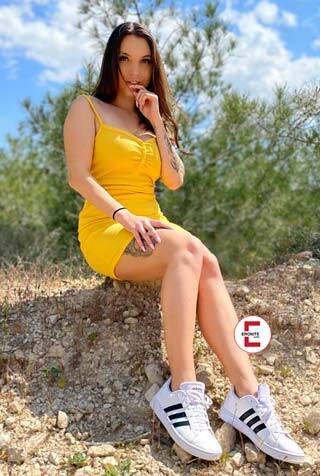 Eronite In one of your latest videos, you're seen wearing a skimpy pink latex outfit that accentuates your femininity and really gives you sex appeal. Some outfits just look straight up sensual. What do you wear in private when you want to feel really sexy?
Gymbunny I am very big fan of dresses. Clothes simply dress. It doesn't take much effort, a nice dress and matching shoes – and the outfit is perfect. Especially red dresses I find very beautiful.
Eronite You've experimented quite a bit in front of the cam and also in your videos. Are there still unfulfilled sex fantasies with you or have you already tried everything as a camgirl? Do you sometimes experience it as a burden to always have to present new things in front of the cam, or do you see it more as an enrichment?
Gymbunny I haven't gone through my sex life yet. I still have a lot of fantasies. It's just as well, after all, I have my whole life ahead of me. You should keep some doors open there. Especially a threesome or a visit to a swingers club I can imagine very well. I don't feel like I always have to do something new in front of the camera. When clients come in with special requests that are new to me, I tend to see it as an exciting experience for me. In the last few years, I've realized that you never stop learning.
I don't judge men for their outlandish fetishes…
Eronite In several of your videos, the caption drops "weeks of sex deprivation". How often do you need sex? Do you mind having to go without it for longer, or does it rather increase your desire?
Gymbunny The videos were made mainly during the Corona period after weeks of sex deprivation. Personally, I think there's a certain thrill in not having sex for a while. You have to look at it like a diet. If you do not eat certain things for a long time, you look forward to the day X all the more afterwards. The same goes for me then also with my next orgasm by a man.
Eronite You do fulfill user requests every now and then. As an amateur actress, requests for used underwear, boots or even latex are certainly commonplace. But surely there is also a more special wish now and then. Are there sometimes things that you find really bizarre? And how do you deal with that?
Gymbunny user requests I only fulfill to a certain degree. If it is morally indefensible for me, I do not fulfill the wishes either in the webcam or in a video. Then I also share that with the users and tell them that that's a boundary for me, but I don't judge men for certain fetishes. Men have to accept that and most do. It is important to remain friendly and respectful despite everything.
Eronite As a porn actress you are familiar with sex in front of the camera. Sure there are some differences – compared to private sex. What was different about your first shoots and even took some getting used to at first? Are there things that you would never do in front of the camera, but that you might actually quite like in your private life?
Gymbunny The first few shoots were very unusual because it's not just about sex, but how it ultimately looks in the video. You first have to learn how to behave in front of the camera, how to position the cam, and so on. The beginning was of course difficult, but with time you learn how to do it best. In private life, for example, I really like to have sex in the spoon position. Unfortunately, this always looks rather unaesthetic for the camera. That is why one rather resorts to other positions and leaves the spoon position private.
Eronite feminism and the "#metoo" debate are a big topic these days just like attitudes towards women, the behavior of men's world is being looked at and analyzed more and more closely. How do you feel about fans or even strangers sending you so-called "dickpics" without asking?
Gymbunny For me the question is where they send me the dickpics. In private I don't like it, but in business it's part of the job, of course. That's the whole point of the platforms, for men to act out. In private, it's an absolute no-go for me. This includes Instagram, for example. For example, I wouldn't want someone exposing themselves to me outside on the street either.
She is not only camgirl but also passionate gamer
Eronite Your name already sounds like a real jock and you built your own home gym last year. How important is sport to you and what do you do to keep fit? Do you have a favorite sport?
Gymbunny Sport is of course a very important part of my life. That's why I built my own home gym during lockdown. I'm your typical gym goer. Furthermore, for me a healthy diet is also part of doing something good for my body.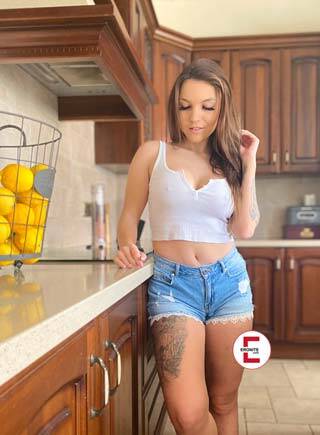 Eronite Your fans can enjoy you regularly in front of the cam or in your videos, but we are also interested in your private side. What's your favorite thing to do when you're not in front of the cam or shooting?
Gymbunny In my personal life, I work mostly in my large garden. I cherish it. I also have five dogs (including three Rottweilers), which of course take up a lot of my time. I'm also a big Jeep fan, so of course I'm off-roading a lot. Besides that, sports are also a big part of my free time and I am a passionate gamer. Every Saturday I play community games with my fans, anyone who is interested is invited to play with me.
Eronite You have your own VLOG on YouTube. How did the idea for it come about and what are you showing there in particular?
Gymbunny Meanwhile, I am a very big Instagram muffle. There is currently very little from me there. I also think the story feature is just too short. Since my fans always want to see as much of my life as possible, I came up with the idea of the vlog channel on YouTube. Unfortunately, due to the current corona-related situation, the channel has to take a break because there's just not much happening.
Eronite You seem to be very fond of animals, in 2019 you even supported a Cypriot animal shelter by raising money for food and medical treatment. How did it come about? Do you suffer directly when you see animals that are unwell? Do you have any pets of your own?
Gymbunny 2019, we supported this shelter not only with money, but also with personal, almost daily efforts directly at the shelter. Unfortunately, due to the Corona situation, we were unable to continue the whole thing. Many of the animals' fates were very close to me. I have seen several puppies die at the shelter as well as adults. I have taken in several puppies to foster at my home, unfortunately many of them have passed away as well. Even veterinary help couldn't do anything about it. My Kangal bitch came to me at the age of four weeks. She was thrown over the shelter fence with her siblings. One of my Rottweilers is also from the shelter. He has had two years in kennels, has never been properly socialized and has never really been able to trust males. For me it is a great concern to help especially those who have no voice of their own. I want to keep it that way.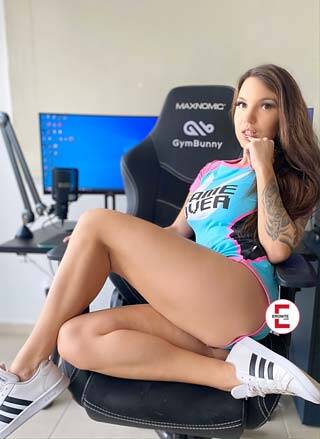 Eronite You live in Cyprus, that must be the dream of many fans. There are certainly other things to do here than spend the dear long day in front of the television. What does your perfect day look like?
Gymbunny Currently, that perfect day is not yet possible, but it is within reach. A long time dream of mine is to have my own goats and chickens. Accordingly, the perfect day for me would look like this: I get up in the morning and first take care of the stable, take care of the animals. Maybe have lunch in a nice restaurant near the beach, where you can also see the sea. In the afternoon just relax on the beach. Enjoy the evening together with friends at the barbecue.
Eronite The global pandemic, triggered by Covid-19, is demanding a lot of restrictions from us at the moment. There is no real end in sight yet. What do you personally miss most in your life? Do you feel the situation is affecting your work?
Gymbunny I miss my friends and family in Germany the most. The last time I was in Germany was in August 2020. Unfortunately it is difficult for me to fly to Germany at the moment, because it is always connected with quarantine and generally a lot of effort. Work-wise, I don't notice much difference now. Neither positive nor negative.
The Bavarian girl shoots an average of two films a week
Eronite At the end of this interview we would like to give you the opportunity to tell us what else you would like to tell our readers, but which we did not ask for. Is there anything else you would like to share with your fans?
Gymbunny I am very happy for every single person who becomes part of my community. I choose the word community deliberately, because my fans are not just fans for me. We are a community. Not just me with my fans, but my fans with each other. I'm incredibly proud of how this has just evolved over the past year. My community is the most important thing for me, because without it there would be no Gymbunny. I appreciate it very much and am very glad to have them. Especially a big thank you goes to the leaders of my Stammtisch, Daniel, Florian, Manu and Rene, who are always there for me. Even at 4:00 in the morning when I'm afraid of burglars again or I just need someone to talk to.
What happens in the Gymbunny porn?
Things get hot in the porn. It's long since ceased to be about solo performances or masturbation. The porn star regularly meets men and has sex with them on camera. In an interview, Gymbunny said she averages two films a week. In one of her latest flicks, she shows off her hot bod in a slutty outfit: a black leather bodysuit and black over-the-knees. Her lover could not resist the sight for long. He took her hard in the doggy position and pumped his cum into her pussy. Clearly, that kind of thing goes over well with her fans.
How does Gymbunny shoot her videos?
She does all the work herself. To do this, she places the camera on a tripod and has it record everything that happens in the room. For some of her films, Gymbunny chooses professional performers from the adult industry. For others, she chooses men with whom she had made films before. Sometimes, however, a shoot comes about quite spontaneously with men they have met through their profile or the webcam. However, Gymbunny does not make it easy for potential partners. She only films sex with men she also finds privately likeable.
If you chat with her regularly via webcam and buy her movies, you definitely have a chance to meet her in real life. However, Gymbunny does make a current health certificate a requirement. Your partner has to bring it to the shoot. Even if the camgirl is hot-blooded and has fun with sex, she doesn't want to risk her health or even her life because of that. So far, the porn star has done well with this maxim. Fans can look forward to many new clips with Gymbunny.
You in the interview too? Certainly!
We are constantly on the lookout for new interview partners and
-partners who would like to present themselves to our readers. Just click here: Apply for an interview now!
So far, over 175 (amateur, fetish, porn, gogo, calendar and fitness) girls have taken their chance to draw attention to themselves in order to increase their own sales! If you don't have an amateur profile yet or if you are looking for more sites, have a look at the amateur portals we recommend where you can earn money.