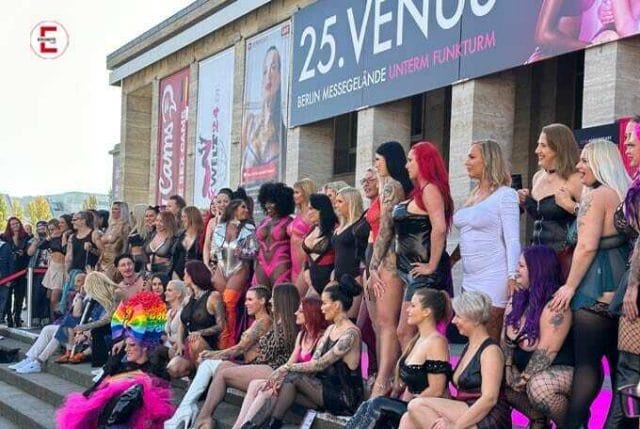 New name – new ideas?
The world's largest fair of its kind, the Berlin erotic fair Venus, came to an end last Sunday and temporarily closed its doors until October 2023. How did the event, which was revolutionized as a "festival," fare in the field test? How was Venus 2022 received by visitors?
---
Eronite empfiehlt dir diese XXX Videos, Livecams & privaten Kontakte:
---
One thing in advance: a fair does not become a festival when you call it that. New name – but old concept. It doesn't fit.
Horrendous ticket prices – little show
Some visitors of the erotic festival were downright shocked when they stood at the box office: 120 euros entrance fee for a couple, 60 euros for the individual. If you buy a few more drinks at the fair, you can quickly get rid of a whopping 150 euros as a couple. Some got upset at the checkout, complained to the nice ladies, but they could only shrug their shoulders. After all, they were not responsible for the high prices.
Eronite was in conversation with a visiting couple. It was only at 20 o'clock at Hammarskjöldplatz, at the Palais am Funkturm, where the erotic and lifestyle fair Venus 2022 took place, appeared and disappointed that they should pay for the remaining two hours fair just those 120 euros entrance fee. Here, it would certainly be advisable to perhaps offer a kind of "late ticket" at a reduced price from 8 to 10 p.m. This would keep the halls well filled even at late hours.
Show area with appealing entertainment
Each vendor cooked its own soup, with few to no joint or cross-stand shows taking place. Here, however, it must be said in fairness that the stages at FunDorado, Stripchat, visit-x and Mydirtyhobby were really good and animated many visitors to pull out their cell phones and take souvenir photos.
At Mydirtyhobby Texas Patti cut a fine figure and hosted the show with her usual commitment.
B2B area
A blessing for the ears, because without the deafeningly loud music of the show area, was the B2B area of Venus 2022, where exhibitors and trade visitors could get into good conversation with each other. However, this hall was also interesting for the "normal" visitor, as here and there, for example, lifelike sex dolls were exhibited or erotic hypnosis was also offered. Also, the possibility of getting a back massage here for relaxation (free of charge!) enraptured some of the visitors.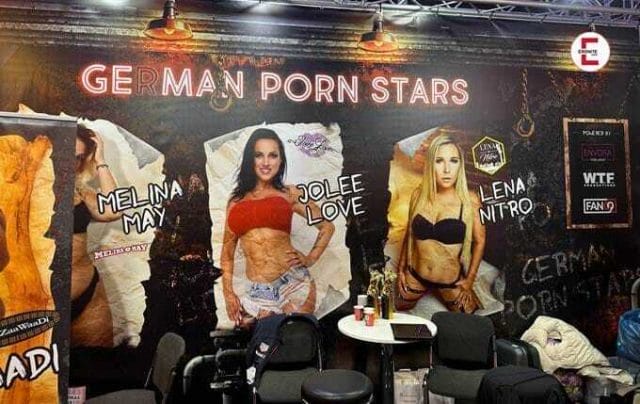 Some dealers mourned the Thursday as a trade visitor day, but with this idea of spatial separation, the fair organizers succeeded quite well in doing justice to all visitors.
The Cam Area offered little for the eye
Sure it's a matter of taste, but the who's who of camgirls was certainly not to be found in this hall of Venus 2022, rather the average amateur who wanted to and could present herself to a larger audience at the fair. But except for Lena Heart and Maria Gail (with whom we will soon have an interview) dominated here – and this must be said once so directly – fat bellies, sagging breasts and from top to bottom tattooed and / or sprayed Bimbodolls and other partly unsightly representatives of the German camgirls scene, who often stood bored at their stands.
Only the big show stage in the hall offered a good change to the non-existent program of the just mentioned livecam girls. The shows that were shown here attracted a larger crowd of men (and women), who at least got something for the eye.
Very popular, on the other hand, was the Ladies Area, where we constantly discovered long lines of erotic women waiting for admission to the visitor-free zone and crisp men's shows. In general, the focus should be more on the female audience, as is sometimes the case at events abroad (such as the Salón Erótico in Barcelona).
Kinky area was partially deserted
Domina Lady Nadine Bauer conducted a fetish casting at Venus 2022. Interested people had here directly the possibility to be tested once discreetly on the slave characteristics. It was a bit more public in the front, where some very respectably dressed dominatrixes cracked their whips and whips on the visitors' butts, which seemed to bring a lot of joy not only to the participants, but also to the spectators.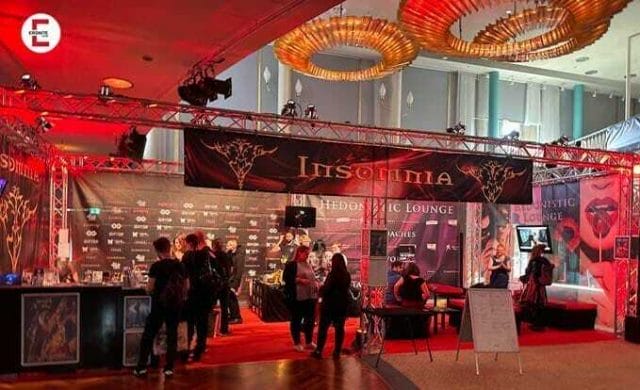 Shows were also held regularly on the fetish stage. From foil bondage to a proper whipping of several female subs to an erotic schoolgirl performance, there was a lot to see here.
Unfortunately, the peripheral areas of the fetish hall were partly too deserted to let a good atmosphere arise there and so some of the stand operators or exhibitors complained about too little audience. However, this was certainly also due to the somewhat loveless design of some of the stand structures, which did not particularly invite visitors to take a look or even linger.
There was an autograph session in the upper area – it was just a pity that it took place behind the many shoe boxes of an exhibitor and many visitors did not even know that there was something else to see here.
The conclusion for Venus 2022
What was promised could only be partially delivered. Overall, Venus 2022 delivered a solid performance, but the organizers should work on the concept in order not to lose the visitors completely: Lower admission prices, increase shows for women, offer workshops to participate in and offer "late-entry tickets".
After the corona pandemic, it was noticed that many still did not dare to attend a large event. From this point of view, the rather disappointing number of visitors must be put into perspective. The next Venus in the coming year will certainly attract more visitors and if here and there some adjusting screws will be turned, also certainly a success.
But the most positive thing about the event was something negative: our employees and industry colleagues we met at the show all remained corona-free after recent Covid testing. Well, at least something.
Eindrücke von der Venus 2022 und der Netstars-Party
---
A few general words about the sex fair in Berlin
The erotic fair Venus the world's largest erotic fair. It takes place annually in Berlin and focuses not least on the fetish sector, although all other segments of eroticism are equally represented. The fair will offer various erotic products, lingerie, erotic toys, SM costumes, movies and much more. In addition, the fair is also known for its various events, functions, showcases and parties.
The erotic fair, which is known far beyond its borders, has been in existence since 1997. Legends were created here, stars and starlets find their ideal parquet here. Also this year, many celebrities were spotted, such as Michaela Schäfer and porn queen Josy Black. So anyone strolling through the trade show as a guest definitely has the chance to meet their idols. It is a seeing and being seen.
Also who wants to equip himself with kinky accessories, lustful toys or sexy lingerie, is exactly right here. In addition, guests also like to come into contact with the exhibitors. Although Venus 2022 was characterized by comparatively few visitors, organizational deficits must be urgently improved in future events. And yet: the flair of the fair is unique. Those who were looking for something special were able to enjoy Venus 2022 to the full.
The exhibitors – the Who-is-Who of the erotic industry
It is still possible to access the list of exhibitors on the official website of Venus 2022. The most famous names of the scene were of course also present this year. The showing webcam girls and hot erotic dancers made visitors forget about time and enjoy the moment. Of course, the shows in which the actors gave their all also contributed to this. Even if there could have been more spectators – those who were there got a lot. Lots of naked skin, seductive lolling, artful punishments in the fetish area and much more left a powerful impression. Enthusiastic visitor voices are still raving about Venus 2022 today. However, the tenor remains that the event would probably have been better once before.
More participatory offers, more for women
Those who came to Venus 2022 didn't just want something to see. Many visitors love the fair because there are always offers that can be tried out live. For example, the fetish area is very appreciated by fans of very special types of games. Inspiration at its finest is on offer here, and Venus 2022 was no exception. Those who wanted to, got their money's worth. Stars to touch, news to try out, life sessions to participate in – the program was packed. This year, it was once again clear that participation opportunities are in greater demand than ever before. Especially for women. Strippers, erotic dancers, massage offers and great new toys met with great interest.
It can therefore not be repeated often enough: The makers should also have women as a target group in mind. The ladies were thrilled by the hot dance performances of the agile guys on the big show stage.
So if you think the erotic fair is only an event for men who want to shoot photos as close to the skin as possible, you're wrong. Very different niches are served at a professional level. Amateur exhibitors also like to use the pavement to raise their profile. And Venus 2023? Can gladly come and show what she can do!
---
Photos and video © by Heinz Lienhardt – Thank you!