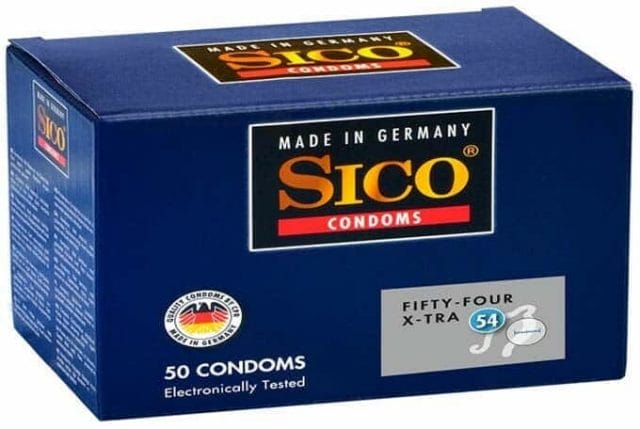 Maximum strength with maximum feel
SICO SIZE Xtra condoms have an extra thick wall thickness and are available in four different sizes from 52mm to 60mm. For the perfect fit and safer sex outside the standard. Every time.
---
Eronite empfiehlt dir diese XXX Videos, Livecams & privaten Kontakte:
---
Standard condoms have a wall thickness of less than 0.04 mm. A wall thickness that is safe, but not suitable for all fun between two people. Therefore, in various online stores there is a product range SICO SIZE Xtra. It is equipped with more wall thickness from 0.09 – 0.105 mm and therefore guaranteed to be the right choice for any position, no matter how experimental.
No standard: SICO SIZE Xtra condoms
But the unique selling point of SICO SIZE Xtra is not the wall thickness alone, but above all the fact that they are available in different sizes. You don't have to choose between thicker wall thickness or the perfect fit: You get both, without compromise.
The cylindrical shape of the condom makes the Xtra Range ready for any hot date, giving you just what you need without slipping! Condoms should
fit tightly without constricting. Because the best feeling and the most intense experience during sex can only be achieved if the condom is the right size. SICO SIZE Xtra Range includes 4 condom sizes.
How to find the right size for you is very simple: simply measure the diameter of the erect penis. With the help of size tables, you can thus see which variants come into question. Since condom size is measured on a condom that is lying flat, it may well be that several sizes are possible. Here the motto is: The proof of the pudding is in the eating!
SICO SIZE Xtra condoms in different sizes
The SICO brand stands with its products for a guaranteed safe pleasure. The SIZE Xtra variants give you just as much feeling as condoms with a thinner wall thickness. The smooth and moist surface of the condoms make them the perfect companion for people who like it a little more colorful in bed. No matter who you have sex with, man or woman, you can't get any closer than that.
At MEIN KONDOM and other stores different package sizes from 50 up to 100 condoms are available. All condoms in the SICO SIZE Xtra Range are 100% Made in Germany and promise extra hot pleasure, especially when things get a little "harder".
The SICO SIZE X-TRA Box incl. 100 condoms costs 24.96 EUR MSRP.