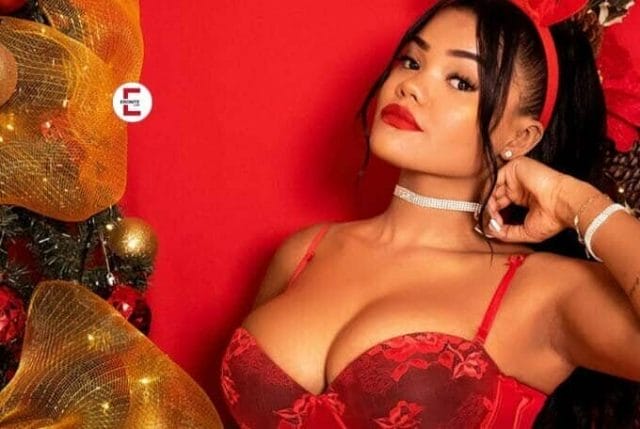 She could blow like an angel
Very close she was. I could feel that. But I still had to wait, because Carolina was not there yet. So I sat in the dressing room of the clothing store with my pants down waiting for the sexy girl from Venezuela. She had received a text message from me, in which I told her my location, where she had to come. I wanted to use the busty Latina today. Use to satisfy my own lust, for a wet blowjob in the locker room of this store. But it wasn't there yet.
---
Eronite empfiehlt dir diese XXX Videos, Livecams & privaten Kontakte:
---
In my mind I already imagined how she would suck my cock in public. How horny it would be to also take some photos of my hard dick disappearing between her soft lips.
Carolina's lips drove me crazy
When she entered the cabin after a few moments, my breath was taken away: her legs were wrapped in stockings, wrapped in a short black skirt. When she took off her jacket, my eyes almost fell out. Her gloriously large breasts almost squeezed out of her tight top. The beginnings of her tits were clearly visible, nestled close together and the visible furrow between her breasts invited me to dream how I was about to push my hard cock in between for a titty fuck.
Carolina took a step toward me and leaned down, giving me a long kiss. Her hands she supported on my thighs, I could see exactly into her deep neckline. Her breasts dangled before my eyes like bells, I could hardly concentrate. I had arrived in the land of dreams and wishes. Like paradise or heaven. Any Muslim would be envious of me. 72 virgins and all that!
Read also: Very horny – The first time sex with a hot-blooded Latina
My hands wandered over her firm buttocks, kneading them and I gave her a light slap. Her fingers had already sought their way to my cock, which pulsated slightly in her warm hands and became harder and harder. She began to jerk him lightly and looked deep into my eyes.
A blowjob in the locker room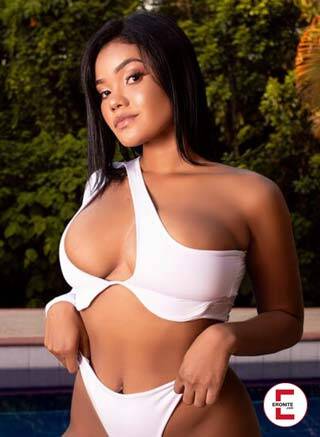 I pressed Carolina's arms on her back, around her wrists I made handcuffs click. She should give me a blowjob tied up in the locker room, she should only use her mouth, no hands. I loved her full lips. A sucking mouth that many men dream of.
In general, I liked the Venezuelan very much with her angelic face. I would love to make her my sex slave and have her blow me regularly. That would be something that I would really like. Use them sexually, as I just feel like it. Sure, she would get her money's worth, too. Be it with small gifts on my part or even the one or the other orgasm. Because licking them or even fucking them was also on my plan. It should not become a one-sided satisfaction of lust. And that she also had nothing against a spontaneous fuck now and then, was clear to me. After all, she was a young, sexually open-minded woman in her prime and also had desires that she wanted to act out.
We had already slept together a few times, so I knew that she was not averse to giving herself to me fully. But I wanted to go one step further and make her serve me as a pleasure slave, to fulfill my every desire. And be it ever so outlandish.
She quickly snapped me out of my dreams
"What is it, do you want to fuck my mouth?" she asked me suddenly, bringing me back down to earth. The blowjob in the locker room she had not even begun, while I was already dreaming of it! But now get to the young woman with her divine mouth, I thought to myself – and gripped her tightly in her black hair to be able to hold her head better.
Read also: I offered this Latina a job, but she wanted something completely different
Even at that, she moaned softly, but I indicated with my index finger, which I placed on her lips, that she should be quieter. After all, we were in public and separated from the rest of the customers shopping in this store only by a curtain, by a thin piece of cloth. No one could see us, but they could hear us.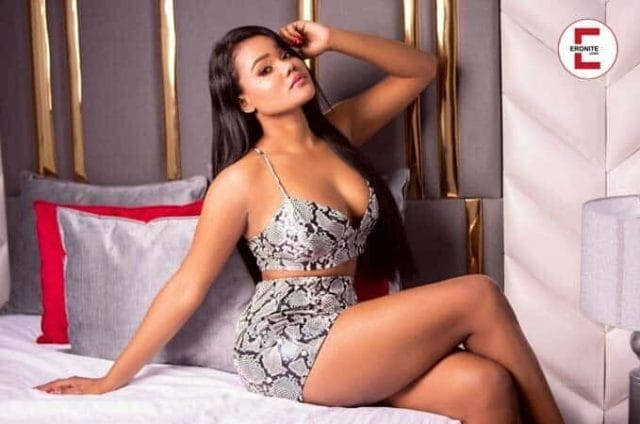 Immediately she began to suck on my finger and I put it deeper into her mouth. A spectacle that I visibly enjoyed, your cock became harder again. A few times I let my index finger slide into her warm oral cavity, but then pulled it out again. A blowjob in the locker room I had not yet received, but was today on the verge!
Immediately she came closer with her head and nudged with her tongue tip against my cock, but it was still in my underpants. Carolina noticed that he was mightily swollen and ran her tongue up and down the shaft. This pleased me and I let her a little while I could peek into her neckline from above, in which I saw the two objects of my desire.
I tore her bra literally from the body
Now I wanted to see these Wonnetitten but in their full glory and tore Carolina with one hand first the top down and then the bra literally from the torso.
Read also: This is why this blonde Latina from Venezuela is so damn sexy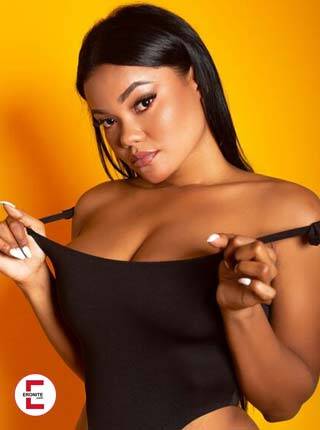 Now the two solid balls lay directly in front of my cock. The back of her head I still held with a firm grip in her hair in my right hand. But now I let go of the hot girl, pulled my pants all the way down and pressed her tits together with both hands, between which I pushed my glans, already glistening with moisture. I spit on her breasts and rubbed my saliva between them with the tip of my cock, so that my cock could slip better during the titty fuck. With light up and down movements I began to fuck her tits. They were warm, soft and yet firm. A delight! She smiled seductively at me and licked her lips. With an enchanting look in her eyes, she looked at me with her almost black eyes.
Oh wow, this girl was so hot as she knelt in front of me and I fucked her boobs. Again and again she tried to grab the tip of my cock with her mouth. A few times she succeeded and immediately sucked my fat glans into her warm mouth with her soft lips and sucked on it while I continued to rub myself between her breasts. I would have loved to cum right now, so horny I was.
I sat down and pressed Carolina's at the back of my head on low on my hard cock. She was gagging and saliva was running out of her mouth, but that turned me on even more. Several times I sank my best piece in her throat until she had drooled all over my boner during this wet blowjob.
But now it was the turn of the sweet Latina
With one hand I pushed her away, stood up and ordered her to rise as well. Since her hands were still cuffed behind her back, I helped her. By the arms I pulled her up and turned her around. Now I sat down again and maneuvered her backwards to me so that she was standing upside down in front of me. I stripped off her panties. From behind I reached through her legs.
Read also: Latina Fernanda Semprun loves to be naked in front of the cam
She was soaking wet with horniness and lust. Without effort I could sink a finger in her pussy. "Your cunt is all wet, my little sex slave," I murmured in her ear. She moaned as I pushed another finger into her pussy. With nimble fingers I fucked her, rubbing my thumb against her clit. Carolina could hardly control herself at that moment, but she had no choice. She stood dressed only in stockings and high heels, but otherwise stark naked in a dressing room in a clothing store.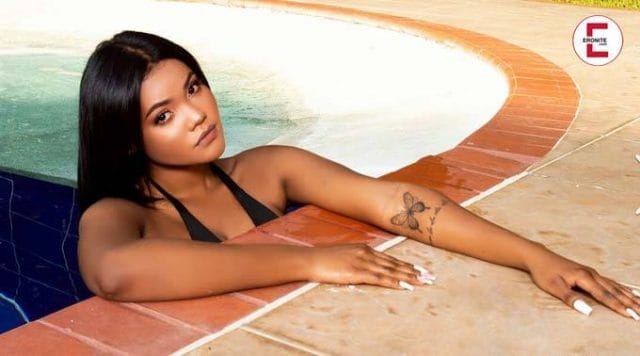 But I didn't want Carolina to climax now. I wanted to make her my pleasure slave and this was her first task to fulfill today. She was well on her way to serving me and satisfying my urges.
Nevertheless, I continued to tease her clitoris, but kept her mouth closed so that no one could hear her. She literally ran out, the pussy juice ran down her thighs, but I fingered her relentlessly further, but was careful that she did not come to orgasm. I always stopped just before, but then immediately continued. She could barely contain herself, begging me to let her come now.
My fingers were totally slippery from her juice
I now had several fingers inside her, moving them back and forth. Her labia were swollen, as was her clit, which I could now clearly feel with my thumb. I twirled it and rubbed it, with my fingers I gave her further pleasure at the G-spot.
But it was not her turn at all. It should be my lust that satisfied her, not her own. Sure I could have fucked her now, she would have been ready and I anyway. All I had to do was bend her over and I could have effortlessly penetrated her wet cunt and taken her from behind. Her round ass even invited to it.
If I really wanted to make her my slave, fulfilling my every sexual desire, I couldn't give in to my desire now. I was not allowed to fuck her now, even if my cock wanted just that!
With pleasure she sucked and licked my perineum and frenulum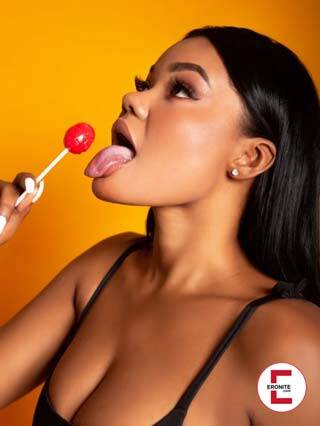 But now I wanted to know it during the blowjob in the locker room and have my sack sucked dry: I turned her back to me and pushed her onto her knees. I pressed her head against my privates and let Carolina lick my perineum, the area between anus and scrotum, extensively. It was pure pleasure. She wanted to suck my cock right away, but I still stopped her. So she kept licking the underside of my testicles and the little seam underneath. I liked that, I had to control myself not to moan out loud now too.
Shortly after, I grabbed her hair again and directed my hard cock now right in front of her lips, which she already willingly opened slightly. At that moment, I pulled out my cell phone and made her a solemn promise that no photo would leave my phone, that the pictures would be just for me and "lonely hours". What luck that she had no problem with it. And I really didn't want to share or even publish the photos, they were just supposed to be for me. After all, that would be a nice reminder when I jerk off alone at home later.
My little Latina opened her mouth even wider and licked my frenulum with the tip of her tongue while I occasionally rubbed the underside of my glans over her warm tongue.
Up to the balls I stuck my cock down her throat
She sucked in my thick spear with her insanely soft lips and sucked on it like an ice cream. It was super photos that I shot: my hard cock on her lips and mouth – just wonderful. Again and again he disappeared into this warm pleasure cavity and partially reappeared when she released the glans again.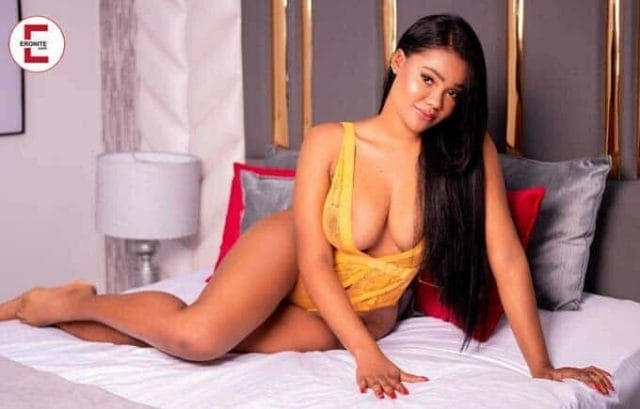 Suddenly she sucked in the air in her mouth and blew it out through her nose. This allowed her to create a vacuum, a locker room blowjob vacuum that made my penis swell more and more. She really had it in her to blow me almost out of my mind!
With both hands I held the back of Carolina's head and pressed my hard piston deeper and deeper into her throat. Saliva ran out of the corners of her mouth again and dripped onto her horny tits, which were now already shining with moisture. It got wetter and wetter, the more of her spit ran out of her mouth. She got my boner deepthroat in her mouth during the locker room blowjob, had to gag every now and then, but she swallowed it as best she could.
Smacking sounds could be heard as I sank my penis over and over again into her moist warm pleasure grotto. He was big as never before, which was certainly due to the negative pressure that she created, as well as the situation that turned me on quite a bit. I already noticed how my balls contracted, but did not want to cum yet.
I wanted to pump her throat full of my cum
It was really a picture for the gods how this cock-hungry Latina knelt in front of me and not only gave me a blowjob in the locker room, but sucked my cock with lots of spit and really milked it. She had a way of driving me crazy. Greedy for her sweet mouth with delicate lips that kept licking up and down the shaft and probably wanted to bring me to orgasm without hesitation.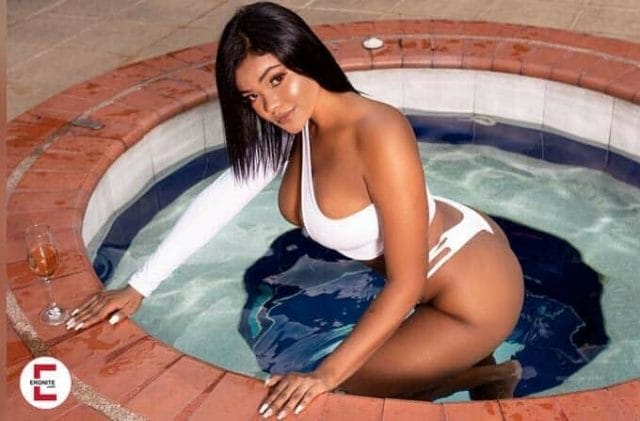 I was almost ready to inject my cream directly into her stomach. But I still enjoyed this horny spectacle and snapped a few photos of the hot Latina with my cock in her mouth cunt. The girl from Venezuela could suck so well, I could really fuck her mouth more often or let her suck me. Yes, that's exactly what I had in mind, I wanted to make her my sex slave!
I told her to open her mouth now while I pulled my pint out of her. A few times I jerked off, but did not want to squirt on her face here in public. So I decided to come in her mouth. So far she had not swallowed my sperm, but from today she should learn it. I didn't want to risk a mess.
My eggs were filled to bursting and had already become quite hard. My tail was already twitching and now wanted to fling the warm sack cream. With a jerk, I pushed it back between her lips, which she immediately opened again willingly and took my ready-to-splash piston.
"Are you ready to swallow my seed?", I asked her, looking right into her dark, highly erotic made-up eyes. She looked at me with a mixture of perplexity, greed and horniness. "Especially in the car, this will be important to me that you swallow," I murmured to her. She nodded and I squirted immediately after. My testicles pumped and pumped, my cum squirted into her mouth and she struggled to swallow all the cream. She didn't quite make it and some of it dripped onto her large breasts, which made me even more horny and animated my cock to two more thrusts.
I pulled my dick out of her mouth, rubbed the tip of the penis still over her lips and took a few more photos of her cum-smeared mouth and spattered tits and smiled at her. After that, I freed her from the handcuffs and put her back in my pocket.
My first blowjob in a locker room was so horny that later, when I was at home, I had to wag my palm again with the photos in front of my eyes.
But next time I would let her blow me in the car. For this I even had plans how she would also get her money's worth.
But first, shopping was now the order of the day for them. I pressed 40 euros into her hand, said "Buy something nice that will highlight your tits and wear it the next time I pick you up in the car," pulled up my pants, stowed my still semi-stiff boner, gave her a kiss on the forehead and left the store without another word.