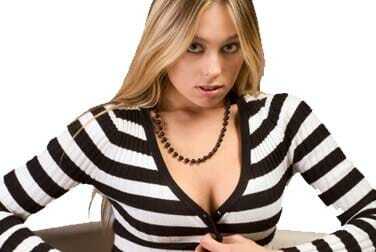 That Was One Hot Guy My Mom Had There, Too…
Sex with my mother's boyfriend? Unthinkable, student Laura was sure – until it finally happened. She has a hot adventure with Erik, her mother's new lover. How it came about and how she feels afterwards, she tells here.
My mom and I – inseparable
I get along with my mom great. We are practically best friends and do a lot together. Since she looks younger than she is, we are also often mistaken for girlfriends when we go out at night, for example. It was on an evening like this that we met Erik. He flirted with both of us, but then quickly focused only on my mother. That same evening she went with him to his house.
Since then, the two have been spending a lot of time together. I was happy for my mother, jealous I wasn't one bit. Sure, I was attracted to him from the start. He's 15 years older than me, and I've always been into men a little older than me. Sex with my mother's boyfriend, but that would never really have been an issue for me. – until two weeks ago when everything changed.
Sex with my moms boyfriend – this is how it happened
Since I am a student, I still live with my mother. Erik was in and out of our house by now, sometimes we'd run into each other and chat briefly, but that was mostly it. Sex with my mother's boyfriend? Never crossed my mind. It happened one morning when my mother had already left the apartment to go to work. Still a little sleepy, I crept towards the bathroom, just as Erik ran into me in the hallway.
"
This mother and daughter are getting it on.

He'd obviously just come out of the shower, holding only a towel around his hips. I was wearing only a thin shirt and skimpy hot pants. We both looked at each other in surprise. Involuntarily, my eyes wandered over his well-toned body. I noticed how the sight of his muscles excited me. For the first time, the thought of having sex with my mother's boyfriend crossed my mind.
Apparently, I turned bright red. Because Erik asked me laughing what was wrong and why I was so red. We stood facing each other in silence for a brief moment. I felt him looking at me as desirously as I was looking at him. Then all of a sudden he pulled me close to him and started kissing me softly. I couldn't help but return his kisses. At that moment, I knew it was all going to come down to sex with my mom's boyfriend!
Hot sex with my moms boyfriend in my bed
Since we both had hardly anything on, it didn't take long until we were completely naked. I pulled him into my room and onto my bed. I was incredibly keen on him and desperately wanted to have sex with my mother's boyfriend. Of course, I didn't have to ask him for long either, since he was just as hot for me. We had wild, uninhibited sex, it was incredibly beautiful. Finally, exhausted, she fell into his arms.
After we had cuddled together for some time, I realized what I had actually done: I was having sex with my mother's boyfriend. We agreed never to breathe a word about what had just happened. I know Erik is very fond of my mother and doesn't want to lose her. If she found out what we did, she'd be insanely disappointed in both of us.
Sex with my mom friend must never happen again
To this day, my mother knows nothing of this incident, nor does she suspect anything. Erik and I are careful not to let anyone see us. I've had to live with my bad conscience ever since – after all, I did have sex with my mom's boyfriend! Of course, I know I should be sensible and something like this shouldn't actually happen again. But sometimes, when I'm lying in my bed and I know Erik is with us, I think about him.
I remember how good the sex was with my mom's boyfriend. And I imagine he would just come into my room right now and blow my mind with his hot kisses. And yes, in my fantasies, it comes back to the extreme and I have great sex with my mom's boyfriend again.
How it came to the first sex with my mother's boyfriend, I had already reported. And since I wanted to complete the second part of my studies far away from home, in picturesque Oslo, it would probably remain with the one-time slip. At least I thought so when the time of my stay in Sweden began.
Separation without pain
The beginning of my study abroad was, as you would expect, exciting and thrilling. The first time I would be separated from my mother for a long time. For her, I'm sure this would have been a much bigger problem if she didn't have her (or our?) Erik. But that way, her pain of separation was kept in check.
"
This mother and daughter are getting it on.

And me? I was far too overwhelmed by the new impressions. The far north has its scenic charms, new fellow students wanted to be met, and the studies continued to be demanding, now entirely in English. In short, I had quickly packed sex with my mother's boyfriend pretty far into the back corners of my consciousness. Besides, I am not a child of sadness.
And since the ratio between male and female was balanced in our department, I also got my money's worth sexually. And I also got along great with my fellow student in the shared flat, Hanna from Sweden.
Biathlon at Holmenkollen
Since October I was now in Oslo, and now in January the biathlon was once again on the winter sports calendar. My mother and I never cared for this sport. And when Erik came out as a biathlon fan, my mother had even quipped, "How can you come in second in a sport when you have a rifle with you?"
"
This mother and daughter are getting it on.

But now Erik suddenly called me and told me, beaming with joy, that he had booked a short vacation in Oslo with a visit to the Biathlon World Cup. And mom said it would be nice if he could come and see me on that occasion. Immediately the memories of sex with my mother's boyfriend came back to me. This would certainly not happen again! Therefore, I gladly agreed to his visit.
Erik spent the evening of his arrival with me. I had prepared a nice menu together with Hanna and we chatted in a relaxed atmosphere. Hanna was totally thrilled that Erik had come to Oslo especially for the sport. She, too, was passionate about the sport, so they arranged to watch the next day's races together.
After Erik had gone to his hotel, Hanna and I were still sitting together. In the process, she confessed to me that she actually found Erik quite hot. Was she supposed to dream about having sex with my mother's boyfriend? We have not deepened the topic any more.
Surprise in the evening
In the morning Erik picked up Hanna, who was in a good mood. I wished them both fun sports. I had some study work to do myself, so the day flew by. Done with my daily workload, I went to bed early. Hanna and Erik would surely stop by at the après-ski after the biathlon.
"
This mother and daughter are getting it on.

In the middle of the night I was suddenly awakened by unfamiliar noises. A whisper and moan seemed to come from Hanna's room. At first I wanted to turn around again, but then curiosity got the better of me. On quiet soles I crept across the hall. The door to my roommate's room was only half closed, and what I saw took my breath away. Hanna had sex with my mother's boyfriend.
Through the half-open door I saw the mirror of Hanna's closet. And in it Erik's muscular body was reflected. His clothes, like Hanna's, were scattered around the room. My blonde roommate knelt in front of him. Apparently she just had a lot of fun having sex with my mom's boyfriend.
Read also: I use my mother's fucking machine
His manhood, which had also tasted delicious to me then, was played around by Hanna's nimble tongue. A little jealous, but most of all very excited, my hand found its way into my pajamas and underpants. Erik held Hanna's head with both hands and moved his pelvis rhythmically back and forth. I had seen deepthroat in movies before, but watching Hanna have this kind of sex with my mom's boyfriend was a whole different experience.
It was not easy to enjoy the spectacle quietly
As if by themselves, my fingers found their way into my most intimate area. Now Erik withdrew from my roommate's mouth. After some intense making out, Hanna turned around and knelt on the bed. I had already seen that her intimate hairstyle was the Hollywood Cut. Erik now spoiled the completely shaved pubic with his tongue. Both moaned with pleasure and I had to strain to just enjoy the spectacle silently.
Soon Erik didn't want to be content with just the oral pleasures. I could see quite clearly in the mirror how his manhood disappeared inch by inch inside Hanna. Just like that, my fingers also penetrated deeper into my pleasure grotto. The movements of the two became faster and faster. And so it wasn't long before they climaxed together.
"
This mother and daughter are getting it on.

I also came almost together with both to the peak of my feelings of pleasure. Stealthily, I crept back into my bed. I never thought that even just watching sex with my mother's boyfriend could give me such an intense orgasm.