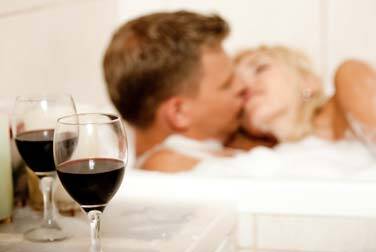 Some practice is required
Bathtub sex can be extra hot
The most beautiful affair in the world does not always have to take place in your own bedroom. Thus, a shared bath can also be totally erotic. Crackling foam and being very close to the naked body of your partner creates a very special atmosphere. However, there are some things to keep in mind when having sex in the bathtub.
Pleasant atmosphere
To have relaxing sex in the bathtub, you should create a pleasant atmosphere. The water temperature should be around 37 degrees. This temperature is ideal to be able to relax. Plus, you can dim the lights and maybe light a few candles. This makes it more cozy right away. Silent music and a few rose petals on the bath water create a romantic ambience. Furthermore, both should not come directly stressed from work. In order to spend a pleasant, romantic evening, both should also be in the mood and not rush from one appointment to the next.
Suitable Sex Positions For Bathtub Sex
Important for sex in the bathtub is to find the right sex position. Because otherwise it can become dangerous, as there is an acute risk of slipping. The doggy position, in which the woman kneels in the tub during sex, is particularly popular. This position is particularly safe in terms of slipping and sex from behind is very intense for both.
With a wide bathtub, the riding position also works very well. Here the man can lie on his back with his legs slightly bent. The woman sits on him. However, it must also not always necessarily come to sex in the bath. Petting is also very exciting and can bring both to climax. Since water does not have a particularly lubricating effect, it is worthwhile to use lubricant. Bringing your partner to orgasm with your hand or mouth can sometimes be more fun than sex in the bathtub.
When having sex in the bathtub, you should definitely be careful, because the risk of slipping is very high. Therefore, you should only choose positions where both have a good grip. The doggy or rider position is a good choice for this. However, stimulating your partner with your hand or mouth can also be very turn-on.