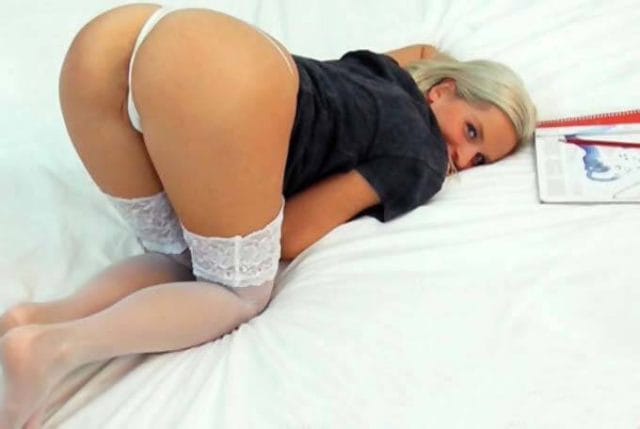 Schnuggie91 Autograph – Meet the pornstar!
A Schnuggie91 autograph is surely the biggest dream of her countless fans. Soon there is so even twice opportunity to catch with some luck a signed autograph card of Schnuggie91.

Who is Schnuggie91?
The slim blonde is 26 years old and lives in Hamburg. Her name is Sophie and she is passionate about dancing. Every week she goes to pole dance practice. For years Schnuggie91 has been one of the top amateur stars of the German porn industry – and now you can pick up a Schnuggie91 autograph! At first glance, the woman doesn't look like she's got it all together.
Users will realize what she's really got when they've watched a few of her videos, which now number more than 450. She put the first of these online back in 2012. In addition, the bundle of energy has already been seen several times on various private stations. Even today Schnuggie91 is constantly posting new videos online and giving her fans hot private shows in front of the webcam at every opportunity. No wonder so many want a Schnuggie91 autograph.
What does the girl have to offer?
The camgirl likes sex in all variations. Her pole dance training keeps her fit and limber. She proves this in the video clips. She is straight, but doesn't mind playing around with another woman from time to time. Schnuggie91 likes doggy and riding best.
She likes to wear suspenders, but also lacquer and leather or miniskirts and overknees. This really shows off her slim figure. Schnuggie91 has nothing against sex in unusual places, outdoor or a threesome. Should she ever be lonely, she comforts herself with one of her numerous dildos.
What is the Schnuggie91 autograph all about?
Already in 2018 Schnuggie91 was the face of the erotic fair Venus in Berlin together with Micaela Schäfer. She will be at the show again this year. Whoever wants a Schnuggie91 autograph will have two opportunities to do so. Fans can pick up a Schnuggie91 autograph at the Cute and Dangerous XXX booth.
Who knows, maybe it doesn't just stay with the Schnuggie91 autograph? The porn star is constantly looking for shooting partners for her video clips. An ideal opportunity to experience the spirited blonde up close (in the truest sense of the word).