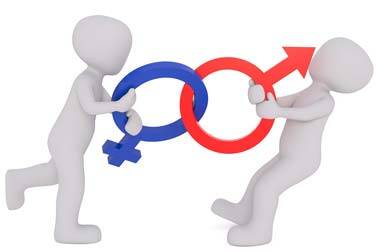 We are resisting this incredible nonsense!
Opposite language is confusing and misleading
With endless enumerations and special characters, the opposite language disfigures every sentence image. The effort behind this is in itself marked by good intentions. Opposed language is intended to express and emphasise gender equality. Even the invention of gender-neutral pronouns (xer/they/them) is only the tip of the iceberg. This gender mistake is based on the unscientific assumption that gender is non-binary and socially learned.
---
Eronite empfiehlt dir diese XXX Videos, Livecams & privaten Kontakte:
---
Male, female, diverse – is that already a gender mistake?
The biological sex is either male or female, based on the reproductive function. Less than one per cent of the world's population is born with both sexes. These people fall into the "divers" category. Gender, on the other hand, describes a feeling. This is the question of whether one feels more male, female or none of them in relation to one's own gender. If one's own feelings correspond to the biological sex, this is the normal case. A real existing example for the opposite are transgenders.
The gender mistake from America
The "gender theory" goes one step further. Followers of this nonsense claim that a spontaneous change between gender perception and intermediate levels and various combinations are possible. In the meantime, the gender gap has grown to such an extent that more than 70 genders have been named. Among them are the bizarre Moongender, which is only active at night, and the Aquagender, which likes to be near water.
The whole thing increasingly sounds like ideas of a bored video game generation. Whether these actually exist, or only become so through continuous thematization, is a chicken-and-egg problem. The fact is that the existence of Transmen is thereby unwillingly ridiculed.
The dirty language – Who needs such a thing?
Do we really have to remember, through contrary language, that men and women are equal? An enlightened person is aware of that anyway. So why all the neologisms and the harassment? Most people do not think further about gender without prejudice.
If someone says they're going to the doctor, it doesn't mean the doctor's a man. By the way, most people interpret the job title neutrally. And isn't it exactly the unprejudiced thinking that we should promote instead of riding on the differences by means of gender language?
In any case, we do not use the opposite language, this new-fangled gender talk. And yet we all love people!