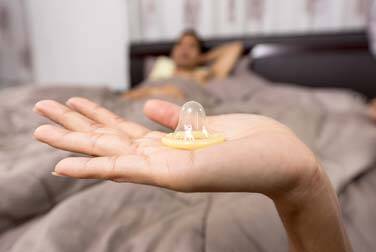 With a little practice it's a piece of cake
Putting on a condom properly is essential for safe sex
For safe sexual intercourse, it is especially important to be able to put the rubber on properly. Because a condom not only protects against unwanted pregnancy, but also against STDs. Thus, it is a great and useful invention. Nevertheless, overshooting is sometimes a critical moment. Especially if you have little practice and everything should work perfectly. To avoid this awkward and perhaps embarrassing moment, a little practice should be done beforehand.
---
Eronite empfiehlt dir diese XXX Videos, Livecams & privaten Kontakte:
---
Step one – open the package
For some, opening the condom package is already the first hurdle. Because after a few glasses of alcohol or a massage with massage oil, it is sometimes difficult to open the package in the dark. In this situation, it is worthwhile to let your loved one open the package. You should by no means reach for the nail scissors or kitchen knife. The probability of damaging the condom is too great.
Step two – Put on condom correctly
If the rubber could be taken out of the packaging without any accidents, it is now important to be able to put the condom on correctly. Here it is important that the condom is the right way round. This is given as soon as the rubber rolling is outside. If you are unsure in the heat of the moment, it is important to remain calm. Putting the condom on properly doesn't work if it's on backwards. To determine if it is the right way around, you can hold it by the tip with one hand and gently pull the rubber ring with the other. This makes it very easy to determine if the rubber rolling is on the outside and you can put the rubber on properly.
It is better not to experiment with a condom. It protects not only against pregnancy, but also against STDs. To be able to put the condom on correctly, it is worth practicing in advance.
If you remember to take the rubber out of the package before a massage with massage oil, nothing will go wrong when you open the package. Rolling over is no magic trick either. Because as long as the rubber roll is on the outside, the condom can be put on properly. This should also work quite easily, provided you have chosen the right size.