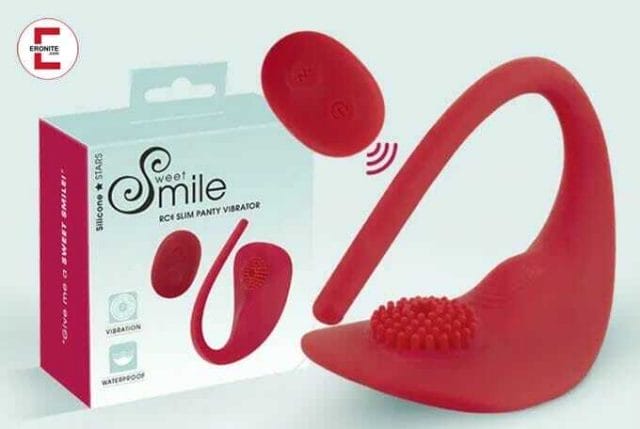 Nice sextoy for on the go
The lifestyle design of the Sweet Smile Lovetoys simply makes you want to make love! As of now, the "RC Slim Panty Vibe" complements Sweet Smile's extensive lovetoy range.
---
Eronite empfiehlt dir diese XXX Videos, Livecams & privaten Kontakte:
---
Panty Vibe – and already it vibrates in the panty
The "RC Slim Panty Vibe" is the ideal partner for discreet all-round pampering – anytime and anywhere! Anatomically perfectly shaped and very flat, it pampers vulva, clitoris and anus and perineum at the same time. At the same time, it can be worn discreetly and inconspicuously in briefs – even in water, as it is waterproof.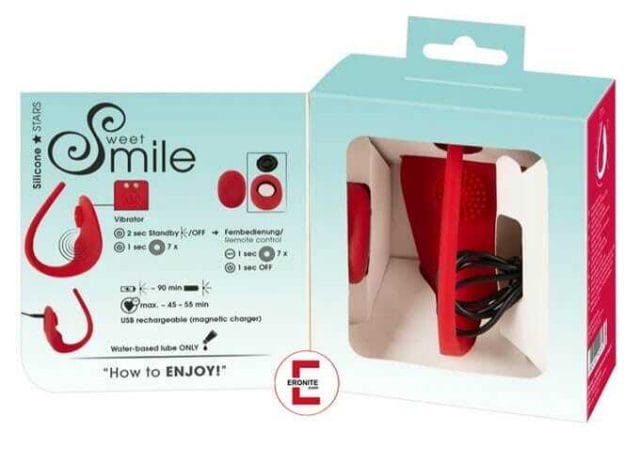 Seven quiet vibration modes can be conveniently controlled with the remote control – of course, also by the partner or the partner for particularly exciting love games. The vibrations are transmitted optimally distributed to the clitoris stimulation nubs, the distinctly grooved vulva mound and the narrow anus/perineum stimulator of the panty vibrator to pamper the sensitive body regions all around.
Especially well it (or she) comes in public
Whether on the street, in the train or even in the restaurant: if the partner wants to prepare his wife or girlfriend times publicly pleasure, the Panty Vibe comes just as called. Nobody knows what she wears in her panties and when it vibrates, her abdomen suddenly tingles and nobody notices. With the remote control, the partner can provide a sexual Oha experience of a very special kind, because after all, the woman does not know when exactly the button is pressed. Great fun for all involved!

Read also:
– Sextoy test: the Satisfyer Sexy Secret panty vibrator
– Sextoy test: GoGasm Panty Vibrator with remote control
– Sextoy test: remote control panty vibrator LOTIS
– Sextoy test: the Satisfyer Little Secret panty vibrator
The high-quality silicone with velvety soft touch texture promotes a very pleasant skin feeling when worn and pampered. Rechargeable is the panty vibrator with included USB charging cable. A battery (CR2032) for the remote control is included.
The "RC Slim Panty Vibe" costs 54.95 euros. Source of supply: orion.de
All reports about different sex toys tested by us can be found in our Sexytoys in Practice Test section.