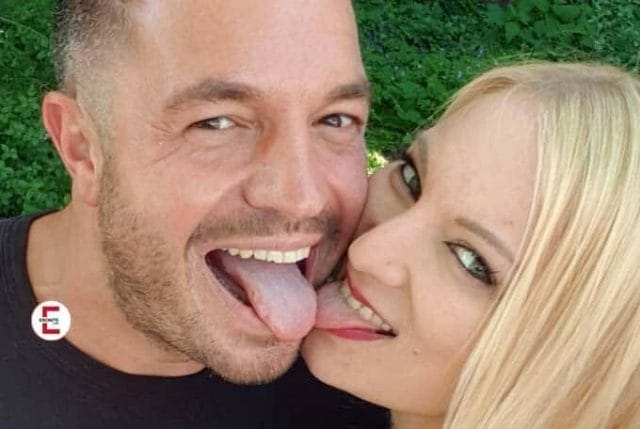 The porn couple from NRW – wanted and found
Kitty Blair and Andy Star. The tall blonde has been working in the amateur business for ten years now, but has also appeared in several professional studio productions (see her films here). Her partner Andy has been with her for four years, is also behind the camera his husband and loves to shoot gang-bang porn. We had the two porn actors from Oberhausen in an interview:
---
Eronite empfiehlt dir diese XXX Videos, Livecams & privaten Kontakte:
---
Kitty Blair: "As long as it's cock and lots of sperm"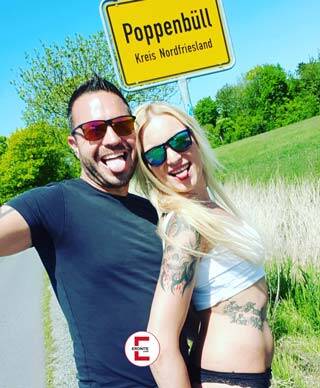 Eronite – Das Erotikmagazin How long have you been in the business and what exactly do you do?
Kitty Blair More than 10 years I make professional and amateur films.
Andy Star Since 4 years, I shoot amateur porn and I am in production.
Eronite Why do you shoot porn? What are you excited about?
Kitty Blair I love sex and like to present myself in front of the camera.
Andy Star I love having sex with different women. Never a dull moment.
Eronite Which scenes do you like to shoot most and why?
Kitty Blair Actually everything, main thing dicks and lots of sperm! [Kitty Blair grinst dabei bis über beide Ohren.]
Andy Star I prefer to shoot gang-bang scenes, because the women are so beautifully pasted up and it is simply fun to spoil a woman with several boys.
Eronite Do you watch porn in private? Or do you rather think that a baker does not eat cake every day?
Kitty Blair Yes, sure!
Andy Star Yes, sure I watch porn in private too, preferably porn without action.
Direkt zu ihren PornosDirekt zu seinen Pornos
Eronite What do you not like at all when you shoot porn movies?
Kitty Blair Constant interruptions while turning.
Andy Star Shooting an eternally long comedy (long story)…
"When I have private sex I can fuck as I want"
Eronite What is the dark side of the porn industry?
Kitty Blair The envy and blasphemy among each other.
Andy Star Lately I have noticed that there is a lot of blasphemy.
Eronite Making out in porn: yes or no?
Kitty Blair Yes, if the sympathy is right.
Andy Star Yes, is part of the sex for me
Eronite What does your family say about your jobs as porn actor/camgirl?
Kitty Blair My family tolerates it, but is not very enthusiastic about it.
Andy Star My whole family knows what I do. And tolerates it.
Small profile
artist name Kitty Blair / Andy Star
Locality/region Oberhausen
date of birth 24 January 1985 / 20 February 1985
sterisk Aquarius / fish
body size in cm 174 / 180
weight in kg 54 / 80
bra size 75 B / —
I am intimately shaved Hollywood Cut (complete)
hobbies sex, swinger parties, parties, celebrations, travel / swinger club, wellness, party, porn
Favorite movie or series Vikings, Game of Thrones / Natural Born Killer, Sin City, The Simpsons
favourite colour black, pink / black
I like that sweet stuff
I don't like that at all spiders
Eronite What's it like when you have sex in private? What influence does your porn job have?
Kitty Blair In private sex I can fuck the way I want and not how it looks good for the camera. It has no influence. I like to have a lot of sex in private too.
Andy Star In private sex you can fuck like it's fun and not like it looks good. You don't have to pay attention to light, camera etc., but you can just fuck as you like.
Kitty Blair likes to present herself in front of the camera
Eronite What makes your films different from others?
Kitty Blair I am myself, even in the film. It is important to me to really enjoy sex on camera as well.
Andy Star I meet – mostly – the nice girl next door and shoot amateur clips. In my movies there is little story, it's just about having fun together.
Eronite What do most men do wrong in bed?
Kitty Blair Most guys just don't have a clear head and think too much instead of just doing it.
Andy Star They think too much and don't have a clear head. I still do that sometimes.
Eronite What is your favorite sex toy?
Kitty Blair I love sex and like to present myself in front of the camera.
Andy Star I love having sex with different women. Never a dull moment.
Eronite How do you deal with the fact that for many people you are "just a jerk-off"?
Kitty Blair I think that's cool, I like to show myself!
Andy Star I am a male actor. So I think that very few people jerk off on me.
Eronite The profession of porn actor/camgirl is not well received by the public, to say the least. What would you like to say to these people?
Kitty Blair We do what everyone does, except that we also film it and share it with others.
Andy Star It's a job like any other, we just have fun having sex and film this. We are doing what the whole of Germany is doing, only we are filming it.
Direkt zu ihren PornosDirekt zu seinen Pornos
Eronite How much time do you spend every day in front of the cam?
Kitty Blair Different. As I just have time and desire …
Andy Star I very rarely do a camshow together with a woman.
Eronite Posing for hours in front of the cam is certainly exhausting. How do you keep your bodies fit for this?
Kitty Blair Lots of exercise, a healthy diet and few carbohydrates.
Andy Star I eat what I feel like at the moment. And I do sport rather irregularly.
Eronite Would you like to give our readers something to take with them?
Kitty Blair Check out our videos. We have the hottest, nastiest, most blatant public clips!
Andy Star Live and let live Enjoy life and don't look at everything so closely. I'd rather be a dick than a hard one. ;-)
---
The second part of the interview is available from Micha Intim:
micha-intim.com/interview-with-kltty-blair-andy-star